General Chat
Welcome to the Genes Reunited community boards!
The Genes Reunited community is made up of millions of people with similar interests. Discover your family history and make life long friends along the way.
You will find a close knit but welcoming group of keen genealogists all prepared to offer advice and help to new members.
And it's not all serious business. The boards are often a place to relax and be entertained by all kinds of subjects.
The Genes community will go out of their way to help you, so don't be shy about asking for help.
Quick Search
Single word search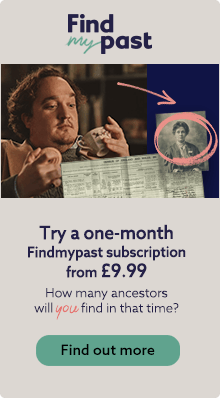 Icons
New posts
No new posts
Thread closed
Stickied, new posts
Stickied, no new posts
What kind of things do you remember from Childhood
Profile
Posted by
Options
Post Date

Annx
Report
23 Oct 2021 14:55

Afternoon All,

A good sleep, but wasn't up till 10.00am. Today has been mostly dull and a bit chilly. OH has gone to a local match and did offer to take me to the bead sales that have started up (2-3 a year) at Dunchurch this morning. I have enjoyed going in the past and have always got there just as they open (best choice then as well) anyway. It is held in a sports hall at a tiny sports ground and doors are always open and it is a tall and airy hall. Thinking about it, it is usually held on Sunday, not Saturday, so it would be busy with youths playing and watching on the pitch just in front today and probably more people would go on a Saturday, so I decided not to go. It's not as if I need anything really, but it is good to be able to actually see what you buy. Maybe next time.

Did I say I managed to find another tiny Christmas tree online like the one I already have that I covered in icicle ornaments? I shall unpack it today. I have 2 matching small oak cupboards in the lounge, so one for the top of each now. I might eventually make some of those beaded stars to go on this one, only smaller, or it might be more icicles. They look pretty with the white lights and with the decorations tied on firmly they are quick to just put up. I struggle to decorate the big tree now and it takes ages to do, so we haven't put it up the last 2 years and this way is still decorative, but easier.

Ouch Mel, I can imagine Phil's hard peck! Chickens are bad enough. You and Vera are lucky to have/have had Pheasants in the garden though. Did you collect their discarded tailfeathers? Percy and Phil have got a good little routine going there!

I'd better get going now and have a look in the greenhouse! Then finish my Asda order.

Vera, you and AnnG are going to have lovely Spring displays with all your bulbs!

Researching:
Staffordshire, Warwickshire

Mel Fairy Godmother
Report
23 Oct 2021 12:56

I was thinking of Les Dawson too but forgot to post it.
Nice little outing for a Saturday morning Vera and got a nice stock of beans too.

No eggs yet today maybe later.

I must go up the shop for the paper now.



AnninGlos
Report
23 Oct 2021 12:15

Yes I was Vera, just wouldn't come to me, too much rubbish in my brain pushing what I want to know out. I am sure my memory is worse since covid and lockdowns.

Researching:
Photo Allium in my garden June 2021 Researching Somerset, Dorset, Hampshire, Derbyshire, Staffs, Devon, Glamorganshire. Ingram, Masters, Tamblyn, Knight, Warner, Bate, Allen, Riggs, Dominey, Duffin

SuffolkVera
Report
23 Oct 2021 11:45

Morning AnnG, Mel and all

It's quite dull this morning but warmer than yesterday and we've lost the cold wind thank goodness.

Were you thinking of Les Dawson AnnG?

Phil and Percy must like it at your hotel Mel :-). At our old house we had a Freddie pheasant who turned up regularly with 2 wives in tow and I used to put food on a ground feeder for them. I enjoyed watching them but no way would I have wanted them feeding from my hand. I love my birds but I do like to keep a short distance between them and me.

We've been to a small local garden centre this morning and bought 3 more pots, then I went to Farmfoods to see if they had any good deals and to stock up on Heinz baked beans as they are usually cheap if you can bulk buy a bit.. I got 24 of the 415g size tins for £10. That will last us about 6 months. Even on Sainsbury's best deal they would have cost me £15.40. We pass Farmfoods on the way back from the garden centre so it didn't cost us anything in fuel. I was pleased with my bargain.

I think I'll go and plant the rest of my tulips up before lunch, then I'll just have a couple of big pots of daffs to do.



Mel Fairy Godmother
Report
23 Oct 2021 10:28

Morning Anng and all,

Dull morning here and not been out there yet but pc says its 11degrees. Only just a breeze.

When I got up and went back in the bedroom to put the solar lights onthe windowsill Phill saw me through the window and came running towards me, silly old fool. He has eaten out of my hand but he bashes his beak on my hand so hard it hurts. He's now got back int othe routine of corn time for the chickens and he and Percy Pigeon turn up together and have their bit on the road of by the bird table. Percy even comes up the steps on the patio to let me know he's there if Phil's not around. He won't come right on the patio though which is good as if Phil comes up there when oh leaves the gate open he makes a mess.



AnninGlos
Report
23 Oct 2021 07:35

good morning all still dark outside so can't tell what the weather is llike, as it is pretty dark I guess the sky is cloudy it is 8 degrees.
No news yet from Granddaughter in law.
Island, as I said in my email, that face of the sculptured man reminded me of somebody I have seen on TV, I can't remember who but probably a grumpy character. And I think it was very good. Have you still got it, or just a photo of it?
And no Vera I didn't know your Dad so it was not him I saw. Yes definitely looks like somebody with his dentures not in. Ah maybe that was what it reminded me of. the name escapes me, as most do these days, the comedian who used to speak as if he had no teeth when dressed as a woman with a turban on.

Only plans for today, change and re-make bed and have the Tesco delivery. that is not so onerous now I no longer wipe it all down.
:-) :-) :-)

Researching:
Photo Allium in my garden June 2021 Researching Somerset, Dorset, Hampshire, Derbyshire, Staffs, Devon, Glamorganshire. Ingram, Masters, Tamblyn, Knight, Warner, Bate, Allen, Riggs, Dominey, Duffin

SuffolkVera
Report
22 Oct 2021 17:51

It was a beautiful morning but gosh, that wind was cold. I went into town and got a couple of household bits I wanted, found a birthday present for another friend and got a new passport photo sorted. As I was walking back to the car park I could see a lady sitting on a chair outside a shop with an assistant next to her on the phone. It looked as though she had fallen and really bashed her face about. Poor lady. As I was still walking along an ambulance arrived so it must have come very quickly, probably because she would have banged her head. It happened in the same spot where my neighbour fell and broke her arm recently. The Council are supposed to have done repairs there but I think they may just have levelled the paving stone my neighbour tripped on and ignored the rest of the uneven pavers.

This afternoon I've prepared tonight's dinner, cleaned bird feeders and put fresh ones up, made several pots of apple sauce for the freezer, caught up with some filing, and put away everything OH has had out and not put away. In fact, I am keeping out of his way. I don't want to lose my temper but he is being a real pain in the proverbial today.

I'm in a bit of a grumpy mood today but your story made me laugh Island, and when I saw your sculpture I wondered if you'd ever met my Dad :-D Perhaps he modelled for you without his teeth in! The nose is definitely him. I bet it was great fun in those classes.

Well, I suppose I'd better go and start cooking the dinner and if OH says anything out of place about it, there may be a divorce.

AnninGlos
Report
22 Oct 2021 11:34

Island I felt a bit 'off' in the ight around 2am but couldn't work out what I felt or why, it was really weird but when I eventually woke again around 0630 I was ok so maybe I was just tired or had indigestion. Hope you feel well enough to have the flu jab.

Ann I can empathise with Anita Dobson. I was definately a grump (although only on my own, kept it to myself, when I had to change catheters etc. even though you feel desperately sorry for the person suffering and wish you could make them better, it is hard to be sole carer. I feel very sorry and full of admiration for those who act as carers for years on end.

Researching:
Photo Allium in my garden June 2021 Researching Somerset, Dorset, Hampshire, Derbyshire, Staffs, Devon, Glamorganshire. Ingram, Masters, Tamblyn, Knight, Warner, Bate, Allen, Riggs, Dominey, Duffin

Island
Report
22 Oct 2021 10:57

I missed you there Annx. I save all those bits of practice papers, you never know when you want to do a bit of collage or fancy up a sketchbook cover. I love that your oh can see images in them - some people waste good money on drugs for those images :-0

must get gone....

Island
Report
22 Oct 2021 10:25

Morning all :-D

AnnG, I looked in at about 7am, not a soul in sight. Where have the late night posters gone? Seven is a bit early for me but I was up at 6.30 feeling ill so came downstairs to sit up on the sofa with feet up. Feeling better now but a bit weedy.
Flu jab in an hour.

Mel, I've been busy with a change round in my craft room. Haven't been in the mood to make anything as my mind has been occupied with a right old palavar with meds and now next jab - it's a long annoying story. I think I'll stay home wearing one of those deep sea divers outfits :-|

Annx
Report
22 Oct 2021 10:22

Morning All,

Slept well and bright sunshine here now although it is cold outside. I've risked putting the washer on so I hope rain doesn't come later.

Ha ha, I didn't know I painted subconscious 'creatures' in my painting. It's funny though as I use offcuts of my paper I use to test the colours and effects I want to use, which OH insists on keeping as bookmarks, although I bin them, and he says he can see images in them!!

I hope the girls have saved you an egg Mel. :-) I think one of the most enjoyable tasks I had as a teenager was checking the chicken nestboxes for eggs, the smell of the straw and feeling how warm some still were.

OH has an appeals meeting on Skype just now so I can't make much noise. I need to have a sort round in the fridge and freezers next so there will be room for the Christmas Turkey etc in the Sunday delivery. I might hopefully get some inspiration for lunch today too. :-( I was just reading what Anita Dobsont said about how she felt when her husband Brian May hurt a muscle in his leg, had sciatica and a heart attack and she became a cleaner, cook and carer overnight. She said she was a grump and would mutter to the birds etc and she wondered if it was to become her life at one point. Luckily things are back to normal now and she can work again. I can empathise though as I wonder sometimes, although I don't think I have been a grump!

Brrrr frost Gwyn! Yes wrap up warm if you go out. I'm sticking my fleece on to go to the garage.

Off to the garage now. BBL



Researching:
Staffordshire, Warwickshire

Mel Fairy Godmother
Report
22 Oct 2021 10:02

No wind or breeze here and still dull as dishwater but 12 degrees. Hav'nt got myself together yet. Must go and see the girls this morning earlier to see if I can get an egg.

Islland are you making anything at the moment?

SuffolkVera
Report
22 Oct 2021 09:47

Morning all

8 degrees and bright here but there's a stiff breeze. I have to go into town later so I think I need to wear a warm jacket.

AnninGlos
Report
22 Oct 2021 09:38

Good morning Island and Mel and all, no-one was around when I looked in then I went off to have a shower and wash my hair and there you are.
8 degrees here bright and no wind.

Researching:
Photo Allium in my garden June 2021 Researching Somerset, Dorset, Hampshire, Derbyshire, Staffs, Devon, Glamorganshire. Ingram, Masters, Tamblyn, Knight, Warner, Bate, Allen, Riggs, Dominey, Duffin

Gwyn in Kent
Report
22 Oct 2021 09:36

Really surprised to see light frost on north-facing rooftops this morning.

It was only Wednesday morning that a friend and I couldn't believe how warm it was, when we went for a local walk.!

It's bright sunshine here now, but I'll wrap up warm if I go out.

Mel Fairy Godmother
Report
22 Oct 2021 08:48

Morning Island and all,

Dull and dreary here but not been out yet. Did you sleep ok or have a bad night?

11 Degrees and not blowing here.

Just having my COC and I shall get going. I am expecting some parcels today.

Island
Report
22 Oct 2021 08:21

Wakey wakey! Anyone home?
It's a bit blowy here and dull at the mo'

Mel Fairy Godmother
Report
21 Oct 2021 23:13

I forgot the ginger monkey at the top of the page with big ears.

Mel Fairy Godmother
Report
21 Oct 2021 23:11

In the picture Ann was given there's a lot more than a dog and cat. There's a tiny hedgehog, a green butterfly with a really tiny earth maiden above. A cartoon man with a big nose sitting down with his hands on his knees, there's a groteque face in a hat with tiny eyes and a magicians wand coming out of his hat and beneath him is a tiny bat with a ginger face. There's more too.

SuffolkVera
Report
21 Oct 2021 19:42

I hadn't spotted a dog so had to have another look didn't I :-). I now see a cat with pricked up ears in Ann's painting but I am also seeing a dog in the photo (left hand side just above centre). You do set us some puzzles Island lol.