General Chat
Welcome to the Genes Reunited community boards!
The Genes Reunited community is made up of millions of people with similar interests. Discover your family history and make life long friends along the way.
You will find a close knit but welcoming group of keen genealogists all prepared to offer advice and help to new members.
And it's not all serious business. The boards are often a place to relax and be entertained by all kinds of subjects.
The Genes community will go out of their way to help you, so don't be shy about asking for help.
Quick Search
Single word search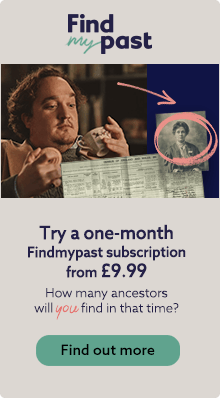 Icons
New posts
No new posts
Thread closed
Stickied, new posts
Stickied, no new posts
What kind of things do you remember from Childhood
Profile
Posted by
Options
Post Date

Annx
Report
30 Jul 2021 10:36

Morning All,

Wet, breezy and dull here too. Good luck with your dental appointment Mel. Hopefully it will just be a quick checkup and you'll be home in no time.

So much can happen in a year can't it AnnG. It's so sad, but good that T was still able to enjoy his golf up till then. It sounds like it has been really windy where you are. Enjoy your trip with Çynth to the craft shop. I have never been in one of their craft shops.

We had a panic last night when we thought the fridgefreezer in the uti had packed up when the light went off! I turned it up to see if it was just the bulb gone, but it runs so quiet you can't tell if it's just the boiler you can hear. Anyway, by the time we went to bed the light was on again and the food was still cold and the freezer stuff was frozen this morning. I think maybe OH hadn't closed the door properly and the light goes off after so long I think. I forgot to ask if Mandy got another freezer after hers broke down or if she got it fixed?

Researching:
Staffordshire, Warwickshire

AnninGlos
Report
30 Jul 2021 09:03

Good morning all, wet and windy here too and the long rambling branches are blowing all over the place, A job for the lopper tomorrow if it is dry I think.

today I am going to Evesahm garden centre and shopping cenre (out door but mostly factory shops). But also my favourite craft shop is there n (Crafters Companion). I am going with Cynth my neighbour.

This day last year T played his last ever game of golf. It was 31 degrees and he collapsed on the 16th hole but he recovered in the club house after being driven there. That was the beginning of the end. :-( :-(

Researching:
Photo Allium in my garden June 2021 Researching Somerset, Dorset, Hampshire, Derbyshire, Staffs, Devon, Glamorganshire. Ingram, Masters, Tamblyn, Knight, Warner, Bate, Allen, Riggs, Dominey, Duffin

Mel Fairy Godmother
Report
30 Jul 2021 08:45

Morning all,

Very wet and extremly windy this mroning and I have a journey to the dentist. I shan'nt be on my own though as oh is coming too. Hav'nt been for years with the pandemic.

See you all later.

Mel Fairy Godmother
Report
29 Jul 2021 21:44

I must say its so nice to have a post from Frank with some unexpected news. fancy that card taking all that time to get to Ros's friend.

Mel Fairy Godmother
Report
29 Jul 2021 21:42

All Iv'e done is wash the bathroom mats and go and get some deisel for the mower oh is working on. Then I had a play..........

Annx
Report
29 Jul 2021 17:39

Afternoon All,

Sunny, dry and a bit breezy here, so the flock of Jackdaws were enjoying flying in the breeze chack chacking to each other over the back field. We fancied a bit of a lie in this morning, but at 8.00am the banging and drilling started over the road. Then 2 electrical people turned up in vans and their radios have been blaring since and still are so we got up. The banging and electric saw were still going at 9.00pm last night as well. We think it is family members doing the work as OH says everyone looks the same to him and companies wouldn't be working till dusk.

Yes, Island, I remember when my granny would clasp me to her pinny covered front when I was little and my nose would get buried in the strong onion smell of her pinny as she wouId wipe her hands on it when slicing onions which seemed to figure in a lot of her stews! My great uncle Sam would visit her sometimes while I was there. His greeting was a broad smile and a pat on the head which I didn't mind at all. What I really hated as a child was when mum would grab my arm with one hand and lunge forward with the other holding a hanky she had spit on to rub some insignificant spot of dinner off my face!!!!!! Yuk, Yuk. I'd much sooner have spit on my own hanky and rubbed my face.

Your veg are doing very well. Our runners are coming along now with 3 feeds off them up to now, but the heat seems to have cause some of the little ones to drop off. The french beans are being picked too and we have a lot of toms and have been picking them this week. They are golf ball size ones but those on one plant have a green bit that takes longer than the rest to ripen. The mini cues have a few about 4 inches long so they will soon be ready as well. I'm not keen on the yellow, climbing courgette and won't have it again. The courgettes are small like long fingers and very hairy. The round one like we grew last year is fine. Speaking of courgettes, don't be tempted to save your seed for another year. If courgettes, melons or cucumbers taste very bitter, they can make you ill due to too much of a substance they all have. Those ornamental gourds are the same family and if the seeds you save have been pollinated by pollen from those, they may have higher levels of 'cucurbitacins' which are a plant defence and not good for us.

Fancy that Christmas card turning up after all this time Frank. It does make you wonder where it has been! Poor old Biggles got a soaking then! Perhaps he was trying to get a fish!

You have been very busy already AnnG and getting the garden back in order again. We have stalled again, my knees are feeling bruised after the trip round the garden centre yesterday, a pain in my side as OH doesn't listen and keeps overfilling big watering cans for me and his neck is worse today and his sciatica is twinging! :-S So we are both doing sitting jobs inside today.

Mandy, people do some lovely things for these yarn bombs don't they. Last time here they made woolley tops for the letterboxes and someone cut right through to steal two of the bees they had made and attatched. How mean some people are!

Vera, I hope your new blinds are in place now and that you are pleased with them. I am in the middle of a Bank Account switch having used the switching service and have received a PIN but no card as yet. I did a savings account at the same time so I can skim off and top up my current account as needed. The things they want to know is unbelievable. For the savings account they want to know what the money is that you are using, how much a year you intend to save, what you want to use the savings for and then for you to download something that will work out how much you need to save a month! Everything bar your inside leg measurement as Frank would say! I did all mine online and was surprised they could use my laptop camera to photograph me and also my driving licence and then they use some tech to identify both photos are the same person!

All I have done today is get lunch, water the wall pots and clean the ensuite. Now I'm starting the food order for Sunday.

Researching:
Staffordshire, Warwickshire

Island
Report
29 Jul 2021 16:14

We've just picked 1lb 3oz of french beans! They were just the ones we could easily see! We'll have to think about freezing at this rate, I hope it won't spoil them.

Frank, I assume Biggles is a dog? How lovely to have a pooch stop over for a couple of nights. That would suit us as we miss ours so much.

Vera, I've got one of those faces and have always had to put up with 'cheer up', 'you look tired' etc etc - it's so demoralising!
Restraining your OH made me laugh!

SuffolkVera
Report
29 Jul 2021 15:47

Your veg looks good enough to eat Island :-)

Frank, you will enjoy having Biggles with you. Did he like his unexpected swim in the pond? That Christmas card took a time to arrive. It must have gone from you to Earls Barton via the North Pole.

Mandy, you said it was a pity you couldn't see my face in the photo. It's probably a good thing that you couldn't, lol. I have one of those faces that looks miserable when I'm relaxed. When I was young people were always saying things to me like "Cheer up, it might never happen". It's OK if I know a photo is being taken because I'll deliberately smile then but otherwise I always look a right misery guts.

As for hugging, some people like it, others don't. You just have to respect other people's feelings. With the girls this weekend we were making up for 21 months of missed hugs I think. Usually it's a brief hug to say hallo, and another to say goodbye. I do have to quietly restrain OH sometimes and remind him not to hug women he doesn't know well. I can't bear air kissing - that stupid mwah somewhere in the air around your ear. It's so insincere.

I hope your daughter had a good journey back AnnG. You've been busy with lawn cutting and garden tidying I see. What a nuisance you couldn't activate your card. I understand your frustration as we are still trying to get a new bank account set up. It apparently couldn't be done in the branch while we were there - goodness knows why not. I could do it by telephone or online so I opted for online. I filled in all the forms fine and submitted them. I then had an email saying they would be in touch in a few days. Sure enough a couple of days later both OH and I got 2 identical emails each saying they just needed a bit more information. Basically they wanted agreement to the terms and conditions. That was fine so we both did that and submitted our agreement. Today we both get 2 reminder emails each for the same thing. OH said he is not doing it again as they have everything they need. I have done my bit again. I am wondering if they are trying to set up more than one joint account for us. If we have any more problems I shall have to speak to someone either on the phone or in the branch as it is getting ridiculous now.

Today has been dry but mostly cloudy and there is quite a stiff breeze. We went to friends for coffee this morning and planned to sit in the garden but it was too chilly in the wind so we went inside and left the patio doors open. This afternoon the chap is coming with the new blinds for our lounge and bedroom. He'll fit them and sort everything out for us. I don't think they will look very different but will be easier to use and better quality than the existing ones. He's due at 4 pm so I had better go and move a couple of coffee tables and some chairs out of his way as he needs to get to 4 windows and a big set of patio doors.

Enjoy the rest of the day.

Frank
Report
29 Jul 2021 12:19

Good morning to you all,Still nothing to report from this end. Apart from a call that Ros had this morning from an old friend from Earles Barton. It was from Mary, thanking Ros for her CHRISTMAS CARD that arrived this morning. It had so many different P.O.. stamps on it, she could hardly read her address. Gawd knows where it had been, and for it to take almost EIGHT MONTHS, as Ros always posts cards early December.

We have "BIGGLES" until Sunday afternoon, as his owners are off to a wedding.He's lying by the side of my chair at the moment. He went down the garden with Ros earlier and fell in the pond. Ros has given him a good RUB down, and he seems O.K.

Island, Ros has just handed me a nice handful of RUNNERS the first this year, so far. We have also had a number of small tomatoes. So wer'e doing allreght.Likewise we has showers yesterday, some quite heavy. The garden needs it.

Jan, Jo, Ella and one of Ella's friends went off to Spain Yesterday, to spend a week of sp with Conrad. Jan says she will stay out there until Conrad comes home in August for a couple of weeks. I'm not sure I will be wanting to Travel this year, we will have to see how things go.

Off to sit and read in the conservatory for an hour or so, see you all later. xxxx





Researching:
Coopersale,Epping, Essex earls barton,Northampton woodford bridge,essex Canning town, Bethnal Green.

AnninGlos
Report
29 Jul 2021 11:54

So far mowed the lawn and did the edges with long handled shears, pulled up some geraniums growing where they shouldn't be. and stripped the spare bed and done a full wash load, drying in the drier. had coffee and now about to go back out in the garden, so far it has been mainly sunny.

Researching:
Photo Allium in my garden June 2021 Researching Somerset, Dorset, Hampshire, Derbyshire, Staffs, Devon, Glamorganshire. Ingram, Masters, Tamblyn, Knight, Warner, Bate, Allen, Riggs, Dominey, Duffin

Mel Fairy Godmother
Report
29 Jul 2021 10:23

Island I have little beans on my short ones and we've had 14 small sungold toms. The long beans inthe big tub have one bean plant thats been in there three years maybe four. I replenish the soil each year and put the new runners round this one. The root on it is about an inch thick and knarley like a mandrake root. Oh calls it the Harry Potter bean.

Suns out at the mo but we've had showers this morning too.

Island
Report
29 Jul 2021 09:47

Morning all

Feeling a bit 'heady' this morning, don't know why as it wasn't hot overnight and we have the windows open. I don't drink either LOL

Work Mel? :-S

We had heavy showers, hail and some distant rumbles yesterday.
Sunshine today again, I hope it doesn't get too hot again.

Our runners and french beans are going a bit mad now. I must say though, I'm sold on the climbing french beans and plan to space the sowings next year but what with uk weather they will probably catch up. Oh well, I can only try.
I found a couple of cues lurking, nice and crunchy but the skins are a bit thick - I think it's the heat that does that. No sign of toms ripening yet.
The corn is as high as an elephants eye :-D and I've spotted the first signs of a cob. When we used to go corn scrumping from boats in September they were never quite ready, I guess mine still have a way to go.
The cabbage whites have finally emerged so I'm checking the brassicas regularly and squishing. Most are in a netted cage but the surplus have to live 'in the wild'.

Hugging..... My parents never hugged or kissed us kids, neither did aunties but we'd have to line up for a kiss from our only grandma which, thankfully, wasn't often as she had a bit of a tash. I cringe when I see wannabees on TV greeting other unknowns with 'mwah, mwah' on both cheeks - when did that come into fashion? I hope social distancing has put paid to that.
People generally never used to feel the need to lunge at each other.

I hope you all have a good day.
:-D

Mel Fairy Godmother
Report
29 Jul 2021 08:31

Morning Anng and all,

NIce and sunny at the moment but what the day will bring later we will have to see.

I do wish the box would'nt stop typing while I am not looking so I have to type it all again.

DEntist tomorrow and I have'nt been for two years!!!!!! As the appointment was just as lockdown started and even then it was a cancelation before that. Now I have to see a NEW man and not my lovely gentle Shaun who has retired now and only seeing his stay at home patients who can't get to the surgery.

Have a lovely day whatever you are doing and don't do too much inthe garden Anng, little bits at a time and hope the car passes its MOT without any trouble or expense.

AnninGlos
Report
29 Jul 2021 06:35

Good morning all
Up early as daughter is going home this morning and will be off at 0730.
Lovely sunny morning but only 11 degrees so far. Car being picked up for MOT etc later. I have plenty of gardening to keep me occupied. And a load of washing to do as well.
Ann no I don't like being hugged by acquaintances, was never used to it as a child or even as an adult with my parents. I do miss the hugs I got from OH though, especially if it is a frustrating day.
No I didn't get the card activated we gave up in the end, luckily I don't need it. I intend writing to them and then, if I can;t solve it that was I may go into Cheltenham where I think they still have a customer service counter.

Researching:
Photo Allium in my garden June 2021 Researching Somerset, Dorset, Hampshire, Derbyshire, Staffs, Devon, Glamorganshire. Ingram, Masters, Tamblyn, Knight, Warner, Bate, Allen, Riggs, Dominey, Duffin

Mel Fairy Godmother
Report
28 Jul 2021 21:35

Your cues are doing well Mandy and your beans. My beans are now about 4 to 5 inches long so still a bit to go yet but I had 4 toms with our lunch yesterday and 10 picked today though they are small they are so tasty. The courgette has another three on it so they need to be picked soon.

Went for F & C's tonight but the van was'nt there so we have a nice pilchard salad with new pots.

started the bathroom theen left it as I wanted to find my small wire cutters for beading. I thought they were in my big draw so I had that out and chucked loads away and found things I had forgotten I had. Chucked out three lots of battery lights so they will go to the charity shop and a lot of birthday cards I had kept for years. Its now all bck in and so much more room now and all the little bits have gone into a shoe box.

Ann I wonder if the heart wreath and pink door were anything to do with breast cancer?

Mandy you need to get us some pictures of the knitting in the town as we would love to see it. I wonder if Bideford have done it again. Not going there for over 15 months I must have missed quite a lot.

MillymollyAmanda
Report
28 Jul 2021 20:39

Evening all

Had a day of catching up with jobs that didn't get done while Katie was here, beds stripped and luckily I got it all dry before the showers came ,we had thunder and lightning a while ago but I can see blue sky now .


Vera sounds as if you had a lovely time with the family thanks for the photos shame we couldn't see your face I bet you had a big smile while enjoying that big hug just like your OH.

Ann I think everyone are still wearing masks in the shops and outside in the town too by what I've seen the last week.
I walked with Katie round the town as the crafters have yarn bombed the town again ,theres dream catchers hanging on walls,trees have wrapped with knitted squares and one had big sunflowers on it ,the little bollards have all been covered ,one was like a lighthouse another had knitted lollipops and others had fish ,theres centipedes on the posts and snakes twisted round posts too.
We spoke to a lady who was sewing the squares round the tree and she said its going to take evenings all this week to get it all done ,its really brightened the town and put smiles on faces :-D just what people need .

The runners are growing like crazy I've been giving loads away ,we've had several meals of them ,today I cut five little cues ,the tiny toms are very poor this year but I do have some bigger toms coming along in the greenhouse.,one I see today is now turning orange .



Annx
Report
28 Jul 2021 19:57

Evening All,

We just had one sharp shower today while we were at a garden centre but it stopped by the time we left. We got there just as they opened and there was no-one around and all the sanitiser and trolley wiping towel was still there. The staff were wearing masks and there was a request board at the entrance asking customers to wear theirs too which was good. I didn't get any plants but did get some sharpie pens in The Works there. Then we called at the pharmacy.

Nice photos of the family Vera and the girls look lovely. Buster will have a lot of hair to shed being the size he is I expect! That's good your numbers are moving in the right direction. Your surgery sounds a lot better than ours.

I hope you manage to get your card activated AnnG and that your rain has stopped so some jobs could get done outside. It's funny you said Inara's mother doesn't like hugs. OH and I don't like being swooped on by just anybody, although we hug each other every day. Both our parents were the same too and when I first visited OH's elderly Great Aunt, I was warned by MIL to expect the 'hug'. She said you only have to bear it for a moment and there's no kissing!! :-D, lol.

Island I have resisted joining one or two courses that use those inktense pens. I won't need to buy any then as I have quite enough craft stuff to store now and am running out of space! I remember doing lino prints at school and will be interested to see what you do with yours.

I saw a really pretty front door while we were out. It was painted a pale pink with a black frame and had a big, heart shaped wreath of pale pink roses with green leaves on it. I expect they were artificial, but it was very effective.

I can hear thunder and more rain now.


Researching:
Staffordshire, Warwickshire

SuffolkVera
Report
28 Jul 2021 13:09

The forecast said dry this morning and light rain this afternoon. As it was a bit breezy as well I washed a king size duvet cover and had it on the line by 10 am. 10.15 the heavens opened and I got soaked just running out to bring it in. I was not happpy.

Then I did a load of ironing and spent ages with a lint roller and various brushes trying to remove Buster's hair from my clothes. For those of you who don't know Buster is my son's English Bull Mastiff. He's 9.5 stone of solid muscle and is as soft as marshmallow. You couldn't find a calmer dog. Everyone loves him. It takes ages to walk through town because everyone wants to make a fuss of him from little children to old men. Sadly, like lots of big dogs, they are not a long lived breed and he is already seven and a half so may only have a year or so left.

Doctor rang this morning after checking my latest bp figures and feels I'm moving in the right direction so I have to send him figures in 3 months and he'll look again. I am so impressed with our surgery over the last 18 months or so. It is a big practice so there are several doctors but they cover a huge area and are very oversubscribed. I think the moaners find it difficult to accept a different way of working but I've never had to chase the surgery up, the docs phone you if there is anything to be said and if you need a face to face appointment you get one quickly.

OH has just brought a lunchtime sandwich in so I'd better eat it now.

Mel Fairy Godmother
Report
28 Jul 2021 12:24

Hi Island nice to see you posting between work.

I have just scrubbed my little loo and am about to tackle the bathroom now if I have the energy. I have a nasty mouldy patch over the front door on the ceiling |I want to do as well. I think its from all the washing I dry on the rad there. Its somewhere I can't really reach so will see how I go.

Island
Report
28 Jul 2021 11:30

Morning all

I've been busy catching up on things which were not possible to do in all that heat - remember that? Now it's dull and damp again. We've had some huge downpours over the last couple of days with some distant rumbles.
I'm a bit behind with posts and emails but have enjoyed the photos.

I've treated myself to a couple of arty things in the hope of getting my mojo back - like I don't have enough stuff already! Inktense pencils, half price from hobbycraft and two lino printing blocks. I haven't lino printed since art school, many moons ago, but as this is soft easy cut stuff I thought I'd have a go. Watch this space LOL

It's great that Anng and Vera have managed to get away and see family - a good time had by all I see.