General Chat
Welcome to the Genes Reunited community boards!
The Genes Reunited community is made up of millions of people with similar interests. Discover your family history and make life long friends along the way.
You will find a close knit but welcoming group of keen genealogists all prepared to offer advice and help to new members.
And it's not all serious business. The boards are often a place to relax and be entertained by all kinds of subjects.
The Genes community will go out of their way to help you, so don't be shy about asking for help.
Quick Search
Single word search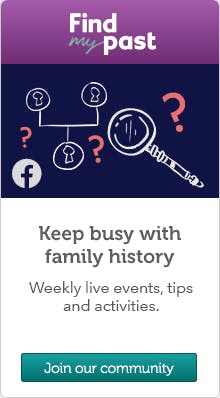 Icons
New posts
No new posts
Thread closed
Stickied, new posts
Stickied, no new posts
What kind of things do you remember from Childhood
Profile
Posted by
Options
Post Date

SuffolkVera
Report
26 Nov 2020 21:00

I hope tomorrow is a better day for you Frank. Take care.

I'm glad OH tested negative AnnG. I expect it'll be a bit lonely but he might be more comfortable in a separate room and he'll be able to watch whatever he wants on the telly. I hope his razor reaches him OK. It's good the hospital has said he is medically fit but are they any nearer to finding the cause of his back and head problems?

The girls will look lovely in their headband ear warmers Mandy. They are very attractive. Now you are going to be busy making more masks. Will the teachers that want Christmas ones supply you with material? No, the floor people don't help with furniture moving but I should be able to help without hurting my back. The really heavy thing was the sofa and that was taken away yesterday and the new one put in the kitchen. There are 2 big leather recliners but OH can push them while I just guide them from the back and 3 coffee tables that are fairly easy to lift and manoeuvre. There are also 2 floor cupboards, each with 2 deep drawers but they can be lifted out separately and I think OH can do that himself. The wall cupboards can stay. I think we'll be able to move everything fairly easily now.

Island, you are right about starlings being beautiful birds. My only problem with them is that they don't give other birds a look-in when it comes to food and they seem to sense food from a great distance. I've got a ground feeder with a sort of cage over it. The idea is robins and small birds can get in to feed but the bigger birds can't, but the starlings manage. A robin will be around so I'll put mealworms in the feeder and within seconds it will be full of starlings and the robin will fly away but I do like to see the parents in spring being followed by their babies and feeding them.

I wish the government would either have the same rules for the whole country or localise the tiers more, perhaps by county. West Suffolk has one of the lowest infection rates in the country, much like Cornwall, and we were in Tier 1 but now 6 counties have been lumped together as East of England so we are now tier 2. I mustn't moan as we're all in the same boat and I suppose the boundaries have to be drawn somewhere, I'm just a bit disappointed we're not still in Tier 1.

It's getting really cold and foggy now. I might be putting a blanket over the duvet tonight. Sleep well everyone.






AnninGlos
Report
26 Nov 2020 19:52

I wasn't worried Gill as he didn't know until he said he was negative.It is still a concern as one of the nurses could easily be incubating it.

Looks like he is closer to coming home as he has been passed medically fit. However he still has his various problems including the hernia now for which he has been referred to GP for operation.

Researching:
Photo Peonie in our garden Researching Somerset, Dorset, Hampshire, Derbyshire, Staffs, Devon, Glamorganshire. Ingram, Masters, Tamblyn, Knight, Warner, Bate, Allen, Riggs, Dominey, Duffin

Gillx
Report
26 Nov 2020 19:24

Pleased to see your OH tested negative for Covid AnnG, that must of been a worrying time for you both.

I see our area is going into tier 2 next week, but with a few more rules. Still no visiting people in doors. At least some of the shops will be open including the barbers which OH is pleased about as his hair needs a good cut.

Really cold here and they say we're in for thick fog tomorrow, so glad OH isn't working tonight so he won't be driving in it, he hates driving in fog.

MillymollyAmanda
Report
26 Nov 2020 18:37

Thanks for letting us know your about Frank ,hope tomorrow brings a better day for you and you soon feel less sore and painful.


Oh AnnG thank goodness your OH's test was clear and that the chap has gone to another hospital ,hope the parcel finds him ,was that the parcel with his razor in .

Really cold here so I bet it's freezing out there now .



AnninGlos
Report
26 Nov 2020 16:27

OH just phoned again. He is now in a different ward. Private room as only one there with his own TV. Reason for move, ward shut, man going home opposite him this morning tested positive for Covid 19. OH tested negative. so that will mean he won't be coming home for (is it) 7 days after a negative test? So his latest parcel has not reached him, I do hope that doesn't go astray. Oh and man going home has now gone to Gloucester. Staff all tested negative as well.

Researching:
Photo Peonie in our garden Researching Somerset, Dorset, Hampshire, Derbyshire, Staffs, Devon, Glamorganshire. Ingram, Masters, Tamblyn, Knight, Warner, Bate, Allen, Riggs, Dominey, Duffin

Frank
Report
26 Nov 2020 15:13

Better late than never.

Not feeling great, so won't stop. Maybe better tomorrow. xxxx

Researching:
Coopersale,Epping, Essex earls barton,Northampton woodford bridge,essex Canning town, Bethnal Green.

MillymollyAmanda
Report
26 Nov 2020 13:23

Afternoon all,

Very frosty here this morning we had to scrape the windows on the car before we went shopping ,a bit more people in the shop today we don't normally go on a Thursday we usually go earlier in the week , all wiped down and put away for another week.

Ann another lovely picture ,I was wondering what size they are as it's hard to tell unless you see them against some thing you know the size of .

Mel thank you for the pretty Christmas card and the contents ,I'll put it in the age concern tin when the shop opens again if that's OK .

AnnG I hope your OH is a bit more comfortable now ,I bet the ward will soon fill up again ,that's handy having someone at the hospital who can take bits in for your OH .

Vera do be careful moving your furniture you don't want your back or your foot injured again , would the people who are doing your floor be able to move any thing that's really heavy for you .

Mel hope you remembered the library van .

I'm now going to make some more masks this afternoon the teachers asked son if I could make them some christmasy ones so that will keep me busy this afternoon.
I've taken a photo of the girls headbands so I'll send it .



AnninGlos
Report
26 Nov 2020 12:01

We actually saw quite a large murmuration a couple of years ago in town after a hospital visit for hearing aid maintenance. About 4pm and they came from all over the city, fantastic sight. I quite like them too, they are squabbly and greedy and very funny and really good parents.

Researching:
Photo Peonie in our garden Researching Somerset, Dorset, Hampshire, Derbyshire, Staffs, Devon, Glamorganshire. Ingram, Masters, Tamblyn, Knight, Warner, Bate, Allen, Riggs, Dominey, Duffin

Island
Report
26 Nov 2020 11:06

Morning all
Brrr... thick frost and 0 degrees here too but bright sunshine. Warm enough indoors though without the heating on until 5.

Annx you gave me a chuckle with your (not) sneaking out the backdoor for an earwig. Were they on the news?
Lovely painting again. Lovely photo of the starling too, I know most regard them as a nuisance but they're among my favourites. I've only seen a mini murmuration as yet - we daren't go to the nearest hot spot as Scruff couldn't be trusted to be quiet.

A sorting out of clothes day today.

Enjoy your day all

Mel Fairy Godmother
Report
26 Nov 2020 10:28

Morning Anng and Vera and all,

Sunny and a hard frost here this morning too.

A few errands to run today as the library is coming and I have to go down to Black Torrington for our scripts. I wante dthem today and if I had them taken to Shebbear Shop they would'nt have got there till Monday and oh is out of some. I shall go later though as some of the roads down there are very shaded and don't get the sun so the frost will stay a while and its usually muddy too.

Vera you will have to pile the furniture up to clear the room ready for the new floor to be put down. Do you have much in there?

Must feed the wild birds and get the washing on the line. Its pillow cases so should dry enough for ironing today.



AnninGlos
Report
26 Nov 2020 09:51

Morning Vera, very wise to stay indoors.
The roofs are still all white and it is still 0 degrees out there. Just been breaking the ice on the water features for the birds, one was also full of leaves and the other full of algy so had a bit of clearing out to do.. OH just phoned, He wants me to send in his wet razor, his battery shaver is useless and there is not a shaver point in the bathroom. Luckily I have somebody taking in a package for him today.

Researching:
Photo Peonie in our garden Researching Somerset, Dorset, Hampshire, Derbyshire, Staffs, Devon, Glamorganshire. Ingram, Masters, Tamblyn, Knight, Warner, Bate, Allen, Riggs, Dominey, Duffin

SuffolkVera
Report
26 Nov 2020 08:48

Good morning AnnG and all

It's very cold here too. OH is just off for his walk; rather him than me. Brrr!

I'm not sure what I'll be doing today. I'll just see how I feel later.

Our sofa arrived yesterday and is now taking up space in the kitchen. Goodness knows where the rest of the lounge furniture is going to go when we have to clear the room at the weekend for the new floor to be laid.

Great picture as always Ann.

Have a good day everyone. Might bbl

AnninGlos
Report
26 Nov 2020 08:24

Yes I will have to think of alternatives Ann, I think this is the only one with the real problem. Strangely it is not the height, I could easily reach on a step stool, it is just the position, the step stool would be balanced at the top edge of the stairs.

Good morning all, a very hard frost this morning and 0 degrees out there. Our temperature is jumping around at the moment. I am pleased that I turned off the water to the outside taps anyway. I don't think there is anything else out there to worry about. That is the problem with things like has happened with OH so suddenly, you always assume that in the main you will have time to sort things out if one of you is taken ill. A warning to everyone else to be prepared. Actually we did have many things sorted but really didn't think of things like light bulbs. And OH's office is a nightmare of electronic devices.

Sort of slept ok last night but I don't feel it was a restful sleep. Still nothing energetic to do today.

Researching:
Photo Peonie in our garden Researching Somerset, Dorset, Hampshire, Derbyshire, Staffs, Devon, Glamorganshire. Ingram, Masters, Tamblyn, Knight, Warner, Bate, Allen, Riggs, Dominey, Duffin

Annx
Report
25 Nov 2020 21:26

It sounds like you will manage till the bulb is replaced AnnG. I can remember changing some of mum's light bulbs for her when she was on her own. Her house had 10 foot high ceilings and the lights had long wires from the ceiling. Being short it meant I had to stand at the top of her highest steps to do it while she held them steady. Would it be worth getting one of those rise and fall pendants fitted on the landing for the future? You could lower it to change the bulb then. I might consider suitable ones in our lounge to be honest as this is a problem we will all have at some point.

Researching:
Staffordshire, Warwickshire

AnninGlos
Report
25 Nov 2020 20:50

Annx we have a socket and a motion light in it so it lights in the night when we get up. I also have another LED light on the shelf on the landing. It is just the stairs that are dark as they are behind two walls. I have left the bathroom light on so that will be ok.

Island I have one of this stick on lights in the spare bedroom by the bed. I will be ok.

Researching:
Photo Peonie in our garden Researching Somerset, Dorset, Hampshire, Derbyshire, Staffs, Devon, Glamorganshire. Ingram, Masters, Tamblyn, Knight, Warner, Bate, Allen, Riggs, Dominey, Duffin

Annx
Report
25 Nov 2020 20:18

Evening All,

Not a bad day here, bright but wet outside after an early shower of rain.

While I think about it AnnG, do you have a power socket on your landing? If so you could get one of those nightlights you can plug in. That would give you some light at the top of the stairs. I was also spoilt with my first OH as he was very practical, could do building, plumbing, electrics and could make anything in wood (his trade) and mend the car. I've always been the painter and decorator. Second OH is totally opposite and calls me if anything goes wrong in the bungalow! He's much more caring and thoughtful though and will sit up all night with me if I'm unwell, even when he was at work. That's a shame your OH is on his own now, but maybe there is less virus risk for him too.

You must be a neighbour Island, as I am about in the middle too! Right close to the M! in a village. I hope Scruff has pulled some interesting faces for you today. :-D I still love Vimto from having it as a child! We are the same about being cautious about what Boris has said. The govt are just trying to appease the public. The scientific advice is opposite and says there will be more spread as a result, a further spike afterwards and more will certainly die because of it. To me saving the lives of those that would die is more important, as they certainly won't see any family next year otherwise.

We were surprised to see two men with a microphone at the front door next door after lunch. OH spotted them and next thing they were in the neighbours' back garden with a film camera!! We could see them from our conservatory appearing to be interviewing the man, but have no idea what it was all about. I didn't like to sneak out through the back door down the side out of sight to earwig what they were saying!! :-D lol

I didn't sleep that well either, Got off to sleep early for a change then woke at midnight for 3 hours before drifting off again.

Hubby has had 2 meetings and a seminar today so an early night for us. I have emailed the latest pic we did this week.

Researching:
Staffordshire, Warwickshire

Island
Report
25 Nov 2020 19:03

Mel, a friend of mine would call on the local friendly fireman if she needed a 'strong arm' - I don't know why she didn't snap him up LOL
I'm not one for 'us women having lots to do'. It's always been team work with us, no him/her jobs. We were both self employed and independent when we met so it's always been a case of who's free.

Anng, what about one of those stick on round lights that are push on/off? Might be good in case of emergency if your landing is too dark without a light.


Mel Fairy Godmother
Report
25 Nov 2020 15:54

Its so annoying is'nt Anng. Mine can do most things like plumbing, electrics, pc, painting and decorating but now with bad hips its a job for him to stand on ladders anymore.

AnninGlos
Report
25 Nov 2020 14:58

Island if you come up with any ideas for the landing do share them. I have come to the conclusion that I have been spoilt. For 60. years I have had a resident electrician. Who would do all the family jobs as well and friends.

Researching:
Photo Peonie in our garden Researching Somerset, Dorset, Hampshire, Derbyshire, Staffs, Devon, Glamorganshire. Ingram, Masters, Tamblyn, Knight, Warner, Bate, Allen, Riggs, Dominey, Duffin

Mel Fairy Godmother
Report
25 Nov 2020 14:51

Thats a good idea Island. My ex Fireman would do something like that for someone. Yes I have a resident Fireman retired. :-D I'm sure you hav'nt had every day as a day off this year as us women always have lots to do.

Would that be the middle of England excluding Wales and Scotland? So you could be near Ann or William.............