General Chat
Welcome to the Genes Reunited community boards!
The Genes Reunited community is made up of millions of people with similar interests. Discover your family history and make life long friends along the way.
You will find a close knit but welcoming group of keen genealogists all prepared to offer advice and help to new members.
And it's not all serious business. The boards are often a place to relax and be entertained by all kinds of subjects.
The Genes community will go out of their way to help you, so don't be shy about asking for help.
Quick Search
Single word search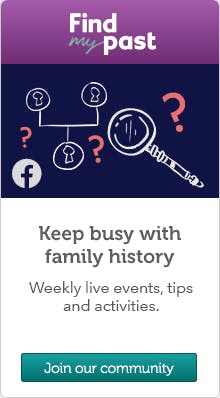 Icons
New posts
No new posts
Thread closed
Stickied, new posts
Stickied, no new posts
Line of Duty, Series 5.
Profile
Posted by
Options
Post Date

MotownGal
Report
9 Apr 2019 12:30

Second part last Sunday, with more twist and turns.

Anyone watching?

Anyone got any idea who H is?

I think we are being thrown a red herring with Ted Hasting (like the battle).

Lots of meaningful looks, but we didn't see whose photo the interviewee picked out.

Researching:


David
Report
9 Apr 2019 14:43

Line of Duty was filmed in Belfast. It's a gripping yarn. Even the members of AC-12
don't trust each other.

I think H will prove to be the Superintendent who is in financial mess.

Good job it's only fiction ?

Researching:
.

David
Report
9 Apr 2019 14:46


Crooked, murderous DS John Corbett, he's a character :-0

Researching:
.

'Emma'
Report
9 Apr 2019 14:58

Never watched it Maddie :-)

RolloTheRed
Report
9 Apr 2019 16:20

Seized weapons are deactivated before being accepted into police storage.
Once no longer needed as evidence weapons are destroyed by smelting.
Exception: legally held weaons and collector's pieces.
Large amounts of ammunition are dealt with by Army Bomb disposal.

Rather than pointless raids on police storage an OCG might like to consider one of the (legal) private sector defence depots. Not easy pickings though. The most effective way of taking weapons from such storage is not armed raids but corruption.

Send for A12.

LOD is pretty good at keeping the audience guiessing as to who is bad cop/good cop. Hastings has his problems but is prob not H.


Researching:
Catch 22

MotownGal
Report
9 Apr 2019 17:32

I like the fact that this series has already included characters from the previous series.

If you have not watched Series 1-4 you may not realise the significance of the characters as they re-appear.

I don't think that Hastings is H. Unless of course it is a double bluff.

Apparently there is a student drinking game attached to this programme.

You have to take a drink everytime Hastings says the word 'fella'.

Researching:


David
Report
9 Apr 2019 19:08

DS Steve and DI Fleming are doing all the work while their Superintendent
pace up and down in his office.
Is he the Officer contacting DS John Corbett by computer ?

Researching:
.

MotownGal
Report
9 Apr 2019 19:10

Well his computer was open to suggest this David. But I don't know.

I think we are being led up the garden path to be honest.

There are too many people with the initial H to be sure.

Researching:


David
Report
9 Apr 2019 19:15


There's a few corrupt officers in AC-12

He that says there's no such thing as an honest man is himself a knave.

Researching:
.

Madge
Report
9 Apr 2019 20:35

I said last series and series 3 that Hastings was H

Researching:
Nothing on this site records are complete tosh!

David
Report
10 Apr 2019 06:13


I liked that DC who was Steve,s assistant, briefly. After work she liked a few drinks and was a pool hustler. Pity she was thrown out the Hospital window.

Those Police have to take a lot of risks that would have us bricking it.

Researching:
.

MotownGal
Report
10 Apr 2019 13:33

Don't forget Hargreaves, the Police Rep. He is always shifty when he sits in on interviews.

Anyone but dear old Ted! :-D

Researching:


David
Report
10 Apr 2019 14:07


How could DS Steve be told at the scene of the guns heist that there were no casualties ?

Did those who ambushed the convoy use blanks ?

Researching:
.

David
Report
12 Apr 2019 06:28

The earlier series 3 Line of Duty was about corrupt people in high places engaged in
paedophilia activity. The former chief superintendent had been involved and
DS Ted Hastings had to arrest him. Steve was accused by another detective who shot a female detective in the head. :-0

Researching:
.

Tabitha
Report
12 Apr 2019 13:01

I have recorded it and will wait till the last episode - then i can watch the who thing over 2 or 3 evenings


I saw number 3 and 4 but had to wait a year to find series 1 &2 and tried putting all the pieces together .

the person who wrote it has a very strange mind.

Researching:
Kent - Sussex - Hampshire - Norfolk - Surrey - London

Caroline
Report
12 Apr 2019 13:09

Waiting for latest session to appear on Netflix!

David
Report
12 Apr 2019 14:46


I would say the individuals civilians or uniformed who commit such acts have very strange minds

Researching:
.

David
Report
12 Apr 2019 14:49


BBC released this when the series 3 activity was never out of the news including JS

Researching:
.

MotownGal
Report
12 Apr 2019 19:23

Let me put my LOD anorak on, and please, anyone feel free to correct me if I have got it wrong.

The young detective who was pushed out of the window was DC Georgina Trotman (Jessica Raines)

Arnott in Series 5 could be told there were no casualties, because they were all dead.

In Series 3 the Vice Chief Superintendant Fairbanks (George Costigan) was the corrupt officer abusing boys. Arnott thought that Hastings may be assisting him to avoid arrest, after Arnott spotted Fairbanks and Hastings shared a Masonic handshake. Hastings arrested Fairbanks on the bowling green.

DI Matthew (Dot) Cottan was The Caddy. He shot Lindsay Denton (Keeley Hawes) in the head in Series 3. She had discovered his and his fellow corrupt officers and had to be kept quiet. DI Kate Fleming took his dying statement after a chase, and it was then we first heard the character H.

I think Jed Mercurio is a clever writer, things are never as they seem. It niggles me slightly when they say LOD by the writer of Bodyguard. LOD came first.

Researching:


David
Report
13 Apr 2019 10:50

Thank you Motowngirl. I obviously don't know the difference between a fatality and a
casualty, my error.
DI Matthew Cottan was a sinister character throughout.
LOD was filmed in Belfast.

Researching:
.