General Chat
Welcome to the Genes Reunited community boards!
The Genes Reunited community is made up of millions of people with similar interests. Discover your family history and make life long friends along the way.
You will find a close knit but welcoming group of keen genealogists all prepared to offer advice and help to new members.
And it's not all serious business. The boards are often a place to relax and be entertained by all kinds of subjects.
The Genes community will go out of their way to help you, so don't be shy about asking for help.
Quick Search
Single word search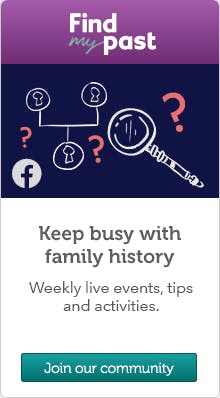 Icons
New posts
No new posts
Thread closed
Stickied, new posts
Stickied, no new posts
Is there anything better than a book
Profile
Posted by
Options
Post Date

Rambling
Report
29 Dec 2019 22:13

for Christmas?

Son bought me two I wanted :-) One on writing your family history (memo to self, don't read about doing it, do it lol).

and David Olusoga ( 'A House through time' presenter and historian) "Black and British: A forgotten history". I'm only a little way through but it is very interesting!

Were you lucky enough to get a book as a gift, what was it and are you enjoying it? :-)




Researching:
Whetman, Budd, Fishlock, Kemp, Keating. Surrey, London and Ireland.

Allan
Report
29 Dec 2019 22:22

Yes! 'Many Rivers to Cross' by Peter Robinson. It's an Alan Banks (Detective Superintendent) novel, pure escapism, but I do enjoy Peter Robinson's books.

When Sir Terry Pratchett was alive he tended to have a 'Discworld' novel published shortly before Christmas each year. I could always rely on my daughter to get me a copy for my present.

maggiewinchester
Report
29 Dec 2019 23:21

I never asked for a book for Christmas - though there are 2 on my list.

'The Grove of Eagles' by Winston Graham - is largely fiction or dramatisation of events based upon actual facts and involves several powerful and influential Cornish families but mainly the Killigrew family.

'Carminowe' by Elsie Balm - a novel based upon the author's research into the Carminow family once present in Cornwall, traces Roger's life (Sir Roger de Carminowe) from his early days through to his later years, recounting his efforts to be a good husband, father, lord of the manor and loyal subject of his king, his relationship with whom becomes increasingly tense because of their opposing views on important matters.

Both were my ancestors. I'll 'request' them for my birthday, and they will be kept in the genealogy hoard, along with the books on Suffolk families bought for my last birthday.

However, I bought both my grandsons books that they wanted, and eldest daughter has lent me 'This is Going to Hurt' by Adam Kay - Secret Diaries of a Junior Doctor (apparently very funny!) :-D :-D

Researching:
Dad and one of his pals - Bohartum

Sharron
Report
30 Dec 2019 00:02

I did have a couple of books for Christmas but bought some more withdrawn text books before then myself.

The content of one is so dire that I will not bother you with it. It is, however a delight to the senses.

The book was printed in 1969 and is grey with a red label and is cloth bound but just about everything is right. It is a little bit heavier than usual but feels so good in my hands and the printing is just the right size and lay-out.

It must be a magic book, it is so perfect.

maggiewinchester
Report
30 Dec 2019 00:16

What's it called? Don' t say 'Susan'.
I mean, what is it's title?

Researching:
Dad and one of his pals - Bohartum

Sharron
Report
30 Dec 2019 00:49

My book?

Shirley~I,m getting the hang of it
Report
30 Dec 2019 07:09

I got No Ocean Too Wide by Carrie Turansky

My interest is in British Home Children who were sent to Canada and Australia in the mid 1800,s right up to c1947 .My mums elder half sister was a BHC in 1909 from the Hackney children's home where grandad had surrendered them to in 1905 when his wife aged 29 died

I help out with research on a Facebook site for descendants of BHC children looking for info on their relations


So the book is about children who were removed from their home after the dad died and mum was taken ill, and the eldest daughter who was in service and her fight to get the kids back before they were shipped off


Researching:
Surname Fahse. Germany. Essex .South East London My avatar is one of our wedding photos of 1957

Cynthia
Report
30 Dec 2019 08:42

Funny you should ask this Rambling......I received 2 books....one from each of my children - and they both bought the same one!!! I now have 2 copies of Pam Ayres latest book of poems :-D :-D :-D :-D

Researching:
ADVICE: Click on 'My Threads' over on the left to find your replies. Please respond to your replies by typing in the Add Reply box at the bottom of the page. Enjoy!

AnninGlos
Report
30 Dec 2019 08:49

I had The Sun Sister by Lucinda Riley, it is the 6th book in a series I have read, just non fiction escapism but the books are very good. It is hardback unfortunately, it would be easier to hold if it was paperback as it is a very large thick book. It has not been published in paperback and the Kindle price is the same as the hardback.
I also had The hobbit because I have never read it and thought it was probably time I did
and also Giver of stars by JoJo Moyes Another very large hardback.

Researching:
Photo Peonie in our garden Researching Somerset, Dorset, Hampshire, Derbyshire, Staffs, Devon, Glamorganshire. Ingram, Masters, Tamblyn, Knight, Warner, Bate, Allen, Riggs, Dominey, Duffin

maggiewinchester
Report
30 Dec 2019 10:40

Sharron - yes, the title of your book. :-D

Researching:
Dad and one of his pals - Bohartum

Sharron
Report
30 Dec 2019 11:43

Well, Maggie, since you ask, it really is a book for those with no life so I don't think anybody else will want to read it or know about it and it is simply the second edition of 'The Coastline of England and Wales' by Prof JA Steers.

The content is only of interest to a few poor demented dull people book itself is exceptionally perfect to my senses.

Rambling
Report
30 Dec 2019 12:21

Thank you ladies, just going out so will read properly later.

Shirley that sounds interesting! my gt gt aunts were sent to Canada as BHC, from London, 1885 after their mother died, father died not long after, their sister made efforts to find out that they were well and happy ( found that in newspapers) so that book has a definite resonance. The two sisters settled well and were together most of the time after adoption in same area and remained so.

Researching:
Whetman, Budd, Fishlock, Kemp, Keating. Surrey, London and Ireland.

maggiewinchester
Report
30 Dec 2019 12:25

Sharron - no less interesting than my books on Suffolk by Alan Jobson!
I've got 4 of his books - but he has written many more.

Coastlines are interesting - especially if you're 'into' them - and the lie of the coast is important to boats.
Anyone who has nothing to do with Suffolk would probably find books on Suffolk extremely tedious.

Likewise the books I'd like on Cornwall.
I actually have a book on Cornish Privies - probably of very limited interest to many! :-D :-D

Researching:
Dad and one of his pals - Bohartum

Sharron
Report
30 Dec 2019 12:38

Strangely enough, I am a bit interested in Southwold and somewhere else nearby the name of which escapes me at the moment. you know the bit around where the Battle of Sole Bay took place, because the men of one village helped an entrance to the harbour to silt so that the other place didn't get the harbour rights.

We have a similar situation in that Pagham is within the see of Canterbury and Sidlesham is within the Diocese of Chichester. It was in the interest of the Archbishop to only have one entrance to Pagham Harbour.

Now, wasn't that riveting!?

maggiewinchester
Report
30 Dec 2019 12:52

It was interesting!

People of a 'certain age' should carry on learning new things - very important for keeping the brain active!





Researching:
Dad and one of his pals - Bohartum

RolloTheRed
Report
30 Dec 2019 13:00

I learned to sail at Pin Mill which gave me a life time interest in creek crawling and beach huts from Sherringham to the Dengie Hundred by way of Potter Heigham and the r Orwell.
No surprise then that Arthur Ransome is high on my list.
Again this year I received a couple of 1st ed. but I am frighted to read them so stick to my old tattered editions.
My GGM was christened here:
http://www.suffolkchurches.co.uk/nacton.htm

https://www.youtube.com/watch?v=JjuNz16RfoA

Suffolk is also the location of the great Rendlesham Forest UFO incident about which any amount of ink has been used. It is also one of the English counties fortunate in not having any motorways and a low count of most C20 annoyances..


Researching:
Catch 22

Sharron
Report
30 Dec 2019 13:25

I usually have a book with me when I go out but I do tend to put a cover on them because I don't want people to see what I am reading because it would make me look such a poser!

I was sitting on a seat by the street outside County Hall in Chichester once, waiting for Fred to come and pick me up (not recently!) and people kept looking at me a bit odd. It was not until I put the book in the bag to get in the car that I realized it had a dirty great swastika on the front.



maggiewinchester
Report
30 Dec 2019 13:27

My brothers went sailing at Pin Mill, when they were at The Royal Hospital School, Holbrook.

I could post links to where my Suffolk g g grandparents on all sides were Christened, married and buried, but that would be mainly Middleton /Aldeburgh/Sweffling (I can go back to 1535 in Sweffling - in the 'Royalist' Church) for the Suffolk lot, New Forest/Southampton for the Hampshire lot, and, well, I can go right back to 1098 for the Cornish lot - but not of much interest to anyone else!

Here's a shop in Aldeburgh that used to belong to my family. It doesn't anymore, and the owners aren't 'Baggotts', but when it was sold out of the family, part of the deal was that the name was kept.
My gg grandfather ran a Greengrocey on the opposite side of the High Street, but the shop was destroyed and gg grandfather (aged 93) was killed when bombs were dropped.

https://www.tonypickphotography.co.uk/v/photos/86627bvk/7762298602/aldeburgh-baggott-son-tony-pick

Researching:
Dad and one of his pals - Bohartum

SheilaWestWilts
Report
30 Dec 2019 15:00

There is nothing better than a book, except perhaps a book and a nice glass of something, or a book and an excellent coffee :-D


Researching:
Gloucestershire, Dorset, Hampshire, Derbyshire, London, Lithuania, Russia

Sharron
Report
30 Dec 2019 15:54

Two books.