General Chat
Welcome to the Genes Reunited community boards!
The Genes Reunited community is made up of millions of people with similar interests. Discover your family history and make life long friends along the way.
You will find a close knit but welcoming group of keen genealogists all prepared to offer advice and help to new members.
And it's not all serious business. The boards are often a place to relax and be entertained by all kinds of subjects.
The Genes community will go out of their way to help you, so don't be shy about asking for help.
Quick Search
Single word search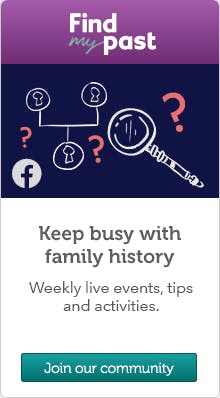 Icons
New posts
No new posts
Thread closed
Stickied, new posts
Stickied, no new posts
Do you re-use/repair items?
Profile
Posted by
Options
Post Date

JustGinnie
Report
8 Apr 2021 15:55

Florence made a point on another thread on how things were re-used years ago.

This made me think of my Dad when I was young repairing shoes. He would sit on the floor with his tools, a very sharp knife and a shoe last and of course a piece of shoe leather. I would watch as he cut the leather and repair the heels and soles, it used to amaze me how quick he was. Dad was very good at fixing things around the home and did all the decorating etc as well as repairing his car. I think as a child I thought he could do anything.
Of course a lot of men were the same, they had to be sometimes didn't they.?
He was born in 1907 to a mining family but left to join the army.

I bet a lot of us had parents the same .

Sharron
Report
8 Apr 2021 16:04

Fred had a leaking petrol tank in his van so he took it out and drained it.

Then he brought it indoors, put down newspaper, sat down on the floor in front of the fire with his blow-lamp, for God's sake, and a soldering iron and he soldered his fuel tank!

I will tell you ,because this might be something that you have never had to encounter, that, should you be foolhardy enough to want to repair a petrol tank,you empty it, wash it out carefully, and then you fill it with water and carry out the repair over a bubble.

I didn't want to learn to fly anyway!

grannyfranny
Report
8 Apr 2021 16:16

We reuse/repair everything that we can.
OH is very handy with wood and metal work, and I do textiles. OH is expert with adhesives. We do our own decorating, I refashion or make clothes from new.
I save A4 paper that is only used on 1 side for printing out things for ourselves, only use new paper for letters.
Although 3 of our parents were good, I think we have exceeded them in our efforts.

Researching:
Freeman of Berwick upon Tweed

maggiewinchester
Report
8 Apr 2021 16:17

When I had a hole in my shoes, they were repaired with cardboard!

My dad was brilliant with engines - but decorating?
He tried his best, and I learnt all my swear words whilst he was doing it! :-D

However, me and my siblings learnt from his mistakes!

Researching:
Betty. Favourite place in her new garden. Why is her shadow nothing like the way she's sat?

AnninGlos
Report
8 Apr 2021 16:23

My dad could repair most things, yes he also repaired shoes. He made things as well, anything that could be made in wood he could do it. My lovely OH who sadly died in January could and Did also mend things, not shoes I have to add but he would make and mend anything wooden as well, he could also mend mobile phones and things like golf trollies. I am finding it very hard now that when something goes wrong or breaks I have to look for somebody to pay to mend or make it.

Researching:
Photo snowdrop in our garden Feb 2020 Researching Somerset, Dorset, Hampshire, Derbyshire, Staffs, Devon, Glamorganshire. Ingram, Masters, Tamblyn, Knight, Warner, Bate, Allen, Riggs, Dominey, Duffin

nameslessone
Report
8 Apr 2021 16:24

The trainers I usually wear have worn through at the back. The replacements I had ready just cut me straight through the back of the heel. Didn't even go through the blister bit first.

But at the. Omens I need a pair of supportive shoes for a foot problem. Found the perfect pair at the back of the wardrobe, an o,d pair of K shoes. After wearing them I discovered bits shearing off the sole. Asked OH to super glue the edges. He would prefer to ask at the cobblers. Can't wait for that. So he has superglued the edge as requested, also all the splits in the sides we found. Haven't tried them on again yet.

Hope the new shoes arriving tomorrow will be better ;-)

Florence61
Report
8 Apr 2021 16:36

My dad is a retired electrical engineer but can turn his hand to anything and still does.
So when i came to visit him in 2017, a wheel on my case has somehow frayed.
We went up to his workshop where he found a light yellow plastic block. he then measured and put it on his lathe machine.
To my astonishment an hour later, he had made a new wheel for my case complete with pin etc...

My dad never ceases to amaze me with his knowledge and skills of repairing.

Florence in the hebrides

Researching:
house/hampshire prophet/cheshire skinner/kent

Island
Report
8 Apr 2021 17:15

Re-use. repair re-cycle, always as much as possible, never been a waster.


Gwyn in Kent
Report
8 Apr 2021 17:57

Our family had a shoe last too, although I do remember that later on a chap used to call at the house, collect any shoes for repair and return with them a few days later. As our roads were 'unadopted' and had huge water channels and gullies, there was a constant need for repairs.
It was quite common when I was young to see children playing out in the summer holidays wearing shoes that had the toes cut out. This gave an extra bit of room before new shoes were bought for the return to school in the autumn term.

Did anyone have a mum who recycled knitting wool?
A garment would be unpicked at the seams, then the knitting unravelled and the yarn wound round a particular tea tray and tied into a skein. The skeins would be carefully washed and hung on the line to dry.
Once dry, I was often called upon to sit with my hands inside the skein and hold them upright while mum wound the wool into a ball ready for knitting a new garment.

String was never cut, it was unravelled and carefully rolled and kept in a tin for reusing.

I do reuse plain backs of paper and generally use anything at least twice if possible.
Yoghurt pots and kitchen roll tubes are taken to the local primary school for modelling or art lessons.
Liquid soap dispensers are saved for them to use for paint too.

RolloTheRed
Report
8 Apr 2021 18:23

From a child I never wore repaired shoes - one of my rellies owned a shoe factory! Also Clarkes were in their prime. Then in my late 20s after a win on the GGs I bought a pair of John Lobb shoes which were the most comfortable things you can imagine. Or maybe not imagine in which case good choice. I have bought some more since but leave JL to to the repairs.

I love fixing things - old wooden boats, Falcon racing bicycles, toys, musical instruments, legacy navigation aids, classic computers, ancient houses, clocks and watches ( fixing clocks was one of the few interests I had in common with my father ).

Fixing things is especially interesting when it saves a lot of money or makes things possible which otherwise were not. Some things are boring to fix but again it saves money - large format TVs, double ovens, classic car gearbox, Tiffany lamp for instance.

It is now possible to buy a digital microscope at low cost which can hook up to a windows computer or smartphone. If your vision is way the wrong side of 25 yrs these greatly improve the chances of successful repairs.

For domestic tranquility do not carry our yr repairs in the kitchen which is the worst possible choice and risks a ban..


Researching:
The Man In the High Castle

grannyfranny
Report
8 Apr 2021 19:18

My Mum recycled knitting wool and so do I. I pulled back some unfinished knitting recently and knitted 3 pairs of slipper socks. Wouldn't use it for a baby garment, for instance, but I have some more wool waiting to be used, I'll probably knit a cushion.

Researching:
Freeman of Berwick upon Tweed

Island
Report
8 Apr 2021 19:43

I've been a jumper re-knitter since an early age. I'd knit myself jumpers, wear them for a while then unravel and knit up in a different style just for a change. I must have been a fast knitter then.
I still hang on to my own knits which I've designed and do something different with them - lengthen, widen lol.
I vow not to buy any clothes while I have items that can be restyled - all self made.

nameslessone
Report
8 Apr 2021 19:45

We had a shoe last, even though Clark's was in its prime.

Mostly used for Dad to add those corner bits to his heels. City gents had to be smart - bowler hat and separate collars.

Sharron
Report
8 Apr 2021 19:55

I think there is still a shoe last in the shed.
Wonder where they got them from.

Island
Report
8 Apr 2021 20:00

There was a shoe last in my dads shed but I don't remember him doing shoe repairs - perhaps it was his dads.

ZZzzz
Report
8 Apr 2021 20:49

I'm told I'm good at re -using and adapting things but I think I get it from my Dad.
One thing I'm proud of is I bought plain blouses from a charity shop and embroidered different patterns on the front so they were different, that was years ago before all this recycling malarkey started.

Researching:
Frame mainly from Newcastle and Gateshead. Vos from Netherlands. Nelson and Sowerby from Newcastle. Pickles from Saddleworth and Australia.

maggiewinchester
Report
8 Apr 2021 21:01

We too had a shoe last - it kept the front door open! :-D :-D

In the past, I've bought a chandelier type light, fixed it, and rewired it, plus various old lamps - not sure of the make, I was more interested in the style.
I also made my own curtains, clothes etc, and period costumes, using old curtains!
One costume was a victorian dress, with bustle, from checked curtains, and I made 3 Tudor costumes - complete with bombast and padded roll from some velvet curtains.

Researching:
Betty. Favourite place in her new garden. Why is her shadow nothing like the way she's sat?

Caroline
Report
8 Apr 2021 21:48

My mum recently gave my Grandfathers shoe last to my sister.

LaGooner
Report
9 Apr 2021 08:40

My late Father in Law was a Boot and Shoe maker and we have 3 of his lasts here and they are great doorstops :-D

maggiewinchester
Report
9 Apr 2021 09:22

Just remembered - I was temping once, and they were removing an old cupboard with a wooden roll type door.
I asked what they were doing with the door, as I was interested in it.
I found it, later, beautifully rolled up by my desk.

It was perfect for dolls house wooden flooring! :-D :-D

Researching:
Betty. Favourite place in her new garden. Why is her shadow nothing like the way she's sat?