General Chat
Welcome to the Genes Reunited community boards!
The Genes Reunited community is made up of millions of people with similar interests. Discover your family history and make life long friends along the way.
You will find a close knit but welcoming group of keen genealogists all prepared to offer advice and help to new members.
And it's not all serious business. The boards are often a place to relax and be entertained by all kinds of subjects.
The Genes community will go out of their way to help you, so don't be shy about asking for help.
Quick Search
Single word search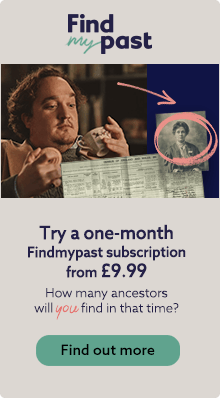 Icons
New posts
No new posts
Thread closed
Stickied, new posts
Stickied, no new posts
I was standing at the kitchen sink ...
Profile
Posted by
Options
Post Date

Kentishmaid
Report
2 Aug 2021 07:51

I miss letters. When I first married (over 50 years ago) I wrote regularly to my Mum and Mother in law and other relatives. and looked forward to their replies. These days people seem to communicate in 'sound bites' , by text. and don't get me started on the lack of thank you notes

maggiewinchester
Report
1 Aug 2021 22:46

I've just read a couple of old childrens books. (published in the late 19th century) In the last two, a child went missing,

In one, his mother had died, and his father went to Australia to earn some 'good' money, so the boy, Tommy was living with his granny, in a small Welsh village..
One day he decides to go to Australia to find his dad.
He boards a ship, hides, but is found 2 days out to sea.
The boat is only going to Madeira, but no message can be sent to his granny until they land in Madeira 5 days later, when a letter is sent

No communication, apart from by letter :-S



Researching:
Dad feeding a random monkey (as you do!)

Florence61
Report
1 Aug 2021 15:54

My nannas were called "applecatchers" lol and were all pale green! And she hung them out as did her neighbours without any shame. Nanna only had a tin bath for us granddchildren.Filled with boiled water and we sat infront of the fire on Sat eve to wash.
But staying at nannas meant lots of home made cakes and toffees.
No central heating, just a coal fire. No duvets, thick heavy blankets kept us warm.

At grandmas, there was never much waste really. All the plastic containers were used to plant seeds in and we were not allowed to waste food. We only took what we were going to eat and all home cooked food from fresh, no ready meals.

Florence in the hebrides

Researching:
house/hampshire prophet/cheshire skinner/kent

Kentishmaid
Report
1 Aug 2021 10:44

If anyone is interested in how our lives have changed Ruth Goodman has done a fascinating book The Domestic Revolution . It plots the changes to the way we run our homes from the times when coal took over from wood as a domestic fuel


nameslessone
Report
1 Aug 2021 10:25

Dark colours and dim lighting.

Gwyn in Kent
Report
1 Aug 2021 10:22

Yesterday, I was helping elder daughter with painting her living room. Most of it is white.

Remember when Granny had dark colours, because they were more serviceable?

Our hallway, when I was a child had heavily embossed paper on the bottom half, which was dark brown and thickly varnished, so that it could be occasionally wiped over and in between wouldn't show the dirt.

With coal fires and unmade up roads, there was always plenty of dust and grime about.

Kentishmaid
Report
31 Jul 2021 16:25

Wonder what they would make of the cars that now try to take over the driving? I know some can park themselves and a friend has a car that corrects the steering if she wanders out of lane

Shirley~I,m getting the hang of it
Report
31 Jul 2021 15:25

Island that sounds right

Looking at directoire knickers that was what mum wore

Remember mum would sit legs akimbo and give us kids a huge hug

Two kids in between her legs and one on each lap and the oldest standing in front of her

a lovely feeling of love coming from mum who usually was so busy with housework washing cooking etc we were just there !



Wish genes couid accept pictures

Researching:
Surname Fahse. Germany. Essex .South East London My avatar is one of our wedding photos of 1957

nameslessone
Report
31 Jul 2021 15:12

I hated the gas poker we had to use to light the boiler in the kitchen.

LondonBelle
Report
31 Jul 2021 15:07

Having central heating and not having to keep the coal scuttle filled. Also, not having coal as the main fuel for domestic heating and hot water :-0

Researching:
Give a dog a bone!

Island
Report
31 Jul 2021 14:54

aka 'directoire knickers' :-D

You wouldn't want a line full of those every Monday LOL

Shirley~I,m getting the hang of it
Report
31 Jul 2021 14:46

My mum wore what we called barrage balloons!


Long to the knee with elastic at the legs ends

Researching:
Surname Fahse. Germany. Essex .South East London My avatar is one of our wedding photos of 1957

nameslessone
Report
31 Jul 2021 14:39

Blooming 'eck some were big. ;-)

Island
Report
31 Jul 2021 14:36

I remember that namelssone, they'd have a broom on the cart as well - and used it.

I think our ancestors would find it odd that we change our smalls every day - or should I say underwear as pants weren't exactly small in days of old LOL

nameslessone
Report
31 Jul 2021 13:52

Oh the days when the dustbin man would walk up the path and hoist your little metal bin on his shoulder, and then he would walk it back.

Tawny
Report
31 Jul 2021 13:52

Electric street lamps and not having to cut newspaper into squares for use in the outside toilet.

The number of cars on the road or just cars in general. When Mr Owl's granny was a girl growing up in the 1930s and 40s her dad was one of only two men in Barton to have a car as he was a dyke inspector. The only other one was the local doctor.

Researching:
No free man shall be seized or imprisoned, or stripped of his rights or possessions, or outlawed or exiled. Nor will we proceed with force against him except by the lawful judgement of his equals or by the law of the land. To no one will we sell, to no one deny or delay right or justice.

Island
Report
31 Jul 2021 13:28

Then we have wheelie bins! Grannie wouldn't have generated enough 'rubbish' for one and would have been shocked by the amount of waste. I must say, I'm amazed at the rate some people fill them and think our barely half full bin every two weeks is bad.

Island
Report
31 Jul 2021 13:23

I've always washed out cans, jars and bottles - two weeks unwashed in the wheelie bin would be a bit stinky, not to mention the flies. Not washing out cat food tins is gross and vermin attracting.

Pet food in tins would be something our ancestors would find odd.
As for having dogs spend the night - or day - indoors :-0 - in the master bedroom - on the master bed LOL Kennel? what kennel?

Kentishmaid
Report
31 Jul 2021 13:23

A neighbour puts bleach in her black bag, she reckons it stops the foxes tearing them open when she puts them out the night before dustman day. Must admit I haven't noticed it works, my little dog often finds stray chicken bones :-(

nameslessone
Report
31 Jul 2021 13:08

I've always washed cans, bottles, jars. I suppose I assume my mother did too. I was shocked once when I discovered my almost OCD sister in law don't rinse out her cat food tins.

Salt on food peelings is a new one. But I suppose it was because it is a preservative.