Find Living Relatives
Welcome to the Genes Reunited community boards!
The Genes Reunited community is made up of millions of people with similar interests. Discover your family history and make life long friends along the way.
You will find a close knit but welcoming group of keen genealogists all prepared to offer advice and help to new members.
And it's not all serious business. The boards are often a place to relax and be entertained by all kinds of subjects.
The Genes community will go out of their way to help you, so don't be shy about asking for help.
Quick Search
Single word search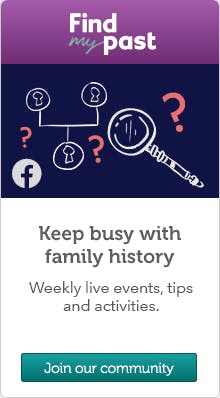 Icons
New posts
No new posts
Thread closed
Stickied, new posts
Stickied, no new posts
Robinson Relatives 2
Profile
Posted by
Options
Post Date

GingerGirl90
Report
29 Jul 2011 23:29

So, I know I probably sound like I'm totally crazy (which I'm not) but the only family I have is punishing me for things I don't even know about. If any one knows Sarah Louise Ryder (nee Robinson) (B.1962) or Peter Robinson (b. 1948-49?) whose parents were Ralph Bertram Robinson "Robbie" and Pamela Mabel nee Thompson, please get in touch.

I'm not my father and I don't derserve to be blamed for whatever he's done, especially now.



Rambling
Report
30 Jul 2011 00:01

GingerGirl...please take this the right way, from someone who does know what it's like to feel 'orphaned'. It is too soon after your mum's death to be doing this...for your own sake, you need to do the grieving for the family you have always had, before you look for the ones you are seeking.

No one thinks you're crazy...its a natural reaction to want family around...but please think about postponing your search for a few months, not stopping it, just give youself a bit more time to grieve...the last thing you need is to face possible rejection at this time.

It's up to you of course, not trying to tell you what to do...but I am concerned for you.

Researching:
Whetman, Budd, Fishlock, Kemp, Keating. Surrey, London and Ireland.

GingerGirl90
Report
30 Jul 2011 16:15


Dear RamblingRose.....I do take it the right way and I genuinely appreciate your concern for me. The grief I am feeling is immense (its the worst I've ever felt) and the fact that I'm all on my own makes it , like, a thousand times worse. But I need to keep this up.

I'm in a unique situation where the reason my relatives are ignoring me is because they think that I'm my father (I won't go into his issues on here obviously) or that I'm connected to my father and with him trying to use my family like he used to. All I've ever wanted is to know my family. I have to keep going until I find one relative who is at least willing to consider the fact that I'm not him and maybe because he treated them so horribly, maybe he didn't treat me so well either. And that maybe I'm at least worth a phone call or email message.

I feel really embarrased having to put this Eastenders meets Corrination Street (by the way, you have much better soaps in Britain) tale up here. But I hope it helps you to understand that I have to keep trying no matter what.

But again, thank you for your concern. You're clearly such a nice person and I don't want you to think I'm disregarding your advice. I appreciate it. <3

GingerGirl90
Report
1 Aug 2011 01:43

I believe that there's good in everyone (inc. my paternal family) and basically yea, I just need to keep going. I have faith that things will work out. :-)

GingerGirl90
Report
2 Aug 2011 11:06

Wow, just realized how corny that sounded. But I meant every word. :-)

GingerGirl90
Report
3 Aug 2011 06:32

Also, (and I don't know if this is important) my father left the UK in the early 1970's. Thanks

GingerGirl90
Report
5 Aug 2011 06:08

New information note, I have reason to believe that my uncle Peter emigrated to either Australia or South Africa. If this helps anyone please let me know. Thanks :-)

GingerGirl90
Report
7 Aug 2011 11:44

New information note, I have reason to believe that my uncle Peter emigrated to either Australia or South Africa. If this helps anyone please let me know. Thanks


GingerGirl90
Report
10 Aug 2011 07:12

Just received name of possible relative, Erwin Kolbeck (Australia). If anyone knows anything about any of my relatives please get back to me. Something has "cropped up" (as we say) and it is very important that I ind them, please.

GingerGirl90
Report
13 Aug 2011 23:33

Ok, I realize that the post about my uncle is up there twice. I only meant to edit it to remove the smiley. Has anyone else had that kind of technical trouble on GR? Because it's not the first time it's happened to me.

Lynski
Report
14 Aug 2011 01:48

Yes, sometimes posts can double up due to the site being slow.

It has happened to me before - I thought I hadn't submitted a post and did it again only to find that it was there twice!

Researching:
Bagley, Millington, Morrey, Edwards, Sims, Weaver

GingerGirl90
Report
14 Aug 2011 06:47

It's nice to know I'm not the only one. It also does it with messages, I wrote a message then hit "Save to Drafts" and it was sent by itself about 2 minutes later! :-S

Rambling
Report
14 Aug 2011 13:33

there are a couple of E Kolbeck on

www.numberway.com/phone-numbers/83/

Researching:
Whetman, Budd, Fishlock, Kemp, Keating. Surrey, London and Ireland.

GingerGirl90
Report
15 Aug 2011 09:06

Thanks. It's nice to finally have an uncommon name to work with. :-0 :-)

GingerGirl90
Report
19 Aug 2011 08:38

New info note: Have good reason to believe that Sarah Ryder lives in Kent or Essex.

Flick
Report
19 Aug 2011 22:20

Try www.192.com

Flick
Report
19 Aug 2011 22:26

I don't know where you got your 'info', but there is NO marriage in England or Wales for Sarah Robinson to anyone named Ryder

GingerGirl90
Report
20 Aug 2011 11:50

Ok, but that doesn't mean they don't live in the UK now.

Flick
Report
20 Aug 2011 13:50

As already advised above........look at www.192.com



GingerGirl90
Report
20 Aug 2011 21:22

okay, thank you. I appreciate it.