Find Living Relatives
Welcome to the Genes Reunited community boards!
The Genes Reunited community is made up of millions of people with similar interests. Discover your family history and make life long friends along the way.
You will find a close knit but welcoming group of keen genealogists all prepared to offer advice and help to new members.
And it's not all serious business. The boards are often a place to relax and be entertained by all kinds of subjects.
The Genes community will go out of their way to help you, so don't be shy about asking for help.
Quick Search
Single word search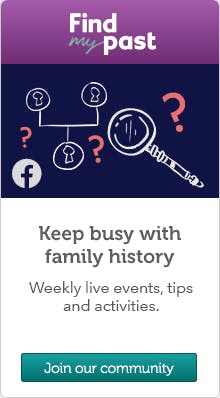 Icons
New posts
No new posts
Thread closed
Stickied, new posts
Stickied, no new posts
Thread for adopted children and siblings
Profile
Posted by
Options
Post Date

Braken
Report
23 Feb 2012 16:40

I don't know if this will work or not but there is an awful lot of adoption notices on here and if all their names were on one thread it would be easier to look on

Please let me know what you think and add the names of your family member

Good Luck in finding your family member ;-)

Researching:
Stockton-on-tees North Yorkshire & North East

jax
Report
23 Feb 2012 17:02

No it will not work in my opinion

Most people who are looking for adopted siblings or children are normally new to the boards, so they would not hunt for a thread to add to

jax

Researching:
Nothing much

Flick
Report
24 Feb 2012 13:01

It would be total chaos........sorry

Tracy
Report
24 Feb 2012 22:22

It would be fantastic As a mother looking for birth daughter and it would be alot easier and all adopted and birth family could look in one place :-D

jax
Report
24 Feb 2012 22:34

Tracy the thread would disapear off the page in no time, what happens when it is 100+ pages long? who is going to look through that?

Use

Search trees,or Enter the name in the keyword (white box top of the page)

or try google

Researching:
Nothing much

Braken
Report
25 Feb 2012 10:46

May be it would be something for genes to do they could add it to the boards summery with it's own title

;-) ;-)

Researching:
Stockton-on-tees North Yorkshire & North East

Sheila
Report
25 Feb 2012 21:37

Bracken

We have had several adoption threads on GR a lot offering advice and help, but since the format of the different catergories has changed it would be a lot harder to keep this on the main page, unless it was constantly added too.

Flick
Report
25 Feb 2012 22:07

We should be encouraging people to use the proper channels.

And that's where the involvement of GR members should end

Adoption issues are incredibly sensitive, and should not be dealt with by people without specialised training.

Sheila
Report
25 Feb 2012 22:26

Flick with the greatest respect I have dealt with these people and they are not always the best ways to deal with some of these issues, if someone needs help and advice on this there is lot more they can do than just go to Norcap.

jayne
Report
26 Feb 2012 11:42

I'm currently going through the 'social' and they aren't that great, i can see why people turn to sites such as these to try and contact family.

I have been lied to for a start by these people who are supose to help me!

Flick
Report
26 Feb 2012 12:11

With equal respect, Sheila, I feel we shall have to agree to differ.
I have personal experience of the damage caused through meddling in such matters by interfering busybodies.



Sheila
Report
26 Feb 2012 13:32

Flick me too , I have been in touch with hundreds of adoptees over the last few years, and the damage is not always done by well meaning searches , agencies can be equally to blame, whilst you have to always be aware of the damages that these searches can do, contact will have to be made at some point, and no matter who makes this contact, this will change people lives for ever.
Whilst I would never advocate just giving someone the birth families details and phone number and letting them jump in feet first, telling them to just sign on an adoption register is no help either, the chance of making a connection are minimum.
The better thing to do is to be active to put the person in their tree to contact SS or the adoption agency that arranged the adoption and to post messages on the other sites that are available.

Kay????
Report
26 Feb 2012 17:46

As someone who works links closely to this subject........too many factors need taking into concideration,

and the sucess of any out come lays in the hands of,

1..The adoptee
2.The birth parent.

neither can be railroaded where they dont wish to go.

nothing at all to do with the work of SS or agency...

an adoptee nor a birth party doesnt want an indifinate wait on a contacts register,which has a poor rate of connections.and a contacts register isnt worth anything if someone isnt in full knowledge surrounding their situation.

GR should not have allowed this board to be used by adoptees or a birth party.

Sheila
Report
26 Feb 2012 18:26

I agree Kay a successful outcome depends on the co-operation of both sides of the family.
The registers are only successful in about 1-2% cases , therefore , people tend to find other ways to assist their search.
Why do you feel that this board should not be used in this search though ? the thread is called Finding living relatives.

jax
Report
26 Feb 2012 18:45

I recently helped a 63 year old man who was adopted to get in contact witha half sister.
His parents had got married just before he was born, but he thinks the father may not be his biological one, hense the adoption. His birth mother had died but it turns out the husband was still living and aged 87, I am now wondering what the family are now feeling after all these years of secrets?
The half sister was not interested even though she was their only child.......shame but it is not always a happy ending

Researching:
Nothing much

Kay????
Report
26 Feb 2012 19:49

Hi Sheila,~~~hows you......

I feel that the board really should be intended to find links to the family you are researching,,not to present day happening privatley of someone life..

Plus unless many facts are given it may not be apparent that the post has anything relationship to you.....the poster rughtly belives and reads,,,,,,,,,,***,put all that you know*** they are jumped on as-------**-Too much information**---so from the onset it---not enough info,doesnt relate to anyone,,too much and they are wrong...

;-)

Sheila
Report
26 Feb 2012 20:35

Hi Kay,

I'm good how things with you ? I know what you mean ;O/ Bracken came up with the idea of a special thread, but not sure if GR will go for it, people could maybe put their birth name and year of birth on there. It would have to have a sticky as not to be lost as the pages move on. That way it would just be intended for BP or adoptees looking.
Then if anyone can help then they can do so by private e.mail, problem as you say is , if someone does not give names of BP then someone will ask for them . Then the person who started the thread is told of for putting personal info on the thread.
I am not suggesting someone says , here found your BP's hears the address go and knock on their doors heres the address.
Common sense is required. :O)

Kay????
Report
26 Feb 2012 21:15

Correct Sheila...also as its a site for posting messages I dont have the right to tell or demand anyone remove information they wish to post......its for the person to decide what they wish to be known,,,,w cant act onbehalf of someone else as we dont know their views,

:)

SylviaInCanada
Report
26 Feb 2012 21:51

The problem I see is that, even if it is stickied, this will end up as a thread that people have to search through to see if a name of interest is listed.

And it will not only be searching through a list of names, but members will also try to help, so there will be advice posts as well, all mixed up.

Once it gets to more than 20 or so names .......... which could mean as many as 100 posts (or 5 pages at 20 posts per page) ..................... then people will no longer bother.


Plus, the undoubted fact that posters do NOT read advice on how or what to post, and so they will be posting names and birth information for parents / siblings, etc ...................... all information that is not advised to post.


In fact, GR does remove posts that contain information on possible living people ........ and it is not only when those posts are RR'd.


I also have a gut feeling that it is not a good idea to search for birth relatives on such an open site


.............. I try to put myself into the position of a 70 year old woman who had a child adopted at birth 50+ years ago ................ with all the guarantees then given of secrecy. If I then made a new life, and have not told either husband or other children ........ would I really want my name splattered all over the internet??


I know that I myself would not want it .......... much as I might ache to know how that child had done, I might well be scared of what will happen to my new life.

Similar applies to a man who may or may not have known that he sired a child 50+ years ago.


BTW .............. I am of that age group, but was never in the situation!


As we all know, google picks up information from GR within minutes of it being posted .............. and if it is once out there, it cannot be removed.





All in all, I have to say that I do not think it a good idea.



In case you have forgotten, GR did start THIS Board as a board where people could not reply on the thread but had to pm the poster .......... it did not work out at all well, and was changed, under pressure, to an ordinary threaded board.

A very large number of posts by people requesting help were RR'd because of the information they give.



sylvia

Researching:
My brother, photo taken in September 1990 just a couple of weeks before he died. ............................................................ To help us and to get better results, please post as much detail as you can, especially name, date(s) and place. Also say what you already know.

ErikaH
Report
26 Feb 2012 21:57

In the pre-digital era, C4 TV in the UK had teletext pages aimed at finding lost relatives, but would not, under any cirumstances, allow requests about adoption.

I always thought that very sensible.