Find Living Relatives
Welcome to the Genes Reunited community boards!
The Genes Reunited community is made up of millions of people with similar interests. Discover your family history and make life long friends along the way.
You will find a close knit but welcoming group of keen genealogists all prepared to offer advice and help to new members.
And it's not all serious business. The boards are often a place to relax and be entertained by all kinds of subjects.
The Genes community will go out of their way to help you, so don't be shy about asking for help.
Quick Search
Single word search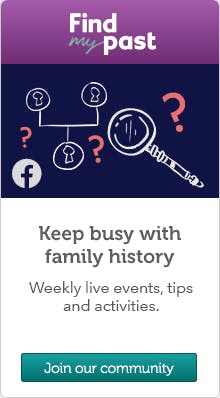 Icons
New posts
No new posts
Thread closed
Stickied, new posts
Stickied, no new posts
Claudia Jane/Christian mother Valerie Mary Thomas
Profile
Posted by
Options
Post Date

Erica
Report
2 May 2013 12:10

I am looking for my half sister and brother, born to my mother Valerie Mary Thomas nee Williams. My mother died in 1977 in Wandsworth. My half siblings are Claudia Jane and Christian, I do not know their surname as my mother did not remarry. Her partner, their father, was called Chris. Their approx date of birth is 1972 give or take a couple of years. Thank you

jax
Report
2 May 2013 13:16

The surname could be Bailey...do you know what happened to them after your mother died as they would have been very young

Researching:
Nothing much

patchem
Report
2 May 2013 18:54

I can see births under Thomas and Bailey for Claudia Jane, but only under Thomas for Christian (1974 Kensington)
The 1974 Kensington has distinctive middle names.

jax,
Have I missed the Bailey/Thomas Christian?
Thanks


jax
Report
2 May 2013 19:05

I could'nt find Christian under Bailey either Patchem

Researching:
Nothing much

patchem
Report
2 May 2013 19:10

The Christian with the extra middle names can be found on a google search, living in Swansea.
But Thomas/Williams is a fairly common combination.

Thanks, jax.

Added:
There might be 2 Christians, so Swansea could be the wrong one.

Erica
Report
2 May 2013 19:57

Thank you very very much everybody will try those suggestions. Erica


Pamz
Report
2 May 2013 21:12

Erica Claudia & Christian would have been given their mother's surname Thomas unless the father was there to state otherwise, thus they would have been named Thomas m.m.n. Williams; regardless of whether they were Mr Thomas's children.

Have sent a private message...

SylviaInCanada
Report
2 May 2013 22:09

Locater ...........

NOT NECESSARILY,

mother can always lie about her marital status, and thus give her partner's surname as the father, even though they are not legally married.

You don't have to show a marriage certificate as proof. :-)

Researching:
My brother, photo taken in September 1990 just a couple of weeks before he died. ............................................................ To help us and to get better results, please post as much detail as you can, especially name, date(s) and place. Also say what you already know.

Pamz
Report
2 May 2013 22:13

Yes one could lie about a lot of things, I was talking facts..



Pamz
Report
2 May 2013 22:14

Especially having checked out that that was so in this case....

Pamz
Report
2 May 2013 22:18

I make it a rule to stick to facts when assisting other's, I feel one should never go into if buts and maybes....

Pamz
Report
2 May 2013 22:18

;-)

SylviaInCanada
Report
2 May 2013 22:41

oh well ...............


if you have managed to see the actual birth certificate and see what was on there, then you MUST know more than me



are you lucky?!


Researching:
My brother, photo taken in September 1990 just a couple of weeks before he died. ............................................................ To help us and to get better results, please post as much detail as you can, especially name, date(s) and place. Also say what you already know.

patchem
Report
3 May 2013 06:54

Erica,
There are 2 possible marriages for Christian, in Poole in 1989, and in Swansea in 2002.
Has anyone sent you details of those, and has anyone suggested what has happened to Claudia?
Do you know what happened to the children after your Mother's death? Where or with whom they went to live?
Thank-you

Added:
There is a possible marriage of Claudia J Thomas, to Mr Wootton, in Buckinghamshire in 1996, and then Claudia Wootton, no middle initial, showing on 192.com in Swansea, but too young.
It is just the coincidence of Swansea that makes it interesting.

One can stick to facts, but in helping others one needs if, buts and maybes. The more knowledge they have the better informed they are. This allows them to draw their own educated opinions.

Pamz
Report
3 May 2013 08:07

I did not need the birth cert. I had more than six connecting facts; therefore making it somewhat more than an educated guess:

Mother's surname, mother's maiden name, dates of births of both babies, names of each child, registration in area where mother's death was registered, one has to use one's common sense too.

What the hell is your beef, why the need to pick apart every last word I put up on this board, life is very short, even if you find you have little to do at times, you really should make the best of it.

As I have stated before 'when you pay my subs you can tell me how to do things', I have been doing this a very long time and know from others I have helped that ifs, buts & maybes do not amount to knowledge, they are 'ifs buts and maybe's', being informed of lots of red herrings is hardly helpful; it just sends them off in unnecessary directions.

You pull apart what I state and yet:
"What if the mother lied about being married, there is another surname of Bailey, oh there are some Thomas/William's in 'WALES' with similar christian names", how on earth can that help anyone.... Not to mention making them older than they are to make a marriage fit, oh of coarse they 'might have married young!

Thomas/Williams combo in WALES; come on, that is as good as saying our Pat Duffy nick name Paddy may be related to Patrick Duffy in Ireland, after all his nick name is also Paddy...

Yes I too can have opinions on what I think of how you do things, however I have the decency/respect to keep them to myself...

These boards are to help other's in the best way we know how, it is not for any of us to pull apart other's methods, we all have different ways of doing things, you stick to yours and I will stick to mine.....

To Be Noted all said within this post is in reply to comments aimed at me, not as a criticism of others, we are all entitled to do as we so choose....

Erica
Report
3 May 2013 08:43

Thanks everyone, unfortunately I only had the original names etc that I posted. The reason for this is that I was 14 when she died, I had not seen her for 9 months and I was not allowed to go to her funeral. My father had asked for contact details but the man she was living with refused to give them. I have asked my father if he can remember anything and he seems to think that the my mother's partner was called Chris Miller, but we are not sure this is right. I have looked at the corresponding with the surname Miller and I can't find anything think that the Thomas surname maybe correct as in the 1970's it was the norm to take the mother's name if not married.
I can't begin to thank you all enough for all your help.

Erica
Report
3 May 2013 08:46

As far as what happened after my Mother's death, I have no idea what happened to them, I did try when I was 21 to go and visit where the last address was but the flat was empty. I also tried to find them then but in those days as a half sister I was not allowed any information.

Pamz
Report
3 May 2013 08:55

Good morning Erica I believe I have an address for you, I will private message it...

patchem
Report
3 May 2013 20:07

Christian Thomas born in 1974, Kensington, has his tree on here.
You could try to make contact with him (Search/Search All Trees, above)

If locater has sent you alternative information for his birth, you could also look for anyone with that birth on here.
Similarly for his sister.

You did not say when (1943?) and where your Mother was born, but you could also look to see if she is in anyone's tree on here.

Erica
Report
9 May 2013 13:19

Hi everyone, it has been a week since I sent my letter, it is with great sadness that I must report that I have not had a reply. I have also not had a reply from my request to share Christian's family tree or my facebook message to his wife.