Find Living Relatives
Welcome to the Genes Reunited community boards!
The Genes Reunited community is made up of millions of people with similar interests. Discover your family history and make life long friends along the way.
You will find a close knit but welcoming group of keen genealogists all prepared to offer advice and help to new members.
And it's not all serious business. The boards are often a place to relax and be entertained by all kinds of subjects.
The Genes community will go out of their way to help you, so don't be shy about asking for help.
Quick Search
Single word search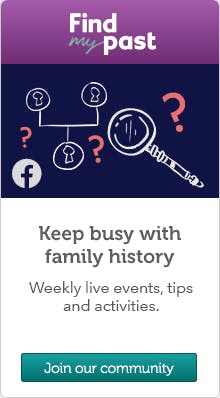 Icons
New posts
No new posts
Thread closed
Stickied, new posts
Stickied, no new posts
William T McColgan born Iskaheen Donegal May 1871
Profile
Posted by
Options
Post Date

John Anthony
Report
25 Nov 2015 10:16

To/ Eringobragh, Potty, AustinQ,

Thank you all for the information you've provided and for bothering to provide it . I was contacted at the beginning of November 2011 by a granddaughter of William T, daughter of William John (b 1909) and she is now very interested in what we have learned and can learn about her family.

Since I started looking at William T I've been able to get hold of his marriage certificate-which then gave me his wife's name/maiden name-his army record and of course the censuses of 1901 and 1911. I was eventually able to trace the birth of a daughter Kathleen in Yorkshire in 1914 and from her birth certificate found that he had joined the Railway Police after leaving the army.

His granddaughter (also Kathleen) is trying to find our anything she can about her father William J, her Uncles Gerald and Patrick and maybe her Aunt Kathleen although we do know a little about her. Patrick is proving elusive for now.

So,for Kathleen's sake if you are able to give any more information on any of these it would be greatly appreciated. On which subject, can anyone advise how to trace service in the Palestinian or Indian Police Services ?

At least she now knows a bit about the other branches of her family ie William Ts brothers( Edward and John James,) descendants. Hugh seems to have left little trace.
Again, thank you all for what you have already told us.

John Anthony
Report
25 Nov 2015 10:17

My posting of today. The date Kathleen contacted me was 2015 not 2011

Kathleen
Report
25 Nov 2015 14:16

Thank you so much, Eringobragh, Potty and AustinQ for all the information, it is quite amazing to see what can be found if you know where to look. I have been following this thread avidly over the last few days.

I had heard from my mother that Gerald lived in Putney at one time but did not know of his marriage (or possible divorce). Can you tell me, is there evidence of any children in any of the records as it would be wonderful to find some cousins? I also never knew that he had lived in St Stevens Gardens, Twickenham, which was just a mile or so from where we lived then, although he died when I was 5. Mabel, his ex wife, also seems to have moved to Twickenham when she remarried. Seems incredible.

It is quite possible that Gerald went to Palestine as my father William John (b 9.11.1909 Woolwich) was there later in the Palestine police. My father was I believe also in India at some point and north Africa, married in Tripoli in 1949 to Florence Nora Parkes. Does anyone know how to trace service records for police in the colonies?

I came across John Anthony's thread in Nov this year and it has been quite an education on our family. Thank you all.

AustinQ
Report
25 Nov 2015 17:22

I don't see any births in England or Wales from Gerald/ Mabel marriage.

Patrick is proving harder to trace- his middle name was Hugh, birth registered Cupar, Fife in 1904.

I'll take another look tomorrow


AustinQ
Report
25 Nov 2015 17:29

For Reference:

UK, Incoming Passenger Lists, 1878-1960

Name: William John McColgan
Birth Date: abt 1913
Age: 40
Port of Departure: Beira, Mozambique
Arrival Date: 17 Aug 1953
Port of Arrival: London, England
Ship Name: Kenya
Shipping line: British India Steam Navigation Company Ltd
Official Number: 184468
Proposed address in UK: 1 Wilton Park, Richmond, Surrey
Occupation: Court Official
Last Permanent residence: Aden
----------------------------------------------------------------------

UK, Incoming Passenger Lists, 1878-1960

Name: William Mccolgan
Gender: Male
Age: 42
Birth Date: abt 1911
Departure Date: 30 Dec 1953
Port of Departure: Southampton, England
Destination Port: Trinidad
Ship Name: Colombie
Shipping line: Cie Gle Transatlantique
Last Address in Uk: 1 Wilton Court, Richmond Surrey
Occupation: Colonial Office
Intended residence: Trinidad

Eringobragh1916
Report
26 Nov 2015 00:10

John Anthony....Would this be William Ts family Iskaheen....

McColgan William Head RC R&W 57 Farmer Donegal
McColgan Catherine Wife RC R&W 57 -------
McColgan Edward Son RC R&W 26 Farmer Not Mar
McColgan Hugh Son RC R&W 24 Farmer Not Mar
McColgan J. James Son RC R&W 22 Carpenter Not Mar
McColgan M. Eliza Dau RC R&W 17 ------- Not Mar


If so have you gone further back....?

Catherine was nee Arbuckle....


AustinQ
Report
26 Nov 2015 06:09

Could be Patrick- lying about his age?

First name(s) Patrick
Last name McColgan
Age 19
Birth year 1901
Service number 393335
Regiment Royal Tank Corps
Attestation year 1920
Enlistment date 5 Jan 1920
Birth place: Cupar, Fife , Scotland
Tank corps number 393335
Previous service number 35618
Record set Royal Tank Corps Enlistment Records, 1919-1934

Father: William McColgan of 33 Sloane Street, Bradford, Yorks

Kathleen
Report
26 Nov 2015 10:06

AustinQ,
Sadly seems no children for Gerald and Mabel.

But that is William John, coming back from Aden and then off to the West Indies, as the address in Richmond is correct. Is there anything earlier for him?

And that is Patrick as the father's address in Bradford is correct. Seems he had a previous service number so perhaps even an earlier posting.

Their sister Kathleen (b 1914) also went to Canada for a while I believe.

Are you getting all this from Genes Reunited as I cannot see it anywhere? I assume you must use various other sources? But thank you for all this information.



AustinQ
Report
26 Nov 2015 10:46

The shipping lists are from Ancestry, the military info on Patrick is on Find My Past. (I haven't checked but the information might also be on Familysearch.org)

Various shipping lists for Kathleen:

UK, Outward Passenger Lists, 1890-1960
Name: Kathleen Mccolgan
Gender: Female
Age: 38
Birth Date: abt 1914
Departure Date: 11 Nov 1952
Port of Departure: Avonmouth, England
Destination Port: Kingston, Jamaica
Ship Name: Cavina
Shipping line: Elders and Fyffes Limitetd
Official Number: 147896 Master: T H Bull
Occ: Writer
Last address in UK: 8 Sloane Street, London SW1.
Country of intended permanent residence: Jamaica
---------------------------------------------------

New York, Passenger Lists, 1820-1957

Name: Kathleen Mccolgan
Arrival Date: 11 Nov 1947
Birth Date: abt 1914
Birth Location: England
Birth Location Other: Bradford
Age: 33
Gender: Female
Ethnicity/ Nationality: Irish
Port of Departure: Southampton, England
Port of Arrival: New York, New York
Ship Name: Queen Mary
Occ: Journalist
Able to speak: English, Spanish, German
Place of Birth: Bradford, England
-------------------------------------------------------

Departing passenger list on Find My Past gives UK address:

Passenger Lists leaving UK 1890-1960

First name(s) KATHLEEN
Last name MCCOGLAN
Gender Female
Age 33
Birth year 1914
Occupation JOURNALIST
Departure year 1947
Departure day 6
Departure month 11
Departure port SOUTHAMPTON
Destination port NEW YORK
Destination NEW YORK
Country United States
Destination country United States
Ship name QUEEN MARY
Ship official number 164282
Ship master's first name C G
Ship master's last name ILLINGWORTH
Shipping line CUNARD WHITE STAR LIMITED
Last UK Address: 36 Devonshire Hill, London NW<<<<<<


Potty
Report
26 Nov 2015 11:34

This looks like Patrick's WW1 medal card. He wasn't awarded any of the 3 usual medals (Victory, British & Star) but was awarded the GS medal & clasp Iraq. He applied for a replacement medal on 3/07/1925. The record and image is on Ancestry and should be available to download from the National Archives:


Name:Patrick McColgan
Regiment or Corps:7th Dragoon Guards (The Princess Royal's)
Regimental Number:D/35618, 393335


Potty
Report
26 Nov 2015 11:59

On the image for the Tank Corps enlistment, all the men on the page have previous Regt Nos which are consecutive and in the final column headed "Remarks Regt to Last Posted" all except Patrick have a ref to the Dragoon Guards. I wonder if they all enlisted in the Dragoons and that regt became the Tank Corps?

MargaretM
Report
26 Nov 2015 12:12

On Kathleen's arrival in New York in 1947 she gives name of nearest relative as brother J. McColgan, CID Hq's. Jerusalem. She is heading to Darien, Connecticutt to join friend Mrs. Jan Vink, Nolen Lane, Darien.

Kathleen Mccolgan

in the New York, Passenger Lists, 1820-1957
Record Image View

Name: Kathleen Mccolgan
[Belenda Mary Mccolgan]
Arrival Date: 11 Nov 1947
Birth Date: abt 1914
Birth Location: England
Birth Location Other: Bradford
Age: 33
Gender: Female
Ethnicity/ Nationality: Irish
Port of Departure: Southampton, England
Port of Arrival: New York, New York
Ship Name: Queen Mary
Search Ship Database: Search for the Queen Mary in the 'Passenger Ships and Images' database


Researching:
Great grandmother Dorothy Bean nee Abbott (1858-1908)

AustinQ
Report
26 Nov 2015 12:51

Well spotted Margee- I didn't notice the second page. So, is J McColgan William J?

Don't think this is correct for William- but putting up in case related:

Name: John Mccolgan
Gender: Male
Age: 29
Birth Date: abt 1909
Departure Date: 1 Oct 1938
Port of Departure: Liverpool, England
Destination Port: Port Said, Egypt
Ship Name: California
Shipping line: Anchor Line Limited
Official Number: 147871
Master: R W Smart
Last UK Address: 74 Empress Road, Durley
Occ: Salesman
Intended Permanent Residence: Palestine
---------------------------------------------------

IS this correct William?
UK, Military Campaign Medal and Award Rolls, 1793-1949

Name: W J Mccolgan
Campaign or Service: Palestine
Service Date: 1936-1939
Service Location: Palestine
Regimental Number: 1456

and this?

UK, Military Campaign Medal and Award Rolls, 1793-1949

Name: W J Mccolgan
Campaign or Service: Palestine
Service Date: 1945-1948
Service Location: Palestine
Appointment held during qualifying period: Assistant Cypher Officer

John Anthony
Report
26 Nov 2015 13:13

Potty, AustinQ, Eringobragh 1916, Margee. I have to say I'm amazed at all that you have come up with and it'll take a while for me and probably Kathleen to sort it all out. I knew I was an amateur but you have all shown how amateurish I am

Eringobragh 1916 - you are spot on with William T's family in Iskaheen. I know who William T's parents were ( his dad was known as William the Gate) and his grandfather was a Peter McColgan. but I don't yet know Peter's wife's name. His grandfather on the other side was a John Arbuckle but no details of his wife either. To be honest I'm not fully aware of what records exist for those days (State and/or Church) and it's an area I need to investigate.

Thank you all

Kathleen
Report
26 Nov 2015 20:19

Absolutely amazing that you have found all this.As John says it will take a while to look through it all and understand it. But I look forward to it.

AustinQ, Potty, Margee thank you so much

Kathleen
Report
27 Nov 2015 14:44

AustinQ, Potty – So Patrick was actually only 16 when he joined the Tanks Corps and had already been in Iraq before that. Sounds incredible but the GS medal confirms and the regimental numbers correlate. Seems he was in the Dragoon Guards in Iraq D/35618 (at 15?) and then the Tank Corps 393335 from 1920? Although Potty, you seem to say he does not have the Dragoon reference on the Tanks enlistment? It is certainly an achievement to have found him. Is there anything after this? I am pleased to see he is still there in 1925.

AustinQ, Margee - And here is Kathleen and yes WJ in Jerusalem as next of kin. They were close I think and I know that WJ admired her. I thought that she might have been a journalist as he said he had seen her with Beaverbrook and something about the Spanish Civil war, but what I cannot remember. Why she would go to Jamaica in 1952 as country of permanent residence is not clear, although WJ went to Trinidad (with my mother Florence Nora) in 1953 with the police so who knows. I thought he said that she had tried to emigrate to Canada but came back. It is interesting to see the trip to NY in 1947 and the visit to Mrs Jan Vink in Connecticut. Seems like a good life! The last UK address of Devonshire Hill NW does not exist so I am wondering if it is Downshire Hill NW3. Her death is registered in Hampstead and I have ordered the certificate to see if it shows this.

AustinQ - The last two references to WJ in Palestine are correct. I have a small box with medals and on the front is the number 1456 Pal Police and 1945-48. I have four service medals, South West Frontier 1930-31, Palestine 1945-48, Defence, War 1939-45. And all sorts of buttons and badges. My mother said it took him all morning to get dressed for parade!

It seems WJ was in Palestine (twice), Aden, Asmara, Tripoli and West Indies. I thought also India earlier on but there is as yet no evidence of this. Why do we not ask the questions when we can? Thank you all again.


Potty
Report
28 Nov 2015 11:59

Kathleen, I don't think Patrick served during WW1 as his medal card does not have any of the 3 WW1 medals and the 7th Dragoons served in France all through the war (according to the Regt's website: http://www.rdgmuseum.org.uk/history-and-research/). Also, there is a column on the Attestation sheet for previous service and that column is blank for him.

All the other men on the page have a date and place of discharge but not Patrick!



Kathleen
Report
28 Nov 2015 13:33

Potty
So Patrick joined the Dragoons (D35618) which became the Tanks (39335) and that was his first posting. Yes that seems more likely and aligns with his attestation sheet with no discharge details for previous service. And with the description in Wikipedia for the GSM Iraq for 1920.

Eringobragh1916
Report
28 Nov 2015 14:00

Kathleen...Whether this is your Kathleen or not I haven't be able to determine yet...Interestingly though this K McG. did live/visit Downshire Hill ..(check out Ronald Penrose and Lee Millar)

•Kathleen McColgan – Irish nurse and Oxford graduate. Went to Spain in February 1937 with the London University Ambulance Unit. Served in hospitals in Murcia and later in the International Brigades medical section. Remained in Spain until February 1939.

Kathleen
Report
28 Nov 2015 15:10

Eringobragh, amazing. And yes I do believe this is Kathleen, as my mother once said that my father had stayed with the Penroses at some point when he came back from abroad, arranged through his sister. But where have you found a reference to K McG and to Downshire Hill? Is there by chance any reference to a Paul Willetts as he was mentioned as a friend of hers?

This is the certainly the first I have heard of nurse and Oxford graduate. I had always assumed that the Spanish connection was for reporting the war. But it seems she too served as did her brothers. Incredible, where do you find all this?