Find Living Relatives
Welcome to the Genes Reunited community boards!
The Genes Reunited community is made up of millions of people with similar interests. Discover your family history and make life long friends along the way.
You will find a close knit but welcoming group of keen genealogists all prepared to offer advice and help to new members.
And it's not all serious business. The boards are often a place to relax and be entertained by all kinds of subjects.
The Genes community will go out of their way to help you, so don't be shy about asking for help.
Quick Search
Single word search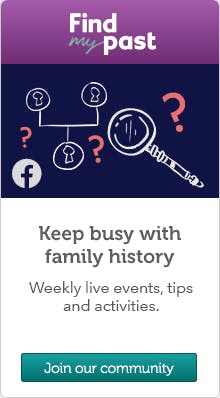 Icons
New posts
No new posts
Thread closed
Stickied, new posts
Stickied, no new posts
Stephen & John Bowman West Yorkshire Aged 65-75
Profile
Posted by
Options
Post Date

Anita
Report
9 Nov 2017 15:31

I am looking for Brothers Stephen and John Bowman who were born in Halifax/Calder in West Yorkshire.

They also have an older sister who I think is called Margaret.

Their mother is Bridget McAnulty (or McNulty) from near Castlewellan in Co.Down, Ireland.

We think Bridget's husband (Mr Bowman) died and she married again (Possibly to Mark, or Markie) in the 60's or 70's.

Bridget was born in 1911 and died in the mid 1990's

Bridget is a sister of my Granny Lizzie McAnulty who married Rafferty, another sister married Holland, both sisters remained in Co.Down

Rambling
Report
9 Nov 2017 16:25

John L born 1946
Stephen P born 1951

Not seeing Margaret , perhaps she was born in Co Down?

Possible marriage for a Bridget Bowman in Calder 1965, but to George Hooper?

Researching:
Whetman, Budd, Fishlock, Kemp, Keating. Surrey, London and Ireland.

Shirley~I,m getting the hang of it
Report
10 Nov 2017 07:43

Could this be the death of her hubby

Edgar Bowman
Death Age: 67
Birth Date: abt 1901
Registration Date: Dec 1968
Registration district: Calder
Inferred County: Yorkshire West Riding
Volume: 2b
Page: 293


Researching:
Surname Fahse. Germany. Essex .South East London My avatar is one of our wedding photos of 1957

Anita
Report
10 Nov 2017 13:45

Thanks guys,

I have ordered the cert for the wedding to George Hooper as I had previously seen that, hadn't seen the death for Edgar Bowman - so its a possibility.

My dad thinks Margaret may not be Bowman, but was born before she got married.

I am planning on visiting the public records in Northern Ireland, as there are no birth records from post 1917 online for Northern Ireland

Flip
Report
11 Nov 2017 21:47

The probate record does not give much info on Edgar, but states "of 45 Elland Street Yorks, died 16 Oct 1968 Administration 12 November, London. £3092". So unless there is a will, not much to go on.

Researching:
Anything & everything!

Anita
Report
21 Nov 2017 12:54

Well,

I ordered the birth cert for John L Bowman, and it looks like the wrong person, as the mother is listed as Edith and not Bridget and the father is Hugh David Bowman.

I was looking for marriage details between Edith McNulty and Hugh Bowman, just incase Bridget decided to use a different name, but I can't find one, and can't find any records for them.

They lived in Mountain Place, Queensbury (which unfortunately doesn't seem to exist anymore!)

So I am back to square one, and no where to go from here, except order more certs, which will have to wait to I get a bit more money

I don't know how anyone affords to do family searches in England - In Ireland most certs are free online, and the ones that aren't are €4





Pam
Report
21 Nov 2017 15:17

Edited:

There is a 1965 marriage for Bridget and/or Edith Bowman to George Hooper on Freebmd.
The page number given on the entry is 1483 which is incorrect and should be 601.

Researching:
Middlesex, Berkshire and Somerset

Pam
Report
21 Nov 2017 15:21


Births Jun 1946
Bowman John L McNulty Halifax 9a 704


Researching:
Middlesex, Berkshire and Somerset

Anita
Report
21 Nov 2017 16:55

Thanks Pam - that birth is the one I had ordered, and the mother is Edith not Bridget as expected.

I am intending on ordering the wedding cert at some stage, but hoping to build up some more evidence of it potentially be correct before spending another £9.25!

Flip
Report
25 Nov 2017 08:56

It does look like the correct marriage (and birth for John L) - looks like she was know as Bridget or Edith - hence the double (mis-transcribed) entries on the 1965 marriage:

Marriages Mar 1965 (>99%)

Bowman Bridget Hooper Calder 2b 1483 Scan available - click to view
Bowman Edith Hooper Calder 2b 441 Scan available - click to view

Marriages Mar 1965 (>99%)

HOOPER George Bowman Calder 2b 601 Scan available - click to view
HOOPER George Bowman Calder 2b 601 Scan available - click to view


Researching:
Anything & everything!

Anita
Report
8 Jan 2018 18:26

Thanks Flip - I have now ordered the marriage certificate.

My dad has confirmed that Queensbury sounds familiar, and he is sure they lived here -so it looks like she is going by Edith and not Bridget from 1946 (at least) onwards.

Now I have to see if I can find a marriage between Hugh David and Bridget/Edith pre 1946

Anita
Report
22 Jan 2018 13:33

The Edith Bowman and George Hooper marriage is correct, and the addresses are listed as hillcrest, queensbury.

She is listed Edith Bowman, formerly Bridget Bowman, Father James McAnulty a welder of a poultry cage manufacturer, George Hooper is a lorry driver.

So I now know it is the correct person in the birth certs.

So she has 2 children with Hugh David Bowman (no marriage details found yet)
then her first marriage is dissolved and she married George Hooper in 1965.

I think I have found her death in Sheffield in 1989 as Edith Hooper as the date of birth is correct.

I am missing her first child, and her marriage to Hugh Bowman still



ErikaH
Report
22 Jan 2018 15:29

Could this be relevant?

First name(s) HUGH DAVID
Last name BOWMAN
Gender Male
Birth day 20
Birth month 4
Birth year 1917
Age -
Death quarter 3
Death year 1991
District Hereford
Register number 791
County Herefordshire
Volume 29
Page 253

He lived in Ledbury, and Probate was granted in Llandaff - "Not exceeding £125,000.00". No executors listed.

ErikaH
Report
22 Jan 2018 15:42

In view of the Irish connection, I am posting this as possibly being his father
From CWGC site

Corporal
BOWMAN, HUGH DAVID
Service Number S/17481
Died 14/03/1917
Aged 29
2nd Bn.
Black Watch (Royal Highlanders)

Husband of M. A. Bowman, of 7, Rockdale St., Belfast.

So Edith/Bridget's first marriage could have been in Ireland?

ErikaH
Report
22 Jan 2018 15:44

From Scotland's People site, the possible birth of the man who died in 1917

BOWMAN
HUGH DAVID
M
1889
654/ 86
Rutherglen

His death from the Ancestry site

Name: Hugh David Bowman
Birth Place: Glasgow, Lanarkshire
Death Date: 14 Mar 1917
Death Place: Persian Gulf
Enlistment Place: Belfast, Co. Antrim
Rank: Corporal
Regiment: Black Watch (Royal Highlanders)
Battalion: 2nd Battalion
Regimental Number: S/17481
Type of Casualty: Killed in action
Theatre of War: Asiatic Theatres
Other Records: Search for 'Hugh David Bowman' in other WWI collections

Anita
Report
22 Jan 2018 15:56

Thanks I will look into that, but unfortunately Irish records aren't online for marriages less than 75 years ago!

From family knowledge, we have no record of the marriage being in Ireland, and my granny was born in 1918 and bridget in 1911, and my granny always thought her sister to England relatively young.



ErikaH
Report
22 Jan 2018 17:36

1911 census
First name(s) Hugh D
Last name Bowman
Relationship -
Marital status Single
Sex Male
Age 22
Birth year 1889
Birth place Lanark Rotherglen
Occupation Able Seaman Rn
House name -
House number -
Street -
Address Keyham Devonport
Parish Devonport
County Devon
Country England
Archive reference RG14
Registration district Devonport
Registration district number 278
Enumeration district 13
District number 13
Sub district Tamar
Sub district number 3
Census reference RG14PN13060 RD278 SD3 ED13 SN9999
RG78 code number 753
Piece number 13060


First name(s) Hugh David
Last name Bowman
Service number 234603
Birth year 1889
Birth date 03 Feb 1889
Birth place Glasgow
Birth county Lanarkshire
Birth country Scotland
Archive The National Archives
Archive reference ADM 188/416/234603
Record set British Royal Navy Seamen 1899-1924
Category Military, armed forces & conflict
Subcategory Regimental & service records
Collections from Great Britain, UK None


ErikaH
Report
22 Jan 2018 17:37


1891 England, Wales & Scotland Census Transcription
India Street, Rutherglen, Lanarkshire, Scotland
Learn more

First name(s) Last name Relationship Marital status Sex Age Birth year Birth place Occupation
Hugh Bowman Head Married Male 42 1849 Ireland Railway Labourer Transcription
Mary Jane Bowman Wife Married Female 43 1848 Ireland - Transcription
Helen Bowman Daughter Unmarried Female 18 1873 Ireland Steam Loom Weaver Transcription
Martha Bowman Daughter - Female 12 1879 Ireland - Transcription
Maggie Bowman Daughter - Female 10 1881 Ireland - Transcription
Hugh Bowman Son - Male 2 1889 Ireland - Transcription
James McCartney Lodger Unmarried Male 32 1859 Ireland Furnaceman

ErikaH
Report
22 Jan 2018 17:52

Can't see any sign of Bridget/Edith in 1939

Anita
Report
22 Jan 2018 20:47

Thanks, I will look into this and Irish records too. My dad thinks she may have been married before Hugh Bowman also, so may not be appearing in the 1939 register as Edith/Bridget Mcanulty or Bowman! She is a confusing woman to find! I am going to try Scottish records also just in case!