Military Chat
Welcome to the Genes Reunited community boards!
The Genes Reunited community is made up of millions of people with similar interests. Discover your family history and make life long friends along the way.
You will find a close knit but welcoming group of keen genealogists all prepared to offer advice and help to new members.
And it's not all serious business. The boards are often a place to relax and be entertained by all kinds of subjects.
The Genes community will go out of their way to help you, so don't be shy about asking for help.
Quick Search
Single word search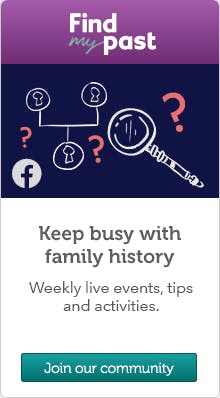 Icons
New posts
No new posts
Thread closed
Stickied, new posts
Stickied, no new posts
WW1 medals for killed in action
Profile
Posted by
Options
Post Date

Kevin
Report
10 Aug 2014 20:27

Hi,
My Great Grandfather "Charles Robert Jenkins" was killed in action during WW1, does anyone know if he would have been entitled to any medals etc, My Nan (his daughter) died a few years ago but she knew nothing of any medals or recollection of him or his wife ever recieving anything.
If so is there any government dept i can contact regarding this.

Regards
Kevin

GlitterBaby
Report
10 Aug 2014 21:33

What was his service number given on the CWGC site and then a medal card could be looked for

Researching:
PLEASE DO NOT: send me information concerning your thread on the board as it should be posted on your request where all members can see it. PLEASE DO NOT: ask me for help with lookups as they should be placed on the boards to get the best possible result. PLEASE DO NOT: open your tree just because I have posted information on your thread as I will not be related. THANK YOU. Researching Carter, Cass and Walker in England. Researching Caven, McKill, Sutherland and Will in Scotland.

Gwyn in Kent
Report
10 Aug 2014 23:44

Either of these men....?

Rank:RiflemanService No:1285
Date of Death:25/09/1915
Age:20
Regiment/Service:London Regiment (City of London Rifles) 6th Bn.
Grave Reference:Special Memorial 76.
Cemetery:MAROC BRITISH CEMETERY, GRENAY

Additional Information:Son of Robert and Sophia Jenkins, of 61, Cantung Rd., Blackstock Rd., Finsbury Park, London.


Rank:Corporal of Horse
Service No:861
Date of Death:12/10/1917
Age:23
Regiment/Service:Household Battalion formerly (3934) 1st Life Guards
Grave Reference:XXV. D. 5.
Cemetery:POELCAPELLE BRITISH CEMETERY

Additional Information:Son of Mr. R. W. and Mrs. M. Jenkins, of 44, Morley Rd., West Ham, London

GlitterBaby
Report
11 Aug 2014 08:26

Kevin has Charles born 1887 in his tree but no place of birth given

Researching:
PLEASE DO NOT: send me information concerning your thread on the board as it should be posted on your request where all members can see it. PLEASE DO NOT: ask me for help with lookups as they should be placed on the boards to get the best possible result. PLEASE DO NOT: open your tree just because I have posted information on your thread as I will not be related. THANK YOU. Researching Carter, Cass and Walker in England. Researching Caven, McKill, Sutherland and Will in Scotland.

John
Report
11 Aug 2014 12:27

Had he survived the War, yes, he would have an entitlement to medal(s), but as he was killed in action, he, of course, wouldn't have received them.

His next of kin may have received a 'death-plaque' - the so-called 'Dead Man's Penny'.

His medal index card may or may not record that he was killed in active service or just 'Dead' . It may show to which medals he was entitled but no other detail.

Hope that you find the relevant medal index card for this soldier.

Kucinta
Report
11 Aug 2014 12:54

In the case of men killed in action, their medals would normally have been sent to the next of kin, if known.


If you think the medals were unclaimed - check the last paragraph below:

"How do I get medals previously unclaimed?

You may claim any medals which may be due to you by writing to the MoD Medal Office giving your Service number, full name, date of birth, branch of service (if Army please add regiment or corps) approximate dates of Service and full current address. The Medal Office will acknowledge your application in writing. A full assessment of your entitlement to any medals will then take place using your original record of Service. Send your request to:

Service Personnel and Veterans Agency (SPVA)
(Joint Personnel Administration Centre)
Ministry of Defence Medal Office
G36, Innsworth House
Imjin Barracks
Gloucester GL3 1HW

Veterans also need to supply proof of current address (eg a utility bill). Widows, widowers and legal next of kin (if both the ex-Service person and their spouse are deceased) who wish to claim medals or to check what medals were issued to their deceased spouse/relative will be asked to provide proof of death and confirmation that they are next of kin. All others enquirers must be able to provide a letter of consent from either the person the record belongs to or, if that person is deceased, from their next of kin."


EDIT:

However....

"Only Second World War medals and those issued subsequently can be replaced, provided that specific criteria are met. The Medal Office is unable to replace medals issued before WW2, such as First World War medals, under any circumstances.

Visit the MoD medals website for further information."

https://www.gov.uk/medals-campaigns-descriptions-and-eligibility

so it looks like you wouldn't be able to apply for them, even if they were never sent to the next of kin.

Researching:
Eayres (Northants/London) Walker (Surrey) Loveday (Northants) Moore (Tipperary)

Kevin
Report
11 Aug 2014 18:38

Many thanks for everyones info, family information is that his wife had to move house approx 6 months after he was killed (believed to be in the Somme area), maybe thats why no medals or death plaque was ever recieved if they never had any forwarding address.....Not sure if all WW1 medals were inscribed, may be possible for me to buy old medals/death plaque and have them re engraved?.....not the best solution i know but just an idea.

Gwyn in Kent
Report
11 Aug 2014 22:17

Kevin,

Personally I think it would be very wrong to 'claim' another person's medals in order to re engrave them.

Keep vigilant and look out online to see if your family medals ever come on the market.

Could you confirm if either of the men's names I posted is your ancestor, then we can look to see if we can find any more information for you.?

Gwyn

MarieCeleste
Report
12 Aug 2014 08:03

Background on here may confirm which is correct man:

http://www.genesreunited.co.uk/boards/board/military_chat/thread/1343327

Kevin
Report
12 Aug 2014 10:38

Hi Gwyn,

Info that i do know from my late Nan, family and some research is:

Charles Robert Jenkins....born St lukes area of London - (Great Grandfather)
Married aged 22? - 29th March 1910 to Mary Anne Emma Busby
1911 census shows his age as approx 24? with wife Emma Jenkins and a son Charles aged 7 months.....My Nan Mary Olive Jenkins was born 28th March 1914 and she said her brother died at approx 18months old.......so all this info matches old family info. Have always undestood from Nan that Charles was killed in the Somme, a friend who was with him at the time and survived said that they had just came out of the trench and after a few yards there was an explosion and Charles was gone!?
The problem i am having is that according to marriage and census records that are pretty accurate it would make him aged betwwen 27 & 30ish at his time of death (which matches old family info in that he was late 20's when killed), but finding it hard to match a "Charles Jenkins" killed 1914-18 aged 27-30 and from London/St Lukes area (middx)....thare are a couple of close matches but age listed when killed is too young? or different part of the country.....Thats why i'm wondering how accurate war office records regards age would be.......maybe i'm missing the obvious somewhere.
close matches are:

service No.861.....but age too young and no wife listed.
No.L/9536 ??,,,,,possible
No.6270 ??.....can't find record on CWGC or medals records for a "Jenkins"
No.1285....too young
No. 9787...??
No.14673....age matches 30yrs (25/10/1918) but in the Dorsetshire regt?.....have always understood that he enlisted locally in London/middx area.

Yes i agree that re engraving old medals is not the way to go so have ruled that out, the main thing for me is finding the correct person, i am new to this so maybe am going about it the wrong way and not looking in correct place.
I appreciate everyones help so far.

Kevin





Gwyn in Kent
Report
12 Aug 2014 11:21

Marriage details

Name: Maryann Emma Busby .......felt worker
Estimated birth year: abt 1889
Age: 21
Spouse: Charles Jenkins ......carman
Spouse Age: 22
Record Type: Marriage
Event Date: 27 Mar 1910
Parish: St Mary, Hoxton
Borough: Hackney
Father Name: John Busby ........wire worker
Spouse Father: Samuel Jenkins .....hat shape maker
Register Type: Parish Register




Gwyn in Kent
Report
12 Aug 2014 11:35

Was your ancestor in fact just ...Charles..?

Name: Charles Jenkins
Record Type: Baptism
Baptism Date: 20 Apr 1884 .......born 1 April
Father's Name: Samuel Jenkins ........................Bonnet shape maker
Mother's name: Sarah Jenkins
Parish or Poor Law Union: Hoxton St Saviour
Borough: Hackney
Register Type: Parish Registers



A TWIN ( James ) to Charles was baptised the same day
Family lived at 11 Canning Terrace.

Potty
Report
12 Aug 2014 12:56

Have just been looking at a man born in London who joined the Royal Scots, so don't rule out the one in the Dorsetshires because of the regiment BUT that one was buried in Bristol, and his wife was Ellen.

Kevin
Report
12 Aug 2014 13:07

Thanks Potty.....this is not becoming quite as straight forward as i thought it would be..lol.....but my patience is still holding out!....and am still learning.

Kevin
Report
12 Aug 2014 14:12

Was also advised to look up WW1 soldiers wills for Charles Jenkins and in theory should find one that leaves any estate/possesions to wife next of kin "Mary Ann Jenkins" but so far no match...unless i've missed something.

Charles Jenkins b. 1st April 1884.....father Samuel....Hoxton area almost match but then his age wouldn't match what we know from marriage cert and 1911 census. There is a 4-5 year difference.

Am pretty certain that fathers names were Samuel Jenkins & John Busby from old family info but can never seem to match his age.....listed as 22 in 1910 marriage and approx 24 in 1911 census.

Gwyn in Kent
Report
12 Aug 2014 15:03

People weren't so preoccupied with exact age and birthdays as we are now, so one has to be flexible when looking back at records.

On your other thread Choccy posted late on 5 August regarding a service record.
It lists Charles' wife and children, so surely this is your man...???

Kevin
Report
12 Aug 2014 17:32

Thanks everyone, have exhausted pretty much every avenue and closest match looks like Cpl Charles Jenkins L/9536 Middx regt. All info everyone has helped piece together is 95%+ accurate and i guess considering we are going back 100+ years it's as close as i'm likely to get.....Will now move on with rest of family tree and look into military history of the Middx regt during WW1 and the batt that Charles served in.
The main thing that was throwing me was ages not matching other records i had but i guess a couple of years either way in these things is to be expected.

Potty
Report
13 Aug 2014 15:48

Kevin, looking at the service record that Choccy posted on your other thread, that is your man; the service number as posted is wrong. Not sure where Choccy found that record, but the one on Ancestry has the service number as L/9536 (you have to page backwards through the images to find it).

The service record contains a receipt for the 1914 Star, signed by Mrs Emma Jenkins. I will PM you the image.

Differences of 2 years between records is quite common. Ages were given as at a particular date or were calculated from YOB.

Kevin
Report
13 Aug 2014 20:48

Hi Potty,
Many,many thanks for the email have just read it and can't believe you found this....definately confirms him as L/9536....a bit emotional really (never thought i'd say that), all these years and all the family knew was that he was killed during ww1 (Somme) and to now put an exact date of death,service number,rank & regt etc to his name, i will do my best to gather info on his regiment during ww1 and to gain an insight into his life during the war years up until his death. i'm sure he deserves his place in our family history.

Have been amazed at how helpful people have been, looks like i have found a new hobby to keep me busy when time allows.

Thanks again Potty i appreciate your help.

Kevin

Potty
Report
14 Aug 2014 12:34

You're very welcome, Kevin.

If you don't subscribe to Ancestry, you could access the entire service record by buying some credits on that site or taking a free trial. The service record has a lot in it, including details of the pension paid to his widow. He first joined in 1903 and served in South Africa and his original No was the one in the record that Choccy posted on your other thread.

If you do look at it on Ancestry, page backwards as well as forwards from the 1st image..