Military Chat
Welcome to the Genes Reunited community boards!
The Genes Reunited community is made up of millions of people with similar interests. Discover your family history and make life long friends along the way.
You will find a close knit but welcoming group of keen genealogists all prepared to offer advice and help to new members.
And it's not all serious business. The boards are often a place to relax and be entertained by all kinds of subjects.
The Genes community will go out of their way to help you, so don't be shy about asking for help.
Quick Search
Single word search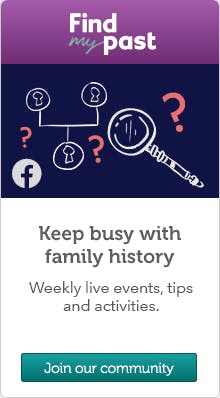 Icons
New posts
No new posts
Thread closed
Stickied, new posts
Stickied, no new posts
Service records/history
Profile
Posted by
Options
Post Date

Dolores
Report
9 Jul 2015 21:49

My grandfather William James Courtney, born 1870 in Liverpool England. Served under Lord Horatio Kitchener in the Sudan from 1891 to 1898. May have been a bugler and drummer.

Dolores
Report
9 Jul 2015 21:52

Can anyone help me find his records.

MarieCeleste
Report
11 Jul 2015 20:42

No records coming up on any searches Dolores. Sorry.

Are you 100% sure of his birthplace and birth year as not seeing any matches in births.

MarieCeleste
Report
11 Jul 2015 20:50

There IS a William James Courtney who was born 1884 Liverpool who died in 1915.

Here's the CWGC entry (it has the wrong age for him):

http://www.cwgc.org/find-war-dead/casualty/1608063/COURTNEY,%20WILLIAM%20J

The WW1 service records for this man have survived.

Potty
Report
15 Jul 2015 10:43

What was his wife's name? There are several births around 1870 but none in Liverpool. Most appear to be in Ireland. Could he have been born there?

Dolores
Report
15 Jul 2015 21:29

I don't think he was born in Ireland as info I have about his sisters are in Liverpool. However he said he lied about his age to get in the Boer war, which might have been the first one in 1891. The records I have is him being born in 1875, as he was 41 in 1916 when he was discharged from a Canadian Battalion.

malyon
Report
15 Jul 2015 22:59


William James Mccartney
England and Wales Birth Registration Index
Name: William James Mccartney
Event Type: Birth Registration
Registration Quarter: Apr-May-Jun
Registration Year: 1874
Registration District: Liverpool
County: Lancashire
Event Place: Liverpool, Lancashire, England
Volume: 8B
Page: 181
Line Number: 64

malyon
Report
15 Jul 2015 23:00


William J Mc Carthney
England and Wales Census, 1881
Name: William J Mc Carthney
Age (Original): 7
Gender: Male
Birth Year: 1874
Birthplace: Liverpool, Lancashire, England
Relationship to Head of Household: Son
Marital Status: Single
Occupation: Scholar
Address: 15 Bayhorse Lane
Event Place: Liverpool, Lancashire, England
Record Type: Household
Affiliate Publication Number: RG11
Piece/Folio: 3629 / 98
Page Number: 17
Household Role Gender Age Birthplace
Cathe Mc Carthney Head F 36 Ireland
Catherine Mc Carthney Daughter F 13 Liverpool, Lancashire, England
Ann E Mc Carthney Daughter F 9 Liverpool, Lancashire, England
William J Mc Carthney Son M 7 Liverpool, Lancashire, England

MarieCeleste
Report
16 Jul 2015 08:49

Hello Dolores, can you tell us anything else about him? Who were his parents? Who was he married to?

Do you have his service number and details from the Canadian regiment? (I'm not seeing anything that matches on Canadian attestation papers).

Eringobragh1916
Report
16 Jul 2015 13:13

MarieCeleste...

The only marriage of a William James Courtney Liverpool I have found was to a Jane Burns Registered Dec.Quarter 1904 Toxteth Park Reg.Office/attended...after 1911 only 1 child found William J.Courtney Reg Sept Quarter 1911 Toxteth Park with mmn Burns.



Dolores
Report
16 Jul 2015 18:06

I found his name is William Joseph Courtney ,born 1872. He was married in Winnipeg ,Manitoba Canada .

Eringobragh1916
Report
16 Jul 2015 18:51

Dolores ...The William Joseph Courtney you refer to gives his place of Birth as Skibbereen Co. Tipperary although it should be Co.Cork as Skibbereen is in the Co Cork...!

The papers are Attestation Papers not Discharge Papers and he mentions he was in the Royal Irish Rifles for 6 years and the RIF or RIA for 3 years...

Eringobragh1916
Report
16 Jul 2015 19:25

Dolores... There is a Baptism for a William Joseph Courtney 1st Feb 1876 St Finbarr's Church South Cork Diocese of Cork and Ross.
This may be the Wm.Joseph on the Attestationn Papers although date of birth is given as October 1876 not Feb.

Parents Michael Courtney and Mary Moore...they married 2 Feb 1875 St Finbarr's

You mention in an earlier post his sisters and Liverpool ...what were their names..???

Gritty
Report
17 Jul 2015 08:35


Eringobragh1916 is right- we could do with a little more information. Who did he marry?

1901?
Name: Wm J. Courtney
Gender: Male
Marital Status: Married
Age: 27
Birth : 25 Oct 1873
Birthplace: Ireland
Relation to Head of House: Head
Immigration Year: 1891
Racial or Tribal Origin: Irish
Nationality: Canadian
Religion: Presbyterian
Occupation: Laborer Farm
Province: Manitoba
District: Winnipeg (city/cité)
District Number: 12
Sub-District: Winnipeg (City/Cité) Ward/Quartier No 4
Sub-District Number: D-8
Neighbors: View others on page
Household Members:
Name Age
Wm J. Courtney 27
Clara Courtney 21
Clara Courtney 0

MarieCeleste
Report
17 Jul 2015 09:07

Erin ... The William James Courtney who married Jane Burns is the one who died 1915, just checked the service records again.

Had the following children at time of attestation in 1914:

Catherine 1906
Sarah Ellen 1905
Andrew 1908
All born Toxteth Park.


MarieCeleste
Report
17 Jul 2015 09:20

The William Joseph Courtney in Canada is one of the few that have had their full service records digitized, here's the link:

http://central.bac-lac.gc.ca/.item/?op=pdf&app=CEF&id=B2054-S008
(It can take a while to load)

He was discharged medically unfit in 1916 due to deafness. Although most of the paperwork states he was born Ireland there is an entry on page 18 that states he was born Liverpool.

His widowed mother was Ellen Macnulty Courtney, his wife was Josephine Clara and his children were Clara and Maud.

Dolores - do these names match your family?

In order for us to help you we MUST know who his family was so we can identify the right man.

MarieCeleste
Report
17 Jul 2015 09:27

This is the marriage of the William Joseph Courtney in Canada

Manitoba, Marriage Index, 1879-1931
Name: William Joseph Courtney
Gender: Male
Spouse: Josephine Clara Jago
Marriage Date: 23 Oct 1899
Marriage Place: Winnipeg, Manitoba, Canada

Eringobragh1916
Report
17 Jul 2015 11:04

According to something Dolores posted earlier..(Cant see it now) he married a lady called Ellen in Canada...think this is a bit of confusion...

Gritty
Report
17 Jul 2015 12:57

On page 3 of the record (his attestation paper) that MarieCeleste put up, there is some confusion as he lists his next of kin as Ellen Courtney, and relationship wife. However, later in the record he bequeaths all his real estate to wife, Josephine Clara Courtney, and gives his mother as Ellen MacNulty Courtney of Skipperine, Co. Tipperary, Ireland.

Possible for his parents marriage:

Name: Rose Ellen McNalty
Age: Minor
Marriage Date: 12 Dec 1870
Parish: Liverpool, St Nicholas
Spouse's Name: William Courtney
Father's name: Patrick McNalty
Spouse Father's Name: William Courtney
Reference Number: 283 NIC/3/72

Eringobragh1916
Report
17 Jul 2015 19:17

Have looked through the Military Docs.(originals) posted by MarieCeleste and find I am more confused than before..!

Wm Joseph married Josephine Clara ..she went by the name Clara on childrens Birth docs and 1906 Census.
Both girls Clara and Maud are with their parents 1906 Census but 1916 they appear to be in either an Institution/Hospital in Winnipeg. There is no sign of the mother.