Quizzes and Games
Welcome to the Genes Reunited community boards!
The Genes Reunited community is made up of millions of people with similar interests. Discover your family history and make life long friends along the way.
You will find a close knit but welcoming group of keen genealogists all prepared to offer advice and help to new members.
And it's not all serious business. The boards are often a place to relax and be entertained by all kinds of subjects.
The Genes community will go out of their way to help you, so don't be shy about asking for help.
Quick Search
Single word search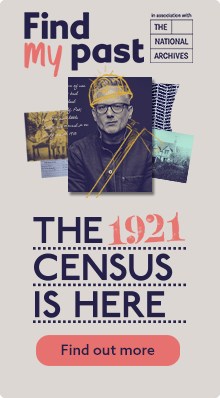 Icons
New posts
No new posts
Thread closed
Stickied, new posts
Stickied, no new posts
Can you add to this without using any 'e's
Profile
Posted by
Options
Post Date

JemimaFawr
Report
22 Sep 2021 15:55

I am liking this yarn. Just no x for quizzing so much now with OH very ill.
I will b back now and again

~~~~~~~~~~~~ to all <3

Bobtanian
Report
22 Sep 2021 14:30

Hmmm....
thought this had gorn down the Swanny..but not so, it looks as if it is gonna last for many moons .... would it? could it? last 24 months?

Researching:
Now that food has replaced sex in my life, I can't even get into my own pants. My Dad's Squadron Patch...IRAE EMMISSARII my Royal Signals poppy

Kentishmaid
Report
31 Jul 2021 18:21

Bought this back. Hard to think that many moons ago I had this mad thought and did start this. Am back having paid for six months so I can look for a fistful of Dollars, who knows what I will find. Now I am KM, in 2013 I was VM and long long ago I was a Bibliomaniac from a county that sounds similar to Harts

D

Island
Report
23 May 2021 13:42

Just thought I'd bump this up....

Bobtanian
Report
29 Mar 2021 15:45

Today is a bit of a landmark for many, 8 anos and two months...

Researching:
Now that food has replaced sex in my life, I can't even get into my own pants. My Dad's Squadron Patch...IRAE EMMISSARII my Royal Signals poppy

JemimaFawr
Report
27 Oct 2020 21:49

Hi Myk and Kathy :-) :-)

It is Kathy! A big pain in't bum at that!
I am hoping that you r coping... Ooo this could b rhyming yarn!!!!

Myk you sound so low and not lyk you at all :-(
I am hoping you will be ok. It is so difficult now. Glad you r managing to do walks.


Cymru is in full lock down now as you will know Myk, as isn't 1 of your girls living in Cymru? But I am living in a town that was locking down for many 7 days b4 national lockdown. No in or out of my town. 1st town in Cymru to b so! Many a county b4 this but us 1st only town. No country park visiting for walks as it is out of our town. Now no allowing driving for walks. Only out of your door, your road and back mostly.

I do know it has to b did. NHS must carry on. OH cannot catch this virus as it would b finish of him. I don't want Covid too. So must be doing right thing. But hard :-(

Good us having pals on GR to talk to. Laugh, chat, and moan if want :-D :-D :-D

Mike *
Report
27 Oct 2020 20:23

Not coping too good now cold days and dark nights r with us
Going for walks if sun shining but struggling to find things to do if not.
Boring days but staying away from virus so not ill.

Christmas will b sad. All family stay out of town.
No grandkids will visit.

Will just get drunk I think !!
:-D :-D :-D

Kathryn
Report
26 Oct 2020 19:38

Hi glad you r coping with this bug.
It's a pain in't bum now isn't it
Hugs and xxxxxxx to you

JemimaFawr
Report
9 Oct 2020 15:40

Thank you Myk for your kind words and virtual hugs :-) xxx

OH is now at our habitat and improving. But OH now has a condition- APHASIA. This is making OH say wrong nouns mostly. Although it can b difficult, OH and I laugh at it now and again as it can also b funny! As this was.....

OH did want to know in what position his "Button Trump" was!:-S
His Button Trump ..... was his TV control stick!!! :-D

Glad you r ok and acting busy Myk :-)

Mike *
Report
6 Oct 2020 12:26

Oh Myma !

AB FAB to know that your OH is now doing ok.
Lots to b thankful for in this odd world just now.

So glad you r without Covid.
I'm busy finding things to do.
Painting is so calming on cold Autumn days.
Just hav to find our way through this awful virus and pray that all of us stay good.

Virtual Hugs xxx

JemimaFawr
Report
11 Sep 2020 13:20

Hi Myk :-)
Good to catch sound of facts that you and yours r Covid-without :-)

I am having a bad situation.
OH had a BIG blood clot condition in his brain last Friday. Local hospital could not do anything as OH has a blood problem. So OH did go by air to Bristol. OH had an Op, pushing a thin tool through 1 of OH's low limb blood carrying function parts of body, which doctors did push through OH's body to his brain and did suck clot out! AMAZING!
And now OH is improving day by day. OH is going by road back to local hospital today.

What doctors can do today!
A BIG THANK YOU TO DOCTORS :-)

~~~~~~~~~~~~ To all looking in on this yarn that prohibits a particular non-consonant! :-D

Mike *
Report
5 Sep 2020 18:50

All Covid-without in this building.
Family all ok
Sill staying in as no lifting of lockdown in our town.
Six months is a long isolation for us old folk
Don't think normal is on horizon for many days

2020 will go down in history as a bad 12 months




JemimaFawr
Report
10 Aug 2020 17:16

Covid! No naughty non-consonant in that bad virus!

But bad and naughty it is!
Can any of you call to mind a X b4 Covid? I can't! :-(
But also it's hard to think is this occuring?

OH is on Wales' "GUARD" list so to maintain not catching Covid both of us must stay in mostly. But not too long ago now OH and I hav had walks.

Oh for a X soon to b back to as normal as poss but stay Covid-without!

Hoping my GR pals r fit and happy and Covid- Without <3

Mike *
Report
25 Jun 2019 18:05

Hi Kathryn
Was in hospital for an op,
following that was abroad
Am now packing to go away again.
Just looking in to spy how things r going.
Hoping all is ok with you both.

Stay good.

Kathryn
Report
11 Jun 2019 19:59

Hi Myk, Mima, how's things with you both? It has bin a long paws hasn't it.
Do stay in touch if you can x

Mike *
Report
29 Apr 2019 15:35

Pity this looks as though it has cum to a standstill.

My old ( as in long-standing) pals don't visit this post much now.

Just saying I'm thinking of you.
x

Mike *
Report
12 Nov 2018 16:39

Mima I'm with you on banana loaf front.
Baking I can do but not so hot on cooking.
Can do it but find it boring.

Sorry about your flu ..I know how that is. Not good.
Busy with painting just now.
Not pictorial I must add ... but glossing woodwork and such.

Stay warm.


JemimaFawr
Report
29 Oct 2018 13:18

I just cannot stop consuming my habitat-baking product ... Banana Loaf!:-D
I'm not much of a cook it must b said, but this is my optimum banana loaf production so far!

Just had to divvy up that info with you! ;-) :-D

JemimaFawr
Report
26 Oct 2018 21:39

Hi Pals

Dorothy, Ditto to Myk's saying. V good ditty :-)

~~~~~~~~ Hi Myk, good to c you :-)

Mima's got a much bad cold
And flushing muchly hot
Achoos and coughs not good I'm told
And that's what Mima's got

So withhold your ambit far from I
You won't want to catch this flu
Until many days hav past us by
I'll stay away from you!
:-D :-D

Dorothy-
You may lyk this yarn....

https://www.genesreunited.co.uk/boards/board/quizzes_games/thread/1365481

Mike *
Report
26 Oct 2018 18:49

Loving your ditty Dorothy.