Suggestions
Welcome to the Genes Reunited community boards!
The Genes Reunited community is made up of millions of people with similar interests. Discover your family history and make life long friends along the way.
You will find a close knit but welcoming group of keen genealogists all prepared to offer advice and help to new members.
And it's not all serious business. The boards are often a place to relax and be entertained by all kinds of subjects.
The Genes community will go out of their way to help you, so don't be shy about asking for help.
Quick Search
Single word search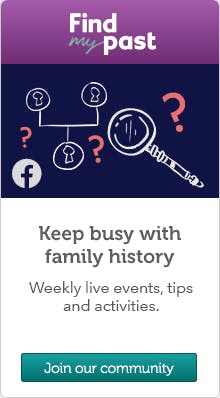 Icons
New posts
No new posts
Thread closed
Stickied, new posts
Stickied, no new posts
Iwish people would reply
Profile
Posted by
Options
Post Date

Island
Report
25 May 2012 15:45

Roger did come back. In fairness his OP was a query for GR so he probably hadn't expected a lengthy discussion with other members.



Roger
Report
26 May 2012 22:09

You know why I asked this question in the first place - is because I though mistakingly THAT it is Genes RE-united - and if so how are we supposed to be reunited if people do not reply to messages which they open and do NOT have the decency to reply - even if only to say yes or no.



ErikaH
Report
26 May 2012 22:28

The original name of this site was Genes Connected - which actually made more sense. Changing to its current name was an ill-conceived move.

As it is a site primarily about finding one's family history, the concept of being 'reunited' is totally false

One cannot be 'reunited' with long -dead ancestors - nor indeed, can anyone be 'reunited' with a GR member with whom one has had no previous contact.


SylviaInCanada
Report
26 May 2012 23:54

Roger ..................

whether the name of the site is Genes Reunited or not makes no difference


NO-ONE, literally, whether that be GR or members, can force any other person to respond if they do not wish to.


Also, you should consider this .....................


......... no-one other than GR has any idea how many people are actually active on this site.


They claim over 11 million members (that has been standard for at least the last 3 or 4 years) .........

HOWEVER ............

............. no members are removed from the site by GR, unless for objectionable postings on the Community Boards.


The vast majority of members are free ............... simply because that is the way the site began, and the FREE category is still available. It is a common level of membership because it allows you to build your tree, and that is all some people want to do.


The number 11 million plus is accumulative since the site began in 2002. .

How many of those have died, become incapacitated, lost interest, changed their email address but not notified GR???


Unless a member has been permanently banned from the site by GR, in which case their tree and all posts disappear, all other trees remain ................. no-one except the member can remove their tree from the site

Thus, if a member dies or becomes incapacitated, then the tree remains UNLESS he/she has given all information to a family member of friend, including the necessary password, and asked that the tree be removed.

If they have lost interest, then they will ignore any emails from GR, or even have GR marked as a spam.

If they have changed their email address and not notified GR .................. "shrugs shoulders".

It probably means that they have also lost interest ....... because IF they are on the site regularly, they would see that messages are showing in the Message Centre. Or, of course, they have died or become incapacitated.


I once estimated that maybe as few as 100,000 members might actually be active out of that 11 million ............... that's less than 1%.

Even that might be stretching it ....... it might be as low as 0.1% (around 10,000 members)


I also estimated that maybe 1,000 may know about and use the Community Boards.


What can you, or us, or even GR, do about it??


NOTHING


nor can ancestry, or any other such site.



The fact remains that no-one can force anyone else to do anything, including connect up with people who think they might be possible family members!



sylvia

Researching:
My Dad, a studio photograph taken in 1927/1928, and given to my mother before they got engaged in 1928 ............................................................ To help us and to get better results, please post as much detail as you can, especially name, date(s) and place. Also say what you already know.

Roger
Report
27 May 2012 10:41

Well I did yesterday and it seems Genes did not like it.

As what is the purpose of Genes Reunited.

To make contacts with your cousins and relations etc - and the only way we can do this is by contacting them though messages on the site.

And if these relations of our do reply what is the point.

You tell me if I am right or not.

jax
Report
27 May 2012 15:44

I joined this site to build a tree. I have no interest in seeing anyone else's

I have a couple of aunts and at least one cousin who also have trees on here. I have not contacted them and vice versa....If they did try and contact me I would probably ignore them anyway

Researching:
Nothing much

Porkie_Pie
Report
27 May 2012 16:32

GR is a registered genealogy web site,

Genealogy is the study of families and the tracing of their lineages and history,
which is why most members joined in the first place,
The fact that it is called Genes Reunited may imply that it has something to do with finding and communicating with your possible distant relatives but i is still a genealogy web site,

Due to the owners of the site recognising that it's long term members have great success in researching they for financial reasons have through their activities elsewhere been promoting the site as one which its members can help to trace living people such as Long lost relatives and adopted people,

They have also increased revenue through attracting these new members and providing these new members with the ability to access such records through GR at a price,

The name Genes Reunited is the wrong name for the resent activities undertaken by the last new owner

You may think it means to reunite with other living people and exchange info on your ancestry,
Where as others like my think it means to reunite with long forgotten families and the tracing of their lineages and history

After all it is a Genealogy web site

Roy


Cynthia
Report
27 May 2012 16:38

I joined because I wanted to build a tree too. I was interested in seeing my family background develop.


I contacted quite a few relatives when I first began, but that was because I was eager to see if they had any information for me.


Some of them replied but not all and there was nothing I could do about it. My foray into family history research was at the very early stages and I hadn't discovered how to do my own research.


Whilst it is pleasant enough to contact distant family relatives, there has to be enough of a shared interest in the family to allow relationships to develop.


It may well be that some have started a tree but their enthusiasm has waned and they have gone off to do other things.


You simply cannot insist that every answers messages anymore than you can take a horse to water and force it to drink.




Roger, you simply cannot insist that someone replies to your messages.

I think you have to realise that

Researching:
ADVICE: Click on 'My Threads' over on the left to find your replies. Please respond to your replies by typing in the Add Reply box at the bottom of the page. Enjoy!

Rambling
Report
27 May 2012 16:39

No Roger you are not 'right' , because the purpose of this site is for the individual members to use the services it provides ( and for which they pay appropriate subs' as per their own requirements ) as they see fit.

I have a couple of cousins on here by marriage, that I have contact with, and it's great but to stamp my foot and say 'you must reply' because we have a long dead mutual ancestor that neither of us ever met, would be the height of rudeness.

Getting no reply may be frustrating, but I would hazard a guess that more often than not, if that person is still a member, it's because they have no interest in or knowledge of that branch of the family anyway, so won't be a help with your tree.




Researching:
Whetman, Budd, Fishlock, Kemp, Keating. Surrey, London and Ireland.

Roger
Report
27 May 2012 17:19

Well it looks as if I am one of the very lucky ones who have had many many connections with family members ie cousins etc down the line.

And this is why I suggested to GR the question in the first place, and NOT be jumped on by those of you that pay there dues like me to post to others on here whose records that GR say are in common with my tree.

So in reality GR cannot complain when I as why people don't reponed as it is they who give the impression that this is what this site is all about.

Connecting with your rellies where ever they are though GR.

Porkie_Pie
Report
27 May 2012 17:41

Roger, You have posted this thread on the suggestions board and several members Have responded with varied reasons why members don't reply,

why do you feel that you have been jumped on?

when they have responded with answers to your query/suggestion

If you feel this way then may i suggest that you do not post them on a public forum but instead send such queries/suggestions directly to GR via the contact us section of the site,


Roy

Rambling
Report
27 May 2012 19:11

I received a message notification earlier today, I've opened it but not yet replied...is that rudeness? or just that actually I am really busy and only popping in and out of the site.

I don't have time at present to sit and type why I KNOW it's not the same person,pull up the records that prove it, and I don't want to just say 'not him. sorry' as I would consider that unhelpful.

Researching:
Whetman, Budd, Fishlock, Kemp, Keating. Surrey, London and Ireland.

SylviaInCanada
Report
27 May 2012 22:11

Roger

I joined the site soon after it had changed its name from Genes Connected to Genes Reunited .... or so I have since discovered.

I did NOT join to get connected with other family members. I never even thought that Reunited meant that I would be reunited with living family members ............... although that in fact did happen. Unfortunately, my cousin died less than a year later. He wasn't much help to me though .................. I was older, and knew far more about even our fathers' generation than he did!


I joined to start building my tree, and it was the cheapest subscription at the time, with a well recommended tree building programme.

I found the Community Boards within the first day or so ...... and realised that they were an invaluable source of help. Unlike many people, I did realise that they were all members like me, but ones who were willing to share their expertise in research


You have not, in my opinion, been jumped upon.

You have been given reasons why others do not think anyone can force any other member to reply.


In my own case ................. I have not touched my tree on GR for years. It stays at the same 130-something names.

It is not that I have lost interest ............. I'm building my trees off site, and am constantly researching.

BUT ......... I really no longer want to have contact with someone who might be related to my gt grandfather's brother's wife's cousin.

In the early years on here I both answered queries and sent out queries of my own, especially on one particular family.

What did I find?

That most of the trees on here that are following that family in fact have the information sent out by me in those early years! Not always from me, but can be traced back to me.

And most of the ones that I had given the information to, did not even bother to respond and say thank you .............. in spite of the fact that the information that I sent to them had been verified by me from certificates that I had bought.

Some of the ones who did respond ......... asked to be given copies of the certificate(s).

Only one person has ever given me (or even offered to do so) copies of any certificate, and that was not for this particular family!

I've really had only one really good contact on here that benefited me ............. and that was from another family, where two of us connected, and discovered that we descended from 2 brothers. There were about 6 known siblings, but no-one knew who the father was. What work had been done by descendants of other siblings was, to put it frankly, terrible!

We worked together, me mainly on the internet from Canada, and the other person "on the ground" in England.

We managed to solve the problem, found our mutual gt x ?? grandfather, verified it with Parish Registers and other documents, managed to correct the wrong information that was out there for some of the other siblings (have no idea whether the other people corrected that information) .................. and we have had no further contact for the last 3 years.

One thing we never did discover was why, or exactly when, the father changed the spelling of the surname, and why at least 1 (possibly 2) of the siblings then changed back to the original spelling.


EVERY single Hot Match or "is this your family member" from GR just brings up the same surname again and again.



In actual fact, I have NEVER given access to my tree to anyone.

What I do do is determine that the person asking really is connected to my tree, and then give them information on the particular line they are interested in. It takes time to type out the information, but that is what I do.

Why?

Because there are too many freeloaders and name collectors ..................... by that I mean people who will take ALL the names from your tree and add it to their own, regardless as to whether there is any real contact other than gt grandfather's brother's wife's cousin.



sylvia

Researching:
My Dad, a studio photograph taken in 1927/1928, and given to my mother before they got engaged in 1928 ............................................................ To help us and to get better results, please post as much detail as you can, especially name, date(s) and place. Also say what you already know.

Roger
Report
28 May 2012 09:22

So why do GR have a thread called Success stories, have a Search Trees thread which when you find someone in your tree which corresponds with somone in yourrtree has where you can contact them.

Come on this is part and parcel of Genes Reunited.

Trying to get people like us to find those who don't know others in our trees who are still alive.

I will share my tree with anyone who is part of my tree but only the relavant part

Yes people might join Genes to put all they tree on I did not I joined to Find those who share my ancestors and get in touch with them though an excellent site like this, which still does not cost much to do so.



Porkie_Pie
Report
28 May 2012 11:58

Roger, Success stories board is not a thread, "you cannot reply on it" its where people can add about their success, that does not have to be about contact or finding long lost relatives but also about a member braking down a brick wall with their research in to possibly the elusive relative who could not be found on the 1841 census or finding the parents of a child born 1768

http://www.genesreunited.co.uk/boards.page/board/success_stories/thread/1295485

http://www.genesreunited.co.uk/boards.page/board/success_stories/thread/1297890

And the search tree's is not a thread, It's a search facility for members to see if anyone else has a possible ancestor in common,
the results are based on the criteria entered,
This does not mean they are connected to your tree and as has already been said if you are trying to contact another member and if they are still active you need to send a very detailed message in order for them to be able to make the connection, but its still up to them if they reply or not for reasons already said on this thread

Roy

Roger
Report
28 May 2012 17:17

Well my interpreation of Genes Re-united is certainly different to many of the people who have read and answered this thread.

I came on here to find people who are my relations - which I think it still does.

But is also have threads where you can asked for advice and look ups, which IMO is the whole different ball game.

So I have asked GR what I wanted, as it is a suggestions thread..

And I am not going to reply on here any more - because some people cannot accept that some people like me have a differant opinion than theres.

Porkie_Pie
Report
28 May 2012 17:50

Roger, sorry you feel that way but it has nothing to do with anyone accepting a difference of opinion,

you are entitled to make the suggestion on this board and to have your own opinion, but as with the majority of suggestions GR's interest is minimal at best

This site is a genealogy web site,

The whole success of this site is actually down to the community boards and the members who post their so to say that the help and advice given their is a different ball game is incorrect, thats what the site was built on,

If you wanted to find people then you can always ask on the living relatives board, or try friends reunited and facebook,

Roy

SylviaInCanada
Report
28 May 2012 18:11

Roger

you posted .............


"And I am not going to reply on here any more - because some people cannot accept that some people like me have a differant opinion than theres."

--------------


You also seem unable to accept that others have a different opinion from you!


You are perfectly free to ask GR to force other members to respond to you



But may I suggest that this Board, despite what it says, is not the best place to do so?


GR staff seem to very rarely even look at threads on this Board, let alone respond to them .............. and almost never do so on other Boards on the site.


Thus, suggestions posted on here go almost nowhere ............... as we regulars know very well!

Many suggestions to correcting problems caused by last fall's updates or others on possible improvements to the working of the site, have still not been attended to.



Send GR an email, and see what response you get.


Then you would not be pestered by those others who have opinions contrary to yours.



sylvia

Researching:
My Dad, a studio photograph taken in 1927/1928, and given to my mother before they got engaged in 1928 ............................................................ To help us and to get better results, please post as much detail as you can, especially name, date(s) and place. Also say what you already know.

DazedConfused
Report
30 May 2012 12:48

About 18 months ago I contacted a man who had a name in his tree which was the same as one in mine (not to common a name).

About a week later I got an email from his WIDOW, she explained that her husband had recently died and he was the person who was doing the research not her. She explained that he was in touch with so many people that his email inbox and notifications from genealogical sites was overwhelming her.

I immediately wrote back expressing my sympathy and advised her to contact Genes to have his tree removed. She did not have access to his tree. I never gave it anymore thought. Then about 1 month later she emailed me again thanking me for that advice. Genes kindly removed his tree. But as you can imagine she had been very distressed at the time,

So Roger what would you do in that instance, get a medium :-)

I have access to about 30 trees, but of these 5 only have 10 or less people on there and as such are useless. This is something that Genes will not tell you. How many of the millions of trees have less than 50 people on.
And I think you can start a tree on here for free so Genes cannot force someone who is not paying to relpy.

No one is jumping on you, just trying to explain some of the many reasons why you will not always get a reply.

Researching:
We are all of us in the gutter, but some of us are looking at the stars, Oscar Wilde New avatar, my dad age about 3/4 months, could have been worse, it could have been the awful nude on a rug!!

SylviaInCanada
Report
30 May 2012 16:25

PP

You can indeed still start a tree on here for free.

This site began as a free site, a small subscription charge was instituted later (sometime before April 2004) ......... to allow people to communicate on the Community Boards, to Search other trees, and to communicate with the owners of those trees.

This site was being recommended on an internet rating site as recently as 18 months ago as the BEST site on which to start building your tree for free.


Free members have restrictions on what they can and cannot do ........

..... they can start a tree,
......they can read EVERY thread on every board,
......they can RR any thread on any board,
......they can receive pms from a paying member AND respond to those pms.
....... I think they can do a search of records

They cannot .......
....... initiate a pm to another member,
....... reply to posts on threads OR participate on the boards
....... see the details on records


For many people that is quite sufficient.



Only GR knows how many free members there are.



sylvia

Researching:
My Dad, a studio photograph taken in 1927/1928, and given to my mother before they got engaged in 1928 ............................................................ To help us and to get better results, please post as much detail as you can, especially name, date(s) and place. Also say what you already know.