Suggestions
Welcome to the Genes Reunited community boards!
The Genes Reunited community is made up of millions of people with similar interests. Discover your family history and make life long friends along the way.
You will find a close knit but welcoming group of keen genealogists all prepared to offer advice and help to new members.
And it's not all serious business. The boards are often a place to relax and be entertained by all kinds of subjects.
The Genes community will go out of their way to help you, so don't be shy about asking for help.
Quick Search
Single word search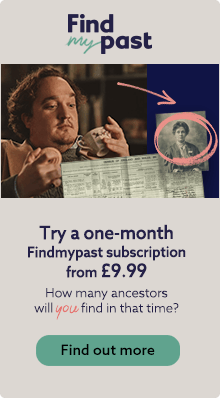 Icons
New posts
No new posts
Thread closed
Stickied, new posts
Stickied, no new posts
What's the point of the Contacts list?
Profile
Posted by
Options
Post Date

David
Report
5 May 2013 11:41

I have over 10 pages of Contacts which do not seem to be in any kind of order, it's just a haphazard list of my contacts. To find anyone's name you have to use the separate search box. To be of any use the contacts should be shown in alphabetical order with perhaps an alfabet box at the bottom of each page. The current row of page numbers at the bottom of each page is of no use at all. Why not have the same format as the shared tree list which is straight forward and easy to use.
David J



Andysmum
Report
5 May 2013 11:58

They are, I think, in chronological order, with the most recent first.

As they include everyone who has ever sent a message, some members have hundreds of pages.

Putting them alphabetically might help if you can remember the names of your contacts. (I can only remember a few of mine.)

Why don't you put them in folders, labelled A-B, C-E etc? It would take a bit of time to do, but once done you could then add new ones as you go along.

InspectorGreenPen
Report
5 May 2013 12:00

At present the default order is chronological, last contact first. You can also sort by the relation column, just click on the heading.

What exactly is the enhancement you are suggesting? The ability to sort by Member name?

I have 84 pages in all and always use the Search Contacts option, unless it is a recent contact on the first couple of pages so I'm not sure how this would help me.

David
Report
5 May 2013 18:59

InspectorGreenPen, exactly my point! you have to use the search box, the contact list is of no use unless you can interrogate it or order it in some way, as you can with the tree list. Having 10's or 100's of numbered pages of contacts is just a waste of facility, who is going to bother to look through it anyway?

Andysmum
Report
5 May 2013 21:28

If you have a lot of contacts putting them in alphabetical order is not going to help you find them - unless you use the search box.

The shared tree list is the same - how do you work out which page the M's are on? Without using the search box it is guesswork, and I hardly ever get it right first time.

Thelma
Report
6 May 2013 13:15

I still use the stars.No longer able to sort in order but it helps.as I know that all five stars are my paternal line etc,

Graham
Report
21 May 2013 16:52

Instead of page numbers they should have letters; so if you click on A you get a list of names beginning with that letter. ;-)

InspectorGreenPen
Report
21 May 2013 19:31

Right.

Letters rather than Numbers would seem to be a big improvement. This is the suggestion to put forward,

Yes?

Andysmum
Report
21 May 2013 22:37

Yes. A good idea.

Kense
Report
22 May 2013 08:47

That's a good idea for those who remember names and have a large number of contacts.

I have only a small number of pages of contacts (6) and would not like to have to search 26 pages when I don't know the name of the contact I am looking for but have a reasonable idea of when I last made contact.

SylviaInCanada
Report
22 May 2013 18:45

My simple little mind thinks ...........


It should not be impossible for the search facility to be set up so that the "consumer" (ie, the members) could sort on the basis of Name or Date of Contact.



I was doing that with a software programme back in the 1990s :-D


Mind you, that programme had been designed specifically for my use and purposes. It was, however, later sold to several other agencies.

Researching:
My brother, photo taken in September 1990 just a couple of weeks before he died. ............................................................ To help us and to get better results, please post as much detail as you can, especially name, date(s) and place. Also say what you already know.

Persephone
Report
28 May 2013 05:32

I am all for an alphabetical sort.. it has worked since one first had a childhood dictionary.

It is a very keep it simple principle even my mobile contacts are alphabetically sorted without me asking it to do so.

Persie


Researching:
The latest tree member our Grandson, Stellan born 09/12/14

Andysmum
Report
28 May 2013 14:21

I see from Natasha's latest update that this idea is being considered for adoption, with people being given the choice of alphabetical or chronological.

Well done, David.

Kense
Report
28 May 2013 15:29

It seems strange that you can sort the list on the Relation Name but not on the contact name.

David
Report
4 Feb 2015 10:30

Biggest problem I have is with female contacts. Women generally have their Tree under their maiden name but their contact is via their married name. Tracing back correspondence becomes a nightmare.
David

SylviaInCanada
Report
4 Feb 2015 17:42

of course we have our tree(s) under our maiden name!!

That's the way OUR ancestry is traced back, NOT through our married name




However .............. you will find that a large number of women on this site (and on others!) do not use either their maiden or married surnames




For example, my surname according to GR is "InCanada"


it is the way we preserve our privacy, and prevents our names getting out onto the internet .......

....... it also protects us from harassment by members on the site.

Send a pm to a member with your real name on it means that they can find you in real life, and thus contact you by phone or snail mail ...................


and that HAS happened on GR, at least twice that I know of.

Researching:
My brother, photo taken in September 1990 just a couple of weeks before he died. ............................................................ To help us and to get better results, please post as much detail as you can, especially name, date(s) and place. Also say what you already know.

DazedConfused
Report
4 Feb 2015 20:51

Can you not delete the ones you do not want ie someone has pm'd about a post on the boards, which is of no relevance to you.

I am sure I do this



Researching:
We are all of us in the gutter, but some of us are looking at the stars, Oscar Wilde New avatar, my dad age about 3/4 months, could have been worse, it could have been the awful nude on a rug!!

Community Manager
Report
16 Feb 2015 11:00

Hi David,

Would you be able to clarify the suggestion, and we can look in to the re-organisation.

Regards,

Shelley

David
Report
17 Feb 2015 10:21

Hi Shelley
Do you mean me to clarify my suggestion about the numbered contact pages (original topic of this thread) or my difficulty with female contacts referenced by both their maiden and married surnames?
Regards
David

SylviaInCanada
Report
17 Feb 2015 20:25

David ..............


Shelley says ................


"... clarify the suggestion ...."



I would think she meant your original suggestion



as far as your problem with women ........................



that's YOUR problem



I an sure I am not alone in keeping my married name, and even my maiden name, out of the contacts list.



Maybe you did not understand my reasoning as posted earlier .........................



but then you have probably never experienced online harassment, or even worried about the possibility



I can assure you, and Shelley, that if GR ever institute a policy whereby maiden, married, AND GR user names are connected and provided to other users .............. then I will be gone from this site.


it's a major, major privacy issue

Researching:
My brother, photo taken in September 1990 just a couple of weeks before he died. ............................................................ To help us and to get better results, please post as much detail as you can, especially name, date(s) and place. Also say what you already know.