Suggestions
Welcome to the Genes Reunited community boards!
The Genes Reunited community is made up of millions of people with similar interests. Discover your family history and make life long friends along the way.
You will find a close knit but welcoming group of keen genealogists all prepared to offer advice and help to new members.
And it's not all serious business. The boards are often a place to relax and be entertained by all kinds of subjects.
The Genes community will go out of their way to help you, so don't be shy about asking for help.
Quick Search
Single word search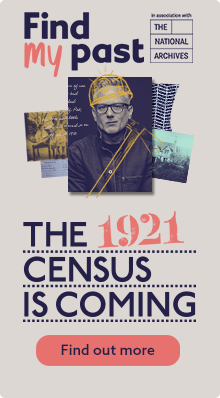 Icons
New posts
No new posts
Thread closed
Stickied, new posts
Stickied, no new posts
MY SUGGESTION - STOP YOUR 'IMPROVEMENTS' GENES
Profile
Posted by
Options
Post Date

ARSTEE
Report
25 Jul 2013 22:55

I'm sorry but have you actually read what my post was - any of you ??

I feel like you all just aren't getting the point !!

I don't care that the tech stuff is better than it used to be, that you can import docs and photos and attach bits to goodness knows what, that 'YOU ALL' did your census search a long time ago - I in fact also finished my tree a long time ago, or where people look for answers to members questions........

The point I was making from the start and continue to be making is that regardless of all that stuff GR has still made the census searches utterly screamable !!

I do not do my tree, as I said it's done, I do however look into friends / relatives by marriage trees and the trees of anyone who I read about etc that interests me so I still do like to look at census records.

GR still sells itself as a genealogy website where you can search for your ancestors and still has countless people signing up to it - but in my opinion it just doesn't deliver with any ease the most basic of genealogy records and where everyone starts - THE CENSUS RECORDS anymore !!!!!

To put it in simple terms - GR'S census records suck - everything else is good !!

Just to double clarify that - it's not the content of the census records or the transcriptions of the census records - it's the SEARCHABILITY of them which is only down to GR's website and nobody else !!

SylviaInCanada
Report
26 Jul 2013 01:33

Arstee ...............

and did you not read MY post ....................

I said that the reason that none of us had really commented on your post and your problems was because we do not use the GR records, censuses or others ........... and therefore we CANNOT comment on the problems that you are having!


I do know of many people who have given up on GR's records, as they found they were not the easiest to search ..................... ever! That goes way back to when the records first began to appear on this site, which was post-2007, I believe.

Researching:
My brother, photo taken in September 1990 just a couple of weeks before he died. ............................................................ To help us and to get better results, please post as much detail as you can, especially name, date(s) and place. Also say what you already know.

ErikaH
Report
26 Jul 2013 09:24

Arstee

Hardly anyone uses GR for research.............we use other sites.

We have BASIC membership ONLY of GR

So we CANNOT comment on your complaints about the GR census records, and searches thereof.

Please try to understand that...............

You want us to 'read' your post........perhaps you would do others the courtesy of reading theirs.

Without wishing to appear unduly blunt.......remove the blinkers

ARSTEE
Report
26 Jul 2013 09:27

so then why anyone bother to comment on my grumblings if they don't know what I'm talking about ?

Would anybody leave a review on tripadvisor for somewhere they'd never been before ? Leave a comment on the spin cycle of a hotpoint washing machine if they only use a bosch ?

get my point ?

I wasn't bothered about getting any replies to this post when I did it - I was venting to GR mainly even though I know before anyone tells me that they don't often read these boards !!

Genes DID have a brilliant census search 6 months / a year ago when there were numerous drop boxes down the side and you could search for someone with just the first letter of their name or by the names of others in the household for example.........

That search facility enabled me to finally find a family that I'd been struggling years to find because they'd given a totally different surname when the census was done. I was able to put in ALL their first names and then started a 'begins with' search using the letter A for their surname and looked for a family who matched and finally when I got to the letter K I found them - they're name was DENTON but had given the name KEY !!

Now they've scrapped that for whatever insane reason and given me a load of tosh - that's all I was saying !!

So, GR - bring back that search facility or one using the same principles now you've given all the techies their hyperlinks, attachment and download bumf so we mere mortals and the newbies can successfully find families in your census records - PLEASE !!

ARSTEE
Report
26 Jul 2013 09:57

But Reggie - there are LOADS of people who use GR for searching - they're selling their product everyday to poor unsuspecting people !!

There is a much bigger world out there than your 'Community Board Family'..... The fact that SO many people ask for help should tell you that !!

I don't wish to slag you lot off, you mostly do a great job helping people in their searches - I in fact asked for help some while back with the above mentioned Denton family and received some great help and advise - no outcome, I cracked that myself with GR's brilliant old search facility......

BUT - you shouldn't feel that you have to comment on something you know nothing about !! You wont shrivel up and die if you don't hit 50 posts a day !! Take time out, do some recreational searches on a family that interests you to fill your time and just stick to the posts that you have some experience of !!

To also be blunt --- please only bother to comment on my OP if you have experience of what I'm talking about ------ GR's USELESS CENSUS SEARCH FACILITY !!

Thanks xx

InspectorGreenPen
Report
26 Jul 2013 15:27

I think there are two issues here and batting backwards and forwards isn't going to help resolve them.

First of all, can I suggest, as I have done in the past and make no excuses for doing it again, that members who don't use GR's record service to any great extent refrain from making criticism based on hearsay..

If you don't have first hand experience, far better to keep silent. I use the GR record service only occasionally and as a result of having limited experience refrain from making critical comment as to which site is better. None of the alternative sites are perfect either, some worse so than others.

What I will say though as a member of ten years is that GR as a genealogy product is much better for the changes that have happened over the years.

This leads me the other issue which concerns the way in which the thread comes across to anyone reading it.

For example "MY SUGGESTION - STOP YOUR 'IMPROVEMENTS' GENES " and "------ GR's USELESS CENSUS SEARCH FACILITY !! ", - GR'S census records suck" does not engender a sympathetic hearing, and the real message tends to get lost.

Obviously GR are not going to stop making improvements, nor ts the census search entirely useless, but that does not remove the fact that it can be improved either. But perhaps a bit less emotion and a bit more objectivity might be more productive.

jax
Report
26 Jul 2013 16:42

I once said to someone "Maybe people do not like using GR's records" in reply to a question she asked as to why people didn't recommend the records on this site.

That person then reported me and I got a warning...so even though I was a gold member at one time I will keep my opinions to myself

Be careful no opinions are allowed on this site unless they are in favour of GR



Researching:
Nothing much

ARSTEE
Report
26 Jul 2013 18:58

InspectorGreenPen

your points have been taken and I agree that I'm not the most articulate of people - I try to say things in simple terms so everyone understands me - well I thought everyone understood me until this anyway !! I admit the more people don't understand me or make out they don't get me the worse I get - I don't suffer fools gladly and get very wound up when trying to make a point !!

Anyway, hopefully I've finally made myself clear and what my grumbles are ? If not and anyone is tempted to comment about the joy of downloading & attaching and that they love the new colour green please re-read the posts before you all hear me
holler the length and breadth of the country and I end up with a hole the size of my head in my kitchen wall ......................cheers

ARSTEE
Report
26 Jul 2013 19:02

Thanks jax - I was aware of this warning practise when you complain or have an opinion but at least if I get a warning I know they have read what I've wrote ;-)

SylviaInCanada
Report
26 Jul 2013 19:48

Arstee


If you are having problems with finding surnames on the 1911 ..........

............ are you aware that you can search the original 1911 site in the way you describe?

www.1911census.co.uk


You search for free, see what turns up, then buy credits OR use the information found to check on GR, FMP or ancestry.

Researching:
My brother, photo taken in September 1990 just a couple of weeks before he died. ............................................................ To help us and to get better results, please post as much detail as you can, especially name, date(s) and place. Also say what you already know.

ARSTEE
Report
26 Jul 2013 20:44

sylvialncanada,

hi, thank you but i'm not having any troubles finding surnames in the 1911 census.

I purely do this for a hobby now, I love looking at census returns as you see some pretty amazing and interesting things.

If I see anyone mentioned on tv that looks interesting, see old postcards/paperwork with names & addresses on, names off war memorials/gravestones, old criminal photos etc I just like to have a look and see if I can find them, see their life and what they were up to. I also look into trees of family by marriage and friends etc - anyone really....




SylviaInCanada
Report
26 Jul 2013 20:54

IGP ...................


it sounds as though you are suggesting that we should keep our mouths shut, and not offer any help ...................

help that has been suggested might be useful by reading loads of complaints about various aspects of finding records, and trying to find ways to help people.


I might point out that I DID try to use GR records when they were first instituted about 5 or so years ago, in an attempt to recreate the problems that people were having.

I replicated searches done by those asking for help ......... and I COULD understand why they might have trouble.


You do not need to have any more than a Standard membership (or even a Free one) in order to search the records, you just cannot see all the results!


You often seem to want to limit the help that we helpers can give, and to question the advice we give ........................

.............. this begs the question of "why do you do that?"



Researching:
My brother, photo taken in September 1990 just a couple of weeks before he died. ............................................................ To help us and to get better results, please post as much detail as you can, especially name, date(s) and place. Also say what you already know.