Suggestions
Welcome to the Genes Reunited community boards!
The Genes Reunited community is made up of millions of people with similar interests. Discover your family history and make life long friends along the way.
You will find a close knit but welcoming group of keen genealogists all prepared to offer advice and help to new members.
And it's not all serious business. The boards are often a place to relax and be entertained by all kinds of subjects.
The Genes community will go out of their way to help you, so don't be shy about asking for help.
Quick Search
Single word search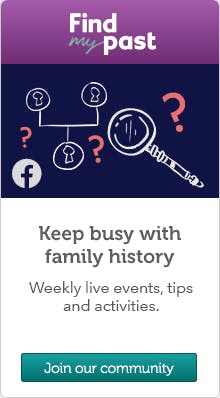 Icons
New posts
No new posts
Thread closed
Stickied, new posts
Stickied, no new posts
Members replying to emails
Profile
Posted by
Options
Post Date

jax
Report
30 Mar 2014 17:29

My husband became a member in 2007 and that was probably when he entered the six people in his tree....I doubt very much that he ever returned after that.....apart from replying to my message in 2010

He didn't need to do that as he could of phoned me :-D

Up until that point he had the same email address since late 1990s.....he may have changed it now as it included our business name in it ,which he no longer has

Researching:
Nothing much

Porkie_Pie
Report
30 Mar 2014 17:09

Graham, It's not an exact science but it's the only thing that could help without GR infringing on members privicy and it would be simple for GR to impliment.

Roy

Graham
Report
30 Mar 2014 16:20

Highlighting how long it's been since any particular member was last active is not really a reliable indication of when & if they are likely to return.
Granted, the longer a person has been inactive, the less likely they are of ever returning. But it's not an exact science.

Porkie_Pie
Report
30 Mar 2014 16:00

eponymic, When it comes to GR resolving the problem of un-opened messages we are indeed flogging a dead horse,

There have been many requests/suggestions to GR to include a last active date on members accounts in order to give a potential contact the knowledge that the tree owner is NOT ACTIVE or has not been on GR for how ever long,

This would at least give people some idea as to IF that member is ever going to open the message let alone get a reply

They have so far refused such a request IMHO because it may highlight the 13 million members they claim to have are mostly dormant accounts.

Roy

jax
Report
30 Mar 2014 15:57

Like you eponymic I do not use my real name on here

When I sent my husband a message I was still using my real name...maybe that is why he replied?

If I was no longer using the site would I want to go to the trouble of even looking at a message from someone I didn't know or who had a strange name.....doubt it

Researching:
Nothing much

jax
Report
30 Mar 2014 13:56

You do not need a subscription to have a tree on here...never have, but they can still reply should they want to.

I know of three family members who have never paid to use this site. ex husband, daughter and my dad.

I have sent pm's to all three only one replied....ex husband

Dad reckons he hasn't changed his email, but doesn't know what password he used 8 years ago.....daughter didn't reply then I noticed she had two accounts so maybe that one is still active

Researching:
Nothing much

Jean
Report
30 Mar 2014 13:01

There is a site called Curious Fox and they have a system where the status of the person is shown in different colours. So you do not waste your time contacting people who do not have a subscription and so cannot reply to you. Surely it is a matter of software.

SylviaInCanada
Report
29 Mar 2014 21:55

Also .....................

if you try to access your PM from the email notification sent to you by GR ........... you cannot access the message unless you sign in to GR

This applies even if you never sign out of GR


Thus, if you cannot remember your password then you cannot access the pm.


This also would apply if you had become incapacitated, or died, but someone else (eg, partner) still could open your personal emails. Unless they knew your GR password and sign-in, then the GR message re a pm waiting on site becomes just another nuisance email.

Researching:
My Dad, a studio photograph taken in 1927/1928, and given to my mother before they got engaged in 1928 ............................................................ To help us and to get better results, please post as much detail as you can, especially name, date(s) and place. Also say what you already know.

Porkie_Pie
Report
29 Mar 2014 14:45

As Ken says, When you send a message (PM) to another member that message is not a normal Email thats why its called a PM, It's a personal message and kept in your GR internal mail inbox, That message is NOT forwarded to the recipients personal email account that they have with what ever provider they use,

The Email sent from GR is simply a "Notification" that you have mail waiting for you "at" Genes Reunited,

I will send this as a PM, Then you will recieve Notification from GR in you Email that you have a message waiting for you, Note their is nothing in that email stating the content of my PM,

Thats how forums work in order to protect members true identity

Roy

Kense
Report
29 Mar 2014 11:35

I thiink there is a problem with terminology here.

The GR messaging system is not an emailing system in the normal sense. If you send a message to someone with an account on the site it is put in their inbox on the site. Then GR send a real email to the email address of the recipient advising them that there is a message in their inbox.

As Roy says if that email cannot be delivered it can't be returned as being a notification, GR have no inbox to return it to.

Even if the message was sent with box to return it if there is a delivery problem, it does not necessarily mean that the address is no longer valid. There are many reasons why a message is not delivered and the logic to ensure it was due to an address that was no longer valid would be complex.

Even if it was established that the address was no longer in use it might simply be that the recipient had not got around to updating it, even though they were still active on the site.

Porkie_Pie
Report
28 Mar 2014 08:29

Just to add that when you send a message from one member to another the email sent by GR to notify the member that they have mail,

The Email address GR use for this is whats known as a no-reply email address or is an automated email account that replies cannot be monitored on

contact@genesreunited.co.uk

noreply@genesreunited.com

A no-reply email address has "no inbox" and so cannot recieve messages of any type which includes those un-delivered or bounced back for what ever reason,

This is normal practice for may businesses because it stops customers from using that same email addy to reply because it's a "notification" and so no reply is required

GR know the system has sent notification but have know way of knowing if it was recieved

imagine what would happen if every notification was responded/replied too?



Roy

SylviaInCanada
Report
28 Mar 2014 03:01

so far as I know ................. because this is what has happened to me ...................

If i send an email to an address that turns out to no longer be in operation ............. I do not get the email bounced back to me .................

It just goes into the void.


If that is the case, GR will not be getting emails bouncing back, and so will not know that they have not reached the intended recipient.


Even if the emails did bounce back ...................... what can GR do about them?


There is not a person dealing with the individual pms, and directing them to the correct "mailbox" ................... it is all computerized.


How do you find an email address for someone for whom you may not know the current correct name?


Jax is quite correct ..................... the majority of members have probably never been paying subscribers ................... after all GR started as a free site on which to build your tree.

The features for which GR could bring in fees came later .......................

The Community Boards arrived about 2 years after GR began, and were the reason for the first subscription level, beginning at the cost of £5 in 2004

Records were not carried on GR until 2007, and the number of records carried has gradually, sometimes rapidly, increased over the last 7 years.


If a member does not renew their subscription, GR does not delete them, they move the member into the Free category .................


................. and there is no reason for GR to have any communication with a Free Member except for informing them that a pm is waiting on GR



I once estimated that possibly as low as 0.1% of the members had ever used the Community Boards ....................... if there are 13 million members, that means only about 13,000 could EVER have used the Boards.

Most members, both free and paying, just work away on their trees, using GR's records if they have the higher subscription, and never contact GR


How do you keep track of them? How, most especially, do you keep track of the Free members?

Researching:
My Dad, a studio photograph taken in 1927/1928, and given to my mother before they got engaged in 1928 ............................................................ To help us and to get better results, please post as much detail as you can, especially name, date(s) and place. Also say what you already know.

jax
Report
27 Mar 2014 23:44

How are Genes going to know that an email address is not no longer in use?

I would think the majority of members have never been paying members or maybe just for 6 months or a year.....just joined and built a tree and gone.

There are 13 million accounts on GR they cant be expected to run tabs on all of them

Researching:
Nothing much

Graham
Report
25 Mar 2014 09:58

Imagine you've sent a letter to somebody's house, not realising that they have moved. The house you've sent the letter to is now empty.
If you went to that house and looked through the window, you'd see a pile of post building up on the door mat.
The letter you sent has been delivered, but there's nobody there to open it.
The same thing happens to emails. The fact that the email hasn't been opened, doesn't mean it hasn't been delivered.

SylviaInCanada
Report
25 Mar 2014 00:25

eponymic

I honestly do not see how GR can solve this eternal problem.

If a member does not tell GR that they have changed their email address .................. how is GR going to notify them? OR know the new email address?

GR will send the notification to the email address they have on file ..................... but if it is non-active, then the message just floats around somewhere in the internet universe. One is not often notified that one is using a non-active email address .............. I know 'cos I've sent emails from my home email to what has eventually turned out to be an inactive address.

The same applies to a member who has died or become incapacitated ................. a family member may see the email, but one needs to know the password to access GR from the notification in the email. If that family member does not know the password, they cannot access the pm.


GR also cannot force a member to respond to a pm ...................... it is an entirely personal matter.


As wisechild said , the problem also occurs on other sites, not just on GR.


Personally ........................ I think one just takes it as it comes!

If you get a reply, fine. If you don't, ................... there really isn't much you or the site can do about it!

Researching:
My Dad, a studio photograph taken in 1927/1928, and given to my mother before they got engaged in 1928 ............................................................ To help us and to get better results, please post as much detail as you can, especially name, date(s) and place. Also say what you already know.

Graham
Report
11 Mar 2014 20:49

It looks as if GR done away with the standard messages. When you send a message to somebody now, you have to write your own message.
It is annoying when you don't get a reply; but GR can't force somebody to do so. Have you tried others ways to get in touch? Perhaps your relations are on FB or Friends Reunited? Or they might be members of the local family history society where they live...

jax
Report
6 Mar 2014 17:07

The only person who has sent me a message about my direct family (wanted to view my tree).....was a name collector, I have no interest in sharing anything with them as they didn't have the decency to say how they were related when asked....my tree on here is very small so not worth looking at anyway....not that they knew that

Just to add I have sent messages to both my daughter and father neither have been opened let alone replied to.......I am in contact in real life, was just testing to see if I got a reply

Researching:
Nothing much

DazedConfused
Report
6 Mar 2014 15:21

Not everyone who has a tree on here and other sites is necessarily looking for contacts. There will be those who use these sites to store their trees as a back-up to that kept on their computer via a Family Tree programme.

And as said before, when contacting people NEVER use the standard request which is offered by Genes, it is rude and impolite, to say the least (the message not the person using it!)

When contacting others, it is best just to give the name of the person including DOB etc., and ask it they are the same person, I usually add a spouse if I know their name. Do not go into great reams of information. And only if they come back with a reply to the affirmative, would I them ask for access to their tree, but do not be suprised if that request is declined, but the offer of more information is made. Many people on here now do not like to give free range of their trees as we have all suffered from those who contact, gain access to our trees, pillage the whole tree and all to theirs and are never heard of again. :-)

Researching:
We are all of us in the gutter, but some of us are looking at the stars, Oscar Wilde New avatar, my dad age about 3/4 months, could have been worse, it could have been the awful nude on a rug!!

wisechild
Report
6 Mar 2014 06:48

It doesn´t just happen on Genes.
In the past 3 weeks I have sent messages to at least 8 people on another site who appear to be related to my family & all of whom were shown to have logged in to the site within the previous 48 hours.
So far I have had 2 replies.

SylviaInCanada
Report
6 Mar 2014 01:33

Jean

Have you read my post above, dated 25 February?


If your last 2 emails have not been opened ................. then that means that the people concerned are not currently using the site ....................


they may be dead, ill, lost interest, OR they have changed their home email address and forgotten to notify GR of the change.


I do not know how long since you sent your pms .........................


but people have reported getting replies up to to 2 YEARS later.

Researching:
My Dad, a studio photograph taken in 1927/1928, and given to my mother before they got engaged in 1928 ............................................................ To help us and to get better results, please post as much detail as you can, especially name, date(s) and place. Also say what you already know.