Genes News
Welcome to the new Genes Reunited blog!
We regularly add blogs covering a variety of topics. You can add your own comments at the bottom.
The Genes Reunited Team will be writing blogs and keeping you up to date with changes happening on the site.
In the future we hope to have guest bloggers that will be able to give you tips and advice as to how to trace your family history.
The blogs will have various privacy settings, so that you can choose who you share your blog with.
Genes Extras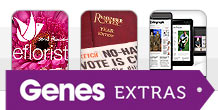 As a way of saying thank you to our subscribers, we have launched Genes Extras. You'll find exclusive competitions and discounts on family history magazines, days out and much more.
Published on 7 Jun 2013 16:58 : 5 comments : 2725 views
We are sponsoring TV show Long Lost Family for the third time running this year. The show will start on the 17th June on ITV at 9pm, and run for eight weeks. We are likely to see more activity on the community boards whilst the series is running, in particular the Finding Ancestors and Finding Living Relatives board. For those of you that frequently help other members on this board, we want to make sure that your time is rewarded and we want your views on the best way to do this.
One of our ideas is to ask everyone who has received help on the boards to nominate a person/or people who have helped them. The top 3 members each month with the most nominations will receive prizes including free or extended subscriptions or vouchers for a shop of your choice up to £50. We will be monitoring which new members have been active on the boards so we will be able send them an email encouraging them to nominate anyone who has helped them. We'd love to hear your thoughts on this suggestion in the comments below. Thanks, Natasha