Genealogy Chat
Welcome to the Genes Reunited community boards!
The Genes Reunited community is made up of millions of people with similar interests. Discover your family history and make life long friends along the way.
You will find a close knit but welcoming group of keen genealogists all prepared to offer advice and help to new members.
And it's not all serious business. The boards are often a place to relax and be entertained by all kinds of subjects.
The Genes community will go out of their way to help you, so don't be shy about asking for help.
Quick Search
Single word search
Genes Extras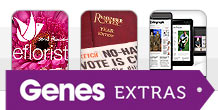 As a way of saying thank you to our subscribers, we have launched Genes Extras. You'll find exclusive competitions and discounts on family history magazines, days out and much more.
Icons
New posts
No new posts
Thread closed
Stickied, new posts
Stickied, no new posts
Genealogy or Family History? Big or small trees?
Profile
Posted by
Options
Post Date

Madmeg
Report
9 Sep 2008 00:34

HI all. have posted on this before. I would never open my tree to someone who is totally unconnected, but this week opened my tree to someone who thought he was connected, and then changed his mind. I pointed out the connections, turns out he didn't know how to find them on the site. Once we had agreed a connection, albeit a bit remote, he opened his tree to me. I could have downloaded the lot and given myself a headache, but I asked his permission to add his grandparents to my tree, and he agreed. In fact, I forgot my agreement and put his parents and himself on as well, cos I have this thing about getting as many living relliies as possible in my tree. But that won't be put on Genes, it is in my private tree on my hard-drive.

It is difficult to decide how far to go, but you have to think why you are doing this project. Is it to get the biggest tree in the world that nobody will ever be interested in or is to serve a real personal purpose?

I think the latter for most of us.

Much love

Margaret

Sue in Somerset
Report
9 Sep 2008 00:48

I am doing an unofficial One Name Study for a rare surname in my family. I get hot matches for an ancestral uncle on my tree who has the same name as another man. I usually contact the people with that other man simply because I know about him and have his tree offline as part of my research. I haven't managed to link him to any of my own ancestors yet.

Today someone has opened their tree to me. No message first to say they were going to do that. I know she has that man on her tree. I had a quick look to see if she has his ancestors yet and that seems the case. I did notice she has all her living relations and even children on her tree. If I were an unscrupulous tree grabber I could have copied all of them.

Sue


Sue in Somerset
Report
27 Nov 2008 17:14

Nudge



Ann
Report
6 Dec 2008 16:33

nudge

Sue in Somerset
Report
16 Dec 2008 18:12

Nudge

Madmeg
Report
17 Dec 2008 22:23

I agree with most of you. If someone wants to pinch my tree, which is mostly derived from public records, then so be it. It isn't 100% perfect but I know the bits which aren't and they don't.

Yes, I did find nobility in one remote branch that I never intended researching at all, and went back to 1044 (before the wonderful William!) as a result of old books and documents. It was very exciting to do so. But most of the Ag Labs and Cotton Piecers stop around the 1700s if I am lucky and to be honest I would rather research the areas in which they lived and the conditions there at the time than just "get them back".

I have just over 1600 in my tree, mostly direct line rather than siblings of direct line.

Love to all

Margaret



Benjamin
Report
15 Jan 2009 18:40

Hi

I dont go on assumptions. I like to check and check to make sure that I have my ancestors. 100% certainty can be difficult to achieve but you have to use your mind and work on what is likely in this game.

Its like finding the father of an illegitimate child. If there is a candidate then research him and his status for other pieces of evidence. Its like my Roberts success. My great, great gran was born out of wedlock in Dec 1863. Her parents Thos Roberts and Mary Ann Walder wed in July 1864 50 miles away from where they met and then the baby was baptised as their daughter in November 1864. "Mary Ann Kate, Daughter of Thomas & Mary Ann Roberts". Thomas baptised the babe as his daughter so I knew he must have been the father. I needed to search him more.

To verify things more, Thomas was a widower when he married Mary. Some people would just add him to their family tree even if they hadnt found the evidence of Thomas acknowledging fatherhood in the baptism of the baby simply on a hunch without finding out more like I did to make sure he was the father.

They wouldnt even bother to find out who his previous wife was or spend the £7 on his previous wifes death to see if that had any clues and if she died during Mary's pregnancy or not. Turns out that Thomas was still married well into Mary's pregnancy and that his previous wife died 6 weeks before the birth, explaining the illegitimate birth. The cause of death said that she had been ill for a long time and that made the idea of her husband Thomas having an affair while she was really ill and dying totally plausible and everything else fell into place. The death cert of his previous wife was the Clincher cert.

Ben



Kate
Report
15 Jan 2009 22:39

Slightly off topic, but thinking over the time and effort it must take to find relatives and add them to the tree once it gets bigger and goes further and further back, you're bound to run into the odd mistranscription in the census etc. (This is why I am amazed by gigantic trees - I find it stunning that someone has apparently got so far in spite of stumbling blocks like relocations and variant spellings and even something as simple as tracking down a mistranscribed person in the census.)

So, my question is, does anybody else do what I do and - in their family tree programme or their tree on here - add notes to this effect? For instance, I might put down that my relative Thomas Hearsnip was living in Aughton, Lancashire in 1851, but was misspelt in the Ancestry search as "Hearnoss" so that I can find him again later without having to look for every Thomas born in 1806 in Aughton next time I want him.

Or, if nicknames and variant spellings come up, I put down that my 4xgreat grandma was christened "Ellen Masco", married as "Ellen Mascow" and appeared variously as "Helen", "Ellen", "Eleoner", "Nelly" etc when her children were christened.

Sue in Somerset
Report
3 Feb 2009 00:09

Nudging because of a discussion on General board

Sue in Somerset
Report
16 Feb 2009 22:03

Nudging up for new people

snowfairy
Report
17 Feb 2009 11:48

When I first started my tree it was to find out who my Grandfathers family were and from there it just snowballed. For a start,some of the greater Grandparents had enormous families who themselves had even larger ones- 19 cent. woooow!!!. I have all the brothers and sisters plus partners in each generation so even just that makes a massive amount. When one side is smaller I then tend to put their children in too, up to a point.I think in some families the infant death toll was not so high in as others which obviously means more Rellies to contend with and anyway ,how do you choose which siblings to put in and which to leave out'. Really one can`t generalise because as someone else said each situation is different.I have Ancestry and quite recently found a brother 1803 of my 2xgt. grandfather and this has really opened up my tree and given me a lot more clues-the missing link so to speak.I have certs but if you look closely and really study the Census you will often find important clues .i.e. a niece or nephew an elderly parent living there with them with the elusive name you had been seeking.I look at every household and sometimes you find a missing person amongst the other families listed on the page.
I am an addict and get so involved with what I am doing ,a quick ten minutes ,turns into two hours without any problem, Ahem!
We have a snowstorm raging outside so I know where I will be today!!!!!
Jay

Researching:
Devon,Wilts. Dorset, Norfolk, Suffolk and Cambridgeshire

Sue in Somerset
Report
17 Feb 2009 12:13

There is the tendency for some to denounce anyone doing a big study as a name gatherer when in fact they can be doing a valuable service for other researchers.

I have a rare name (for the area) in a particular village and making notes for my own family meant collecting parish records for anyone with the name then trying to sort them into families. I have collected them over generations and through censuses. Sometimes there was a little group out on a limb and unconnected but I made a note of them just in case.

I have been updating my records and putting information into a new tree program. As a result in the past few days I have actively sought out people on GR with ancestors of that name from that village.

As a result of exchanges of messages and sharing of information I have identified several new strands and linked up lines. I have been able to give distant relations (like 6th cousins) a lineage which would have taken them a very long time to do and probably required them to go to the Records Office to do it.

I am a strong believer in doing whole family clusters. You can often spot the way names are being passed on through generations and find cousins being witnesses at weddings.

Gathering clusters makes for a large tree very quickly.

Sue

nameslessone
Report
17 Feb 2009 15:54

What a pleasure to read such an interesting thread.

Congratulations to the posters, who even though they were upset have not written angrily as so many others have done lately.