Genealogy Chat
Welcome to the Genes Reunited community boards!
The Genes Reunited community is made up of millions of people with similar interests. Discover your family history and make life long friends along the way.
You will find a close knit but welcoming group of keen genealogists all prepared to offer advice and help to new members.
And it's not all serious business. The boards are often a place to relax and be entertained by all kinds of subjects.
The Genes community will go out of their way to help you, so don't be shy about asking for help.
Quick Search
Single word search
Genes Extras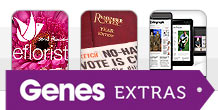 As a way of saying thank you to our subscribers, we have launched Genes Extras. You'll find exclusive competitions and discounts on family history magazines, days out and much more.
Icons
New posts
No new posts
Thread closed
Stickied, new posts
Stickied, no new posts
Is this stalking?
Profile
Posted by
Options
Post Date

Christina (Lancashire)
Report
21 Apr 2013 22:52

I've just discovered that a GR member has me, my parents, my grandparents, my husband and my EX HUSBAND in their tree.

I've sent a message asking her to remove all of us, but why would she do this?



jax
Report
21 Apr 2013 22:57

Is she related somewhere along the line?

When I first started using this site I noticed my OH was in a tree along with his parents, both his ex wives and his children...she turned out to be a 2nd cousin but he did'nt know her...the tree has since been deleted I think?

Researching:
Nothing much

brummiejan
Report
21 Apr 2013 22:59

Have you ever given her access to your tree, assuming you have put these people on there? If not, presumably she is a relative and has worked all this out. She shouldn't have put them there without your permission in any case, so if you get no reply within say a week, I would contact Genes - hopefully they can rectify this.
Bit of a strange thing to do isn't it. Not stalking, she probably just didn't think.
Jan

Researching:
Myatt, Hanks, Eccleston, Powell, Clungunford, Birmingham

MarysRoots
Report
21 Apr 2013 23:02

Maybe some of your family are the same and if she's following her tree and not just her bloodline she may just add them because somewhere there's a connection

Mary

Researching:
Hyde,Fullwood,HarveyMillington Areas Bilston,Sedgley.Tipton Staffordshire

Christina (Lancashire)
Report
21 Apr 2013 23:16

If she is related I have no idea how. I have never given her access to my tree and hide living relatives and the only living relatives are there to connect my direct ancestors, or those of my children. (who's name are not on my tree here)

She is in my contacts as I sent her a message about 2 years ago when I discovered she had me, my father and my grandmother. She mentioned just a surname that is in my family,many generations back, but offered no other explanation of a connection and said she would remove us.

It's just come as a bit of a shock to find that, not only am I still in her tree, she has added the others as well.


MarysRoots
Report
21 Apr 2013 23:31

I always thought anyone living would not show on the trees, So how did you see your names on her tree

Mary

Researching:
Hyde,Fullwood,HarveyMillington Areas Bilston,Sedgley.Tipton Staffordshire

jax
Report
21 Apr 2013 23:40

You can hide living rellies in your tree so anyone you share with cannot see them but they can still be found if you use the search trees.

You probably would not know this , but if you search for anyone in your own tree it does not show up...even long dead ones....give it a try

Researching:
Nothing much

Christina (Lancashire)
Report
21 Apr 2013 23:41

I didn't see the names in her tree. I don't have access to it. I'd posted a request on the Find Ancestors board and just happened to notice her name on the board when I was checking for replies.

It triggered my memory, so I looked on Search Trees to see if I had been removed and as I'd not, I searched for other family members and there her name was.

MarysRoots
Report
21 Apr 2013 23:51

I understand now I thought you had seen her tree,
I will give it a try jax I do not use search trees very often so I don't know that much about it If I'm looking I usually look on public trees on Ancestry and if I find something that maybe of interest I always ask the tree owner for permission to use info

Mary

Researching:
Hyde,Fullwood,HarveyMillington Areas Bilston,Sedgley.Tipton Staffordshire

Christina (Lancashire)
Report
21 Apr 2013 23:53

I didn't realise that Jax. So it searches everyone's tree but your own?

But she must have done the research herself as I don't even have my ex in my tree.

SylviaInCanada
Report
21 Apr 2013 23:56

You can contact GR ............... and they will remove your names from her tree if she will not do it herself.


It isn't stalking, so much as thoughtlessness


and she could well have found much of the information from freebmd, and other online sources


HOWEVER ....................... names of living people should NOT be posted on this or any other site, regardless of whether you have or have not given permission.

ancestry automatically hides any names wheee there is a birth date within the last 120 years, but no death date.

GR asks that you hide names of living people .................. and, as I said, will do it for you if you contact them.

Researching:
Springtime view from my window ........................................ ......... ............................................................ To help us and to get better results, please post as much detail as you can, especially name, date(s) and place. Also say what you already know.

Diamonds-R-A-Girls-Best-Friend
Report
21 Apr 2013 23:59

Christina the same has happened to me a lady has got all of my family on her tree including mine and my sisters children I would never put them on the net, I PM'd the lady in June 2012 asking her to remove the children but assume she has changed her mail address as the PM has never been opened, I contacted GR and they removed the dates of the children's birth but not their names.

For the life of me I cannot see that this lady has any connection to my family.

Researching:
The Family

jax
Report
22 Apr 2013 00:19

I just searched for you Sylvia and you are in 3 trees...your own and two others

Researching:
Nothing much

MarysRoots
Report
22 Apr 2013 00:24

What is the point of having people on your tree if not related. It 's no longer your tree you might as well just have a list of names any names I just do not see any rhyme or reason for it

Mary

Researching:
Hyde,Fullwood,HarveyMillington Areas Bilston,Sedgley.Tipton Staffordshire

SylviaInCanada
Report
22 Apr 2013 01:30

Jax ........................

I know!

One did it, wouldn't remove .................. and 2 others were given the information by her



One of the reasons I no longer am willing to share.



However ................ they are quite genuinely researching the same family, we are quite genuinely connected, either as first or second cousins .........


.................... and there are at least 5 or 6 others who could quite genuinely put me in their trees if following siblings of their parents or grandparents.

They haven't stolen anything from me.

Researching:
Springtime view from my window ........................................ ......... ............................................................ To help us and to get better results, please post as much detail as you can, especially name, date(s) and place. Also say what you already know.

+++DetEcTive+++
Report
22 Apr 2013 09:31

MarysRoots - researchers don't just put random names on their tree; there is a connection somewhere however remote.

If a family lived in a village, or island, by tracing various 'marry in's', you might find them living next door to each other on census or one 2nd cousin once removed working for another. It helps to produce a more 'rounded' picture of the community rather than think of them only as names on a page.

Most people, when researching 'twigs' do take ownership of them while looking for associated records.

One branch of mine emmigrated to the US in 1843ish. If I hadn't traced his descendents as well as my more closely related ones, it wouldn't have been possible to help a 3rd cousin and members of his married in/extended family solve a mystery.

Researching:
I am NOT an employee of GR, just a paying member. Any advice, guidance or suggestion offered is given in good faith.

CupCakes
Report
22 Apr 2013 10:41

I really don't understand why anybody should take offence at other member' trees having their close/direct deceased members listed.There has to be some connection even if it is way back whenever, otherwise the link could not be made.

That is how researching goes we don't live in a box - there is no law I have ever heard of.

I can understand some peoples objection to living young children.

nameslessone
Report
22 Apr 2013 11:34

With the telephone directories on line it is all too easy to find the homes of elderly relatives.
Even when you are not elderly - it is very unnerving, even upsetting, having strangers knocking on your door expecting entry because they claim to be your relative.
Remember not everyone is interested in Family History/genealogy - even your nearest and dearest may be actively against it. There may also be very good reasons why a particular persons details should not be displayed to all.

Cornish Susie
Report
22 Apr 2013 17:44

I had a similar occurrence a while back with a new relative i met on here. I had some photos and docs which were too big to scan, so posted copies off to her. The next time I looked at her tree she had not only added me and my close (living) family, but also added my married name, full addess and phone number! When I politely asked her to remove them and explained why, she just closed my tree to me and refused to reply to my messages. Eventually Genes said they had removed all this info, but as I can't see her tree I just hope she never re-entered everything. Just shows we aren't all nice people on here - but most are!

Sue

Christina (Lancashire)
Report
22 Apr 2013 20:02

NanaSue, I have no objection whatsoever to other members adding me to their tree if they have a genuine connection.

What I do object to, in this case, is the fact that when I first made contact with this member she was unwilling (or perhaps unable!) to explain how we are related and she just said she would delete us.

I was fine with that, as she was obviously unwilling to share information.

Then to find that she had not only NOT deleted me and my parents, but added both my husbands (who she could not possibly claim a relationship with) is going too far.

Perhaps she is just a name collector, more interested in having the biggest tree than reuniting genes?

Edit: I also find it appalling that 'strangers' think they have the right to add children, as in Lesley's case and personal information, as happened to Sue.

If there isn't a law against it , there should be!