Genealogy Chat
Welcome to the Genes Reunited community boards!
The Genes Reunited community is made up of millions of people with similar interests. Discover your family history and make life long friends along the way.
You will find a close knit but welcoming group of keen genealogists all prepared to offer advice and help to new members.
And it's not all serious business. The boards are often a place to relax and be entertained by all kinds of subjects.
The Genes community will go out of their way to help you, so don't be shy about asking for help.
Quick Search
Single word search
Genes Extras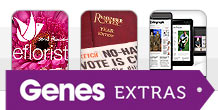 As a way of saying thank you to our subscribers, we have launched Genes Extras. You'll find exclusive competitions and discounts on family history magazines, days out and much more.
Icons
New posts
No new posts
Thread closed
Stickied, new posts
Stickied, no new posts
WHO ARE WE LOOKING FOR IN LEICESTER(PART SEVEN)
Profile
Posted by
Options
Post Date

Angela
Report
26 Oct 2005 20:52

Hi Donna You very kindly found where Grove Street used to be in Leicester for me. I wonder if you could check your 1907 map for a Spitalhouse Street please (doesn't appear to exist anymore) I think it will be in the same area -NW Leics formerly St. Margarets. Thanks Angela

Mike. The Leicester Lad.(GC)
Report
26 Oct 2005 22:42

Greeting's Angela.... Spitlehouse Street was between Leaden Hall Street & Wood House Street.& Ran down to the Canal To the North of...... FOUNDRY LANE !!! But it's on the 1904. ~ 1913. Maps It's now under the Charles Keen Collage MIKE.

Mike. The Leicester Lad.(GC)
Report
26 Oct 2005 22:46

Beverly.... BINGO. !!! ...6,594 Names latter 1841. Census Image. The Hundred of Guthlaxton & Gartree. In the Borough of Leicester. St. Margaret's Parish. Upper Grove Street. Henry Page. 60. F.W.K. Maria. Wife. 40.Seamstress. Ann. Dau. 14. Ditto. Mary. Dau. 10. Ditto. Sarah. Dau. 6. ELIZABETH. 4 ALL Born within the County. MIKE.

Beverly
Report
26 Oct 2005 23:00

Thanks a lot Mike Im glad i didnt have to send out rescue party Bev

Angela
Report
27 Oct 2005 06:41

Thanks Mike

Trudi
Report
27 Oct 2005 07:24

Thanks Mike, This is so very useful. I can't get to Leicestershire very often although I'm only 1 hour away so any help like this to get me back on track is great. Trudi

Beverly
Report
27 Oct 2005 13:31

Hi Mike Im sorry to be a nuisance but on your marriage disk does it say whether Maria Careless or Carless was a widow, because when she got married to Henry Coltman it said daughter of Paul Storer. There is a Maria Storer on igi marriage to a Joseph Careless 1824. So that would explain Maria Careless when she got married to Henry Page. It just seems like she wasn't married to Joseph for long she keeps bumping them off lol Bev

Mike. The Leicester Lad.(GC)
Report
27 Oct 2005 22:01

Greeting's Again Beverly...... In a nut shell..... No... It was only Names,Dates.Location. I think the only way to bottom this is to see what the Parish records have to say at Wigston..... I see from my Leicestershire Project Disk It gives the marriage of Joseph Careless to Maria Storer (4th. April 1824) down as being in Burbage I.G.I has down as Hinckley... So I would think it must be the District of Hinckley ? I'll keep you posted.... MIKE. P.S. I see on the new on-line 1851. Census it has them down as COLLMAN. ..... Grrrr

Beverly
Report
28 Oct 2005 00:40

Thanks Mike Bev

Willsy once more
Report
28 Oct 2005 16:44

Hi Mike Been busy with work etc so not been around. Am still looking at Moore's and wondered if you could look at 1841 again, they may be in Barton-in-the-Beans Still looking for GEORGE MOORE c1817 born Thringstone, his father is George (possibly born Barton) and I think his mother is Anne. Hope this is enough and really appreciate you looking again Elaine

Half
Report
28 Oct 2005 20:33

Hi I knew the date of the death in WW1 of my gr uncle but have never been able to find the location of his birth. According to his birth registration no he was born in the Blaby area but cannot find it in any of the parish records at Wigston. On the military-genealogy site where it lists his army information etc it lists his birth as St John, Leicester. Well I have lived in Leicester all of my life and I haven't got a clue which part that is............. I hope you can help me narrow it down. Many thanks Little Lil PS I have just had a thought ... could it be the area around the Foxhunter roundabout !!!

Mike. The Leicester Lad.(GC)
Report
28 Oct 2005 23:06

Greeting's & Welcome Little Lil... 10 / 10.....Go to the top of the Class...lol :0) St. John's is on your left hand side going out of Town From the Police Headquarters up to The Fox Hunter Round about. It gets it's Name from the site of the old St. John Aldeby Church The ruins lies in the fields behind the Garden Centre and the river Soar Not too sure if it came under the Parish of Lubbesthorpe or Enderby Both would be in the registration District of Blaby though. 1837 ~ 51.= XV. 1852. ~ 1930. = 7 A. Hope this helps you..... MIKE.

Half
Report
28 Oct 2005 23:36

Hi Mike Many thanks for the confirmation. I have all the info, just wanted to see if for myself. When I go to Wigston next week I think I will look at Enderby first and then Lubbesthorpe as it becomes Enderby on the other side of the roundabout. Its quite eerie really. David was born 20 years before my grandpas birth in St Margarets but my grandpa started his business (grocery shops) just a stones throw from where David was born, although my grandpa was only 12 when his brother died. Again many thanks Little Lil

Mike. The Leicester Lad.(GC)
Report
28 Oct 2005 23:51

' Your Very Welcome ....Little Lil ' If I can help any more just ask on here.. I'm not to sure there maybe access to the ruins from Jubilee Park Picnic Area on the Enderby Road To wards Whetstone MIKE.

Mike. The Leicester Lad.(GC)
Report
29 Oct 2005 00:00

Greeting's Again Elaine .... Sorry drew a blank with 1841. Census for Barton - on - the Beans or earlier name of Barton Fabis Also checked out Nailstone as it directed you to that village from Barton Census returns as it was so close Only one Moore Family found there:- Thomas Moore 35. Ag.Lab. Elizabeth Wife. 40. Elizabeth Dau. 11. Mary. Dau. 9. Thomas. Son. 7. William. Son. 4. Joseph. Son. 1. ALL Born within the County. Sorry I didn't hit the nail on the head for you this time ..... MIKE.

Willsy once more
Report
29 Oct 2005 09:04

Hi Mike Thanks a million times as usual. Had a bit of luck though, a few weeks ago I put a search in for Nailstone and was put in touch with a chap who traces people and the history of Nailstone. I sent him some info looking at Kendrick's mainly and mentioned the Twigg's because they both came from Nailstone and by an amazing coincidence he is a Moore descendant. One of the marriage witnesses I gave him matches a Moore marriage and we are pretty they are the same family. There is a Thomas and Elizabeth that would be my George's brother as you just mentioned, my contact can't find the father George in 1841 either! In 1851 he is in Nailstone just to confuse me. Elaine

Ralph
Report
30 Oct 2005 11:09

Hello Mike, I wonder if I might impose on your goodself once again? I'm looking for the following families on the 1841 and 1851 census George Parker c1785 Lockington Hannah Parker c 1789 Lockington John Parker c1816 Lockington Stephen Parker c1818 Lockington Mary Parker c1820 Lockington May still be in Lockington area Thomas Whyman c1793 Catharine Whyman c1797 Lockington May be in Barrow upon Soar or Loughborough Many thanks, Ralph

Willsy once more
Report
30 Oct 2005 14:31

Hi Ralph Here's a little bit for you 1851 Census 21 South Street, Barrow Ref H0107/2087 Ann Harris abt 1836 Age 15 U Lodger Occupation Seamstress Barrow upon Soar Leicestershire Sidney Ward abt 1834 Age 17 U Occupation Apprentice Blacksmith Born Barrow upon Soar Leicestershire Mary Whyman abt 1794 Wife Mar Age 57 Born Barrow upon Soar Leicestershire Thomas Whyman abt 1793 Head Mar Age 58 Occupation Blacksmith Born Barrow upon Soar Leicestershire Can't find a match for your Parkers though Elaine

Ralph
Report
30 Oct 2005 18:49

Hi Elaine, Thanks very much for info, it looks as if Catherine didn't live very long, and Thomas remarried. Lets hope something comes up on the 1841. Regards, Ralph

Mike. The Leicester Lad.(GC)
Report
30 Oct 2005 19:04

Greeting's Again Ralph.... Sorry drew a blank for George & Hannah Parker in Lockington & Hemington 1841. Census. Altough there was several pages missing ........ So now I'll see if they are in Barrow in 1841...... I found a burial for Lockington Parish Church:- Hannah Parker. 11th. June. 1820. Aged. 25. Abode Ticknall Derby. So a second Marriage could well be the answer..... Marriages found :- Thomas Parker. ~ Hannah PYM. Lockington. 1816. By Banns. Also. Thomas Whyman. ~ Catherine PYM. Lockington. 1816. By Banns. MIKE.