General Chat
Welcome to the Genes Reunited community boards!
The Genes Reunited community is made up of millions of people with similar interests. Discover your family history and make life long friends along the way.
You will find a close knit but welcoming group of keen genealogists all prepared to offer advice and help to new members.
And it's not all serious business. The boards are often a place to relax and be entertained by all kinds of subjects.
The Genes community will go out of their way to help you, so don't be shy about asking for help.
Quick Search
Single word search
Genes Extras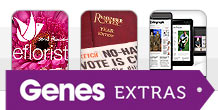 As a way of saying thank you to our subscribers, we have launched Genes Extras. You'll find exclusive competitions and discounts on family history magazines, days out and much more.
Icons
New posts
No new posts
Thread closed
Stickied, new posts
Stickied, no new posts
Anyone watch Home and Away?
Profile
Posted by
Options
Post Date

Berona
Report
17 Apr 2014 04:51

Hello Allan. Good to see you here again. It seems like it's only you and me at the tmoment. Kim is not well, but looks in when she is feeling up to it. Haven't heard from Marion for a while.

I have been following H & A on the Facebook fans thread. I keep going to leave it and never go back, but something draws me to see what mess someone is making of it each day. Nobody expects everyone to be perfect at typing or spelling - but really!!! What some them do to the English language is appalling! My particular beef is with those who say 'dat' for 'that' and 'youse' for 'you'. I find those most irritating. Now, I find that my sister in law in England has been able to see my comments on her Facebook page. I have them all tightened up so that my public comments can't be seen - but she can see them! Therefore, I go through and clean them up (delete them) every few days. Nothing is safe on Facebook!

Looking forward to your suggestion for a good script. In the meantime, have a good holiday in NZ. Can you not get someone to record the episodes that you will miss? If I can help to bring you up to date on your return, please ask. My best to your wife and the cats. My little four-footed friend is fine at 13 (when she's awake!).


Allan
Report
15 Apr 2014 05:39

Hello all,

Just popped in after a long absence. We are also going away very soon, but not to London. We are off to new Zealand for a 21 day coach and rail tour. We leave on Thursday and arrive in Auckland on Good Friday

I hope that is more enjoyable, and lasts longer, than H & A trip appeared to be. Not that I watch it of course.

I'll work on a new script where the entire cast join GR to work out who their biological parents are :-D.

It seems everybody is related to somebody, but nobody wants to know.

I think that that is how the legal expression 'body of proof' originated.

I suspect some may have six fingers and would play a mean banjo! ;-)

I'm not sure that I am looking forward to our holiday. OH will be suffering withdrawal symptoms without her weekly fix of H & A

Researching:
Picture of my grandfather, Clifford Mortimer, in his studio. Still trying to find him prior to 1904

Berona
Report
15 Apr 2014 03:46

Well, that trip wasn't worth waiting for. We didn't see enough of London and it seemed a long way to go for Ricky to change her mind about the job. It looked more like a bonus trip for the actors and crew because the 'Braxton' may have brought the ratings up, but didn't seem worth what it must have cost for all of their fares and accommodaton, etc.

Kim - how are you? I keep wondering how things are going for you and hope for improvement all the time. I know Barbra left us when she didn't renew her subscription, but I also wonder about Marion. Hope things are OK there too.


Berona
Report
23 Mar 2014 21:30

Good to see you posting, Kim. Yes, I'm sure Allan could liven the scripts up a lot!

Nothing much to watch on Home and Away. The Braxton family livened it up a bit but I think everyone is getting tired of them now - and the other storylines are pathetic. Hope their trip to London is more interesting. I believe they go tomorrow.


MEgirl
Report
22 Mar 2014 10:33

Oh tell me about it Berona. :-( I get so bored sometimes, especially with the school kids. John and Marilyn can be entertaining. Harvey is now in some show on Channel 2 and we know where Sid went - Big Fat Tony. I sometimes miss Dex, but definitely not April.

Yes Allan needs to turn this soapie around for sure.

I hope you've been well. This year is flying and nearly Easter, so hard to believe we have just got through Christmas. :-0

Researching:
Iffland, Curtis, Parsons, Dickie, Meillon, France, Kirkcudbright, Inverness, West Country

Berona
Report
21 Mar 2014 21:41

So good to hear from you, Kim. I've been very concerned for you.

Lots of publicity about the trip to London. I wonder if it will be worth it all? They were only there filming for little more than a week, so I don't expect to see much.

I'm sure Allan will have some good scripts for us. Couldn't be much worse than we have been getting lately.


MEgirl
Report
21 Mar 2014 11:33

Hello all I'm still here just, not doing so well. Been meaning to pop in, but my memory is terrible. Lucky I still know where I live.

Still watching the show and so happy to have my beloved Brax back. Storylines still bugging me.

Hello to our overseas ladies. I have been thinking of you all, probably spend too much time of FB as well.

A bit of UK coming up, I'm looking forward to that. Had my suspicions with the Heath situation, but I was wrong. Won't spoil it for anyone not up to speed.

Take care all and I will try to get here more often. <3 <3

Researching:
Iffland, Curtis, Parsons, Dickie, Meillon, France, Kirkcudbright, Inverness, West Country

Allan
Report
28 Jan 2014 07:48

:-D :-D Berona

H&A started last night here in WA.

The blurb said "Who is the one doesn't survive the bomb?"

I prefer: 'Who is the only one to survive, and where does that person emigrate to?'

I may post further possible scripts ;-) :-D

Researching:
Picture of my grandfather, Clifford Mortimer, in his studio. Still trying to find him prior to 1904

Berona
Report
28 Jan 2014 03:25

Hi Allan,

Yes, it is the same Barbra - I believe she shortened the name because someone else got there first with the username. I didn't know she had not renewed, so that explains why she hasn't been posting - obviously!

Goodness me. That only leaves Marion in Scotland and Kim (MeGirl) who has been ill, although it was great to see her post greetings to us at Christmas - and me! Of course, you are welcome to join us but I seem to remember you doing that once before, when you told us what terrible things were going to happen to the characters in H & A. Somehow, they didn't quite match up to the happenings which the writers gave us - but close! ...

Thanks again for letting me know about Barbra. I'll tell the others if I hear from them - or perhaps our thread will get lost now. In the meantime, my best wishes to your wife and family - and the cats. Hope you all have a happy new year.

Regards from Berona
p.s. say hello to the wheelie bins for me.


Allan
Report
27 Jan 2014 22:00

The 'lurker' is here :-D :-D

Berona, I'm not sure whether you mean Barbara, or Barbra. If the latter then Barbra is no longer a member of GR. I do keep in touch with her so I'll let her know. She won't be able to post but will be able to read them :-)

Allan

Researching:
Picture of my grandfather, Clifford Mortimer, in his studio. Still trying to find him prior to 1904

Berona
Report
27 Jan 2014 21:51

Just bumping this thread up as a reminder.

Where is everyone?


Berona
Report
12 Jan 2014 05:45

Just a reminder to Marion and Barbara that our silly soapie is on again tomorrow (Monday, 13th) over your way. All these breaks they have been having have now put you almost three months behind us in the storyline, so Kim and I will have to be careful not to spoil things for you when we discuss it. The new season starts here in another couple of weeks.

Hope you have all had a lovely festive season with your families and that the new year finds you healthy and happy. Kim...I do hope you improve. Thinking of you a lot and hoping things get better for you.

Hope you all have a happy new year!

Berona
Report
24 Dec 2013 22:06

Kim!!! So good to hear from you, at last... Sorry to hear you have not been well, but so glad to hear from you direct, instead of wondering how things are with you.
Good to know you are in good hands and hoping for improvement all tht time. Keep your chin up and hope that silly soapie takes your mind off things when it comes back on.
In the meantime, it's amazing the amount of followers who are offering their theories on the chat board! Some of them must play the promos over and over to study every word said, who is missing from the scene, what they are wearing, what music is playing, etc. How fanatical is that?

Hope you have a lovely Christmas with your closest ones.
The same wish goes out to Marion and Barbara too.

MEgirl
Report
24 Dec 2013 09:50

Hello to all my Home and Away Genes friends. Just wanted to wish you all a Merry Christmas and a safe, happy and healthy 2014. I hope to be with you all next year still watching this silly show and surveying the damage from the bomb.

My health is not good as you would know by now and deteriorates daily. I have the best doctor in Australia who goes above and beyond, so I'm in good hands. I do hope you are all well.

Have a lovely celebration with your families. Best wishes, Kim. <3 <3 <3 <3

Researching:
Iffland, Curtis, Parsons, Dickie, Meillon, France, Kirkcudbright, Inverness, West Country

Berona
Report
14 Dec 2013 21:52

Very sad for poor Indi. She and the other Walkers have now gone out of the show here - only Sasha left in the care of Irene.

You are now having a 4-week Winter break. UK viewing was only about 3 weeks behind until last August, when they took a 6 weeks Summer break. That put you behind us by 9 weeks....and now another 4 weeks will put you 13 weeks behind us - 3 months! Nobody minds being behind other places, but so much happens that it is difficult for people with poor memories (like me) to remember back that far so that we can talk about it to you without telling you too much and spoiling it for you.

Well, only ten days to go - so in case I don't get back, I hope you have a lovely Festive Season and a better than ever new year.

MarionfromScotland
Report
13 Dec 2013 18:54

Hope alls well Kim if you looking in.

Brax is now in prison. I am guessing the guy he admitted to killing will turn up and all will be well again lol.

Romeos ashes have been scattered :-( boo hoo.

Berona
Report
5 Dec 2013 10:32

Ah yes, it's a rather lame storyline which I think has been slotted in to allow the actor, Stephen Peacocke (Brax), to have leave of absence from last May to Sept. to play a role in the film 'Hercules'. He taped ahead and did a few extra gaol scenes, which we have just been watching, so he hasn't been missing from our screens.

I'm concerned about our Kim. Haven't heard from her for quite a while. Hope you are improving, Kim. Please let us know how you are, when you feel up to it.


MarionfromScotland
Report
4 Dec 2013 19:29

Sorry Berona,been leaving you all alone,talking to yourself.

Been busy doing other things,so been very rude and not checking in on here as oftten as I should.
I hope all is well with you and yours.
You too Kim,I hope you are feeling better.

We are at the point in H&A wher Brax has confessed to killing Johnny??

I keep meaning to come on here more often than I do.

Berona
Report
28 Nov 2013 22:03

Hey !! Am I the only one holding this thread up? Hope you are all well and look forward to hearing from you.

Well, the season finished here this week. A bit of a let-down, as we had seen so much build-up towards an explosion taking place, that of course, it was no surprise - and it finished with a cliff-hanger, as usual, leaving us wondering. You in UK won't see the episode until about the end of February, but at least you will see it the next day and not be left wondering for six weeks, like we are left with.


Berona
Report
24 Nov 2013 23:10

Just trying to save the thread from disappearing altogether!
Our version of H & A finishes on Wednesday with a triple episode and I believe that the UK viewers will also be having a break of 4-5 weeks from Dec 13. That will put UK three months behind us - so we will need to be careful we don't give out 'spoilers' when we talk about the show here. They were only 3 weeks behind us when they took a break in August. Why they need another break, I don't know, but they must have their reasons.

Marion and Barbara - hope you are both well and hope to see you posting soon.