General Chat
Welcome to the Genes Reunited community boards!
The Genes Reunited community is made up of millions of people with similar interests. Discover your family history and make life long friends along the way.
You will find a close knit but welcoming group of keen genealogists all prepared to offer advice and help to new members.
And it's not all serious business. The boards are often a place to relax and be entertained by all kinds of subjects.
The Genes community will go out of their way to help you, so don't be shy about asking for help.
Quick Search
Single word search
Genes Extras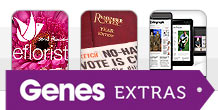 As a way of saying thank you to our subscribers, we have launched Genes Extras. You'll find exclusive competitions and discounts on family history magazines, days out and much more.
Icons
New posts
No new posts
Thread closed
Stickied, new posts
Stickied, no new posts
Map Reading
Profile
Posted by
Options
Post Date

ChrisofWessex
Report
26 Feb 2013 12:47

It is reported in the media that men are better at map reading than women.

Personally I would take issue with this as my OH's skills at map reading are non-existent. By the time he has found the turn-off we are about two miles past it. For many years he developed the fantasy that I did not like driving long distances on motorways! This was because of his map reading skills that I took the passenger seat.

Who is the map reader in your household?

RolloTheRed
Report
26 Feb 2013 12:53

Mr TomTom


Researching:
Rollo Rognvaldsson, Davis in Whitechapel

Sharron
Report
26 Feb 2013 12:53

I am,after a mis-spent youth as a van driver.

Not only do I read the map,I still use what we call my van drivers instincts. If you cut down there it will probably bring you out near where you want to be.

We were looking for a club on a housing estate and he decided I was not taking us there so we had to use his sat-nav which said"Procede for 100 metres and it is on your left" One more to me !

SheilaWestWilts
Report
26 Feb 2013 13:02

We both love maps and are both brilliant map readers :-D. Neither of us like SatNav, and don't have it, with downloadable maps on phones and tablets don't see the point.

Researching:
Gloucestershire, Dorset, Hampshire, Derbyshire, London, Lithuania, Russia

+++DetEcTive+++
Report
26 Feb 2013 13:04

Probably both but he would think he is better.

I start to feel sick looking at a large scale map such as an A-Z in a built up area, so he has to pull over and check where we are. :-0

BTW - does it really matter if the map is turned so that the direction of travel is pointing upwards? There is a better chance of getting the L's and R's right :-D :-D

Researching:
I am NOT an employee of GR, just a paying member. Any advice, guidance or suggestion offered is given in good faith.

Sharron
Report
26 Feb 2013 13:05

The one time we used a downloaded route it took us to the wrong place to a coference and I was so wound up by the time we found it that I just went home.

ChrisofWessex
Report
26 Feb 2013 13:47

Det - I turn the map in the direction I am going - makes it so easier for me when OH has turned right when he should have turned left so I can direct him back to where he should have been.

Sat-Navs - dirty word as far as I am concerned - our neighbour bought one and decided to test it to get home - it could not find his house! Not surprising our Post Code directs it up a service road!!

Porkie_Pie
Report
26 Feb 2013 14:04

People who don't orientate the map have no sense of direction, map orientation is the very first thing you are taught when learning to map read,

For none map readers It's like trying to read a book upside down

Both men and women are equally as good at map reading

I am exceptionally good at map reading even if i say so myself,

But i do have years of experience both cross country "orienteering" and on the roads both by day and at night

Roy

Susan10146857
Report
26 Feb 2013 14:08

LOL....not in my house.....we have got lost in quite a few countries due to my husbands map reading skills and inability to admit he is wrong .He even gets lost with a sat nav :-D

ChrisofWessex
Report
26 Feb 2013 14:28

I have never ever done orienteering - OH just laughs and says well we have seen different scenery! However it is not funny when you have gone around a roundabout 4 times, gone off twice at wrong exit heading for London, on third attempt done a complete circle and on the fourth attempt managed it - then I told him he was a stupid b...er!

Merlin
Report
26 Feb 2013 14:30

As far as I,m concerned, Its No Contest, Its Me. :-D :-D :-D

Researching:
Vlad the Impaler and Dracula. Wend,Prickly,Island,GG.+CC.+DIZZY & Mersey.

JoyBoroAngel
Report
26 Feb 2013 14:30

be much easier if they painted red roads red ect then the map would be so easy :-D :-D

Researching:
the birth of Middlesbrough

RolloTheRed
Report
26 Feb 2013 14:33

The CPS believe that reading a map can lead to a dangerous driving charge:

"driving whilst avoidably and dangerously distracted such as whilst reading a newspaper/map, talking to and looking at a passenger, selecting and lighting a cigarette or by adjusting the controls of electronic equipment such as a radio, hands-free mobile phone or satellite navigation equipment; " .....

About 10% of accidents are attributed to the driver being lost as the root cause.

One of my mates was a divorce lawyer (now he is a judge). He reckons that map reading runs affairs and money a close third.

As somebody with formal training in man/machine interfaces I am not surprised that maps are a problem. They are highly stylised and except at scales which are useless for driving do not really represent the real world you are driving in.

Holding the map upside down when going south is not really very smart unless you are good at upside down reading. Another problem is that stuff like hills, road widths and complex junctions are poorly represented on typical scales. OS maps are better but even more people have trouble with them ...

The real dangerous cruncher though is the lack of any time dimension which is of course taken fully into account with Garmin, TomTom and GoogleMaps as the robot gives out directions in real time. The 3D presentations and junction diagrams are also good.

Directional signing all over the western world is woeful and is especially useless for the people who need it most, strangers to a locality. Long before it is fixed I expect satnav will have made it redundant.

Here is a typical French example at a roundabout (tranlated)
Business Park
Station
Town Hall
Rubbish disposal
Dead end
Other directions
... any mention of any real place never given. Yes, the local teenagers enjoy switching the signs around. In le Havre the left exit to the ferry terminal is a small green sign at the last moment on a busy expressway, good for larfs I suppose.

Or in England ( whizzing down a 5 lane carriageway approaching a city centre )
white arrows marked on the highway
left offramp no information
straight ahead city, station
middle lane M6 North & South
right lane oglethorpe little glenn
speed limit marked down to 30mph ( lots of accidents, what a surprise ) but drivers wrestling with maps not showing oglethorpe miss that and the GATSO is flashing like mad ... rupture of marital bliss

Men generally have better 3d and spatial skills then women which is why they like to brag about things like map reading and buildings by women architects tend to be either somewhat limp or very spectacular.

Unfortunately men are also very bad at assessing risk which is why they have most of the real crunch accidents. The EU insurance ruling is very unfair.

So there you go, like him or not Major TomTom is the safer future, leave your atlas behind.

I love being driven around by women. Little risk of a bang, no getting lost 'cos she knows a better way, SatNav properly set up for the trip ... no problem if I have a drink. Yep, the weaker (?) sex has a much firmer grasp on logic and does not see themselves as TRON when driving.

Our last 2 cars have come with a satnav built in. I see from TV ads that most of the new wheels even run arounds seem to have satnav as standard. Is that correct ?



Researching:
Rollo Rognvaldsson, Davis in Whitechapel

GlitterBaby
Report
26 Feb 2013 14:40

Back in the 1990's I was taking a friend and a couple of kids from Surrey down to Plymouth

No problem says he as he knew the route well. Got down there no problem.

Started home and I thought this route is wrong. Kept asking questions and was told to keep driving.

Well eventually I realised we were heading for South Wales. Pulled off the road and got a map out. Yes you have guessed it we were going in completely the wrong direction.

So much for a man knowing best. It was my map reading skills that got us heading in the right direction and back home.


Would never use a route planner from a well known website either. A bit bored one day so thought I would play around with playing a route. Well within 100 yards of leaving my house I was told to take a right turn. Big problem as it was a no through road - well can hardly be described as a road - you might just about get a Volvo through the bottom of it.

Always used a map. Used to do a list of roads that I needed on a piece of paper and put that on a clip board.

Researching:
PLEASE DO NOT: send me information concerning your thread on the board as it should be posted on your request where all members can see it. PLEASE DO NOT: ask me for help with lookups as they should be placed on the boards to get the best possible result. PLEASE DO NOT: open your tree just because I have posted information on your thread as I will not be related. THANK YOU. Researching Carter, Cass and Walker in England. Researching Caven, McKill, Sutherland and Will in Scotland.

SheilaWestWilts
Report
26 Feb 2013 15:27

Rollo - we're just about to change our cars and SatNav is still an extra, although one of them has the screen as standard, and you control the bluetooth, radio etc. from it. But you pay extra if you want the SatNav.

Researching:
Gloucestershire, Dorset, Hampshire, Derbyshire, London, Lithuania, Russia

Porkie_Pie
Report
26 Feb 2013 16:24

Never start trying to read your map whilst driving,

When planning a route it's important to familiarise yourself with the route then note down critical points, you can place the note of tape it where you can easily see it without taking your eyes off the road, just as you should locate any sat nav taking care not to have it in your field of view, you don't need to put every junction or roundabout down just the ones where you have a change of direction or a change of road number

Simple but requires a little planning before your journey

Done it all my life and never got lost yet,

Keep the map in the back seat and only use it if you require an alternative route due to road closures and only whilst parked up in a safe place

Roy





eRRolSheep
Report
26 Feb 2013 16:49

If you use google maps when planning your journey you can use street view to print out images of things to look out for at junctions etc.


Researching:
Are we nearly there yet?

RolloTheRed
Report
26 Feb 2013 16:55

Indeed Erroll

http://www.freeimageslive.co.uk/files/images008/cardiff_roundabout.jpg



Researching:
Rollo Rognvaldsson, Davis in Whitechapel

♥†۩ Carol Paine ۩†♥
Report
26 Feb 2013 17:04

You can never get lost in the United Kingdom... just be temporarily unsure of your exact whereabouts :-D



eRRolSheep
Report
26 Feb 2013 17:43

What is the link Rollo?

Researching:
Are we nearly there yet?