General Chat
Welcome to the Genes Reunited community boards!
The Genes Reunited community is made up of millions of people with similar interests. Discover your family history and make life long friends along the way.
You will find a close knit but welcoming group of keen genealogists all prepared to offer advice and help to new members.
And it's not all serious business. The boards are often a place to relax and be entertained by all kinds of subjects.
The Genes community will go out of their way to help you, so don't be shy about asking for help.
Quick Search
Single word search
Genes Extras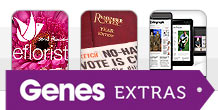 As a way of saying thank you to our subscribers, we have launched Genes Extras. You'll find exclusive competitions and discounts on family history magazines, days out and much more.
Icons
New posts
No new posts
Thread closed
Stickied, new posts
Stickied, no new posts
hospital parking fines WARNING
Profile
Posted by
Options
Post Date

Suzanne
Report
11 Mar 2013 23:20


In sept 2012 my 3 yr old grandson was rushed to hospital by ambulance on a blue light after suffering a bad asthma attack at home,his mum went in the ambulance and my son(his dad)drove behind,my grandson was quite ill with sats of only 70 and dropping and on oxygen in the ambulance,on arriving at the hos my son in his panic parked in the first car park he saw opposite the A E where his son was taken,

5hrs later after his son had been taken to the childrens ward very much better,my son left to go to work.

3 dAYS later son got a parking fine for £60 for parking in an empty disabled car park at 3am in the morning.
my son wrote to the council and explained what had happened,they rejected his appeal and the bill went up to £260. he appealed again a few wks later going higher this time, it was rejected a second time.
three wks ago at 8am two men knocked on the door for our son, bailiffs (i nearly died of shock) they demanded £620 pounds or they would take his car(he needs it for work) he has not got that sort of money,so we had to pay out of our holiday savings(we have not had a holiday for 6 y rs)all of this for a £60 pound hospital carpark fine while your toddler is seriously ill.
so anyone coming to north wales ,who has the bad luck to be taken ill,please watch where your parking during the night at ysbyty gwynedd hospital because the county council will have you for every penny,pay your fine and dont appeal, because they dont care about anything but money. :-(

Researching:
price,lambert,goodlass,mcdonald

maggiewinchester
Report
11 Mar 2013 23:30

I think it's the same at most hospitals Suzanne.
My eldest works (generally late shifts or nights) in a maternity ward. There's very litle staff parking, and quite often she has to park in public bays.
A couple of times, she's received a parking ticket as she couldn't get out to renew her ticket.
Well, you can hardly say to a mother to be - hang on, don't push for a couple of minutes, I have to get a ticket.

Researching:
Dad, about 1942

Suzanne
Report
11 Mar 2013 23:37

maggie

hospital parking in wales is free but you still have to get a ticket and the ticket lasts for 4hrs then you have to get another one.
my son in his panic parked in an empty disabled bay at 3am.
the ironic thing is that im a nurse and sometimes work at the hos,staff are up in arms because tey have to keep going off shift to get new tickets, 3times on a 12hr shift,if not you get fined,all because off the council :-(

Researching:
price,lambert,goodlass,mcdonald

maggiewinchester
Report
11 Mar 2013 23:38

It's ridiculous, isn't it?


Researching:
Dad, about 1942

DIZZI
Report
11 Mar 2013 23:50

I WAS IN FOR 2 MONTHS BEFORE XMAS,,OH PAID NEALY £200
IN PARKING FEES

Researching:
FINCH+LOCK+WEAVER+HALES+BROOKINGS+MANSFIELD+HOOK+TITCHENER and STEVEN & ISRAEL WEAVER c1735

AnnCardiff
Report
11 Mar 2013 23:58

not free at the University Hospital of Wales - they are in a contract which lasts for years to come

with regard to your fine Suzanne I would fight to the bitter end - chain myself to the railings, anything but I would not pay - thieving bastards - sorry for language

I'd get my MP on it and I'd be writing to David Cameron, these were extenuating circumstances and the sooner someone realises that the better - this world is getting madder by the minute

Researching:
Breakspears of Berkshire and Cardiff, Williams and Harman of Whitchurch, Melingriffith &Tongwynlais,Glamorgan WE HAVE NO CONNECTION DON'T SEND ME MESSAGES Do not share your tree with me

AnnCardiff
Report
12 Mar 2013 00:01

also write to the leader of the Welsh Assembly - in fact, the mood I'm in I'll write for you

Researching:
Breakspears of Berkshire and Cardiff, Williams and Harman of Whitchurch, Melingriffith &Tongwynlais,Glamorgan WE HAVE NO CONNECTION DON'T SEND ME MESSAGES Do not share your tree with me

AnnCardiff
Report
12 Mar 2013 00:05

right, I've got the email address so I shall send your posting if that's OK? let me know

Ann XXX


wag-en@mailuk.custhelp.com



Researching:
Breakspears of Berkshire and Cardiff, Williams and Harman of Whitchurch, Melingriffith &Tongwynlais,Glamorgan WE HAVE NO CONNECTION DON'T SEND ME MESSAGES Do not share your tree with me

supercrutch
Report
12 Mar 2013 00:42

Bailiffs for an initial £60 fine? However, I would have paid the £60..00 and then appealed against it on the grounds of mental stress and panic.

Fines between £60 and £80 can be levied for parking in a disabled bay without a badge or a disabled tax disc.

You are much more likely to be successful in appealing against the initial fine than the inflated one once the bailiffs have added the court and their fees.

VERY IMPORTANT: The fine for parking in the disabled pay IS legitimate, hence it should have been paid and contested afterwards.

I'm sorry to be the bearer of bad news and I do understand your anger, many people would have done the same.

You can appeal again, claiming stress and offer to pay the £60.00 ONLY. I'd try that and see what they say.

Good luck

Sue

PS If there is anything I can help with just pm me, although I am always on the side of the disabled and constantly fight to keep able bodied OUT of these parking bays in this instance I would support your case :-)

Sue x

Researching:
Jones!!!!!!!!!!!!!!

LadyScozz
Report
12 Mar 2013 00:47

My brother was fined for staying too long in a parking space (in the street) near a hospital.

He explained to the council that he could not return to his car at the time, because our Mother was in Intensive Care at the hospital.

Mum died that day.

The council didn't care; brother had to pay the fine.

The revenue for that council from parking fines must be enormous.

Researching:
Anzac Day 25 April ~ We Will Remember Them

Jean
Report
12 Mar 2013 00:58

the powers that be have no feelings.its all about money, parking should be free at all hospitals. when in a panic you do your best to get treatment a.s.a.p.more barriers are being put in place to stop US using the services we pay for. in a couple of years there will be no a&e units that you can walk into.. you will have to be reffered...its been on the card for years.

LollyWithSprinklez
Report
12 Mar 2013 02:42

Makes you wonder if the appeals are ever actually read by real people or just summarily ignored.

I suspect from reading the posts it more likely to be the latter

I hope you do take it further as suggested

Penny
Report
12 Mar 2013 06:39

Ultimately the fine was for parking in a disabled bay. I guess the circumstances are irrelevent. I agree it would have been better to pay the fine, then contest it.

The council where I live apparently are lenient with fines ONCE and once only. Mums blue badge fell off the dash, leaving just the clock. I got a fine, I paid and appeled and got the money back, and they stated quite categorically, they wouldnt repeat the exersise

OneFootInTheGrave
Report
12 Mar 2013 09:41

Suzanne, to say I am appalled by what happened to your son would be to put it mildly, I am furious :-|

I am sure your local newspaper would love to take up this this story, so would some of the tabloids such as the Daily Star; Daily Mirror; The Sun; or Daily Mail ;-)

Researching:
I am researching the Wotherspoon family from the Old Monkland & Barony areas of Scotland and the Clusker family originally from Ireland who moved to Uphall; Broxburn; Fife areas of Scotland. I am also looking for help in finding details of the marriage of Thomas Wotherspoon born 1901 in Scotland & Josephine Moore born 1907 in Ireland. So many Wotherspoon's and deciding which ones are related to me is a nightmare.

Sharron
Report
12 Mar 2013 09:58

Who remembers the time when hospital car parks were free?

Not all good though was it?

In Chichester the Oaklands Park, where the tennis club is, car park was a pay and display. A short walk away was the free hospital car park.

You write your own ending to this story.

Kay????
Report
12 Mar 2013 11:50


Glad g/son was fine.......but this may not go down well,,,,,,but after 5 hours from 3 am would be 8ish in the morning September would be light and it would have been seen it was a disabled parking space,,,,,,,on the other edge had your son wanted a disabled space at 3 am and it was blocked by an ordinary driver for 5 hours would you expect a fine to be imposed?,,,,,,

The fine was probally imposed because of the lenghth of time( 5 hours ) the space was taken by an ordinary road user,and there had been ample time to go and move the car.

Agree with Sue,,,,pay and then contest it.

Balliffs are a curse,they dont just the job,but fear into people.......

JoyBoroAngel
Report
12 Mar 2013 12:02

we got a £50 fine last year we just paid it :-(

Researching:
the birth of Middlesbrough

Merlin
Report
12 Mar 2013 13:49

Sharron, you hit the nail on the head, its the abuse by people parking in the Hospital car parks that has caused a lot of the problems,they seem to forget its National Health Service, not National Car Parks.**M**.

Researching:
Vlad the Impaler and Dracula. Wend,Prickly,Island,GG.+CC.+DIZZY & Mersey.

Brenda from Wales
Report
12 Mar 2013 14:14

My hospital parking is free in North Wales...and Sue ,we don't have tickets at Glan Clwyd.
This has been for over 2 years now,before used to cost a fortune.
Daughter in England has paid out a fortune going to the hospital to see the baby ill with meningitis..thank goodness she is home now.

supercrutch
Report
12 Mar 2013 14:58

If you have a child in hospital or are visiting a terminally ill family member you can ask for a free parking pass.

BIL had one when my sister was an inpatient, he asked the ward sister and he was referred to the right office and used it for 2 weeks.

Always worth asking.

Researching:
Jones!!!!!!!!!!!!!!