Suggestions
Welcome to the Genes Reunited community boards!
The Genes Reunited community is made up of millions of people with similar interests. Discover your family history and make life long friends along the way.
You will find a close knit but welcoming group of keen genealogists all prepared to offer advice and help to new members.
And it's not all serious business. The boards are often a place to relax and be entertained by all kinds of subjects.
The Genes community will go out of their way to help you, so don't be shy about asking for help.
Quick Search
Single word search
Genes Extras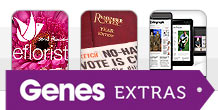 As a way of saying thank you to our subscribers, we have launched Genes Extras. You'll find exclusive competitions and discounts on family history magazines, days out and much more.
Icons
New posts
No new posts
Thread closed
Stickied, new posts
Stickied, no new posts
Greased lightening
Profile
Posted by
Options
Post Date

LadyScozz
Report
10 Mar 2012 03:08

Do gremlins invade this site at weekends?

I was in earlier for a couple of hours. No problems.

I took five tries (and four Error Messages) this time. I wasn't signed out.

Grrrrrrrrrrr!! :-P

Julia
Report
8 Mar 2012 08:00

Would the member on this page, who posted on yesterday's date, and who sent me an exact copy of what he has posted here, despite my not being on this thread until now, please desists.
I asked him by returned PM to do this, and talk to me in a proper manner. His reply was to ask me who I was, and that I did not sound like someone he would like to correspond with. What, for asking someone to use their manners.
Well, sorry mate, I don't like people talking to me like that. Anymore, and I will report you to GR, as a stalker, and have your membership revoked.

Julia in Derbyshire

Researching:
Turner Cambs/.Northants, Singapore and Penang,Trengrove Singapore and Penang, Arnull (Champion Race Horse Breeders & Trainers 'Oleander')Germany and Denmark

InspectorGreenPen
Report
8 Mar 2012 06:51

The topic of this thread was originally related to the performance issues that some members were plagued with, especially difficulties in logging in. This is what GR have recently tried to address, with much success, I might add.

However, I believe, further work on the part of GR is still required to speed up performance, for example, when navigating 'My Threads' and also with the 'Names Summary', which also times out regularly when moving from page to page with larger trees.

This latter point is something that no one else seems to have mentioned but is in fact more of an annoyance to those of us who use that tool in their research than the problem with navigating their thread postings, which I can easily live without.

To be fair, Phil from GR has said that work on performance issues is ongoing, so lets see what happens over the next week or so.

The roll out of the new tree, which in reality is still in development, is a separate issue and problems and bugs with the tree should continue to be reported to the developers using the link provided. There is little point in listing them in detail on here because the tree developers are unlikely to see them.

SylviaInCanada
Report
8 Mar 2012 04:46

Persie

I have to do exactly the same thing in Message Box.


Oh .... I got a pm asking me if I still wanted a thread reviving. One called Message Box - Problems.

Of course I said yes ....... so I shall have to watch out for it tomorrow. :-D




sylvia

Researching:
My father, ca 1926/1927........................................ ......... ............................................................................... To help us and to get better results, please post as much detail as you can, especially name, date(s) and place. Also say what you already know.

Persephone
Report
8 Mar 2012 02:35

My last message was opened a couple of days ago and the envelope was not there yesterday but now I have a white envelope... but no message and no advice by e-mail in spam box or otherwise is it stuck somewhere in GR's postbox?

Tree is fine.. all the rest is cooking with gas except the message box which I find a tad stupid anyway.

eg one views a message and then decides to view another further down the page to jog memory, it won't open try refresh still won't open... no I have to go to community boards or sent items and then go back to in box to look at the next message. The longest way round seems to be the shortest way there to coin a phrase.

Persie

LadyScozz
Report
8 Mar 2012 00:26

I don't like the new tree, it's awkward to use, and it keeps freezing. I have the same problems as Bryan, with people being duplicated. I added a spouse to someone, she then appeared three times, once with her husband, also to MY husband, and to ME!

I have told GR I will continue to use the old tree. If and when it goes I will not be renewing my membership. With all the bugs in the new one, that may be some time.

Bryan
Report
7 Mar 2012 17:54

New tree continues to create spontaneous duplicates of newly entered family members. It also locks into the additional data page for the most recently entered family member, eg, add a spouse (person A), enter additional information and save it, then try to move on to another family member to add new information. All that can be accessed is the additional information page for the new spouse (person A). It's then necessary to close the tree and re-enter - and then person A appears twice.

This has been reported to GU several times to no effect and, although GU claims to value feedback, doing something about it is a different matter. How many members are planning to move to Ancestry when their subscriptions expire?

Ken2
Report
7 Mar 2012 16:34

Getting in seems OK - but still the search facility on the New Tree doesn't work for me. I am using IE8 on Windows XP na ddon't want to change to another web browser.
EDIT:
Just tried Andrew's suggestion on this thread:
http://genesreunited.co.uk/boards.page/board/genealogy_chat/thread/1294141
Clicked the Compatibility View symbol and the search now works.

Researching:
Barwick, Lancs Bucks & Berks; Craven, Lancs & Ches; Simpson and Dixon, Lancs & Yorks

Estelle
Report
7 Mar 2012 14:56

We're so pleased to hear that most of you are no longer having problems signing in and out of the site. There are still a few more changes that Phil is going to make which will also be a big help. These changes will go live next week.

Researching:
Working on all things tree-related. Looking for Tooley in Lincolnshire, Sadler in Derbyshire, Rogerson in Yorkshire, Goldstein in Liverpool/Poland.

Sally
Report
7 Mar 2012 14:21

26 seconds to get in today better than yesterday :-0

sally w

Researching:
stephen taafe*muriel denley1917 he died 3 weeks later

Susan10146857
Report
7 Mar 2012 11:24


It worked before Rollo so maybe it will work again :-)

Researching:
Member since 2003

RolloTheRed
Report
7 Mar 2012 09:41

This is an Apple problem not a GRU problem. GRU uses Flash for some stuff. Apple iPad does not support Flash ( Steve Jobs policy).

For iPad (not iPhone) this app will give Flash support but you will have to enter the url via iSwifter not Safari. Safari runs Flash ok under Windows.

app store: iSwifter

Another option is Skyfire, but check it works before shelling out.

It is also possible to have a Windows session on an Apple ipad under Citrix and run any Windows stuff inc Flash (advanced). If you know anybody geeky iPad will also run linux (advanced geek)

Apple claim that they don't support Flash 'cos of stability, performance etc etc. The reality is a complicated argument about H263/4 video standards and patents and the way Apple makes money out of its nice looking tin. In any case Adobe are working around it with html5 and it is said the problem will gradually go away.

Older Apples mostly have Flash support and thus run GRU ok.




Researching:
Rollo Rognvaldsson, Roger de Busli, Eu, Wath upon Dearne, Rutland, Framland

SylviaInCanada
Report
7 Mar 2012 07:16

spoke a bit too soon


Loading My Threads is slooooooow, and still getting errors when trying to do it. It is better than it was before .......... am getting fewer error messages.



sylvia

Researching:
My father, ca 1926/1927........................................ ......... ............................................................................... To help us and to get better results, please post as much detail as you can, especially name, date(s) and place. Also say what you already know.

Susan10146857
Report
7 Mar 2012 04:56

Tsk! Rollo

You got me all excited there for a minute :-(....No such luck on the IPad....( it uses Safari).....in fact at the moment it is as dead as a dodo :-(

I am writing this on my lappy.

Researching:
Member since 2003

SylviaInCanada
Report
7 Mar 2012 01:53

it is working well :-D :-D :-D

Researching:
My father, ca 1926/1927........................................ ......... ............................................................................... To help us and to get better results, please post as much detail as you can, especially name, date(s) and place. Also say what you already know.

LadyScozz
Report
7 Mar 2012 01:16

Got in after two Error Messages
Read messages after one Error Message
Got to OLD tree after two Error Messages
Added marriage date (nothing else) to someone.........slooooooooooow

Whoopee......... it's working NEARLY as well as it did years ago. :-S

RolloTheRed
Report
6 Mar 2012 19:19

hi

ultimate accolade, Estelle has referenced my thread :-D [ preens feathers ]

given it another thrashing with various browsers, after sign out home page loads in < 3 sec, sign in mostly < 10 secs, once 30 sec. After sign in complete speed on everything else fine ( I have never kept big thread archives on GR, I back them off to hard drive where local search can find things in an instant, even if offline ). Tried accessing a big thread tho no problem. Opening if already signed on very quick. Tried on another box. Fine. Tried on my smart phone. OK, exec time fine on wifi. I did most of these tests on a vanilla ancient DELL running XP sp3 with 1 GB 533 RAM. SATA drive. ' orrible Intel graphics. Nightly (Firefox 13 beta) was marginally the fastest, IE8 slowest. Connection direct cable.

I still dislike the new view which to me has reduced functionality compared to the old view - reasons same as everybody else. It is more bearable though now it runs faster. I would like the slider to be invoked some way that did not cover up the tree.

On sign out the tree is left on screen, not closed. I consider this a bug.

I very very rarely clear out various caches, cookies, histories etc but make sure that caches are generous. I do weed out some of the more irritating cookies though ...

Firefox has an excellent free took called "Cookie manager" which you can get from "Tools | Addins" . After adding it it will be in the menu "Tools | Cookie manager". That way you can delete just GRU cookies and then sign in again and gru will generate shiny new cookies. I have never found it made much difference but it is a way of removing just GRU cookies without wholesale death and destruction and problems with mislaid passwords for other sites ...

For me anyway I am well pleased that an acceptable level of performance has been restored. It is quite interesting just how -ve feelings can be about an application which takes for ever to load and then falls over. Suddenly I quite like GRU again.

'appy for once, nice work Phil
:-)


Researching:
Rollo Rognvaldsson, Roger de Busli, Eu, Wath upon Dearne, Rutland, Framland

Sally
Report
6 Mar 2012 15:03

it is taking me 50+seconds to get on to site and thenkeep having to sign in

and do not get me started on the tree :-\

sally w

Researching:
stephen taafe*muriel denley1917 he died 3 weeks later

DazedConfused
Report
6 Mar 2012 14:09

sorry to say after post above left site
took ages to get back in just now!!!!!



Researching:
We are all of us in the gutter, but some of us are looking at the stars. Oscar Wilde New avatar, my dad age about 3/4 months, could have been worse, it could have been the awful nude on a rug!!

philmoir
Report
6 Mar 2012 13:28

I have deployed a change earlier today to one of our database procedures that should relieve the bottleneck at this stage. I have a few other things to look at, but I think this was the critical one that was causing the majority of the pain.

Sorry that it has taken so long to narrow this down and fix this particular issue.

I am still aware that there are issues in other places, and I am continuing to look into these.

Phil

Researching:
I am the lead developer for the Genes Reunited website team. Disclaimer: The opinions expressed herein are my own personal opinions and do not represent my employer's view in any way. My research areas of interest are East London, North-West Cumbria, North-East Scotland and Edinburgh.