Find Ancestors
Welcome to the Genes Reunited community boards!
The Genes Reunited community is made up of millions of people with similar interests. Discover your family history and make life long friends along the way.
You will find a close knit but welcoming group of keen genealogists all prepared to offer advice and help to new members.
And it's not all serious business. The boards are often a place to relax and be entertained by all kinds of subjects.
The Genes community will go out of their way to help you, so don't be shy about asking for help.
Quick Search
Single word search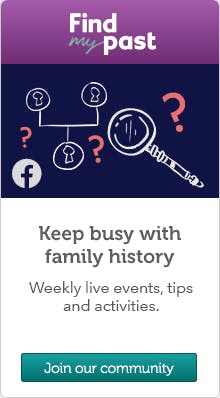 Icons
New posts
No new posts
Thread closed
Stickied, new posts
Stickied, no new posts
Trying to find Clifford Mortimer
Profile
Posted by
Options
Post Date

Allan
Report
18 Feb 2009 02:32

I am trying to find my Grandfather, Clifford Mortimer, who married Adelaide Coe in 1904 in Fylde. His age was given as 44 so his d.o.b. would be circa 1860. His father's name was Joseph Mortimer who was a coach trimmer but was deceased at the time of my grandparents' wedding.

My grandparents had 3 children, one of whom died within the same year that he was born (1912). My father, Sydney, was born in 1915 and his sister, Kathleen, was born in 1913

My granndfather does not seem to appear on any census prior to 1911.

I would be grateful for any information

EvieBeavie
Report
18 Feb 2009 03:29

Do you have his place of birth info from the 1911 census? That would probably be a huge help!

Also, from the marriage certificate:
Clifford's occupation
witnesses' names
bride's father's name

You never know what tidbit might lead to something.


Vicci
Report
18 Feb 2009 07:50

ok so I cheated
1911 he was in Chorlton Lanc born 1861 London , painter/artist
Adelaide born 1884 ANDERTON NORTHWICH

Researching:
Lashmore, Lines, Smith, Reilly, Mendus

Vicci
Report
18 Feb 2009 07:55

nearest birth so far but hardly London!

Name: Clifford Mortimer
Year of Registration: 1865
Quarter of Registration: Apr-May-Jun
District: Bridgwater
County: Somerset
Volume: 5c
Page: 483


Researching:
Lashmore, Lines, Smith, Reilly, Mendus

Allan
Report
18 Feb 2009 22:03

Many thanks to you all for these tips.

My grandfather's ocupation is given as "Artist" and that ties in with some pictures and sketch books in our possession.

There has been no problem searching for my Grandmother's family as they all appear to have settled in Northwich and her father died there in 1910 aged 78.

With the help of the local Family Historical Society her in Australind Western Australia we had also found the Clifford Mortimer from Somerset but are not wholly convinced that the two Cliffords are in fact one and the same.

There has been a suggestion that perhaps Clifford' surname was not originally Mortimer, but his mother may have remarried and he adopted the surname.

Regards

Allan

EvieBeavie
Report
18 Feb 2009 22:45

Alan says by PM:

My sincere apologies for not replying personally to you. I am new to Genes Reunited and didn't know how to reply to individual messsages.
My Grandfather's Marriage Certificate did yield the information but trying to trace him from there has been difficult. if not impossible but I am still working on it.


You apologize without cause, Alan. ;)

Everybody always prefers to get replies in the thread - probem being that new people usually have no clue how to reply in a thread. I see you worked it out!

I actually spent a fair bit of time dredging around the censuses and FreeBMD for your Mortimer last night, to absolutely no avail.

But something I looked at somewhere last night, on an original census image, had somebody as an "artist in painting". I cannot remember whether it was something I was looking at in connection with your Mortimers. Let me go and scratch my head and see what I can backtrack to.


EvieBeavie
Report
18 Feb 2009 22:47

Oh -- and I was specifically looking for a Clifford with a remarried mother and a stepfather, because this was indeed very common.


EvieBeavie
Report
18 Feb 2009 22:59

Adelaide was actually born 1881

Births Jun 1881
COE Adelaide Northwich 8a 268

I know Allan knows that bit, but it's useful info for testing -- she lost a couple of years by 1911, e.g.


EvieBeavie
Report
18 Feb 2009 23:04

Placing Adelaide in 1901:

Name: Adelaide Coe
Age: 19
Estimated Birth Year: abt 1882
Relation: Servant
Where born: Northwich, Cheshire, England

Civil Parish: Broughton
Registration district: Salford
County/Island: Lancashire

John Moorhouse 31
Ann Moorhouse 31
Carrie Moorhouse 3
Charles Moorhouse 1
Adelaide Coe 19


EvieBeavie
Report
18 Feb 2009 23:54

It's awfully like -- in 1881:


Name: Clifford Montague
Age: 23
Estimated Birth Year: abt 1858
Relation: Brother
Where born: Tilehurst, Berkshire, England

Civil Parish: Morthoe
County/Island: Devon
Street address: Spring Cottage
Registration district: Barnstable

>> Occupation: Artist (Pr 3/7)

Julia M. Furze 25 - head, widowed, annuitant
Mabel M. Furze 3
Clifford Montague 23
Sarah J. Yeo 15


Their births

Births Dec 1854
Montague Julia Matilda Windsor 2c 345

Births Mar 1858
Montague Clifford Bradfield 2c 329


His marriage:

Marriages Sep 1882
Montague Clifford Holsworthy 5b 821
Risdon Fanny Jane Holsworthy 5b 821
Risdon Mary Elizabeth Holsworthy 5b 821
Roberts John Holsworthy 5b 821


1891:

Civil Parish: Lapley
Town: Wheaton Aston
County/Island: Staffordshire

Clifford Montaque 30 - artist
Jane Montaque 28
Dudley Montaque 7
Stanley Montaque 5
Dorothy Montaque 1
Lucey Phillips 19


1901:

Jane Montaque 38 - "wife", married
Dudley Montaque 17
Dorothy Montaque 11
Courtney Montaque 7
Primrose Montaque 5
Mabel Montaque 4
Ralph Montaque 3
Trepmois Montaque 1 (I can't read it offhand)

No Clifford present. No Clifford in evidence in the 1901 census.

The last child is Claude Trefusis; there are 5 births in Cannock 1893-1899.

Births Dec 1893
Montague Alfred Courtney Cannock 6b 479

Births Jun 1895
Montague Hannah Primrose

Births Sep 1896
Montague Mabel Victoria Cannock 6b 503

Births Mar 1898
Montague Charles Herbert R Cannock 6b 516

Births Sep 1899
Montague Claude Trefusis Cannock 6b 518


The entire lot of that household have disappeared by 1911 -- I can't find them by first or last name, living together or alone, or any other thing.


Oops, here's Clifford Montague in 1901:

Name: Clifford Montague
Age in 1901: 42
Estimated Birth Year: abt 1859
Relation: Visitor
Gender: Male
Where born: Tilehurst, Berkshire, England

Civil Parish: Llandyssiliogogo
County/Island: Cardiganshire
Country: Wales

Herbert Mitchell 31
Clifford Montague 42 - artist (painter)
Stanley Montague 15 - servant, falconer
Alfred A Jeffries 49


Yup, looks like the Montagues relocated to Wales, and that's why they're not showing up in 1911 yet. National Archives:


[no title] DE5047/11/1-9 1912 - 1913

These documents are held at Leicestershire, Leicester and Rutland Record Office

Contents:
Letters and accounts from Clifford Montague, Talgareg, Llandyssil, S. Wales to Capt. Packe for cleaning and revarnishing paintings at Stretton Hall and Glen Hall.


All these things must be done to rule 'em all out ...



EvieBeavie
Report
19 Feb 2009 00:10

1861


Name: Clifford Walker
Age: 1
Estimated Birth Year: abt 1860
Relation: Son
Father's Name: George J
Mother's Name: Sophia C
Where born: London, Middlesex, England

Civil Parish: West Ham

George J Walker 46 -- coach maker
Sophia C Walker 38
Mortimer Walker 19
Howard C G Walker 9
Clifford Walker 1
Emma Burt 14


But the J is for James:

Marriages Sep 1840
WALKER George James E London 2 194
WHITTLE Sophia Caroline E. London 2 194

and in 1881 that Clifford is still with his parents and is a coach maker.


EvieBeavie
Report
19 Feb 2009 00:42

You do know, there is such a coincidence of names:

http://en.wikipedia.org/wiki/John_Mortimer

Sir John Clifford Mortimer, CBE, QC (21 April 1923 – 16 January 2009)[1] was an English barrister, dramatist, screenwriter and author.

Mortimer was born in Hampstead, London, the only child of Kathleen May (née Smith) and Clifford Mortimer.



She Who Must Be Obeyed!

A Rumpole fan at all? ;)


Allan
Report
20 Feb 2009 05:25

Hi EvieBeavie,

I enjoyed the TV series, but can't say that I have read the Rumpole books.

The co-incidence of names continues. My brother's name is John and my aunt's name was Kathleen who was the daughter of the Clifford I am trying to research.

Clifford and Adelaide also had a baby boy in 1912, which they named Clifford. Unfortunately, his date of death is also shown as 1912.

Again, many thanks for the information provided: I will print this off and take it with me on my next visit to the Australind Family History Society. The librarians there are rather intrigued by clifford, especially the age difference between him and my grandmother.

Given his age I find it remarkable that he does not appear in the 1891 or 1901 census when he would have been an adult (approx 31 and 41 respectively.

Vicci
Report
20 Feb 2009 05:38

If he was an artist he may well have been on the "grand tour" in Europe or living the Bohemian life in Paris!

Researching:
Lashmore, Lines, Smith, Reilly, Mendus

Allan
Report
22 Feb 2009 03:05

Hi Victoria,

I did send a response but it hasn't appeared for some reason. Absolutely nothing offensive so it shouldn't have been deleted. Anyway, I'll try again.

My nephew suggested something similar and I must admit that whilst I knew that the Victorian poets did the grand tour I never gave a thought to artists doing the same.

Although earlier then my grandfather's birth, I do have a sketchbook with water colour drawings of Toronto in 1842, as well as other settlements in Canada. It is possible that there is a Canadian connection but a search of passenger lists and Canadian censuses have not shown any positive results

regards

Allan

Vicci
Report
22 Feb 2009 23:20

HI Allan

I was going to ask whether you had any of his artwork that may give a clue as to where he may have been but you've thrown me into confusion with the Toronto sketch in 1842!

Is the date a typo or are we actually looking for someone much older?

Victoria

Researching:
Lashmore, Lines, Smith, Reilly, Mendus

EvieBeavie
Report
23 Feb 2009 00:14

I wondered whether the earlier work might have been by Clifford's parent, and Clifford was maybe born in Canada.

No Mortimers born in Canada who look related show up in the censuses. And I don't have Cdn records access at Ancestry to look.

There's a Joseph Mortimer in the 1871 census of Canada born 1849-50 in England, living in Toronto. The 1871 census seems to be accessible free of charge, but unfortunately only lists heads of household. That Joseph was a Stove Mounter. He doesn't really seem to be in subsequent censuses.

Ontario births are accessible at Ancestry, but not elsewhere on the net, as far as I know. There are Mortimer births in York county to Joseph Mortimer father, but no Clifford.

There are two Mortimers in the 1901 census born in Canada: a Miss Mortimer 1876 in what looks like a ladies' boarding house in Kensington and a Henry Edwin Morgimer 1856 in Wiltshire.

In 1891, an Arthur Mortimer 1867 Canada is a patient in Kensington. And this person:

Name: Thurcason Eyn Mortimer - I might say Thuresson Eyre
Age: 33
Estimated Birth Year: abt 1858
Relation: Head
Gender: Male
Where born: Canada
Civil Parish: St George in The East
Occupation: General Practitioner Registered

If Clifford was from a class that he might have had means to live on apart from an occupation, there could be a connection. But Clifford's father was a coach trimmer ...

1881 has a few Canadian Mortimers, at least per Ancestry and without checking images.

There is also the odd Mortimer in the censuses born in India, and I'd searched at fibis.org but not found anything relevant.

Another one like the 1881 surgeon is in 1871:

Name: O S Mortimer
Age: 23
Estimated Birth Year: abt 1848
Relation: Boarder
Where born: Adelaide, Canada
Civil Parish: St Marylebone
Occupation: Law Student

I don't think there is an Adelaide, Canada, but that's what the image says. (There's an Adelaide, Australia.)

This 1871 household in Bethnal Green could be the source of the professional Mortimers:

Cecil Mortimer 58 - widowed, chief clark in banker's office, born Shropshire
Herbert B Mortimer 23 - assistant clerk, born Canada, Paton
Alfred Tracey Mortimer 16 - clerk in tea merchant's office, born Canada, Paton
Herbert Mortimer 50 - brother, married public notary (Canada), born Shropshire

I have no idea what Paton, Canada, is.


Allan
Report
23 Feb 2009 21:54

Hi to you both

Many thanks for the information, It is still confusing as the 1911 (English) census shows Clifford as living in Manchester at 14 Greave Street and lists his place of birth as London. He was 50 at the time of the census and that also ties in with his age at his mamarriage to Adelaide. He was 44 and she was 23. I have obtained a copy of their marriage certificate.

The sketch pads may be a completetly false clue, although one does contain pencil sketches of designs on the sides of horse drawn coaches which ties in with the profession of Clifford's father, Joseph, who was a coach trimmer. Also, there is a name in one of them which I can't recall without getting the pads out again but when I googled that name it turned out to be a fairly prominent Architect working in the late 1800's/early1900's in Scotland but mainly desiging schools.

As to the dates given in the pad I have to assume that these are correct as they are handwritten. Even allowing for them to have been added later I would not expect to much of a date difference. This would be similar to me cataloguing all my old photo/s and slides. Whilst I may have forgotten precise dates I think that I would be able to get within a couple of years (particularly if I undertook the task before starting to drink the odd glass of red wine!)

Hopefully, I am off to the Family History Society today so I will take all the information which you both kindly supplied and see what turns up.

Once again my sincere thanks to you both

Allan

Allan
Report
11 Mar 2009 21:43

Good Morning from oz,

I now have Clifford's death certificate which shows the he died in Salford Royal Hospital in 1930 (21st October) He and Adelaide were living at 4 Howe (Hove?) Street Broughton. Clifford was 70 at the time he died.

On the certificate his occupation is listed as "Decorative Artist (Theatre and Cinema)"

One further point of interest is that although Clifford and Adelaide were marrried at Fylde in the Count of Lancaster and they were shown as living at the same address (114 Albert Road Blackpool) which may have been a hotel or boarding house, at the time of their marriage, in the 1901 census my grandmother was listed as a domestic sevant with a family in Broughton



Pamela
Report
23 Mar 2009 18:46

l am researching the Coe family which is full of mysteries. l almost discarded your message but l noticed you referred to Adelaide Coe and to Mortimer's father as a Coach Trimmer. My John Coe was a coach trimmer [1870] and l wondered if he could have been a colleague of Mortimer and that is how he met Adelaide.
A real long shot as the family appeared to reside in London mostly.
l am impressed with your research as l am new to this! Regards, Pamela.