Find Ancestors
Welcome to the Genes Reunited community boards!
The Genes Reunited community is made up of millions of people with similar interests. Discover your family history and make life long friends along the way.
You will find a close knit but welcoming group of keen genealogists all prepared to offer advice and help to new members.
And it's not all serious business. The boards are often a place to relax and be entertained by all kinds of subjects.
The Genes community will go out of their way to help you, so don't be shy about asking for help.
Quick Search
Single word search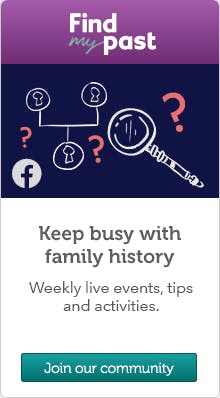 Icons
New posts
No new posts
Thread closed
Stickied, new posts
Stickied, no new posts
Lookup offer for Australia
Profile
Posted by
Options
Post Date

Cherilyn
Report
11 Sep 2011 05:47

Hi Jenni

Wonder if this is Leonard's arrival in Brisbane?
DARE Leonard - born 1888 - incoming passenger card - arriving Brisbane on the Bulolo (1948-50)

And death on Ryerson Index:
DARE Leonard Death notice 18AUG1953 Death at Middlesex Hospital, London Sydney Morning Herald 20AUG1953

I don't know if any of these names are familiar:

DARE, Leonard.-August 18, 1953, in London, father of Margaret Bradshaw, Louise Scott-Fell, and Barbara Catts.
DARE, Leonard,-August 18, at Middlesex Hospital, London, beloved brother of Ruby, Marian, Antonie, Lionel, Richard, Raymond, and Phillp. At rest.

Parents of Leonard's sibs above were Louis & Frances. Louis died in Paddington, NSW in 1906 aged 40. Frances died in 1928 aged 63. Leonard and sibs are mentioned in her funeral notices. She was interred at the Jewish Cemetery in Rookwood. See NLA Trove newspaper site.

jax
Report
11 Sep 2011 05:50

Just thought I would add I have given the death plus all the passenger lists I could find on Jenni's thread on living relatives

jax

http://www.genesreunited.co.uk/boards.page/board/living_relatives/thread/1280010

Researching:
Nothing much

Cherilyn
Report
11 Sep 2011 05:59

The children abovenamed were daughters of Leonard DARE & Edith SAMUEL, who married in Sydney, NSW in 1914. It is possible they divorced as they are listed as separate addresses (suburbs) in the marriage notice for daughter Louise (her 2nd marriage), in 1952. But may be a different family entirely!

What were Edna's parents names? There is a death in NSW for Edna DARE with parents Harry & Hannah in 1974. See www.bdm.nsw.gov.au

Interestingly, Edna is also buried at the Jewish Cemetery in Rookwood...
no scrap that, she was Antonie's wife.

Cherilyn
Report
11 Sep 2011 06:00

Thanks, Jax. Frustrating when this is not mentioned! (I do warn against duplication in my original post).

Unknown
Report
11 Sep 2011 06:47

Hi Cherilyn,

That was very quick work. I have spent days looking and turned up very little.
This is the Leonard Dare I am looking for. He was formerly married to Edith Samuels. I take it that he was an Australian. The link I am following is his marriage to Edna Joyce Anson in 1946 in London after the birth of a daughter Mavis. They left the UK in November 46 on the Themistocles. Have found Edna in Triabunna Tasmania on the 1949 Electoral roll, but nothing else for her or for their daughter Mavis. Would love to find her if she is still alive - every possibility I presume. I know I am following several threads here, but do so much appreciate the fantastic help I've received. My grateful thanks to all. Jenni

Cherilyn
Report
12 Sep 2011 02:29

Louis & Frances DARE were in NSW by 1901. But only the 2 youngest children born here Raymond Carrington & Ruzaile Philip (known as Philip). So no Leonard was not Australian by birth.

The given names Antonie and Ruzaile suggest a European connection. There is a variant of the surname, Da Re, suggested in marriage reg for Leonard & Edith I believe. This is Italian.

Edna would be almost 90 by now. You could try a volunteer for Tasmania at www.raogk.org to check for remarriage but I suspect too recent (privacy laws prevent public access).

Does seem odd Edith was in Tassie when Leonard was in NSW & UK.

Unknown
Report
12 Sep 2011 07:19

Thanks Cherilyn. I think I am going to have trouble finding Edna, so far I haven't been able to turn up a death in Australia, and of course she may have returned to UK. The definite possibility is that she remarried and finding that out will be nigh impossible. Similarly, finding Mavis. If anyone has any suggestions on where I can try next to find them I would be grateful. Many thanks again, cheers, Jenni

Cherilyn
Report
21 Sep 2011 03:11

nudge

Bernard
Report
21 Sep 2011 19:24

My great-uncle, Frederick Bentham, born 1881, married Rose Lilian Whitehead at Epsom, Surrey in 1908. I was unable to find him on 1911 Census and understand that he and his wife emigrated to Australia some time after mid -1908 and before census time in Spring, 1911. I know that he died in Dandenong some time in 1943. I would appreciate knowing when the couple sailed to Australia and if they had any family.
Thanks in anticipation of receiving some info.
Kathleen Robinson

Cherilyn
Report
22 Sep 2011 14:59

Hi Kathleen

I have sent you a PM in reply to yours :-)

Cheers
Cherilyn

Reece
Report
23 Sep 2011 12:22

Hello Cherilyn,

Thanks for your kind offer.

I am looking for the death of my first cousin, Wallace John FROST b. 26 March 1906 Ulmarra, NSW, please.

Having searched, I cannot find anything after his discharge from the Army, I have his marriage date and wife, who died in 2004.

Might he have gone to another State, I wonder?

PM me if you feel it is appropriate and very many thanks for all your help.

Reece





Researching:
Jones, (Wales) Morris, Rivett, Harris, Northamptonshire, Crabb(e), Cleal, Tizzard (Dorset/Somerset) Whiteman, Sargent, Gaymer in Sussex.

kelly1
Report
23 Sep 2011 15:01

Hi Cherilyn,

Thank you for your kind offer.

I have found a Edith Hubbard on a passenger list going to Brisbane Australia.

I am trying to find out if this Edith is one of my relatives but I am struggling to find any more information.

The passenger list details are as follows:

Name: Edith Hubbard
Estimated Birth Year: abt 1885
Age: 23
Arrival Date: Aug 1908
Arrival Port: Brisbane, Australia
Departure Port: London
Ship: Ormuz
Nationality: English

I have looked on the queensland BMD but can't seem to find anything so I was wondering if she may have travelled to another part of Australia

Any help would be truly appreciated.

Kelly.

Cherilyn
Report
26 Sep 2011 02:43

Hi Reece

Sorry I can't see any trace of him. Perhaps if you can tell me his wife's name? Do you know where she was buried/cremated? That may assist assuming they are together.

Cherilyn

Cherilyn
Report
26 Sep 2011 02:46

Hi Kelly

What were her parents names please? I assume Hubbard is her maiden name. Did she definitely not have any middle name?

:-)
Cherilyn

Reece
Report
26 Sep 2011 07:08

Hello Cherilyn,

Many thanks for your reply - I have sent a short PM.

Researching:
Jones, (Wales) Morris, Rivett, Harris, Northamptonshire, Crabb(e), Cleal, Tizzard (Dorset/Somerset) Whiteman, Sargent, Gaymer in Sussex.

kelly1
Report
26 Sep 2011 10:42

Hi Cherilyn,

If this Edith is my Edith, then her middle name was Emma. Her parents were either Emma and John Luke Hubbard or Thomas and Amy Ellen Hubbard.

I am trying to find out if any other relatives of my 2x Great Aunt also emigrated to Australia. Eva Lockton emigrated to Australia 1910 and she was only 17yrs old. Eva went to Townsville.

Kelly

Mike *
Report
26 Sep 2011 11:00

Hi Cherilyn,

Spotted your brilliant offer of lookups for down under..

I wonder if you could uncover the first marriage of my uncle Harold Forshaw in Queensland c 1934.please.

According to family now gone, she was called Bess or Betty, and there was talk of an Italian connection..

Harold re-married in 1961 in New South Wales to Edith May Wood and I met up with Edith's daughter earlier this year in Australia but she didn't know who Harold's first wife was, only that she had died.

Many thanks in advance.

Mike

Cherilyn
Report
27 Sep 2011 02:13

Mike, here is the Qld marriage- index is online, does sound Italian.

1934/C3645 Danielli Elizabeth Marion [m] Forshaw Harold

She died in NSW in 1960:

10380/1960 FORSHAW ELIZABETH MARION [father] AUGUSTUS [mother] ELIZABETH [district] SYDNEY



Kelly, I will have a closer look later, have to race out now.


Cherilyn
Report
27 Sep 2011 10:20

Kelly, I can't see Edith in Qld or NSW, but I fear this may be poor young Eva's death in rural Qld:

1913/C4656
Eva Lockton
[father] Lockton
[mother] Rebecca Ward
** born England
aged 20 years

If you believe she died in Townsville, try contacting the council. http://www.townsville.qld.gov.au/resident/Pages/cemeteries.aspx

EDIT - not listed here http://www.myrasplace.net/hstones/htowns11.htm#L

Reece
Report
27 Sep 2011 12:30

Hello Cherilyn,

I have sent some more information in a PM re Military service etc. for Wallace John FROST b 1906 Ulmarra, NSW.

Thank you again.

Reece

Researching:
Jones, (Wales) Morris, Rivett, Harris, Northamptonshire, Crabb(e), Cleal, Tizzard (Dorset/Somerset) Whiteman, Sargent, Gaymer in Sussex.