Find Ancestors
Welcome to the Genes Reunited community boards!
The Genes Reunited community is made up of millions of people with similar interests. Discover your family history and make life long friends along the way.
You will find a close knit but welcoming group of keen genealogists all prepared to offer advice and help to new members.
And it's not all serious business. The boards are often a place to relax and be entertained by all kinds of subjects.
The Genes community will go out of their way to help you, so don't be shy about asking for help.
Quick Search
Single word search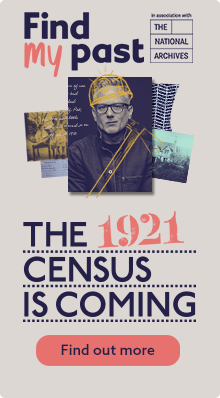 Icons
New posts
No new posts
Thread closed
Stickied, new posts
Stickied, no new posts
PLEASE check the date on the thread
Profile
Posted by
Options
Post Date

Ruth
Report
5 Feb 2016 16:05

To me it would make more sense if the search results appeared in date order, i.e most recent first. They just seem to come up in a jumble, so it's not surprising that people click on them and assume it's fairly current without checking the date.

Unfortunately not much on here appears to be current any more, after a few years away, I've renewed my membership, and this site is like a ghost ship. I wish I hadn't bothered, what a waste of money!



+++DetEcTive+++
Report
11 Oct 2015 12:38

It would be good if the Advance search actually worked - it doesn't and hasn't for a couple of years.

Why not add your thoughts to a thread of your own on Suggestions board......not that the Community Manager appears to have looked at it recently

Researching:
Dormant member as from 20 Sep 2019 . Click on my board name to send a message

Matthew
Report
10 Oct 2015 17:42

I suggest GenesReunited adds an 'added within' option to the advanced search for boards (as they have in tree searches). That would make it easier to avoid old threads.

Researching:
In and near Sheffield, Yorkshire, England: Wilde; Barringham (also in the Netherlands around 1800); Fretwell; Turver; and Turner and Scholey, in the 17th and 18th centuries. In India: Longhurst and Thomas (in Lucknow).

WayneTracey
Report
6 Sep 2015 21:23

OI OI...

I see no one has decorated for a while??

:-D

rockie
Report
9 Jun 2015 08:30

researching Ayres,Ayers/Chapman families can anyone point me in the right direction

jax
Report
22 Apr 2014 16:32

Four or five posts actually Cynthia

Never mind she will still have this thread in her list of threads that she has participated in :-D

Researching:
Nothing much

Cynthia
Report
22 Apr 2014 08:50

I fear "Kitty" has deleted her post :-(

Researching:
ADVICE: Click on 'My Threads' over on the left to find your replies. Please respond to your replies by typing in the Add Reply box at the bottom of the page. Enjoy!

jax
Report
22 Apr 2014 01:22

Kitty

If someone replies to a thread that is over a year old, it is suggested that they send the poster a private message....an email will then be sent to the poster alerting them they have a message waiting...which they can then reply to free of charge if no longer using the site

Should the original poster be now a non paying one they would not be able to reply on the thread unless they paid for a subscription

I don't know when you posted a thread or who told someone they were wasting their time for replying on it

No one could tell that you were active with less than a dozen posts to your name in 7 years.....they were trying to help the person who was trying to contact you

Researching:
Nothing much

patchem
Report
22 Apr 2014 00:01

So could you post a link to your thread so we can see what you are talking about?

Thank-you

SylviaInCanada
Report
21 Apr 2014 22:14

"kitty"


This thread is one that was posted several years ago in an attempt to help people, and it was then "stickied" so that it would stay near the top of the first page of the Find Ancestors Board, where, hopefully, it would be seen by people new to posting on GR, and thus help them get used to some of the idiosyncracies of the site..


This is not your thread, and also not a thread on which you had previously posted.


If you want to find that thread ............ please look in the box headed "TOOLS" at the left hand side of your screen, and click on My Threads.

That will bring up all threads that you have started or on which you have posted.

Researching:
My brother, photo taken in September 1990 just a couple of weeks before he died. ............................................................ To help us and to get better results, please post as much detail as you can, especially name, date(s) and place. Also say what you already know.

MarieCeleste
Report
21 Apr 2014 22:11

Kitty, I concur that GR don't always agree with everything posted but in this case they DO because it was they that "stickied" the thread (they're the only ones that can do that) which is why it is always at the top of the board. They obviously think that it's a useful guide to new posters.

The reason that there are new replies on here is that because this thread will show in the "My Threads" of those of us who have previously posted on it - we can see when there are new posts (depending on how people have their settings they may even receive notification of new posts). That's rather different to when a new member posts on a thread where the original poster may no longer be a member.

Whilst the manner of a small few people may be a little blunt, Glitterbaby's opening post on here is informative and constructive.

Cynthia
Report
21 Apr 2014 22:09

Hello "kitty',

This thread was started by Glitterbaby two years ago, so I guess you have confused it with one which you started a long time ago. Whoever made the comment, would not be telling anyone off, simply stating a fact and trying to help.


Many of us use this site on a daily basis, so we have a good idea of how things work. Have you tried making contact with others who may have your family in their tree?

If you click on 'Search' above, you will see 'Search all members trees'. You can add the names you are researching. If you find a connection, you can contact the tree owners.

If you need help with your research, then why not post a question on the Find Ancestors board and someone will help you.




Researching:
ADVICE: Click on 'My Threads' over on the left to find your replies. Please respond to your replies by typing in the Add Reply box at the bottom of the page. Enjoy!

jax
Report
21 Apr 2014 22:01

Well

I am totally confused now :-D

Where is this thread? because this isn't it

Have you clicked on the persons name and sent her a private message? she will then receive an email from Genes

Researching:
Nothing much

patchem
Report
21 Apr 2014 21:56

"kitty",

Why do you think this is your old thread?

The advice to Valerie was extremely sensible, as no-one had replied on here to help her.

jax
Report
21 Apr 2014 20:51

Kitty

If Genes did not agree with this thread, they would not have stickied it to the top of the board.....would they????

Not sure who your post is aimed at but this thread has been on here two years

Researching:
Nothing much

jax
Report
3 Mar 2014 17:17

Valarie

This is an information thread to advise people to check the dates on old threads before they reply on them.

If you would like help please start a thread of your own by clicking on 'Add topic'

edit - I see you have now

Researching:
Nothing much

Tracking
Report
3 Mar 2014 16:56

Can anybody help with information concerning Thomas Underwood (1854) and his wife Caroline? (1854) Parents names. They were born in London or Croydon.

Valerie

Researching:
Reed Underwood Laramy North Masters Rock Goldsmith Roskilly Hagger Cotton

Tracking
Report
3 Mar 2014 16:53

I am researching the Goldsmith Family and am unable to find the parents of Joseph Henry Goldsmith dob 1874 died 1939 Born in Hackney London. Also the parents of his wife Elizabeth Emily ? who was born in 1800.

I wonder if anyone can help me concerning this.

Valerie

Researching:
Reed Underwood Laramy North Masters Rock Goldsmith Roskilly Hagger Cotton

ErikaH
Report
20 Feb 2014 22:20

MarieCeleste

I use Chrome....and I can see memberhip numbers

Ru
Report
19 Oct 2013 21:27

Hi Jax,

Thanks for your information. Just shows we are responsible for ourselves and therefore, the helpers are good at what they point out on the threads.

Your knowledge is these sites does you credit.

Thanks again - mine was just a thought eh!

Sappho

Researching:
Clifford, von Rimscha, Politov/Politova, von Berg, (Russia, Latvia and Germany) Povey, Turner - South East of London. Goodwin, Daniels and Noble (in every sense of the word)!