Find Living Relatives
Welcome to the Genes Reunited community boards!
The Genes Reunited community is made up of millions of people with similar interests. Discover your family history and make life long friends along the way.
You will find a close knit but welcoming group of keen genealogists all prepared to offer advice and help to new members.
And it's not all serious business. The boards are often a place to relax and be entertained by all kinds of subjects.
The Genes community will go out of their way to help you, so don't be shy about asking for help.
Quick Search
Single word search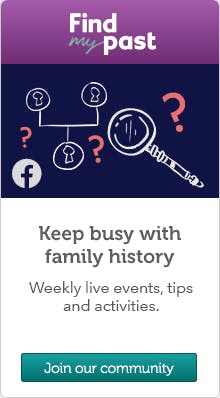 Icons
New posts
No new posts
Thread closed
Stickied, new posts
Stickied, no new posts
Sarah Cunningham cousin born 1936
Profile
Posted by
Options
Post Date

Paulette
Report
13 Aug 2017 23:16

I am looking for my cousin Sarah Cunningham I have a photo of her on the back it says Sarah 5/6/1936 not sure if this is her birth or the date the photo was taken.
Her parents were Ruth Cunningham nee Williams born 1912 in Devonport her father was William Cunningham they were married in Devonport in 1933 I can find no trace of them look around the world.




+++DetEcTive+++
Report
13 Aug 2017 23:52

Do you know Ruth's exact dob? Could this be her on the 1939 register?

Household (1 Person) Royal Naval Station Wesley Down , Winchester R.D., Hampshire, England

First name(s) Last name(s) DOB Sex Occupation Marital status Schedule Schedule Sub Number
Ruth Griffiths (Cunningham,Frearson) 07 Jul 1912 Female Waitress Domestic Duties Divorced 134 3

Although there is a closed record listed after Ruth, it could be the name of another member of staff.
There's normally a date noted for the change of name, in this case
Cunningham-Frearson-(Cunningham)-Griffiths. However, none are shown. Either it was a clerical error, or they were surnames she was known as. Her death would have been registered as Griffiths.

If, a big if, this is the correct Ruth, its possible that Sarah took one of Ruth's partner/spouse's surname

Researching:
Dormant member as from 20 Sep 2019 . Click on my board name to send a message

KathleenBell
Report
13 Aug 2017 23:56

Welcome to the boards Paulette.

I can find no birth anywhere for a Sarah Cunningham whose mother's maiden name is Williams. Are you sure the photo isn't of someone called Sarah with a different surname? Could her mother have been married before she married William Cunningham?

Kath. x

patchem
Report
14 Aug 2017 00:04

On trees on here there are quite a few Sarah Cunninghams born in Scotland.

If he was in the navy, could the birth have been abroad?

+++DetEcTive+++
Report
14 Aug 2017 00:13

The above Ruth seems to be listed on another page as well. There's something about a case number for one change of name, then a date Jan 1954 to note the change of name to Griffiths.

Researching:
Dormant member as from 20 Sep 2019 . Click on my board name to send a message

patchem
Report
14 Aug 2017 06:54

I think Paulette's mmn is Williams, so birth should be Cunningham/Williams for Sarah.

ArgyllGran
Report
14 Aug 2017 13:14

Ruth's birth was registered in 3rd qr 1912, so the 1939 posted by DetEcTive might be the right one:

Births Sep 1912 (>99%)
Williams Ruth May Devonport 5b 545

Researching:


Shirley~I,m getting the hang of it
Report
14 Aug 2017 17:20

Marriages Dec 1941
Cunningham Ruth Frearson Wantage 2c 1135
Frearson Ernest S Cunningham Wantage 2c. 1135

Possible death

Deaths Jun 1965
FREARSON ERNEST S 79 Bullingdon 6b 920


Not seeing a subsequent marriage to Griffiths

Researching:
Surname Fahse. Germany. Essex .South East London My avatar is one of our wedding photos of 1957

malyon
Report
14 Aug 2017 17:40

how old do you think sarah is in the photo

Paulette
Report
14 Aug 2017 21:07

This is how the story started my Mum Monica Williams was born 1920 Ruth William was my Mums Sister . Ruth got Married to William Cunningham 1933 they had a house Devonport Ruth ask her Father to be guarantor for some furniture he said yes a few months later she disappeared never to be seen again. She sent a letter with a photo of her baby her Father didn't read it but binned it my Mum took the photo and kept it on the back it says Sarah 5/6/1936 the baby is sat up in a pram she looks 12/ 18 months.
My Mum passed away and I promise I would keep looking. I can find nothing after the marriage.
Thank you to everyone that has reply. I looked at Griffith's but I cannot find anything or for Frearson. Paulette

patchem
Report
14 Aug 2017 21:49

If the marriage to Ernest S Frearson is correct, there is probate for £17180 on his death, with executors Roger Henry Frearson, Eric Thomas Holloway and Richard James Frearson.

Worth applying for the will, just in case some information there:

https://probatesearch.service.gov.uk

If you got the Williams/Cunningham marriage certificate it would give more information about him.

Shirley~I,m getting the hang of it
Report
15 Aug 2017 07:39

If that is the right Ruth on the 1939 registere and she is divorced maybe having the baby was the reason and her hubby wasn't the father so she isn't reg as Cunningham

Researching:
Surname Fahse. Germany. Essex .South East London My avatar is one of our wedding photos of 1957

AustinQ
Report
15 Aug 2017 09:03

I don't want to confuse things- this might not be related, but there is a later birth in Hampshire 1937:

Kathleen P Cunningham

AustinQ
Report
15 Aug 2017 09:45

A tree on Ancestry has William Cunningham born 1904 County Down

Parents are listed as James and Catherine (nee Magoolahan).

They may already have the marriage certificate as they have:

Occupation: Jan 1933 • HMS Glorious, Devonport Stoker, Royal Navy
--------------------------------------------

Looking at the births in Ireland this is the closest I could find to those details:

Baptism:
Name: William Cunningham
Date of Birth: 09-Feb-1904
Date of Baptism: 11-Feb-1904
Address: 30 North Thomas St Parish/District: ST JOSEPH'S, BELFAST
Gender: County Co. Antrim
Denomination: Roman Catholic
Father: James Cunningham (sailor)
Mother: Catherine McGullighan
Informant 1: Eliza McGullighan
Informant 2: John Cunningham
-------------------------------

1911:

Residents of a house 210 in Main Street (Newcastle, Down)
Cunningham James 46 Male Head of Family Sailor Roman Catholic
Cunningham Catherine 43 Female Wife Roman Catholic
Cunningham John 17 Male Son Roman Catholic
Cunningham Maggie 16 Female Daughter Roman Catholic
Cunningham Lizzie 13 Female Daughter Roman Catholic
Cunningham Willie 7 Male Son Roman Catholic
Cunningham Winifred 4 Female Daughter Roman Catholic
Magalahan Eliza 37 Female Boarder Roman Catholic
Magalahan Willie John 16 Male Brother RC
------------------------

father's death in 1941:

Will Calendars
Title : Mr James Cunningham
Date of Death : 10 November 1941
Date of Grant : 25 June 1942
Reseal Date :
Registry : Belfast
Cunningham James of King Street Newcastle county Down retired sailor died 10 November 1941 Probate Belfast 25 June to John Cunningham motor engineer. Effects £304.
------------------------

Mother's death 1923:

Cunningham Catherine of King's Street Newcastle county Down (wife of James Cunningham) died 28 April 1923 at Down Infirmary Downpatrick county Down Administration Belfast 29 August to the said James Cunningham sailor A.B. Effects £103 2s. 6d

ArgyllGran
Report
15 Aug 2017 10:49

Possible births with mms Williams:

Sarah M J Griffiths, 1934 Pancras - might fit if 1936 is date of photo.
Sarah C Williams, 1935 Holyhead
Sarah J Williams, 1935 Swansea
Sarah E Griffiths, 2nd qr 1936 Carmarthen ,,,,,????? if date on photo is DOB??
Sarah G Williams, 1938 Aled (Denbighshire)
Sarah E J William, 1938 Carmarthen

Pure supposition:
Perhaps Ruth never married Mr Griffiths, but may have called herself that for Sarah's sake. Then married Ernest (27 years older than her), then reverted to Griffiths - if the Frearson marriage broke down ??

As I said - pure supposition!

The Frearson marriage cert might tell you if that's the right Ruth or not.

Researching:


AustinQ
Report
15 Aug 2017 11:13

Looking at the 1939 register it looks like she reverted to Cunningham again AFTER being Frearson.

AustinQ
Report
15 Aug 2017 14:13

Wonder if she adopted the child? Perhaps she couldn't have her own children? Or perhaps Sarah was born Ireland?

There is this article- don't know if it is related but her husband was a sailor.

Northern Whig - Wednesday 25 October 1933

UNUSUAL CASE.

Mrs. Ruth Cunningham, of Lonsdale Street, pleaded guilty making false entries regarding the birth of child, which she said belonged her, but which was that of Margaret Mullen.

Mr. B. J. Fox (instructed by Mr. G. J. Magee) said Mrs. Cunningham adopted the child, and entered it on the register as her own. She received os weekly in respect of the child from the Admiralty on account of her husband being a sailor. After receiving four payments she found out the seriousness of the offence and went to the Registrar- General's office and offered the £1 back. That was how the case came to light.

Mr. Mussen said the offence was committed with the object obtaining the money from the Admiralty.

A recorded sentence of two months' imprisonment was passed.
---------------------------------

Belfast News-Letter - Wednesday 25 October 1933

A FALSE ENTRY

A recorded sentence of two months imprisonment was passed on young married woman named Ruth Cunningham, of Lonsdale Street, who pleaded guilty to making false entries regarding the birth of a child, which she said belonged her and which was that of another woman.



ArgyllGran
Report
15 Aug 2017 15:36

I wonder what happened then?

Would the child's birth be re-registered with the correct surname?
It doesn't say if the child was actually living with Ruth, or was with her mother.
Presumably Margaret was at least complicit in the fraud.

If that's Paulette's Ruth (which sounds possible), maybe the photo was a bluff, to impress the family Ruth had left behind.

Researching:


AustinQ
Report
15 Aug 2017 18:08

AG- good question- No idea if the birth would be re-registered or amended on the original entry.

I took the article to mean that the child was living with Ruth as she states she had adopted the child.

I'm finding it so frustrating.

We potentially have the birth dates of Ruth and William Cunningham, but I'm not seeing their deaths.

Perhaps William stayed in Ireland, or being a sailor could have travelled anywhere, but I would've expected to see Ruth's death in England.
--------------------------------

The details from the 1939 register are odd.

Frearson crossed out and replaced with Cunningham and Case no.9318/ IC DSA written in at the same time. Wondering if she hadn't divorced Cunningham before marrying Frearson? I'm not understanding the case number.

And then in green pen, nothing is crossed through, but at some point (Griffiths MX 19-1-54) was added. I take this to mean that a name change was registered on the 19th January 1954 in Middlesex- but confusing as none of the surnames were crossed out when that was added.

EDIT: DSA (part of the code on the 1939 register) stands for Berkshire-Reading

IC= Identity Card

AustinQ
Report
15 Aug 2017 18:49

Hello Paulette,

Thankyou for your message. It's easier if you put your replies on the board using the 'add reply' box at the bottom of the page- that way others can see the information you have.

I hope you don't mind, but I'm posting your message as it might be useful to others that are searching- please let me know if you want me to remove it.

"Hi thank you so much, I have to say she got her Father to guarantee for some furniture she bought they disappeared my Grandfather dead of a shame and he had to work hard to pay back the money and died age 56. My Mum told she would stealing out of shops so she was very bad at time.
You have worked miracles I don't know how you found this information I am so greatful. I did find a birth the same date as on the back of the photo and it is Sarah E Griffiths and the date of birth matches which is June 1936. The gentlemen she married had money I looked up his will .
I am generally touched how very kind you have been and others on the site.
I did search for William Cunningham he was a stoker on the HMS Glorious I have gone through the crew and all the names but did not find him, I did write to the navy but they could not help.
Once again thank you so very much, I don't get out much as I have a Neurological Disorder.
I did find a relative just had a child's first name and that he was born in the north and his mother was German I found the mother but the child had past away at 10 I talk to her everyday.
Kind Regards Paulette."
-------------------------------------

Paulette, it sounds like you've been working hard on this for quite a while. I'd like to ask a few questions which could help:

What was Ruth's address when she married William Cunningham

Do you have the marriage certificate of Ruth Cunningham and Ernest Frearson- If you do, can you share the details please.

You said you looked up the Will- was this the Will of Ernest? Was there any mention of Ruth? EDIT: Sorry, I've just seen your last message- you've ordered the Will- please let us know if there is any mention of Ruth- my feelings are that there won't be, I don't think she was with him long.

You said you found the birth of Sarah E Griffiths- was this just in the indexes, or do you have the certificate?

Finally! Do you have the birth certificate of Ruth confirming her birthday as 7th July 1912?
---------------------

We'll keep chipping away!