WDYTYA Live Requests
Welcome to the Genes Reunited community boards!
The Genes Reunited community is made up of millions of people with similar interests. Discover your family history and make life long friends along the way.
You will find a close knit but welcoming group of keen genealogists all prepared to offer advice and help to new members.
And it's not all serious business. The boards are often a place to relax and be entertained by all kinds of subjects.
The Genes community will go out of their way to help you, so don't be shy about asking for help.
Quick Search
Single word search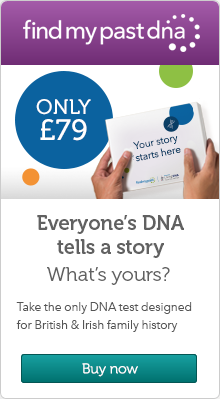 Icons
New posts
No new posts
Thread closed
Stickied, new posts
Stickied, no new posts
Chevaun Besant looking for Philip/Frederick Besant
Profile
Posted by
Options
Post Date

WDYTYA
Report
22 Feb 2013 12:45

Desperately searching for a birth record for my paternal great grandfather Phillip/Frederick William Besant aged 7 on 1911 Census, North Kensington, London area. No birth record for a baby Besant for the time period or parish record... There is an Irish connection so maybe he was born there and then brought back to the family in London?
Any help with this search would be greatly appreciated as I really am stuck... Don't feel able to just close the door on the birth search, hope that makes sense!

Rambling
Report
22 Feb 2013 13:51

For ref whilst looking

1911 England Census
about Philip Besant Name: Philip Besant
Age in 1911: 7
Estimated Birth Year: abt 1904
Relation to Head: Son
Gender: Male
Birth Place: London, United Kingdom
Civil parish: Kensington
County/Island: London
Country: England
Street Address: 4 Hazlewood Crescent, North Kensington
Occupation: SCHOOL
Registration district: Kensington
Registration District Number: 2
Sub-registration district: Kensington North
ED, institution, or vessel: 26
Piece: 191
Household Members: Name Age
Joseph Besant 48
Annie Besant 56
William Besant 28
Philip Besant 7


( grand ?) Mother born in Co Cork

Researching:
Temerity!

Rambling
Report
22 Feb 2013 14:45

It's a very long shot, but it might be worth following up these soldiers found on 1901 Irish Census, in Cork


Besant B Military Barracks North East Ward Cork 25 M England
Besant H Military Barracks North East Ward Cork 26


Perhaps one of them married Philip's mother? either in ireland or over here, I doubt Annie is Philips mother as she would have been 49 when he was born, though it is possible.

Researching:
Temerity!

Janice
Report
22 Feb 2013 14:48

1911 says they have been married 29 years though.
I wondered if the boy was really William's son.


Rambling
Report
22 Feb 2013 15:19

If Philip married, is his father's name on the marriage cert?

Researching:
Temerity!

Rambling
Report
22 Feb 2013 19:52

The family in 1891

1891 England Census
about William T Bessant Name: William T Bessant
[William T Beasant]
Age: 8
Estimated Birth Year: abt 1883
Relation: Son
Father's Name: Joseph Bessant
Mother's name: Annie F Bessant
Gender: Male
Where born: London, England

Civil parish: Hammersmith
Ecclesiastical parish: St Matthew
County/Island: London
Country: England

Street Address:

Occupation:

Condition as to marriage:

Education:

Employment status: View image

Registration district: Fulham
Sub-registration district: St Paul Hammersmith
ED, institution, or vessel: 27
Neighbors: View others on page
Piece: 39
Folio: 190
Page Number: 50
Household Members: Name Age
Joseph Bessant 20
Annie F Bessant 34
William T Bessant 8
Mary F Bessant 5
John Goble 26
Charles A Baines 15




Researching:
Temerity!

Rambling
Report
22 Feb 2013 23:52

Can I just say that it would have helped to know that a great amount of info is on this thread from a few years ago.

http://www.genesreunited.co.uk/boards/board/ancestors/thread/1246552?page=2



Researching:
Temerity!

patchem
Report
23 Feb 2013 09:49

Perhaps helpers should treat any WDYTYA threads with a fair amount of caution?

Rambling
Report
23 Feb 2013 10:50

Chevaun please read through all the info on your previous thread, otherwise helpers will only duplicate what has been posted there already. I think that Mary and William's births are on freebmd

This is Mary ( variation in surname) ,

Births Jun 1886 (>99%)
--------------------------------------------------------------------------------

Beasant Mary Frances Kensington 1a 87


I would advise getting the birth cert to confirm father and mother's names...that will help in your search for a marriage for Joseph and Annie,.

Researching:
Temerity!

Rambling
Report
23 Feb 2013 10:53

Births Sep 1882 (>99%)
--------------------------------------------------------------------------------

Beasant William Thomas Kensington 1a 134


My guess would be this marriage ,

Marriages Sep 1881 (>99%)
Barry James Kensington 1a 321
BEASANT Joseph Kensington 1a 321 <<<<<
LINEHAN Mary Kensington 1a 321
McCARTHY Frances Ann Kensington 1a 321 <<<<< Annie


Researching:
Temerity!

Chevaun
Report
23 Feb 2013 17:11

Hi all,

Thank you for taking the time to look into my enquiry.

I visited the WDYTYA show yesterday hoping to break through the brick wall in my research with regards to my paternal great grandfather - Philip (on the 1911 Census) and Frederick William Besant (on Marriage certificate and Death certificate) as I am still desperately searching for a birth record for him...

Apologies for not posting in the original post (from the show) that I am a member on this site and have previously posted an appeal for information, the adviser at the genesreunited stand was unable to help me so suggested that I re-post on the site to see if anyone could find anything that may locate him earlier than 1911, the stand was more than a bit hectic so I was unable to go into too much detail whilst posting.

I was hoping that a member may be able to search the Parish records for me? I do not have access to this from my old "Gold" membership and I have not tried this.

I had also hoped that someone may be able to help with access to any irish
records...?

I am thinking that Philip may be an illegitimate child of either William or Mary - Joseph and Annie's older children but do not know if there are any records that could be searched to check this?

Any further help, advice or support with this lost/missing birth record would be greatly appreciated, I just can't seem to let it go!

Many thanks,

Chevaun Besant.

JoyDean
Report
23 Feb 2013 18:11

It would have been helpful if WDYTYA had directed us to

http://www.genesreunited.co.uk/boards/board/ancestors/thread/1246552?page=2 in which I see that I had previously posted.

Presumably, without looking back again, the death registration as follows has been seen?

Frederick W Besant
Birth Date: abt 1902
Date of Registration: Jul-Aug-Sep 1957
Age at Death: 55
Registration district: Kensington
Inferred County: London
Volume: 5c
Page: 893

Edited: yes, I see it has.

It is possible that the birth registration did not reach the General Register Office or, for some unknown reason, his birth was not registered.




jansmith
Report
23 Feb 2013 20:33

I see you have his year of death as 1957 but he seems to be on the 1958 electoral .roll with wife Kathleen(must have filled a form in before he died?)

Name:
Frederick W Besant

Year:
1958

County or Borough:
Kensington and Chelsea

Ward or Division/Constituency:
Kensington North



Chevaun
Report
23 Feb 2013 22:32

How strange! Just checked Frederick's death certificate and date of death was 30th July 1957 so it is unusual that he is on the 1958 electoral roll but maybe you are right and it was filled out before he died..

Kathleen was his wife's name and they did live in Kensington and Chelsea so that entry does relate to them.

I'm so desperate to find a birth entry for him or something that relates him to any of the other confirmed family members - Joseph Besant, Annie Besant. William Besant, Mary Besant - there is a variation with the surname spelling as some paperwork shows Beasant.



Quinsgran
Report
24 Feb 2014 00:56

Hi Chevaun
Did you eventually find the information you wanted?
Been following this thread and can understand your frustration at not finding all the information for your family
Most members have a brick wall they cannot break down .

My own grandmother is on the census in 1891 living as a nurse child In 1901 as a lodger with the same family and a servant in 1911
I have both her birth and marriage certs giving parents names and her fathers occupation. I cannot find them on any census No marriage No deaths

My father had told me about his grandfather so he must have known him or about him. I have just had to accept they are never going to be found.

Members on here have helped me look as they helped you.
So sadly you have to accept it too :-)

jansmith
Report
24 Feb 2014 12:41

for info Mary in 1911

Name:Mary Francis Besant
Age in 1911:24
Estimated birth year:abt 1887
Relation to Head:Visitor
Gender:Female
Birth Place:Kensington
Civil Parish:St Giles in the Fields and Bloomsbury St George
County/Island:London
Country:England
Street address:10 Gilbert Street
Marital Status:Single
Occupation:KITCHENMAID


jansmith
Report
24 Feb 2014 12:47

but is this Mary in 1901 with different mothers name?

Name:Mary Besant
Age:15
Estimated birth year:abt 1886
Relation to Head:Daughter
Gender:Female
Father:Joseph Besant
Mother:Susie Besant
Birth Place:Kensington, London, England
Civil Parish:Hammersmith
Ecclesiastical parish:St Thomas Shepherds Bush
County/Island:London
Country England


SylviaInCanada
Report
24 Feb 2014 18:25

............... but this is a WDYTYA request from 2013 :-)


Is Chevaun still on site??

is she still watching this thread?

Researching:
My father as a baby, with 3 older siblings. The only photo I have of him as a child ............................................................ ......... ................................... To help us and to get better results, please post as much detail as you can, especially name, date(s) and place. Also say what you already know.

JoonieCloonie
Report
11 Jan 2017 23:21

and now, drumroll :-D

http://www.genesreunited.co.uk/boards/board/ancestors/thread/1246552?jump=1246552


Researching:
To get email notification of replies to your post, click WATCH THIS at the top of it! .........Researching Hore/Hoar/Hoare esp. St Austell/Roche Cornwall.