Find Ancestors
Welcome to the Genes Reunited community boards!
The Genes Reunited community is made up of millions of people with similar interests. Discover your family history and make life long friends along the way.
You will find a close knit but welcoming group of keen genealogists all prepared to offer advice and help to new members.
And it's not all serious business. The boards are often a place to relax and be entertained by all kinds of subjects.
The Genes community will go out of their way to help you, so don't be shy about asking for help.
Quick Search
Single word search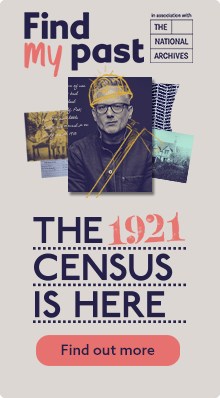 Icons
New posts
No new posts
Thread closed
Stickied, new posts
Stickied, no new posts
Frederick Besant
Profile
Posted by
Options
Post Date

Chevaun
Report
18 Nov 2010 19:24

Hi MarieCeleste,
Thank you for your continued interest.
I feel a bit clearer today, spoke to my grandad and showed him the Census and also the copy of his parents marriage certificate which I purchased.
It turns out that the witness on his parents wedding certificate - Mary Francis Avis - was actually his fathers sister - Mary Besant from the Census so she did survive, even though the 1911 says that there had been 3 children, 2 survived... What that must have meant I can only presume was that she was living away from home. Mary married a Dick Avis which could be Richard Avis, my grandfather remembered these details once he had been prompted by the certificate! He also remembered that they had two children - Leslie and Louise and that Leslie Avis served in the Royal Marines... Is there any way that I can view any records to do with servicemen?
Thanks for your help.
Best Wishes,
Chevaun.

Chevaun
Report
19 Nov 2010 23:58

Can anyone tell me what info I would find on Military records ie would there be any chance of finding photos?
Also the best place to access them?
Any advice would be much appreciated.
Thank you.

Chevaun
Report
20 Nov 2010 13:00

Can anyone please tell me how we search for households after the 1911 Census?
Any advice would be greatly appreciated.


Chevaun
Report
23 Jan 2011 00:20

Hi all,
I am still trying to tie up loose ends with the Besant's and Clements in my tree.
I have now purchased a number of certificates to progress my search but am still completely stuck with the births of my great grandfather Frederick William Besant (also known as Philip), his brother William Besant and also sister Mary Frances Besant, as nothing is coming up on freebmd. I also am unable to find a marriage for their parents, Joseph Besant and an Annie (unknown surname).
Any help would be greatly appreciated as i have definately hit a complete brick wall!
Many Thanks,
Chevaun.

Chevaun
Report
23 Jan 2011 00:48

Anyone?

Chevaun
Report
23 Jan 2011 01:33

Please if anyone can help that would be great.

patchem
Report
23 Jan 2011 08:02

Chevaun,

I think most of us were asleep, and the rest, seeing the number of replies to your posting, would assume 'everything' had been sorted out.
Perhaps alter your title to attract helpers back - just a very short addition.

Then a precis of what you are after: dates, area, names, and what has been found, or is definitely wrong, so that new helpers do not have to read all the pages and all the deadends which can be overlong, irrelevant and boring, but just retain the essential facts.

Good Luck

ErikaH
Report
23 Feb 2013 09:45

http://www.genesreunited.co.uk/boards/board/42/thread/1320028

The above thread is from the WDYTYA 'board'

JoonieCloonie
Report
11 Jan 2017 23:16

Now nobody wag a finger at me :-)

I was idly reading posts on the WDYTYA board and I ran across this one

http://www.genesreunited.co.uk/boards/board/wdytya_live/thread/1320028

which led here

and I got a little engrossed ...


This is the couple in the 1911 census (preceding page of this thread)

Marriages Sep 1881
BEASANT Joseph Kensington 1a 321
McCARTHY Frances Ann Kensington 1a 321


BESANT, JOSEPH
age at death 65 = c1858 (65 is a very round number)
GRO Reference: 1923 S Quarter in KENSINGTON Volume 01A Page 125

BESANT, ANNIE FRANCES
age at death 76 = dob c1846 (age is waaay out, but depends on informant)
GRO Reference: 1922 J Quarter in KENSINGTON Volume 01A Page 241

those ages are way off from censuses but that must be them



births:

BEASANT, WILLIAM THOMAS
mother MACGARTHY (sic)
GRO Reference: 1882 S Quarter in KENSINGTON Volume 01A Page 134

BEASANT, MARY FRANCES
mother MCGARTHY (sic)
GRO Reference: 1886 J Quarter in KENSINGTON Volume 01A Page 87


and this one -- this is the child who was recorded as deceased in 1911:
(3 children born, 2 living)

BEASANT, ENOS EDWARD
mother MCCARTHY
GRO Reference: 1883 D Quarter in KENSINGTON Volume 01A Page 103

Deaths Dec 1883
BEASANT Enos Edward 0 Kensington 1a 78
GRO Reference: 1883 D Quarter in KENSINGTON Volume 01A Page 103


Philip/Frederick W was certainly not a child of Joseph and Annie/Frances


1939 register (free search only, my sub has expired)

Frederick Besant 1904 Kensington London
Kathleen Besant 1906 Kensington London
2 closed records (children)

Kathleen's birth year doesn't match the death record (1903), and on a free search, does not match 6 January.

Frederick's birth year matches the 1911 census, but not his death record (1902).


Joseph reported born in Upavon Wiltshire in 91, 01 and 11.
- can't be found before 91 (marriage post-census 1881)
- no birth to fit in Pewsey reg dist

but a christening

https://familysearch.org/ark:/61903/1:1:NDG2-WBH

Name Joseph Besant
Gender Male
Christening Date 1861
Christening Place UPAVON, WILTSHIRE, ENGLAND
Father's Name William Besant
Mother's Name Jane

interestingly, 1871

Name: Joseph Beasent
> Age: 6 >> image says age 9, not 6
> Estimated birth year: abt 1865 >> 1861
Relation: Daughter
Father's name: William Beasent
Mother's name: Jane Beasent
Where born: Upavon, Wiltshire, England
Civil Parish: Upavon
Town: Upavon
County/Island: Wiltshire
Registration district: Pewsey

this Joseph had an older brother Enos so I think this is the right family

BEZANT, ENOS
mother YATES
GRO Reference: 1852 S Quarter in PEWSEY Volume 05A Page 152

and lord have mercy, here he is

BEAZENT, JOSEPH
mother YATES
GRO Reference: 1861 J Quarter in PEWSEY Volume 05A Page 162

Marriages Dec 1844
BESANT William Pewsey 8 685
YEATES Jane Pewsey 8 685



but after all this ... and all these various variant spellings ... still no sign of a birth of Philip/Frederick

My guess would certainly be that he was the son of Mary, daughter of Joseph and Frances/Annie.



Some of this info is only recently available

- e.g. the GRO index showing mother's surnames -
https://www.gro.gov.uk/gro/content/certificates/indexes_search.asp

so I wondered whether it might be new to Chevaun. I'll send her a message to see whether she is still on the case. Updates can be fun to see!



(Please don't anybody delete messages in this thread or other old threads. It does not remove the thread from your 'my threads' and just makes the thread hard to follow. :-) )


14 January, Chevaun has read my PM :-)


Chevaun has been in touch 23 Jan 2017.

I'm just going to add a bit more ...


Name: Leslie Rudolph Avis
Birth Date: 21 Dec 1921
(oddly, his birth was not registered until 1947)
Date of Registration: Jan 1992
Age at Death: 70
Registration district: Blackpool and Fylde
Inferred County: Lancashire
Volume: 40
Page: 442

Leslie seems not to have married.

Louisa F Avis 1915 married John Murphy in 1943. Three children born Paddington; possibly one other later elsewhere.

One of the children probably married someone with a very distinctive surname, and they had two children. One of those children is a member here:

http://tinyurl.com/zbye39v

If that line is correct, they are descended from Mary, it would be interesting to see what an autosomal DNA test might show as their probable relationship to you.

It should show whether there is a cousin relationship between you and them, at the very least (i.e. confirm or negate that Philip/Frederick was a Besant closely related to Mary).




Researching:
To get email notification of replies to your post, click WATCH THIS at the top of it! .........Researching Hore/Hoar/Hoare esp. St Austell/Roche Cornwall.