General Chat
Welcome to the Genes Reunited community boards!
The Genes Reunited community is made up of millions of people with similar interests. Discover your family history and make life long friends along the way.
You will find a close knit but welcoming group of keen genealogists all prepared to offer advice and help to new members.
And it's not all serious business. The boards are often a place to relax and be entertained by all kinds of subjects.
The Genes community will go out of their way to help you, so don't be shy about asking for help.
Quick Search
Single word search
Genes Extras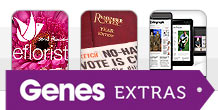 As a way of saying thank you to our subscribers, we have launched Genes Extras. You'll find exclusive competitions and discounts on family history magazines, days out and much more.
Icons
New posts
No new posts
Thread closed
Stickied, new posts
Stickied, no new posts
Please read this but then read the comments!
Profile
Posted by
Options
Post Date

supercrutch
Report
4 Jan 2013 20:51

I have reported a couple because they were absolutely vile.

http://www.parentdish.co.uk/2013/01/04/boy-of-12-walks-free-from-court-despite-carrying-out-20-crimes-sexual-assault/?ncid=webmail7

Researching:
Jones!!!!!!!!!!!!!!

Rambling Rose
Report
4 Jan 2013 21:11

I've read the first few, it is what I would expect....and to be honest I am struggling to write a response.

Researching:
Fishlock, and the lost Harriet Louisa Whetman. These are my research interests and do not constitute part of any reply I may post on your thread :-)

supercrutch
Report
4 Jan 2013 21:13

Shocking replies! Makes you proud to be a member of the inhuman race eh?

Researching:
Jones!!!!!!!!!!!!!!

PollyinBrum
Report
4 Jan 2013 21:24

This is absolutely incredulous.

MR_MAGOO
Report
4 Jan 2013 21:30

Not suprised TBH.

That's the problem with the law as it stands. The judge has to apply it not bend it.



Wend
Report
4 Jan 2013 21:36

Makes very grim reading :-(



Researching:


Tecwyn
Report
4 Jan 2013 21:37

What I find so shocking is that apparently there is nowhere, and no one, who can adequately provide the special care and attention this failed chid so obviously needs.
It saddens me to see how hard and uncaring society has become. This is evident in the disgusting comments following the article.
Where is the compassion?
Why do people not think before sounding off, and why is "do-gooder" now a dirty word?

Tec

SueMaid
Report
4 Jan 2013 21:37

Can't say I agree with many of the comments. Terminated? Surely not. He is out of control, violent but 12 years old and intellectually disabled. He badly needs help. If thinking this makes me a do-gooder so be it.

Rambling Rose
Report
4 Jan 2013 21:49

I've struggled to put into words, but I know what I mean

What I know is...., that you have to give children a chance....and a lot of them don't even start out with that, a child with a low IQ, or a child that has had no help to learn or to grasp kindness, who starts out with no stability and finds none, is way down the pile.
And if the 'society' we live in can't pick up the slack and provide that stability, and education, and specialist help where it's needed ...then have we made any progress as human beings? Or are we just as bad as the blindly hateful people in 'uncivilised' countries we think we are somehow 'better than'?

it's easy enough to give the 'bright, good kids' a chance even when they drive you mad, the good kids with good parents don't always get it right...but they do start with an advantage, which is that they usually have people who CARE and make a real effort for them.

We, are getting it wrong somehow, waiting until it's too late before help is given or intervention of some sort begins, 12 is too late, It's not 'do-gooding' or being soft.. it's stopping the problem ( or trying to) before it affects not just his life but all his future victims.

I may ruffle a few feathers, and I'll have to, but sometimes I think that the plan of trying to fit as many children as possible, whatever special needs they may have, into main stream education has not been without a cost.
Not every child that needed special help has got it, I know that from friends whose children have been 'lost' in a system that can't cater for the 'one' when it's geared to catering for the 'many'...if you see what I mean. Not that I know whether that was or was not the case here....maybe everything has been tried and not worked.



Researching:
Fishlock, and the lost Harriet Louisa Whetman. These are my research interests and do not constitute part of any reply I may post on your thread :-)

LollyWithSprinklez
Report
4 Jan 2013 21:49

Would it be better to be the opposite of a do- gooder methinks not :-(

these stupid people have no humanity and no heart, what kind of mentality does it show to suggest a 12 yr old "tops himself" probably not much more than the lad himself possesses

agree with Sue " he badly needs help" for his sake and for those he is hurting

Wend
Report
4 Jan 2013 21:51

Not at all SueM - the trouble is that there are so many more 12 year olds like he is in this country who have never known love, proper care or discipline from the day they were born and he was probably born to parents who had suffered the same maternal/paternal neglect as he had and so it will perpetuate . . .

Researching:


Kay????
Report
4 Jan 2013 21:54

He can taken from foster care and enrolled in a controlled enviroment where living and schooling is all as one. His foster is struggling to keep any hold on the situation.

Perhpas another situation could be a great help to him.

SueMaid
Report
4 Jan 2013 21:54

Sadly it's a vicious circle. However, throwing him in an institution for young offenders and "throwing away the key" is not going to solve the problem for him or the many others like him. Poor lad - what on earth is the future going to be for him?

JustGinnie
Report
4 Jan 2013 22:06

Oh how I dislike the term do-gooder,a term that is usually bandied about because someone has the audacity to realise that a child like the one in the article needs serious help not the beating that the lynch mob wants to deal out.

I totally agree with Tec that it is shocking that there seems to be no place to place this child while he gets help.

When you have a child like him with a low IQ and possibly low self esteem and they seem to be on self destruct by any method available you realise just how difficult it is to get proper help for them.


But lets beat them senseless and lock them up and throw away the key,anything but try to help.



Kay????
Report
4 Jan 2013 22:22

Not so much an institution,,, as a controlled boarding school,,,,,,,education is taken at a seperate location,

This young man needs specialist care where he can be given every chance to be the best he can be ......foster care isnt working for him as it seems freedom has allowed situations that need avoiding.

JustGinnie
Report
4 Jan 2013 22:28

I agree with you Kay, I'm sure that there was a programme on tv last year about a similar type school run by Barnardos.

Foster care isn't the right way for this child perhaps.

SueMaid
Report
4 Jan 2013 22:32

His foster carer seems to have admitted that he/she can't control him. Therefore fostering isn't working. He seems to have a lot of freedom for a 12 y.o. although not knowing the situation I'm not blaming the foster carer.

JustGinnie - I also heartily dislike the term 'do-gooder'. I do a lot of volunteer work and I'm afraid that term has been thrown at me a number of times :-(

Kay????
Report
4 Jan 2013 22:37

JG,

There are places......finding the right one from the onset for this young man is the key for what future in society he may have.



Susan10146857
Report
4 Jan 2013 22:38

The comments on there make me realise that GR chat isn't such a bad place after all. Sheesh!

JustGinnie
Report
4 Jan 2013 22:42

SueMaid, I also have been called a do-gooder many times, I used to be a foster carer and one child was prone to doing things like shoplifting when truanting from school, also had learning difficulties and low self esteem but some neighbours and mothers at the school gates were very much of the 'string um up brigade'

I would sooner be a do-gooder than one of them.