Genealogy Chat
Welcome to the Genes Reunited community boards!
The Genes Reunited community is made up of millions of people with similar interests. Discover your family history and make life long friends along the way.
You will find a close knit but welcoming group of keen genealogists all prepared to offer advice and help to new members.
And it's not all serious business. The boards are often a place to relax and be entertained by all kinds of subjects.
The Genes community will go out of their way to help you, so don't be shy about asking for help.
Quick Search
Single word search
Genes Extras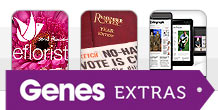 As a way of saying thank you to our subscribers, we have launched Genes Extras. You'll find exclusive competitions and discounts on family history magazines, days out and much more.
Icons
New posts
No new posts
Thread closed
Stickied, new posts
Stickied, no new posts
Got a missing ancestor or a brickwall?
Profile
Posted by
Options
Post Date

Marie
Report
31 Mar 2005 22:28

This one is hard but if someone can check out some central London (Westminster, St. Giles, etc.) early records it might be able to be broken. William Peploe a gentleman of St Giles (from his will) wrote a will in 1734 and died in 1742. He was the son of Jonathan Peploe who died in 1709. He inherited some property in Perkins Rents from his maternal Granmother Bushell in 1704, these were again referred to in Jonathan's will. What I need to know is did he have any children before he died and if so what were their names. In his will, he leaves everything to his wife Elizabeth with no mention of children. But the will is dated 1734 and was proved in 1742. Plenty of time to have children. There is an Irish grandfather that claims there were several children. But he's mad and won't say any more There is a group from Lambeth area that claims descent from him. The earliest member of this group is born around 1780. There are about fifty years that need to be traversed to make the connection. I tried the Westminster archives to trace the property but they said I had more than they did on it. I'm now working my way through the central london parish registers. Any help would be appreciated. Marie

Claire
Report
31 Mar 2005 22:40

i have a brickwall,my husbands grandfather CYRIL LOWE was born 19/11/1907 in NOTTINGHAM. i know his fathers name was GEORGE LOWE and GEORGE died before 1938 when CYRIL got married to JULIA RANCE.the witness at the wedding were A.L.O'BRIEN and MARY DORIS LOWE.i know the o'brien is a rellie of julie but not sure if MARY is cyril's mum or sister.i do know he had a sister called mary.all this i think took place in NOTTINGHAM.i have looked on birth records for george but there are so many i don't know where to start. THANKYOU FOR ANY HELP

Researching:
brine, beresford, brittan, horwood,worrall, wilson, wheeldon, woodward, mainly from nottingham, hull, derby, walsgrave on sowe warwickshire

Mark
Report
31 Mar 2005 22:41

Sword family from newcastle area mary jane born around 1855 her father james (got this from her marriage certificate) cant find her birth she just appears in 1871 as a servant in 1881 thers a thomas sword living with her and her husband think this could be her brother hes in a workhouse in 1871 her marriage was 1875 and does not say her father is deceased so whats going on???????????

Elizabeth
Report
31 Mar 2005 22:55

This one is driving me mad; in 1885 Teresa Sarah Walker married in the East End of London, aged 22 & died there in 1927, aged 63. Found a possible for her in 1881 in House for Fallen Women in Roath, Cardiff aged 19. (No babies there). Father Alfred (a printer) dead by the time of her marriage.In 1901 she says she is born in Bethnall Green, but so does her husband, & he definitely wasn't! Could find her no where in earlier censuses, but a lucky break lead me to a SARAH (Middle initial possibly T) Walker, (born c.1860 in St. Pancras) daughter of Alfred, a printer, born in the right time frame given to me by a GR member in 1861 & 1871. Have had GRO do me 2 birth cert. searches, one for Teresa, one for Sarah, both turned up nothing. Cannot get to Kew to do my own search at the moment (some one told me GRO's searches aren't always accurate!). It is driving me CRAZY. Any suggestions welcomed. LIZ

~ Maryclare
Report
31 Mar 2005 23:07

if some one could please find my uncle before i go blind !!! JOSEPH COONEY born leeds yorkshire 9th dec. 1912 twin brother to my mother mary. son of alice and william. cant find him on census bmd or anywhere. he died as a young man , cant find his death.where he is buried, nothing . many thanks maryclare

Kazzie
Report
31 Mar 2005 23:18

Mine is my gr x 4 grandfather William Claxton born wherever cant seem to come up with a place of birth for him going by his age at death would have made it 1777,ordered his death cert incase gave any clues yet made things more difficult as name said William claxton or Clarkson then age 62 with a line through it,only thing that was right was place of death and occupation flint cutter Kazzie

Smiley
Report
31 Mar 2005 23:29

MARYCLARE You wouldn't find a person born in 1912 on a census. The most recent census that can be accessed is 1901. As for BMD, I assume you have his birth as it would be on the same entry as your mothers, same surnames - same birthdays. Sam

~ Maryclare
Report
31 Mar 2005 23:47

hi sammy thanks for your reply, its josephs death i'm looking for, or anything ! or am'i looking for something that does'nt exist yet ,are the records of deaths in the 1920s 30s 40s 50s available? maryclare

Smiley
Report
31 Mar 2005 23:51

Yes they do Maryclare, but they are on Pay-per-view sites only. 1837online and www.familysearch.org He didn't die in WW2 did he? Sam

Shirley~I,m getting the hang of it
Report
31 Mar 2005 23:56

I,ve got a complete Brickwall as have discovered that my paternal grandparents were german, & altho the 1891 & 1901 census has them down as born germany ,English subjects. my visit to Kew found that they didnt take naturlization or denization ,so no idea as to where in germany they came from. Also altho i have details of two of the children (my grandad & his elder bro) & the death cert of the Mother & the two boys I have no idea what happened to the father or the other three brothers. Wish I could make progress on them!! Shirley

Researching:
Surname Fahse. Germany. Essex .South East London My avatar is my hubby's maternal grandmother Harriet and her sister Nellie

~ Maryclare
Report
1 Apr 2005 00:17

thanks for that sam, he did'nt die in ww2, my sister tells me he died in an industrial accident at his place of work but no one knows how or when. is there such a thing as a record of people who died under these circumstances ? sorry if this is a silly question i.m still pretty new at this. i do have some credits left with 1837 but dont know where to look. maryclare

Smiley
Report
1 Apr 2005 00:34

Maryclare No problems with you asking... It would literally be a case of trawling through death records on 1837, but it'll cost you 4 units per year..at least and you have a time span of what, at least 10yrs by the sound of it. It's whether you want to spend that sort of money really. It would be a bit hit & miss wouldn't it? sam

Smiley
Report
1 Apr 2005 00:36

Chris.. With that many kids.... and all the hard work making them... I expect the bloody house FELL down!

~ Maryclare
Report
1 Apr 2005 00:42

thanks for the help sam i'm laughing so loud at your answer to chris i'm p**ing my pants good night all maryclare

Smiley
Report
1 Apr 2005 00:43

Night Night ;)

Unknown
Report
1 Apr 2005 08:18

My Mystery - The lady who keeps changing her name. John Alfred Chantler m 1857 in Marylebone Maria Letchford - on their son's birth cert it states Georgiana Maria Chantler formally Hall - John died not long after as: Maria Georgiana Chantler m 1864 in Kentish Town Peter Campbell - Peter died not long after as: Georgiana Maria Campbell m 1867 Marylebone John Hill. In the 1851 she is known as Maria Chantler as she is living with a George Chantler who is John Alfred Chantlers father and Maria Rebecca Chantler nee Hall her real mother. Really confused Linda

Julie
Report
16 Apr 2005 20:56

ive hit a brick wall with 3 brothers they are on the 1891 census but not the 1901 there names were john brook/e born 1883 hull yorkshire william brook/e born 1885 hull yorkshire and harold brook/e born 1889, just seem to have disapeared. someone suggested the boer war, but i think 2 of them would have been too young. does anyone know if there are any records for the boer war? julie

Helen
Report
16 Apr 2005 21:13

Bernie These are the only Gribbens with Irish origins in the Liverpool area in 1901. I think you must find your grandparents marriage cert. and see if this is the right family. Could Catherine have been born after 1901? Name Age in 1901 Birthplace Relationship Civil Parish County/Island View Image Joseph Gribben 42 Ireland Head West Derby Lancashire Bridget Gribben 38 Ireland Wife West Derby Lancashire Albert Gribben 15 Ireland Son West Derby Lancashire Mary Gribben 14 Colchester, Essex, England Daughter West Derby Lancashire William Gribben 12 Colchester, Essex, England Son West Derby Lancashire Hugh Gribben 9 India Son West Derby Lancashire Annie Gribben 5 Ireland Daughter West Derby Lancashire Thomas Gribben 3 Liverpool, Lancashire, England Son West Derby Lancashire Margaret Gribben 2 months Liverpool, Lancashire, England Daughter West Derby Lancashire

Hilary
Report
16 Apr 2005 21:35

If anyone can find these I would be forever gratefull, I've looked everywhere. Theophilus Iseley marr. Mary Croote in Shoreditch, London in 1798. All children born in Upwood, Hunts. No trace of Theo. & Mary. Know Mary came from Stotfold, Beds. Where does Theo. come from, he died in 1837, before any census. Also if anyone can find William Kerr marriage to Margaret Fleming in Scotland before 1800, better than me. Thanks Hilary.

snapdragon
Report
16 Apr 2005 22:03

The brickwall I have is a Thomas Gordon Richardson he was born around 1899/ 1901 can find birth registrations for persons named that but not with a father called William who wa a Iron Moulder. They came from either Newcastle or Gateshead County Durham and lived in either Charles Street or Abbott Street or surrounding areas. Thomas married in 1920 and on the marriage cert it states father William deceased.