Find Living Relatives
Welcome to the Genes Reunited community boards!
The Genes Reunited community is made up of millions of people with similar interests. Discover your family history and make life long friends along the way.
You will find a close knit but welcoming group of keen genealogists all prepared to offer advice and help to new members.
And it's not all serious business. The boards are often a place to relax and be entertained by all kinds of subjects.
The Genes community will go out of their way to help you, so don't be shy about asking for help.
Quick Search
Single word search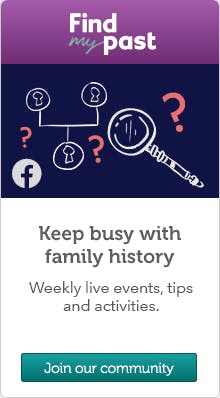 Icons
New posts
No new posts
Thread closed
Stickied, new posts
Stickied, no new posts
Please help
Profile
Posted by
Options
Post Date

Mandy1
Report
8 Dec 2013 16:28

Still searching - Posted a while ago searching for my Uncle. Born Roy Hunt in Southampton 1946. His adoption took place in Southampton 1947 , If your dad -uncle- son in law or ANY member of your family was born in '46 and is adopted please contact me - He has a brother with a big family looking for him. Mothers name is Annie Louise Hunt, Thank You

Researching:
Roy Hunt - Adopted

+++DetEcTive+++
Report
8 Dec 2013 16:46

Here's your one remaining old thread. Just post something on it to bring it to the fore again.

http://www.genesreunited.co.uk/boards/board/living_relatives/thread/1325203

Make sure that even if you no longer subscribe to GR, that you keep your most recent email address linked to your account.

If he or someone who knows him does stumble across the posting, they can send you a PM (personal message)

Researching:
Dormant member as from 20 Sep 2019 . Click on my board name to send a message

jax
Report
8 Dec 2013 17:09

I would think if he or anyone knowing his birth name would easily find all your posts about him on various sites, just by googling his name and birth year.

It is very unlikely that anyone knowing of him will just come across this post whilst it is on the first page

Researching:
Nothing much

ErikaH
Report
8 Dec 2013 22:03

Did you follow the advice you were given last time you asked about this?



Mandy1
Report
13 Dec 2013 20:20

Thank you Detective .... and yes have followed up on them .... though Dad is still in the process of putting his name into adoption file Grrr he does my head lol Have followed up on lots of 'leads' but nothing as of yet

Thank you again :0
Mandy


Researching:
Roy Hunt - Adopted

Mandy1
Report
14 Dec 2013 20:22

I have a few more leads and have help in looking up ... Thanks all or the advice
:-)

Researching:
Roy Hunt - Adopted

Penny
Report
15 Dec 2013 07:36

So your dad hasn't put his name on the file yet? Maybe he isn't keen

Tell me, ( because I am curious ) :-) How do you follow up leads on someone whose name you don't know? What sort of leads have you got?

Mandy1
Report
15 Dec 2013 20:01

My Dad is very keen .... 'spoken' with lots of 'helpers' and decided to use the 'name on file' as a last resort. The name thing is myself summising as i have, as i said, been advised. I now have to look at EVERY angle possible as my search has turned up not a great deal. The name change IS tricky i know but have been advised to look at the obvious. TY for your interest

Researching:
Roy Hunt - Adopted

Penny
Report
15 Dec 2013 20:13

The obvious being.....what?

He's nearly 70 - My guess would be that he doesn't even know he's adopted

ErikaH
Report
16 Dec 2013 16:09

Unless your father adds himself to the register he has no hope of finding this man - and the impression you give is that doesn't seem willing to do so.

I don't know what you mean by 'name on file', nor by 'the obvious'

This is the post on the other thread......not the original, as previous threads were deleted, along with all the info on them


Hi all, Im searching for my Uncle that i only found out about after the passing of my nan. He was named Roy Hunt at birth. 'Roy was born in Southampton. He was sent to his adoptive family in August of 1946 and officially adopted on 27th February 1947. His mothers name is Annie Louise Hunt. On Roys birth certificate she signed it Annie Louisa Hunt and on the Adoption form it is signed as A.L.Hunt ...... Roy', My family would dearly love to meet you. Especially my Dad. If anyone reading this knows him please please please msg me.

Is the exact date from a file you found among your grandmother's possessions after her death?


Penny
Report
17 Dec 2013 08:46

I guess the 'name on file' is the pre adoption name, which is almost pointless ( 'almost' not 'absolutely') but certainly not really pro-active in a sensible way.





Mandy1
Report
17 Dec 2013 20:52

To Reggie and Penny

Im sorry but im looking for my uncle Not an attitude squabble. When I first came on here and put my first message on, the 'attitude' started on my feed which i didnt appreciate at all. I was looking for my Uncle not a cat fight and negative comments along with sarcastic comments and arguments .... What im trying to say is, exactly the same as i say to my nephews and nieces which is'If you cant say anything nice then say Nothing at all'. Im sorry if my msg offends or upsets, that is not my intention, but all i ever wanted and still want is to find my uncle
I hope you can understand my frustration

Researching:
Roy Hunt - Adopted

Penny
Report
17 Dec 2013 22:21

Who or where is an attitude squabble?
I cant see anything negative or sarcastic!

Will leave you to it.

( if you really have a problem, then please feel free to air your grievances with GR)

Aussietrish
Report
18 Dec 2013 02:13

I would guess your dad, although very eager to find his brother is also quite scared of actually doing it. This is very very common. I realise he is not the adoptee, but I am sure he is going through some of the emotions that adoptees go through. I work with adoptees he in Australia and have come across many adoptees that fill in the forms to access their files but dont post them for months after. Also there are those that get their files and do not open the envelope for months/years after due to the fear of what the journey could bring..
There is a ton of emotion linked to finding biological family so it is quite understandable that your dad is dragging his feet a little. He also would know that there is a high possibility that his brother is deceased and that would leave him feeling guilty for not trying earlier etc..
I keep my fingers crossed for you and your dad that you find him :-)
.
.
also just because the adoptee has not found his biological family, it does not mean he does not know; although that has to be considered. He may have been looking but found nothing, he may want to look but has no idea how to go about it. A mega huge portion of adoptees do not know they have an original birth certificate , let alone how to look...The system is not set up at all well . It is difficult enough here in Australia where siblings , birth parents and adoptees can access identifying information. In the UK it is far worse and you have to battle an archaic system. Hence many adoptees/birth families are denied reunion.



Mandy1
Report
23 Dec 2013 22:34

Hi Trish

Thank you for your reply. Apologies for not replying sooner but with Christmas almost here its been hectic. Especially getting presents as i have 19 nephews and nieces along with 5 brothers and 3 sisters. So Roy would be uncle to 9 and great uncle to 19 lol No wonder he doesnt want to be found! :) Only joking.

Ive been searching and it seems like forever. I have 'checked out ' a lot things and now consider myself semi expert lol im not really but have learned lots.
I think ur right about my dad but he is keen to know the brother he never knew existed. Searching has been so hard, makes it harder when i investigate someone but turns out to be a no go though im sure you know what i mean.

Thank you for the 'fingers crossed i truly appreciate that.

ive looked into everything i can think of. I know it will take a long time, if ever
but will keep going for my Dad.

Again I thank you

Have a Good Christmas and thank you again

Kind Regards

Mandy :-)

Researching:
Roy Hunt - Adopted

ErikaH
Report
24 Dec 2013 12:12

I don't in any way understand what your perceived grievance is....................the 'attitude' appears to be all on your side

Where is the 'sarcasm'?

Where are the 'cat fights'?

And you need to learn how distinguish between realism and negativity


Eileen
Report
24 Dec 2013 13:53

Mandy, I do know what you mean. I have noticed that it is always the same person who gives negative messages. I'm sure you know what I mean. I'm on your side. Hope you find your uncle. <3 <3 <3

ErikaH
Report
24 Dec 2013 13:56

You, too, Eileen, seem unable to differentiate between negative and realistic (or practical)

Have you done anything to try to help Mandy? I would think that an honest response would have to be 'No'

Being 'on her side' is of little practical use..............

I know you are having a 'dig' at me................but at least you are leaving others alone - at the moment

If Mandy's father is - as seems to be the case, from what Mandy has written - unwilling to take the step of adding himself to the register, he must have a reason, which Mandy should respect.

Trying to push him may have a totally NEGATIVE effect

jax
Report
24 Dec 2013 14:38

As I said in my earlier post, if he knows his birth name he would easily find your posts looking for him on the various sites

Strangely enough this one isn't showing.....maybe because his name isn't in the title?

As he was born just after the war, there is also a chance his adoptive parents decided to take up the £10 pom deal and emigrated. Although he could still get a copy of his file, how easy would that be from Australia??

Of course you want to find him....but that doesn't mean he wants to find you



Researching:
Nothing much

Aussietrish
Report
25 Dec 2013 03:42

Just thought........ did Annie get put in a mother and baby home; could be another avanue of search.

If he is in Australia /Canada etc he will have no problems accessing his files.