Find Ancestors
Welcome to the Genes Reunited community boards!
The Genes Reunited community is made up of millions of people with similar interests. Discover your family history and make life long friends along the way.
You will find a close knit but welcoming group of keen genealogists all prepared to offer advice and help to new members.
And it's not all serious business. The boards are often a place to relax and be entertained by all kinds of subjects.
The Genes community will go out of their way to help you, so don't be shy about asking for help.
Quick Search
Single word search
Genes Extras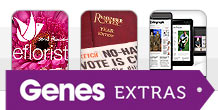 As a way of saying thank you to our subscribers, we have launched Genes Extras. You'll find exclusive competitions and discounts on family history magazines, days out and much more.
Icons
New posts
No new posts
Thread closed
Stickied, new posts
Stickied, no new posts
willing to search 1871,1881, 1891 and 1901 ancestr
Profile
Posted by
Options
Post Date

Shirley
Report
26 Sep 2004 19:34

Sally thanks for info on Thomas Bunyan. He must be a relation. Would you mind telling me which census that was from Thanks

Sprack
Report
26 Sep 2004 19:38

sally thank you very much for looking that up for me. jenny x

Julie
Report
26 Sep 2004 20:22

Hi Sally, I can see that we have all been keeping you busy and I appreciate that you don't have enough hours in the day, but I think I may have slipped through the net with my original plea but is it please possible to do an Irish look up for me please? 1891 and 1901 Den(n)is Crosse Margaret Crosse (nee Burns) Sligo, Ireland Thanks for any help you can give. Regards Julie

Tracy
Report
26 Sep 2004 22:42

Hi sally could you please do a 1891 census look up please: james blackmore B: 1840 monkleigh devon (was in notham devon in 1881 and bideford devon in 1901) henry blackmore B: 1844 monkleigh devon (was in Ludlow St Lawrence, Shropshire in 1881 and died there in 1900) George Blackmore B: 1846 monkleigh devon (was in Ludlow St Lawrence, Shropshire in 1881) John Blackmore B: 1837 monkleigh devon Thank you for the offer, its much appreciated Tracey

Sally
Report
27 Sep 2004 06:15

Rebecca, Sorry I missed your message on the 22nd, to save me time please could you let me know what page it is?? Thanks Sally

Sally
Report
27 Sep 2004 07:02

JULIE it does not appear that they have done the censuses for Ireland but what came up for Mary Burns sligo was just father Michael mother Margaret and for Dennis it just said dictionary of National biography vol 1-20,22 sorry can not be more help at this moment. -------------- MIKE 1891 George seabrooke 49 ag lab elizabeth wife 40 Sarah daugh 12 MARY daugh 9 Edith daugh 7 George son 3 Charles son 1 living Frogmore Lane rickmansworth watford. 1901 George 58 carter on farm (horse) Elizabeth 47 Annie 22 (wonder if this was Sarah) MARY 20 nursemaid edith 17 George 14 fish mongers assistant Charles 12 John 9 William 5 living harefield rd blackworth rickmansworth watford. _____________ Tracy Hi, at the moment the only thing found putting in monkleigh 1871 John Blackmore 74 ag lab Mary wife 63 living looks like Hamlet of Sal****** Monkleigh 1891 John 94 gardener Mary hole 60 Daugh widow laundress Mary " Grand daughter 21 single living satrena ?? cott monkleigh ____ Have to get breakfast now will try later.

Sally
Report
27 Sep 2004 07:24

Tracy 1891 I found John Blackmore head 17 joiner Mary L 14 Albert 10 Emily 8 Emily carter 34 sister in law Northam something does not look right as it says mary daughter of john and that can not be right. another message further down for you. Breakie Late ah well!!!! See you all later. Sally.

Poolie Girl
Report
27 Sep 2004 09:26

Hi Sally, Can u tell me how many households Tilley brings up in the Kettering district of Northants in 1871 please. I am particularly interested in a place called Broughton as this is were my relly originated. She won't be there cos she married in 1838. Thanks Beth :)

Tracy
Report
27 Sep 2004 10:23

Thank you very much for that sally.. you have been really helpful. The 2nd reply about john blackmore being 17 and having the sister in law emily 34.. makes a little sense because of the 1881 census, but not the fact of mary being his daughter. The 1881 census was: James Blackmore H M 40 Appledore, Devon, Ship Carpenter Sarah A. BLACKMORE Wife M 30 Appledore John H. BLACKMORE Son U M 7 Appledore, Devon, Scholar Mary C. BLACKMORE Daugh U F 4 Appledore, Devon, Albert J. BLACKMORE Son U M 2 m Appledore, Devon, Emily CARTER Sister In Law U Female 24 Northam, Devon, Laundress Could there possibly be james and sarah on the prev page at the same address, as i know they didnt die as they were on the 1901 census. Sorry to be a pain Tracey

Mike
Report
27 Sep 2004 10:40

Many thanks Sally, I'm glad you found Annie in 1901, she was a witness at mary's wedding. Regards Mike

***Julie*Ann***.sprinkling fairydust***
Report
27 Sep 2004 13:17

sally sorry about just giving address. the name im looking for is Elizabeth Ann Thomas, around 1891 or 1901 i forget now what date i originally asked . but if you can tell me anything about her i would be so pleased, she lived in cardiff. im begining to think shes stopping me finding out .!!! thanks again, you are really generous offering all this help to people. julie newport

Mike
Report
27 Sep 2004 17:37

Hi Sally could you please look for George Seabrook in the 1871 census he would be aged about 29 born Rickmansworth and hopefully living there with his parents. Many thanks Mike

Mystified
Report
27 Sep 2004 19:55

Could you please look for Maud Bedford age 7/8/9 in possibly Hackney with her father Samuel in 1891 census Thank you

Jane
Report
27 Sep 2004 21:09

Hi Sally Please could you look for Mary Slaughter in the Suffield area of Norfolk on the 1871 census? She would have been about 65, born in North Walsham I believe. Thank you for your time! Regards Jane

Diane
Report
28 Sep 2004 03:54

Hello, Thank you for you generous offer. I would like a 1891 look up. I have sighted the page briefly but didnt have time to take notes, I think they were living in Bristol. Going from the details of 1901, it should go something like this.. Francis W Llewellin born Bristol will be 36 tin plate worker Amelia Llewellin wife born Bath will be 36 Francis son 10 Mabel daughter aged 6 Frederick son aged 2 Thank you so much. Diane NSW Australia

Sally
Report
28 Sep 2004 07:36

ELAINE Robert Pincher Head 49 ag lab Barbary wife 32 Phebe daugh 19 Robert son 16 Elizabeth daugh 5 Frances daugh 1 Susan Bangy lodger 23 living scarborough Rd Great Walsingham this 1851 census. Will get back to others after breakie. O.K.

Sally
Report
28 Sep 2004 20:01

sorry I did not get back after breakie, had to take grandson to hospital. Elizabeth, Please could you give me some christain name to go on, put in A tilley kettering northants 1871 and 95 came up. so it would be easier with a name, Thanks. ----------- Julie Elizabeth ann thomas born Cardiff 1871, 13 1891 15 1901 71 so need approx age please. --------- Mike 1871 George seabrooke 2 came up but not the right age 1 63 1 34 living paddington london ---------------- Steve 1891 elizabeth Rossall 4 came up two age 12 great eccleston 1 11 preston 1 age 14 weeton. ____________ Be back early in the morning. Sally.

Valerie
Report
28 Sep 2004 23:01

Dear Sally. May I ask another look up please on the 1891 census for William Kinna b c1841 Scotland and his wife Fanny b c1837 Wandsworth, Surry The children are William born c1872 Walter born c1873 Frank born c1876 Frederick born 1878 I found them on the 1881 census. They were in Croyden, Surry, which is were the boys were born, but could only find Frederick on the 1901. Many thanks Valerie

Sally
Report
29 Sep 2004 05:21

JOHN. Samuel Bedford 41 lorry repairer London city Hannah wife 42 bethnal green Anne daugh 19 mantle maker Samuel son 17 drug assistant tottenham Lizzie daugh 16 mantle makeer Florence daugh 14 " " Fredrick son 9 Maud daugh 7 living Sheakespeare cottages hornsey. ___________ Valerie 1871 William 29 dumfries Fanny 31 croydon James Mccubbyn 8 dumf John " 30 Ellen woodruff 15 neice london 1901 William 58 Fanny 59 Walter 27 mary wood 57 boarder also found a frank birth June quart 1876 croydon vol 2a page 218 ---------------- ANDREA the only Daniel clements thrown up was age 52 Yoxford suffolk. ___________ Jane does this fit could only find this one 1851 Daniel 52 Mary 45 Hannah 22 william 20 eliza 12 Mary ann 6 maria 4 alfred 2 ann alley 87 lodger _____________- Diane Francis LLewellin 36 bristol amelia 36 francis son 10 Mabel daugh 6 elsie daugh 5 fredrick son 2 1901 Francis head 46 tin plater worker amelia wife 46 francis 20 chocolate makeer Mabel 16 silver polisher fredrick 12 beatrice 9 still living 11 charleton street -------------------- Sandra 1891 Henry Ogbourne 33 agriculture lab eliza wife 32 laundress thomas son 10 fredrick son 8 annie daugh 6 lucy daugh 4 william 5 months sparrow lane 1901 Henry 43 can't read it looks like salvage ******* Eliza 41 Tom 20 navvy on railway fredrick h 18 lucy 14 william 10 dorothy 7 winifred r 5 still living sparrow lane. Do hope this covers Mondays messages, sorry to have been so long quite a few to get through. Sally.

Sally
Report
29 Sep 2004 06:21

Tuesday's messages MARK 1871 Eliza Williams 57 dressmaker hope bowdler John G son 18 ag lab " " Charles " 13 " " Elizabeth G/daugh 6 rushbury Thomas G/son 4 tronbridge Susan G/daugh 2 rushbury does not give address. took it on myself to look for John and charles John did not show but Charles 1891 Charles 32 ag lab hope bowdler Susan 27 berriew montgomeryshire george E son 3 Clungundord Susannah daugh 5 chirbury Herbert son 2 months stokesay living aldon stokesay 1901 Charles 42 ag horse waggoned on farm susan 36 susannah 15 george 13 herbert 10 charles 7 alfred 3 living Norton culmington ____________- Lynne Alfred 50 engraver to calico printer manchester fanny wife 49 oswestry shropshire joseph son 20 assistant to schoolmaster alkington Thomas 17 iron turner pendleton fred 15 same as dad " Arthur 12 scholar broughton henry 10 " " living 4 harriet street broughton Went on to look for others and ancestry gone down for maintenence. Beyond my control. so that will put us back a little SORRYYYYYYYY.