Genealogy Chat
Welcome to the Genes Reunited community boards!
The Genes Reunited community is made up of millions of people with similar interests. Discover your family history and make life long friends along the way.
You will find a close knit but welcoming group of keen genealogists all prepared to offer advice and help to new members.
And it's not all serious business. The boards are often a place to relax and be entertained by all kinds of subjects.
The Genes community will go out of their way to help you, so don't be shy about asking for help.
Quick Search
Single word search
Genes Extras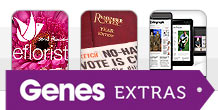 As a way of saying thank you to our subscribers, we have launched Genes Extras. You'll find exclusive competitions and discounts on family history magazines, days out and much more.
Icons
New posts
No new posts
Thread closed
Stickied, new posts
Stickied, no new posts
WHO ARE WE LOOKING FOR IN LEICESTER(PART TWELVE)
Profile
Posted by
Options
Post Date

Beverly
Report
4 Mar 2007 19:44

I am looking for Masters,Stretton,Gilford and Packwood

Sarah
Report
5 Mar 2007 10:13

1841 census lookup plz of thomas clarke b 1788 narborough leicester i have him on the 1851 census but would like to know who he was with on the 1841 census plz thanks sarah

Mike. The Leicester Lad.(GC)
Report
5 Mar 2007 17:29

*** F.A.O. *** Sarah Wragg., Using the details from the 1851 Census return. The below could well be your Family in 1841. :- HO 107/ / 594. / Bk. 9. / Folder. 35. / Page. 19. Within the Hamlet of Woodhouse Eaves. Thomas Clarke. 50. F.W.K. Y. Ann. 50. Ditto. Y Mary. 22. Ditto. Y. Thomas. 15. Ditto. Y. John. 11. Y. William. 5. Y. F.W.K. = Frame Work Knitter. Y. = Yes Born within the County. But owing to the basic information given on the above Census One can not be 100 % sure we have the right Thomas c 1788. because the place of births is not given on this Census. Don't forget the ages on this Census was rounded DOWN To the nearest multiples of 5. But the Wife's name & John & William details match up. MIKE.

Sarah
Report
5 Mar 2007 22:39

THANKS MIKE HAVE SENT YOU A PM REGARDS SARAH

Jan
Report
6 Mar 2007 23:58

just signing in so I can find it again! Jan

Sheila
Report
7 Mar 2007 10:36

Hello everyone I'm still looking for Goadby, Bradbury, Phillips, Allen, Lilley and Rowbotham. Also looking forward v much to coming home on April 1st to see Tigers play Stade Francaise. Sheila

Mike. The Leicester Lad.(GC)
Report
7 Mar 2007 19:52

Greeting's Again Sheila. ..... I hope you have booked your seats ? This will be another SELLOUT.. According to the Mercury tonight Henry Tuilagi. .... will be fit and playing.... MIKE, xx

Sheila
Report
8 Mar 2007 12:48

Hi Mike Hope you're well. After three phone calls and a lot of hanging on, mostly done on the mobile in the bathroom so Mr Medlock wouldn't get wind of his Valentine surprise - I have seats!!! Looking forward to it immensely - it will make a change from ice hockey! Cheers Sheila

Mike. The Leicester Lad.(GC)
Report
8 Mar 2007 22:23

*** F.A.O. *** …..Sarah Wragg. Mountsorrel Banns / Marriage Registers reads Thus : ~ St Peter's Parish Church. ANNO DOMINI ~ 1759 ~ 60. Entry No. 21. John Barsby. Of Mountsorrel Parish. Within the Chapelry of Barrow Upon Soar. Mary Soars of the same Parish. Married in this Church following Banns Published without Prohibition August 19th. , 26th. & September 2nd. By me:~ John Simons. Curate. On this Twenty third day of September. One Thousand Seven Hundred and Fifty Nine. John Signed by own Signature = John Barsby. Mary signed by the name = MARY BARSBY. Wit's :~ George Lovell. & Thomas Barsby. MIKE.

Willsy once more
Report
9 Mar 2007 20:58

Hi Mike Whereabouts is Neales Yard, St Margarets? Turns out my fishmonger George Ward was the police constable on the 1841 census, have found a birth for John who is 7 mths confirming the census return. Goes back to being a fishmonger 1851 onwards??? Elaine

Mike. The Leicester Lad.(GC)
Report
9 Mar 2007 23:26

Greeting's Elaine .... 1/2d Tram ride from the Clock Tower ...lol :0))) As far as I can tell Neale's Yard was one of several Yards which ran off Church gate. From St. Margaret's Parish Church working back to wards the Clock Tower ( Haymarket or Coal Lane as it was known then ) Census return HO 107 / 604 / 14 / 41. / Page. 13. St. Margaret's Parish. Neale's Yard. George Ward. 20. Policeman N. Ann. 25. Y. John. 7 Months Old. Y GRO Cert Dec Qrt. 1840. John ward. Leicester. XV 92. MIKE.

ken from Hunua
Report
10 Mar 2007 07:55

Hi Mike I would like to obtain a copy of my Uncles Army record he was in the Leicestershire Regiment in the 1920/1930's. Do they still have an address in Leicester where they keep the records? Regards Ken

Willsy once more
Report
10 Mar 2007 10:00

Thanks Mike Elaine

Mike. The Leicester Lad.(GC)
Report
10 Mar 2007 17:15

Greeting's Again...... Ken The only contact pont I have is as follows Wether they have personal records I'm not sure Not sure if the Records are at the Records Office at Wigston ? I'll ask this week But worth while getting in touch :~ Address: Royal Leicestershire Regiment Museum Collection Newarke Houses Museum, The Newarke, Leicester, LE2 7BY Tel: 0116 225 4980 Fax: 0116 225 4982 Email: museums( Hat )leicester.gov.uk Replace Hat with the other spelling MIKE.

ken from Hunua
Report
11 Mar 2007 01:51

Thanks Mike Regards Ken

Mike. The Leicester Lad.(GC)
Report
16 Mar 2007 00:06

Greeting's Again. ……. Ken. 1. The Records Office Stocking this year is :~ 1st. October through to 8th. October. They will close at end of Business FRIDAY 28TH. September. Reopen 8th. October. So you will only have but a few days to search……. if you are coming to Leicester late September 2. Re contact point for Army Records :~ National Archive Office. Army Personal Centre. Historical disclosures. Mail Point 400. Kentigern House. 65. Brown Street. Glasgow. Tel :~ England code from where you are. Followed by 0141 2243515. Or :~ 0945 600 9663. Plus you will have to prove ID as next of Kin. Hope this helps you ? MIKE.

Mike. The Leicester Lad.(GC)
Report
16 Mar 2007 01:50

*** F.A.O.***……. Katherine Ellis. This might just help you ? St. Margaret's Parish Church Leicester. Entry No.239, SEP 25, 1843, after Banns. :~ THOMAS ALLEN, Full age, WIDOW. LABOURER, of UPPER CHARLES St, Son. of JOHN ALLEN, LABOURER. MARY GROGAN, Full age,. WIDOW. of HUMBERSTONE GATE, Daughter. of JOHN SMITH, WHITE SMITH Wits: MICHAEL McGURK?, ??? SMITH I think this is Thomas on the 1841. Census HO 107/ 604 / 5 / 28 / Page. 10. Leicester. In a Yard off. Upper Charles Street. Thomas Allen. 55. Labourer. Y. Samuel 12. Ditto. Y. Y = YES. Born with the County of Leicestershire. Not found Mary …YET !!!! Hope this helps …. MIKE. ...Time to blow out the candle me thinks .... UPDATED 02.05. I think this is their Burial details Welford Road Cemetry. Plot No. / Names./ Dates. / last known adddress. Parish / Burial No.'s O 743 C Allen Thomas 1870 Nov 21 72 Charles Street Saint George 25100 O 743 C Allen Mary 1884 Jul 28 71 Leicester Union House Saint Margaret 53514 O 743 C Allen William 1855 Aug 7 36 Bedford Street Saint Margaret 3323

ken from Hunua
Report
16 Mar 2007 08:53

Thanks Mike Looks like I will have to adjust my time table, wonder what excuse I can give to my wife for this change! Have already rearranged twice to ensure I can get to Walkers Stadium and White Heart Lane!!! Regards Ken

Mike. The Leicester Lad.(GC)
Report
16 Mar 2007 22:52

Greeting's Again Katherine. …….. The closest I can come up with is the following :~ St. George's Parish Church ( Closest Parish Church to Upper Charles Street) Name./ Dates./ Age. ALLEN WILLIAM 11 DEC 1836 INF Re explain of your other query ? Re :~ O 743.C. O. = Section. 743. = Grave Plot No. C. = Consecrated Ground. With this details you'll be able to go to the Grave. O Section is in fact close to the Railway ( L.M.S.) Take the path to your LEFT directly you have entered the Cemetery at the main gates. Follow this path round until three paths form a triangle close to a line of trees This Triangle is Section O…. Or just ask at the" Visitors Centre " just in side main gates on your RIGHT They will direct you to grave site. In the meantime I'll whiz around my Parish Burial disks to see if I can get an even closer match. Do not forget they Rounded the ages of anyone over the age of 15 DOWN to the nearest multiple of 5 only just for the 1841 Census. also it's a woman's prerogative not to give their correct age. MIKE. UPDATED ....BINGO !!!! St. Margaret's Parish Church. Names. / Dates./ Ages.:~ ALLEN WILLIAM 12 DEC 1837 INF Backed up via G.R.O. Index Records :~ BIRTH:~ Oct. ~ Nev. ~ Dec. Qrt.. 1837. William Allen. LEICESTER.. Cert No. .....XV. 70. DEATH :~ Oct. Nov. ~ Dec. Qrt. 1837. William Allen. LEICESTER. Cert No.XV. 68.

Mike. The Leicester Lad.(GC)
Report
19 Mar 2007 18:08

Greeting's Again. …….. Kathleen. "Your very welcome " Two Mary Allen's details for 1837. :~ St. Margaret's Parish Church. Leicester. Names. / Dates. / Ages. Allen Mary 14 AUG 1837 38 Allen Mary 13 DEC 1837 INF Sorry St. Margaret's Church did not give plot location details. Looks like the 2nd Mary is the one Were they twins then ? DEATH. via G.R.O. Site :~ Oct. ~ Nov. ~ Dec. Qrt. 1837. Mary Allen. LEICESTER. Cert No. XV. 68. Same Cert No. as for William then ? But having visited this Church I doubt if you will find the plot. It seems that the Church has had a clean up And there are loads of headstones just leaning against the side of the Church ….So you'll never find out as to the location of the graves. But having said that they just might have a Graveyard plan. If your desperate to find location then drop them a line :~ Contact: Canon Barry Naylor Tel: 0116 262 0788 Our Location: St Margaret's Way Leicester Leicestershire LE1 3EB Sorry. ...... I got your name wrong 1st. time round. MIKE.