General Chat
Welcome to the Genes Reunited community boards!
The Genes Reunited community is made up of millions of people with similar interests. Discover your family history and make life long friends along the way.
You will find a close knit but welcoming group of keen genealogists all prepared to offer advice and help to new members.
And it's not all serious business. The boards are often a place to relax and be entertained by all kinds of subjects.
The Genes community will go out of their way to help you, so don't be shy about asking for help.
Quick Search
Single word search
Genes Extras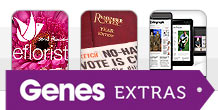 As a way of saying thank you to our subscribers, we have launched Genes Extras. You'll find exclusive competitions and discounts on family history magazines, days out and much more.
Icons
New posts
No new posts
Thread closed
Stickied, new posts
Stickied, no new posts
Good Morning
Profile
Posted by
Options
Post Date

Barbra
Report
27 Dec 2010 11:08

Morning Julia
And they are paid to tell us . bunkum . look out your windows we know what its doing lol, should have had snow here . ? Barbra x

GoldenGirl1
Report
27 Dec 2010 11:46

Morning Barbra, Julia and all, Thawing nicely here
in Aberdeen and quite mild. I take each days weather
forecast as nonsense. I look out my window to
make my mind up, my daughter believes what they say,
silly girl. Take care all.

Emmax

Barbra
Report
28 Dec 2010 12:26

Good Day Emma & All hope you are well has the snow gone Emma can you get out & about now .just damp & misty here . enjoyed a prog last night ,called three men in a boat , Griff jones & two pals showed them in Oban,at a whisky distillery some of it has to mature for ten years . dont like it myself then they went to some local highland games . they did participate . just wondered if it has been on before . good prog .River city tonight 8pm , ~~~~~~~~~~if anyone looks in take care Barbra x

GoldenGirl1
Report
28 Dec 2010 12:44

Hiya Barbra and all. FREEDOM just back from A**a and
believe it or not but I enjoyed the outing.Supermarket
shopping is a thing I normally detest but not today.
Snow disappearing slow but sure with a little rain.
Didn't see three men in a boat last night and like you
can't stand whiskey even the smell makes me gag.
LOL all and stay warmx

Emmax

Barbra
Report
28 Dec 2010 12:48

Emma very glad you have been out . lets hope the snow stays away just now . bye Barbra xx ((hug)) for Rory

MarionfromScotland
Report
29 Dec 2010 09:08

Morning all.

Hope you all had a great xmas.

I've been busy with one thing and another and when i'm not busy, I'm chilling out in front of tv lol.
Got hot water in the kitchen after 4 days.OH took the bit of pipe out (solid ice)that caused the problem.It was just as welll as it would have burst. Its well and truly lagged now so should be ok...I hope.

I'm off out shopping soon so will probably miss you all again.

Marion

GoldenGirl1
Report
29 Dec 2010 11:50

Morning all, still mild here and though we still have small piles
of snow it is disappearing slowly but surely.

Emmax

Barbra
Report
29 Dec 2010 13:01

Hello Emma & Marion x Very foggy here & Damp but not going out now till Friday hospital check up. every 3 months since op in August .I feel fine x
Hello Ann Gg & Joan hope you are ok ~~~~~~~to All Bye for now Barbra

Barbra
Report
30 Dec 2010 10:45

Morning hope you are well Emma, Marion ,~~~~~~~All, very mild this morning , I wont be sorry to see 2010 go, now onwards & upwards , have you been practising your song for the New Yr Emma . will join in with you sat morning lol Bye for now Barbra xx

GoldenGirl1
Report
30 Dec 2010 11:29

Good Morning, Good Morning we've talked the
whole night through, Good Morning ,Good Morning
to you. Tra la la la la la.
Weather still the same so am happy as have appointment
at the nurse tomorrow am (bloods every 2weeks)
The song is in hand and traditional (hint there)
We have my sons' dog sleeping over for 3nights so
Rory is a happy boy.His name is Ziggy and hes' a
miniature schnauzer (sp) Have a good one all.LOLx

Emmax

Barbra
Report
31 Dec 2010 09:39

Emma Love the song !! hope your little doggies behaved last night . . there cute Schnauzer . right have a good day busy myself . ~~~~~~~~~~~~to All Barbra xx

GoldenGirl1
Report
31 Dec 2010 10:57

Barbra and all have a good day and see you next year.

Emmax

MarionfromScotland
Report
31 Dec 2010 11:23

Morning all.

Mulititasking again here....doing my hair lol

Barbra
Report
1 Jan 2011 12:45

Hello Happy New Year Girls x Hope you all have the best year you can .. I am listening to Tony Blackburn On radio 2 . Top ten 4/1/1962 . I was merely a child !! I feel so sentimentle listening to the music , Acker Bilck ,Helen Shapiro , Dell shannon , Bobby Vee , some good artist , Elvis, Bobby Darren.,, Have a Good Day Emma, Marion , Bye for now lol Barbra x
~~~~~~~~~to All

GoldenGirl1
Report
1 Jan 2011 14:31

Hello ladies, Happy New Year and wish you all you wish yourselves.
Link arms please and all together now.......................

Should auld acquaintance be forgot,
And never brought to mind.
Should auld acquaintance be forgot
And auld lang syne.
Chorus:
For auld lang syne, my dear,
For auld lang syne
We'll tak a cup o' kindness yet
For auld lang syne.

Chorus again. I.ve cut it short as I would have to translate it into
English for some to understand.
Barbra,Marion and all have a wonderful dayx

Emmax

Barbra
Report
2 Jan 2011 14:23

Hello Emma
Good rendition of Old Lang Syne x Hope you are ok , roll on spring .always feel a bit flat this time of year . but lets move on & see what 2011 has in store for us all Barbra ~~~~~~~~listening to radio 2 at the moment Bill Kenwright talking about Elvis & playing His music & his Favourites .with priscilla Presley . love my radio ~~~~~~~~~to All xx

GoldenGirl1
Report
2 Jan 2011 14:33

Hi Barbra know what you mean about feeling flat,
a build up and once excitement over ugh. Never
mind as you say onwards etc. You certainly love
your radio so should be good at singing. I am looking
forward to the season opening for my caravan site, I
have a static and so enjoy it, hope I get my op. early
and can really enjoy it this year. Lick,lick from Roryx
Take care all and as it's gotten colder with a wee fall
of snow, stay safe and warmx

Emmax

Barbra
Report
3 Jan 2011 11:13

Good Morning Nice bright sunny day . a bit nippy !! Hope you are ok Emma
& you dont get to much snow .will you only have one doggy now, I bet Rory enjoyed having a dog to play with . we got an x breeding westie 2009 . no manners at first,, she followed our older westie around & they were soon best pals . have a good day Take care Barbra xx ~~~~~~to All .

Julia
Report
3 Jan 2011 11:30

Morning Barbra, Golden Girl 1 and all others.
Bit of a grey day here in Derbyshire, but dry, thouigh cold. Not given out very good for Wednesday and Thursday, with rain. But hey ho, by Friday, we may be visited by a precipitation of the jolly old white stuff. As if we have not had enough already.LOL
Golden Girl, I bet you have been busy with two dogs. We had hoped to be also. After losing our little Molly in November, the OH realised how much he missed having a dog about the house, and we decided to look for a pair of Cocker pups. Molly had been 'an only-one', and was spoiled to death by the OH, hence my insistance in having a pair of litter sisters. However, we have not been lucky enough yeat to find what we want. But early days.
Barbra, we are again this year, hoping to buy a camper van. Tried last summer, but it did not come to fruition. Funily enough, the 'site' we really like, is only about only five miles from home, but it has fishing, nearby pub, Chinese Restaurant, and a lovely little town nearby, with fresh produce shops, and of course, plenty of walks for the dogs we hope to have established by then.
Getting back to normal today. Have put away all the pots and cutlery out for the Christmas meals, but will take the decs. down on 12th night. Hung up clothes and sorted out washing. Now the ironing to do. But it is good to back into a routine.
Take Care All
Julia in Derbyshire

Researching:
Turner Cambs/.Northants, Singapore and Penang,Trengrove Singapore and Penang, Arnull (Champion Race Horse Breeders & Trainers 'Oleander')Germany and Denmark

GoldenGirl1
Report
3 Jan 2011 11:35

Morning Barbra and all, snow gone and pouring
rain in place,lovely, I feel a song coming on!!!
Rory back to normal and cause he used up so much
engery he is sleeping a lot. Have a good one all and
gonna have a look for some rellies today.

Emmax

I'm singing in the rain, just singing in the rain,
tra la la la lalala.........................