Find Ancestors
Welcome to the Genes Reunited community boards!
The Genes Reunited community is made up of millions of people with similar interests. Discover your family history and make life long friends along the way.
You will find a close knit but welcoming group of keen genealogists all prepared to offer advice and help to new members.
And it's not all serious business. The boards are often a place to relax and be entertained by all kinds of subjects.
The Genes community will go out of their way to help you, so don't be shy about asking for help.
Quick Search
Single word search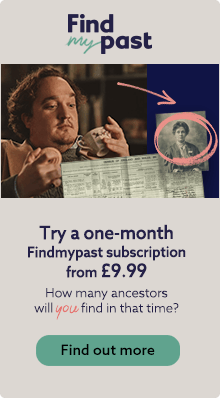 Icons
New posts
No new posts
Thread closed
Stickied, new posts
Stickied, no new posts
Lookup offer for Australia
Profile
Posted by
Options
Post Date

Colleen
Report
20 Jan 2010 05:35

Cherilyn
OMG What can I say......I'm speechless.....you are Wonder Woman.....What a girl....

Thanks heaps
Colleen.

Dan
Report
20 Jan 2010 07:10

BRILLIANT thank you so very much Cherilyn that is so kind of you.

Danielle

Cherilyn
Report
20 Jan 2010 08:37

Hi Carole

Sounds promising...I can help you with the children but that's not much help. You could take a leap and order the marriage cert for Susan & John (reg 1431) (A$17.50 for an uncertified image).

Alfred Adrian b. 1858, d. 1870 aged 11 Ballarat
Adrian Chas b. 1860, d. 1910 aged 49 Richmond
Lois Florence b. 1862, d. 1870 aged 7 Ballarat
Francis Jno b. 1864, d. 1913 aged 49 Melb E
Bertram Vivian b. 1875, d. 1902 aged 26 Melb E

Bertram was a painter and died Jan 1902 when he fell from a scaffold while working on the ceiling of National Bank in Swan St, Richmond. He was not married.

Possible death for John in Richmond in 1905 aged 80 (reg 14116). Ah found her death, spelt wrong.

Surname: THORNHILL
Given Names: Susan
Father: Carbius
Mother: Unknown UNKNOWN
Death Place: RMOND
Age: 86
Year: 1923
Reg Number: 3225
Event: D

Not much help!!! But shows she was b. c1837 - ?

Susan does seem a good match in terms of location, and hopefully fits with the 1841 census as aged abt 5.

Let me know!!!
;-)


Carole Mac
Report
20 Jan 2010 11:29

Thank you so much again Cherilyn.
Susan was age 4 on the 1841 census, so that fits well.

I'm going to ask on GR for someone to send me the image of the 1841 and 1851 census. Your help is very much appreciated.
Regards,
Carole

Edit
Have received the census images.
Have ordered and downloaded the marriage in 1873 in Geelong of John Thornhill and Susan Carbis. Susan is from Cornwall and her parents are Richard Carbis and Ann nee Stephens!!!!
I am very happy with that finding. I can put the brain to sleep tonight now.
Many many thanks again.

Cassidy
Report
20 Jan 2010 13:09

Hi Cherilyn,Long shot,this one.

Can you find anything on a Augustus NURSE born 1897,Wales,in the NSW area.

Regard's,Cass

Cherilyn
Report
21 Jan 2010 01:34

Yay! That's great news Carole :-)
Love it when it all works out!!!

Cherilyn
Report
21 Jan 2010 01:40

Hi Cass

No luck at all sorry

Cheers
Cherilyn

cane
Report
21 Jan 2010 10:13

HIi cherilyn,
would you be able to help...i am told that john hackett emigrated to oz. it must have been after 1959.he was born 1920 in salford,sorry i dont have anything else to go on to give you as this is all i know...."E" x

Researching:
Barber,henshall, Hackett, smith,Walsh.....Salford,Manchester

Jooleh
Report
21 Jan 2010 23:09

Hi Cherilyn

I'm following the trail of Thomas Dick McNab born 1831 Dundee Angus Scotland.

I found he was in Australia when I came across several obituaries he had posted in the Sydney Morning Herald.

Through the excellent NSW bmd indexes I've found his marriage to Agnes Baillie in 1852 and lots of children!

He was in Scotland for the 1841 census so must have travelled to Australia after that but before 1852. It would be great if I could find out when he went & if anyone was with him.

His surname may be down as McNab or MacNab (the registry indexes give both spellings)

His grandfather was Thomas Dick, a writer and astronomer, who gets a mention in each obituary!

Looks like he stayed in the Sydney area & died in St.Leonards in 1912. Any snippet of further info you might come across will be gratefully received.

Many thanks for your kind offer of help

Julie

EDIT Just in case you find any more obituaries, the 3 that I found were of family who died in the UK.

His grandfather Thomas Dick LLD
His uncle Thomas Dick
His brother Andrew Mcnab

Cherilyn
Report
22 Jan 2010 01:51

Hi E

This is the only one I can find:

HACKETT John George Osman, Hella [nee WINKELL], Karen, Annette [British - migrant selection documents]

To Western Australia in 1963.

??

Cherilyn
Report
22 Jan 2010 02:28

Hi Julie

The Sydney Morning Herald, Wednesday 1 December 1858 [& 10 Dec]
DEATHS
On the 30th November, at No. 1, Grafton Wharf Road, Ada Elizabeth, infant daughter of Mr. Thomas D. Macnab, aged 10 months.


The Courier (Brisbane), Tuesday 9 July 1861
On Thursday last, Mr. Thomas D. Macnab, an experienced diver, well known in connection with the diving operations for his exertions to recover the cargo of the Catherine Adamson, went down to the remains of the ill-fated ship Dunbar. They lie in the sea way, within a short distance of the lofty precipice on which stand the flag-staff and signal station, at South Head. He descended on his perilous exploit shortly after 10 o'clock in the forenoon, and continued traversing the slimy depths until 3 o'clock in the afternoon. It might be expected that after a protracted interval of fine weather, the sea would have been very calm ; such, however, was not the case, the swell being very heavy, caused, probably, by gales in remote parts of the Pacific Ocean. Singular to say, the sea was also much agitated at the bottom, surging to and fro in its bed with such force as to carry the remains of the wreck backward and forward with an undulatory motion. ... The diver gives it as his Opinion that, from the position of the wreck, an effort must have been made on finding the perilous situation of the ship, which was heading onto the fatal Gap, to alter her course and bring her head round to the northward, having, however, still upon her the great momentum she must have received when coming down before the gale with square yards, the alteration was futile. ... Mr. Macnab, after his long exploration of the bed of the sea, was glad, partly from the cold, and partly from the moisture which from pressure or other causes forced its way through his diving clothes, to find his way on to the deck of the Washington steam-tug which was at hand to aid him. ...


The Sydney Morning Herald, Wednesday 13 May 1863
FUNERAL. -The Friends of Mr. THOMAS D. MACNAB are invited to attend the funeral of his deceased daughter, EMILY, to move from his residence, Philip-street North, THIS (Wednesday) AFTERNOON, at four o'clock. JAMES CURTIS, undertaker, 69,
Bunter-street.


The Sydney Morning Herald, Wednesday 21 October 1863
BIRTHS
MACNAB-October 4th, at 78 Phillip-street, Mrs. Thomas D. Macnab, of a daughter.


The Sydney Morning Herald, Thursday 21 July 1864
DEATHS
BAILLIE-June 20th, at her residence, 487, King-street South, aged 52 years, Mrs. James Baillie, relict of the late Mr. James Baillie, stonemason, and mother-in-law of Mr. Thomas D. Macnab, Sydney.


The Sydney Morning Herald, Tuesday 22 August 1865
VOLUNTEER NAVAL BRIGADE:-The following promotions and appointments have taken place: -Promotions : W. J. Wilshire, Thomas D. Macnab, and Edmund Jones, to be Lieutenants.


The Sydney Morning Herald, Friday 23 November 1866 [& 13th Nov]
DEATHS
MACNAB-November 11th, at 78 Phillip-street, Alice Maud Macnab, infant daughter of Thomas D. and Agnes Macnab, aged three and a half months.


The Sydney Morning Herald, Friday 29 January 1869
DEATHS
MACNAB-January 16th, a 41 Prlnce-street, Sydney, Louisa Iona, youngest daughter of Thomas Dick and Agnes Macnab, aged 12 and a half months.


Saturday 28 October 1871
THE LATE THOMAS D. MACNAB, DIVER.
CONTRIBUTIONS in aid of the Widow and five Children of the above, will be thankfully received by Messrs. MITCHELL and CO., Circular Quay ; or Mr. C. HAYES, Sydney Exchange.


The Sydney Morning Herald, Friday 3 November 1871
MR. T. MACNAB, THE DIVER.-By the arrival on Wednesday, 18th, of the schooner Melanie, we have been placed in possession of the particulars respecting an unfortunate accident by which Mr. Macnab lost his life. Mr. Macnab has for many years past been intimately connected with all diving operations of any magnitude, the wrecks of the Dunbar, Catherine Adamson, Mimosa, and others having been visited when many fathoms down. His lost undertaking was proceeding to Torres Straits, in the schooner Kate Kearney, to dive for pearl shell. On the 15th July he left the vessel in the cutter, and proceeded to the Melanie schooner, then lying in the N.E. channel, for the purpose of recovering an anchor belonging to the last named craft, and, it would appear, that while he was below the air pipe got deranged and useless, the result being that he was drowned. Those in attendance on the diving apparatus, on discovering something amiss, got the body to the surface, and used every means to restore animation, but without success. Mr. Macnab was much respected by a large circle of friends, and leaves a widow and five children.

See also SMH Wednesday 2 October 1861, Saturday 12 October 1861 and Thursday 14 November 1861 [letters he had published] and Saturday 5 October 1861 [letter about him].

http://newspapers.nla.gov.au/ndp/del/home

For his arrival try www.records.nsw.gov.au

Cherilyn
Report
22 Jan 2010 03:38

Julie

chn of Thos & Agnes

1. Margaret Agnes b. 1854 Sydney, d. 1936 Auburn [did not marry]
2. Florence E b. 1856 Sydney, d. 1924 Marrickville [did not marry]
3. Ada Elizabeth b. 1858, d. 30 Nov 1858
4. Thomas D b. 1859, d. 1879 Liverpool aged 19
5. Arthur Frederick b. 1861 Sydney, m. Alice M DAVIS 1893 Sydney, d. 1942 Granville
6. Emily M b. 1862 Sydney, d. 1863
7. Annie E b. 4 Oct 1863, d. 1863
8. Adeline Marjorie b. 1865 Sydney, d. 1940 [did not marry]
9. Alice Maud b. 1866 Sydney, d. 11 Nov 1866
10. Louise Iona b. 1868, d. Jan 16 1869

So sadly only half of their chn survived to adulthood, and Thos snr died when the youngest child was only 6. [Note he did not die in 1912!]

Poor Agnes!
:-(

Cassidy
Report
22 Jan 2010 13:14

Thank you for looking.Cass

Jooleh
Report
23 Jan 2010 00:44

Wow Cherilyn - what a lot of information! Thank you so much!

How sad that so many of the children died so young and his son Thomas Dick at only 19.

Thomas Dick senior was orphaned at a young age as his mother and father died within 13 days of each other in 1843. His grandfather had signed away copyright of his books in error so wasn't well off enough to support the children at that time. Later he left money in trust for them which came to fruition in 1875 so hopefully Agnes and the children got their share.

I wasn't sure about the 1912 death as the mother's name was wrong .

Thanks for the links - will do some more looking.

Thanks again for all your time and effort it is much appreciated.

Julie

Cherilyn
Report
23 Jan 2010 07:06

My pleasure PP & Julie

:-)

Cherilyn
Report
24 Jan 2010 05:15

n

Cherilyn
Report
30 Jan 2010 13:14

n

Cherilyn
Report
1 Feb 2010 10:12

n

BatMansDaughter
Report
1 Mar 2010 08:43

nudge

Cherilyn
Report
3 Mar 2010 07:32

Thanks BatMansDaughter!