Find Ancestors
Welcome to the Genes Reunited community boards!
The Genes Reunited community is made up of millions of people with similar interests. Discover your family history and make life long friends along the way.
You will find a close knit but welcoming group of keen genealogists all prepared to offer advice and help to new members.
And it's not all serious business. The boards are often a place to relax and be entertained by all kinds of subjects.
The Genes community will go out of their way to help you, so don't be shy about asking for help.
Quick Search
Single word search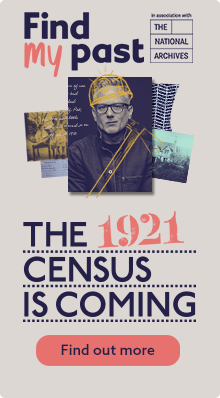 Icons
New posts
No new posts
Thread closed
Stickied, new posts
Stickied, no new posts
Lookup offer for Australia
Profile
Posted by
Options
Post Date

Cherilyn
Report
12 Jul 2010 05:20

Could it be...?!

CARR Stanley James Funeral notice 14JUL2009 Death 90 late of Stockton, formerly of Singleton Singleton Argus 17JUL2009

CARR Stanley James Funeral notice 14JUL2009 Death 90 late of Stockton, formerly of Singleton Newcastle Herald 17JUL2009

from www.ryersonindex.org

???

Cherilyn
Report
12 Jul 2010 05:49

Found Gladys Eva HOBBS aged 5 in 1901 census with her mother Jane (36) and father? William (shown as 26 but think this should be 36, looking at 1881 & 1911). Siblings: 'Salome' (11, believe this is Selina b. 1888), Margaret Jane (9, b. 1891), Minnie Rosa (7, b. 1893), and James (2). All living in Devon and all chn born in Plymouth. Jane born in Crawkerne, Somerset and Wm in Moorbath, Devon.

Wm is a journeyman baker in 1901. In 1881 there is a William HOBBS aged 16 born Morebath, Devon c1865, an assistant baker to Wm ESCOTT in Bampton, Devon.

:-)

dodsy
Report
12 Jul 2010 12:17

Hello Cherilyn could you please see if you have anything on Frederick Andrew Macdonald or possibly Andrew Frederick Macdonald.

Born 1821 in Dover, parents are William and Elizabeth.

He supposedly went to Australia about 1859/6 to the goldfields wherever they were!

Any small thing would be appreciated.

Many thanks

Wendy


Loma
Report
12 Jul 2010 12:52

Hi Cherilyn,
I am looking for my fathers sister Ethel Barraclough born Leeds 1892. I think she married a Charles Bain also from Leeds. She emigrated to Australia arround 1915. In the 1960's the family were living in Newcastle , NSW. My father's wallet with her details in was stolen just before he died & I have not been able to trace the family. Any help or sugestions would be welcome.
Many thanks, Loma.

Cherilyn
Report
13 Jul 2010 04:14

Hi Lorna

I was hoping Ethel had a middle name, but no such luck!
Is this her?

--------------------------------------------------------------------------------
Marriages Jun 1908 (>99%)
--------------------------------------------------------------------------------
BAIN Charles Grieve Leeds 9b 1042
BARRACLOUGH Ethel Leeds 9b 1042

Births Jun 1913 (>99%)
--------------------------------------------------------------------------------
Bain Robert W Barraclough Hunslet 9b 897

--------------------------------------------------------------------------------
Births Sep 1915 (>99%)
--------------------------------------------------------------------------------
BAIN Stanley Barraclough Hunslet 9b 757


I can't see any record of them coming to Australia on findmypast. No matching deaths on ryersonindex.org.au. No military records found for Chas or sons. No Chas Grieve Bain or Ethel Bain in Australian electoral records on Ancestry.

Are you sure they all emigrated? When you say ;the family' were in Newcastle in the 1960s (Ethel would have been in her 70s by then), do you mean one of her children?

Cherilyn
Report
13 Jul 2010 04:28

Hello Wendy

In that time period seems most likely he went to Victoria looking for gold, or maybe NSW or Qld, but I can't see any trace of him. The main rush in WA was not til the 1890s, and Tasmania in the 1870s.

Of course if had goldfever so badly that he never took the time to marry, he will be near impossible to find!!!

Add to that he may be listed as McDonald rather than MacDonald and it really is a needle in a haystack.

Sorry
:-(

dodsy
Report
13 Jul 2010 08:52

Thank you for trying for me Chreriyn - you say like looking for a needle in a haystack.

Many thanks

Wendy

Carol 430181
Report
13 Jul 2010 10:06

Hi Cherilyn, I am looking for birth of a Rewa Beatrice Lloyd born (I believe Victoria) 1899/1900 father Wilfred Barthlomew Lloyd. Wilfred left for Australia from England after 1891 and before 1899. I have found him on votors Reg. for Victoria1909 1914 1919 and 1949. What I really am after is the name of his wife. He did not marry in England so assume Australia.
Thank you Carol

Researching:
Vosper Cornwall /Devon. Courtney Cornwall. Arundel Cornwall. Godolphin Cornwall. Tremethick Cornwall. Langdon Cornwall/Devon. Buley Devon. Parsons Cornwall. Bains(wish I knew) Samuels London.

Cherilyn
Report
13 Jul 2010 10:39

The Argus, Friday 28 October 1949
LLOYD. -On October 27, at Melbourne, Wilfred Bartholomew Lloyd, of Toolern Vale (late of Stanhope), loved father of Llewellyn and Rewa (Eng- land), aged 79 years.

Surname: LLOYD
Given Names: Wilfrid Bartholomew
Father: Lloyd Percival
Mother: Amelia BARTHOLOMEW
Death Place: FITZ
Age: 79
Year: 1949
Reg Number: 12671
Event: D

Llewellyn was born in NSW

32099/1903 LLOYD LLEWELLYN B WILFRED B FRANCES B MOSMAN

Shows wife as Frances B but can't find her death. Aha! Their marriage!

5914/1898 LLOYD WILPID B [m] BEDFORD FRANCES B MOSMAN

Just can't find Rewa's birth. Even tried her as Bedford.

From www.bdm.nsw.gov.au

Carol 430181
Report
13 Jul 2010 11:18

Cherilyn, thank you so so much, yes that is them. so wife was Frances B. Mosman.or Bedford? The reason I am researching this family is I have a box of photos that I rescued from a carer of Rewa Lloyd, they were going to throw them away. I know Rewa never married and Llewellyn never had children. I have traced a very very distant relative on the Lloyd side but wanted to check out the mothers side. Thank you once again
Carol

Researching:
Vosper Cornwall /Devon. Courtney Cornwall. Arundel Cornwall. Godolphin Cornwall. Tremethick Cornwall. Langdon Cornwall/Devon. Buley Devon. Parsons Cornwall. Bains(wish I knew) Samuels London.

Carol 430181
Report
13 Jul 2010 11:22

Cherilyn, Ah got it Frances B Mosman Bedford, yes one of the photos is a portrait of a Thomas Bedford 1770. Right on the hunt, thanks again.
Carol

Researching:
Vosper Cornwall /Devon. Courtney Cornwall. Arundel Cornwall. Godolphin Cornwall. Tremethick Cornwall. Langdon Cornwall/Devon. Buley Devon. Parsons Cornwall. Bains(wish I knew) Samuels London.

Loma
Report
14 Jul 2010 13:53

Hi Cherilyn,
I remember Dad writing to Ethel when my Gran died in 1961 & she was in Newcastle then. I must have got her married name wrong. Thank you so much for looking for me. I'll go back and search for her marriage again.
xx Loma.

Cherilyn
Report
15 Jul 2010 02:39

Carol, Mosman is the place, her surname was Bedford. So Frances B Bedford married Wilfred B Lloyd in Mosman, NSW. Sorry!

I can't see her birth in Vic or NSW but this *might* be her in the UK:

Births Dec 1868 (>99%)
--------------------------------------------------------------------------------
BEDFORD Frances Beatrice Dartford 2a 364

?
It seems at age 12 in 1881 census, Frances Beatrice was living at an infant orphan asylum in Wanstead, Essex :-(


-

Lorna, what were Ethel's parents' names?


Gael
Report
15 Jul 2010 05:56

Cherilyn,

I'm nudging up for Quoy who needs help with a Qld couple.

Gael

Quoy
Report
15 Jul 2010 06:26

Hi Cherilyn
Please could you help me with information on this couple William Gordon Cole and Thora Augusta unknown.I have them on the electoral roll in Nambour Queensland in 1949 so they were married before then . I am sure they married in Queensland .

Edit to say Ginny found William alone in 1943
I am looking to go backwards on this couple.

Thank you

Cherilyn
Report
15 Jul 2010 08:18

Thanks Gael, and hello Quoy

I welcome the distraction, feeling a bit despondent after finding out I have wasted a large amount of time on a transcription project (not on here).

Unfortunately they must have married after 1934, can't go any later than that in Qld due to privacy laws.

I'd say this is his WWII enlistment tho, shows his father's name:

COLE WILLIAM GORDON : Service Number - QX41934 : Date of birth - 17 Nov 1920 : Place of birth - BRISBANE QLD : Place of enlistment - GROVELY QLD : Next of Kin - COLE WILLIAM

Not much help either, really, as can't access Qld births after 1914!

Possibles for parents' marriage:
1907/B6010 Thornhill Ellen Cole William Henry
OR
1916/C2979 Bishop Caroline Sarah [m] Cole William David
OR
1917/C1257 Cole William [m] Day Lilian Rose
OR
1920/B24253 Bowler Olive Catherine [m] Cole William Henry

The ones with B prefix are more likely as these were in Brisbane, and the others were country Qld.

Could this be his death, quite young?

1960/C3008 William Gordon Cole [father] William [mother] Olive Catherine Bowley

If so the last marriage listed above is the right one, after all. They actually married in late December 1919 but registration was in 1920.

The Courier (Brisbane), Thursday 29 January 1920, p.6
BOWLER-COLES. -On December 30th, at Albert-street Methodist Church, Olive, eldest daughter of Mr. and Mrs. F. Bowler, South Brisbane, to William, son of Mr. and Mrs. E. Cole, of Windsor.

William & Olive lived on Brown Street in Windsor. They both lived to a ripe old age. Olive Catherine died in 1994 aged 97 and Wm Hy in 1991 aged 96. They are buried at Toowong Cemetery with two of their young children who died. See http://www.brisbane.qld.gov.au/BCC:BASE::pc=PC_899

Getting a bit ahead of myself here, really, as you really need to get the death cert to make sure it is the right Wm. Unfortunately, an expensive exercise in Qld! See www.bdm.qld.gov.au

Quoy
Report
15 Jul 2010 08:53

well cherilyn thank you for all this information
I will spend some time going through it

Now I am not trying to teach my grandmother to suck eggs but have you seen this on the board i have nudged it up.
Records board Aus bmds

If there is anything I can do for you please do not hesitate to ask

Cherilyn
Report
15 Jul 2010 08:53

Can't stop when I'm on a roll (no wonder I sometimes waste time, but I can't help it!)

Birth of Olive in Qld:

1896/C9521 Olive Catharine Bowler [f] Fred [m] Harriet Jane Smith

Fred & Harriet married in country Qld in 1894. Fred died 1934 aged 53, son of George & Catherine (nee WHARTON), and Harriet in 1968 aged 91. Also buried at Toowong.

Fred BOWLER arrived in Qld in Aug 1876, aged 6, aboard Dilharree. With him were parents George (45), Catherine (39) and siblings David (20), Selina (16), Louise (14), George (10) and Walter (8). Somone should be able to locate the family in the 1871 UK census. Catherine died in 1915 in Qld aged 78, dau of George WHARTON. George died in 1925 aged 96, son of Wm BOWLER & Anne OLIVER. They lived in Oxley, Qld.

Birth of Wm Hy in Qld:

1894/C2011 William Henry Cole [f] Edwin James [m] Elizabeth Dickson Watson

Edwin & Elizabeth married in country Qld in 1891. Edwin died in 1941 aged 71, son of Edwin & Sarah Ann (nee HEFFER), and Elizabeth in 1955 aged 84, daughter of James WATSON & Jane SUTHERLAND. Also Toowong. James (24) & Jane (22) arrived in Qld in March 1871 aboard Star Queen with an unnamed infant (most likely Elizabeth). Also John (47) and Jessie (50).

Arrival for Edwin J COLE in Qld in March 1887 aboard Almora aged 16. No other COLE family members appear to have travelled with him.

Quoy
Report
15 Jul 2010 09:18

Okay stop a minute
this is a summery of all the info I have
Son living
parents as already said mother living
Family story (well we all have them)
Way back 1800 s potato famine 2 brothers came from Ireland ,made lots of money had lots of land built a church on their land for the traveling vicar, and gave him a cow every time he passed by .

Next generation lost the lot ,but church apparently still standing

all this in Queensland

edit to say the name Gordon is passed down through at least 4 generations .
I cannot question my friends to closely as i am trying to do this as a surprise



Cherilyn
Report
15 Jul 2010 09:28

So...mother still living, but father not?

But he didn't die back in 1960 I guess?! Just seems a big coincidence as fits marriage of parents being 1919 and his birth late 1920, as per enlistment in Qld. Of course, coincidences happen!

The brothers from Ireland, were they the COLE side, or mother's side?

You are going to find this a difficult task without more info. You need some solid facts, like dates and names, as family stories are interesting but not much help (and have often been embellished along the way, like Chinese whispers!). Hopefully someone with Ancestry access can help, tho I am curious as to how it will all work as all states have separate indexes and each have different cut-off dates...