Find Ancestors
Welcome to the Genes Reunited community boards!
The Genes Reunited community is made up of millions of people with similar interests. Discover your family history and make life long friends along the way.
You will find a close knit but welcoming group of keen genealogists all prepared to offer advice and help to new members.
And it's not all serious business. The boards are often a place to relax and be entertained by all kinds of subjects.
The Genes community will go out of their way to help you, so don't be shy about asking for help.
Quick Search
Single word search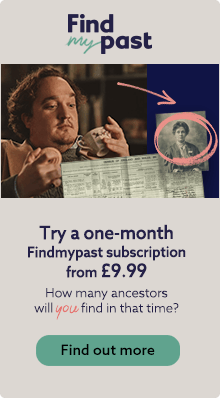 Icons
New posts
No new posts
Thread closed
Stickied, new posts
Stickied, no new posts
Lookup offer for Australia
Profile
Posted by
Options
Post Date

Cherilyn
Report
29 Apr 2010 09:49

Hi Phil

Sorry I can't find any information on Leonard. Certainly nothing will be available on his daughters.

But is this Kathleen's death, in Qld?

HANDLEY Kathleen Patricia Funeral notice 09AUG2006 Funeral 83 late of Corinya Nursing Home, formerly of Kangaroo Point Courier Mail (Brisbane)

Alison
Report
29 Apr 2010 11:32

Hi
Sketchy info at best but would be grateful for any help going.
Looking for Thomas Irving, born around 1892. Married Elsie Myers (I think in Yorkshire, UK) and they had 6 children: Kathleen, Miriam, Tom, Isabelle, Emily and Grace.

Elsie Myers was my husband's Aunt.

Philip
Report
30 Apr 2010 12:27

Hi Cherilyn
Thanks for your help I will look into the death you provided.
Phil

Cherilyn
Report
1 May 2010 08:38

Sorry Alison, I can't find them at all. Bit tricky without a state to start with, and I can't see them on findmypast, but perhaps someone else will have better luck.

Sorry
:-(




Charles
Report
8 May 2010 17:59

Hello There,
I am trying to find as much info as I can, with regards to Beryl Irene Dykstra. Born 11th April 1934 in the UK and may have moved to Australia. She was married to Norman Ernest Palmer (DoB 04/12/1928).

Are you able to help?

Best regards

Charles Merrett

Cherilyn
Report
9 May 2010 07:05

Hi Charles

Sorry, very difficult with more 'recent' events, particularly without knowing which state she may have settled in. Did she marry Norman in the UK or Australia? Did he travel with her?

:-(
Wish I could offer you something. Try www.findmypast.co.uk migration records.

Philippa
Report
9 May 2010 10:31

Hi, I am looking for Thomas Coldstrem Phillips in Queensland. He was born in Scotland in About 1820 to Thomas Phillips and Ann McCullum. Reading his fathers will whose death was 1868 it says Thomas is a sheep farmer in Brisbane. I cannot find him on passenger lists. I wonder if you can find any trace of him , perhaps marriage or any family. Kind regards Philippa

Cherilyn
Report
10 May 2010 02:08

Hi Philippa

The only possible I can see is a Thomas PHILLIPS aged 23 in Dec 1848 aboard Artemisia. Also on the same ship was Anne (33), Charlotte (11) and infant Charles. Not sure how related, if at all.

There may be others, of course, or he may have travelled as crew, or gone to another state first!

There is a death for a Thomas PHILLIPS, born in Engand, aged 40, in 1870 in Qld (reg 769); parents not stated. Another possible in 1893. No mention of Thos Coldstrem or Coldstream in deaths, marriages or births, or in newspaper notices. No marriages found.

See www.bdm.qld.gov.au


Christine
Report
10 May 2010 02:41

Hi Cherilyn
My mothers half brother was John Harold Edington who enlisted in the Australian Army in WW2 no VX21758. He enlisted at Caulfield, Victoria and his DOB 25.2.1900. My mum is now 85 and lost touch many, many yrs ago. I would love to know if he had a family and if any cousins are still in the area.
I have tried once or twice on GU but not got any further that service record.
Thanks
Christine, Cumbria UK

Cherilyn
Report
10 May 2010 03:47

Hi Christine

The best possible match I can see on Find My Past is this one:

EDINGTON J H 1900 M 1928 London Australia Sydney

Somone with full membership can check the details.

Apart from that I can find no trace of him in NSW or Vic. He was discharged in 1945 as a sapper, and had been a prisoner of war. Any ideas who W Woods, his next of kin, was?

Philippa
Report
10 May 2010 06:50

Hi, Thanks Cherilyn for your reply. I spelt Coldstream wrong as you realised. I will research more passenger lists.Thanks again Philippa

Christine
Report
10 May 2010 23:42

Thanks Cherilyn
W Woods was his brother in law in the UK.
He possibly did not ever marry as he was in his forties after war ? Would anyone have his death record ?
Thanks Christine

Cherilyn
Report
12 May 2010 10:09

Hi Christine

I have Vic deaths to 1985 and he is not listed, sorry.
Bit of a mystery!

Cherilyn

William
Report
13 May 2010 02:35

Hello Cherilyn,
I have seen the 1936 Electoral roll for Toowoomba Queensland where my uncle, William John Wright Scott was living. He had come from Scotland about 1931-1933 to Sydney & married an Ivy Elizabeth McMaster in 1934. She was born in Victoria in1912.
Unfortunately they do not appear on later rolls and due to the restrictions put on Australian records I cannot get any further. I would love to know if they had children because they, my cousins, may still be living here in Australia
Thanks, Wiliam.

Researching:
McIntyre, Scott, Wright .Scotland Hicks, Gray, England

Cherilyn
Report
13 May 2010 09:19

Hi John

Sorry I can't find any sign of them. Full names would have been helpful but in this case I don't think it will lead to anything.

Wish I could offer more.

Kind regards
Cherilyn

Cherilyn
Report
13 May 2010 09:30

Hi William

Unfortunately I am in the same position in regard to the privacy laws.

I can't see their deaths on Ryerson Index but are any of these Qld deaths a match?

Year/reg Name Father Mother
1943/64420 William John Scott / Joseph / Annie Roberts
1941/3444 William John Scott / Thomas / Isabella Jane Johnston Campbell
1963/2059 William John Scott / William / Mary Jane Russell
1942/57094 William John Scott / Thomas / Annie Lincohn

Nothing for Ivy. Can't see them in NSW or Victoria either.

If you could find a death notice or death certificate if would list children's names.

?
Cherilyn

Jane
Report
13 May 2010 10:22

Hi Cherilyn,
Thanks so much for your hard work. I have an Olive Reynolds Amor born 3 Oct 1829 Marylebone. She had a son, Charles, before marriage and emigrated to Australia where she married an Alexander Rae in 1858 in Newcastle, NSW- I found that ref. Her son Charles was renamed Charles Rae but he died in 1857 in Maitland NSW as did another little child called Olive. I have searched NSW and Queensland as far as I can for a death for Olive or, possibly, a remarriage but she seems to have totally disappeared so was wondering if she came down to Victoria or Tasmania? Also, I cannot find the ship she came in, either, though we have a letter from her to her sister in England in the 1850s so we know she came after 1851 and before 1857.
Thanks Cherilyn,

Jane

Sally
Report
13 May 2010 23:01

hello cherilyn
please can you help i have just found a brach of my family went to aus

thomas george denley born eng 1857
married annie mc sween or similar in melboune 1891 she was born geelong victoria

had children charles william denley born 1892
hennietta denley born 1899

please can you confirm this and any more info or decendants
i would be very grateful

sally w

Researching:
stephen taafe*muriel denley1917 he died 3 weeks later

John
Report
13 May 2010 23:13

hi i found the family i was looking for they were in queensland i have found the graves of the dead members of the family can you tell me how i go about finding the live members i have checked the white pages but not much help amd the bmd finishes to early for me to check marriages and i dont think that they publish the electral rolls any idea what my next step could be
regards john

Researching:
Archer and Evans _Farrell / macintosh

Kym
Report
14 May 2010 03:52

Hi Cherilyn

As per my post, http://www.genesreunited.co.uk/boards.asp?wci=thread&tk=1221198&jump=6990254#6990254 wondering if you would have any luck with searching for an Edna May King (nee McKenzie) born Casino, New South Wales in 1934 or 1935. Unfortunately that is all I have for the moment.

Many thanks.