Find Ancestors
Welcome to the Genes Reunited community boards!
The Genes Reunited community is made up of millions of people with similar interests. Discover your family history and make life long friends along the way.
You will find a close knit but welcoming group of keen genealogists all prepared to offer advice and help to new members.
And it's not all serious business. The boards are often a place to relax and be entertained by all kinds of subjects.
The Genes community will go out of their way to help you, so don't be shy about asking for help.
Quick Search
Single word search
Genes Extras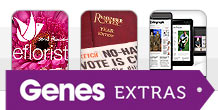 As a way of saying thank you to our subscribers, we have launched Genes Extras. You'll find exclusive competitions and discounts on family history magazines, days out and much more.
Icons
New posts
No new posts
Thread closed
Stickied, new posts
Stickied, no new posts
BMD lookups offered for Victoria, NSW, Western Aus
Profile
Posted by
Options
Post Date

۞ Cherilyn ۞
Report
21 Jun 2007 03:03

Hi Sar Thanks for your message. I'm afraid I can't find a marriage or children to Henry and Alice. Are you sure they married? I did find son Wm Hy's marriage to Annie in Brisbane in 1885. They had 10 children, 1 died as a baby. At least 2 of their sons enlisted in WWI (George and Alfred); their dossiers are online at NAA RecordSearch. I have a marriage for son Percy (b. 1888), to Mary DOWLEY in 1911. Daughter Annie Flora (b. 1903) married someone named VALE; she died in Dec 2004. Let me know if you need all the children's birth details, maybe you have this. No deaths either sorry. Good luck Cherilyn :-)

Geoffrey
Report
21 Jun 2007 04:12

Hi Cherilyn, I just want to thank you for all your time and effort in your searching, It has been much appreciated. I had quite a few 'Missing' Links, and you filled alot of those Spaces. Thanks once again Geoff Brown

Leslie
Report
21 Jun 2007 05:06

Hi Cherilyn Thank you for all that, sorry late getting back to you..Had to help a friend get their car out of a creek crossing. Never cross in heavy rain...lol... I got Harriets surname from BDM. My mum in law remembered her first name and the surname had something to do with weather. Found one Fairweather at the Gunning cemetery and there was only one fairweather married to a Humphrey Thorn in any time period. I agree that Mary A must be John Thomas wife, and it is an informant error. Because that is when my mum in law was born and she remembers her mum telling her about it... Will have to order the death cert for John Thomas I am guessing. Cheers Leslie

۞ Cherilyn ۞
Report
21 Jun 2007 06:30

Hey Sandra I have Wm Jno born 1886 (not 85) and Alfred Hy born in 1893 (not 1896). George Vincent was born in 1890 in Sandgate, Qld Harold born and died in Brisbane in 1896 Bertha Eveleen born 1899 Brisbane Hilda Mary born 1901 Bris Annie Flora b. 1903 Bris Esther Lily b. 1904 Bris Edward b. 1907 Bris Let me know if you need reg nos as well. :-) Cherilyn

Barbara
Report
23 Jun 2007 13:21

Hi Cherilyn You tried to find someone for me the other week but had no success. I wonder if you could look for another member of the same family. His name is Paul J Daly and he was born in Liverpool in 1914. Having had no luck with the rest of the family I'm hoping there may be something on him, perhaps a marriage - even a death would be useful! Fingers crossed Barbara

۞ Cherilyn ۞
Report
25 Jun 2007 09:19

Hi Barbara Sorry not much luck here either. Only possible death I found is in NSW in 2002 (makes him about 88); Paul DALY, formerly of Gorokan, died 30 Mar 2002. There are death notices in the Sydney Morning Herald and Newcastle Herald. If you go to http://www*rootsweb*com/~nswsdps/dpsindex*htm (replace * with .) there is a lookup request service on this page. Good luck Cherilyn

Barbara
Report
27 Jun 2007 14:45

Thanks Cherilyn, I'l give it a try. Don't suppose it's worth looking in sevice records for WW2 as he would have been of conscription age. I've tried on the Australian records site but there's a fault and I can only get so far. Thanks again Barbara

Dianne
Report
28 Jun 2007 12:58

Hi Cherilyn, thanks for the offer. Any info you may have would be much appreciated to learn more about my great uncle who deserted his ship, HMS Prometheus, in Sydney in 1907. He began a new life in Australia and had no further contact with his family in UK. I'm looking for details from the marriage entry in NSW of Horace John BENNETT & Ethel J ELLIOTT in 1907. Particularly interested to know what Horace's occupation was given as. Horace's place of birth is Wolverhampton, 1 March 1883. Also looking for any birth entries for children of Horace & Ethel in NSW. Don't know if there were any children. I came across a later marriage entry for Horace John BENNETT(can't remember date)still in NSW but couldn't find any death entry for Ethel. Can you provide confirmation of a death entry for Horace John BENNETT, aged 74 years, at Hornsby, NSW, 1957? Is this the same Horace John who married Ethel? Horace signed on with the Australian Navy in August 1914 and served throughout WW1, leaving Tingira training ship in 1919 with a very good character reference. Regards Di

۞ Cherilyn ۞
Report
29 Jun 2007 11:04

Hi Dianne Sorry about the delay in replying. I'm afraid I don't have much to add here. There is a death as you say but no way to know it is the same Horace without actually ordering the certificate or using a transcription service. Also, I don't have access to the birth regs for the period you need. There is a birth of an Ethel Jemima ELLIOTT in 1880 to Robert Pinkney ELLIOTT and Louisa in Gundagai, NSW (reg 15546). Then a death for an Ethel Jemima BENNETT, daughter of Robert, in Auburn in 1941 (reg 8222). The marriage of Horace John in 1944 could actually be his son (ie Horace John jnr)...hard to know, without ordering it. Sorry I can't offer more. Good luck. Cherilyn

Elizabeth
Report
29 Jun 2007 22:34

Hello Cherilyn.... I'm looking for the death (or anything) of my husband's gg grandfather. His name is Myles Kirkby Eyre ARIEL. Born 1819 in Bristol. He married Emilie Weaver and came to Australia in 1853 with Emilie and his three children, Emily, Myles and Richard. I can't find anything on him after that. I have the three children and Emily. Emily remarried in NSW in 1863 and the cert has her as a widow. I'm wondering if Myles was 'declared' dead. I have searched NSW and Qld and I have the AVRI.Most of the family settled in Qld. I think he may have gone back to England, but not sure. Thank you.

۞ Cherilyn ۞
Report
2 Jul 2007 03:24

Hi Elizabeth Sorry but this man remains elusive...you'd think with such an unusual name it would be easier! ;-) I hope you find him someday...maybe he died at sea? Cheers Cherilyn

Linda G
Report
3 Jul 2007 17:42

Hi Cherilyn, Thanks for your kind offer. I a looking for a reference for the death of William Angliss died 19th June 1914 at Auburn Railway Station, Melbourne Vic. Thanks, Linda

Margaret
Report
3 Jul 2007 18:57

HI this is a general name search - there are not many in Australia. HOGWOOD - I am under taking a one name search & listing of all Hogwoods worldwide. so far have index all UK, USA & nearly all in Nea Zealand, now starting on Australia. Is it possible for you to list all occurances of this name for me? thanks in anticipation of your kind help. margaret

۞ Cherilyn ۞
Report
4 Jul 2007 03:12

Hi Linda This is the reference: Surname: ANGLISS Given Names: Wm Event: D Father: Angliss Wm Mother: Mary FREEMAN Age: 80 Death Place: Melb E Year: 1914 Reg. Number: 10537 Here is the inquest into his death: Surname: ANGLISS Given Names: William Year: 1914 Reference: 643 Cause: Injury moving train Inq Date: 1914-6-30 Hope this helps. Cherilyn

۞ Cherilyn ۞
Report
4 Jul 2007 03:47

Hi Margaret Nothing in Victoria up to 1880. Then Richard and Harriet HOGWOOD arrived in Nov 1880 aboard Lusitania. Richard aged 31 and Harriet 27, with infant Harriet. Assume Richard died but can't find it - then Harriet remarried? Surname: HOGWOOD Given Names: Hart Event: M Spouse Surname: BLOXHAM Spouse Gvn Names: Saml [b. Margate Engl] Birth Place: NORTHAMPTON Year: 1891 Reg. Number: 6385 These two deaths with maiden name HOGWOOD, no marriages found in Vic: Surname: MADAMS Given Names: Elizth Anne Father: Hogwood Jno Mother: Jemima SPENCER Death Place: BALLT [Ballarat] Age: 97 Year: 1925 Reg Number: 12255 Event: D Surname: HARPER Given Names: Leonora Beatrice Father: Hogwood James Mother: Mary HILL Death Place: BRIG [Bright] Age: 78 Year: 1961 Reg Number: 6115 Event: D From National Archives: HOGWOOD Carol Rose born 7 November 1942; travelled per STRATHMORE departing UK on 5 December 1962 under the Assisted Passage Migration Scheme. FORTE Arthur Luigi born 10 May 1946; Elisabeth (nee Hogwood) born 24 March 1946; Paul born 16 February 1970; travelled per aircraft departing UK on 13 October 1970 under the Assisted Passage Migration Scheme NSW: Ref/Year: 4929/1885 Surname: HOGWOOD Gvn name: JAMES Surname: WATSON Gvn name: SARAH Place of marriage: GLEN INNES James and Sarah had a daughter named Emily G in 1887 in Glen Innes (reg 21130). James died in 1907 aged 53 in North Wellington NSW (reg 7100). Ref/Year: 19699/1956 Surname: HOGWOOD Gvn names: BRIAN RALPH Surname: MOORE Gvn names: COLLEEN ANNE Place of marriage: COWRA Ref/Year: 1283/1931 Surname: ARDILL Gvn names: ROY ST L Surname: HOGWOOD Gvn names: SARAH J Place of marriage: PETERSHAM HOGWOOD Clifford David, died 15 JAN 1993, late of Toowoomba, Qld, formerly of Blue Mountains, NSW. Death notice appeared in Sydney Morning Herald newspaper 20 Jan 1993 (see Ryersons Index, lookups available, let me know if you need web address). Nothing in WA or early Qld. Maybe try SA (Kerri Young on this board) Hope this helps. :-) Cherilyn Cherilyn

۞ Cherilyn ۞
Report
18 Jul 2007 08:24

nudge

dodsy
Report
18 Jul 2007 09:07

Hi Cherilyn I hope you will be able to help me again with a member of my family. My rellie is William Peat born 1825 in Maulden Bedfordshire, parents Francis and Lucy. He was transported on the ship Marion 2 on 14 June 1845 to Tasmania. On completion of his seven years sentence I think I have him leaving Tasmania for Melbourne in Dec 1851 on the ship Shamrock. Also on the same ship is another William Peat who was born in the colonies and I wondered if this could be his son. However no female Peat was on this ship and I could not find a record of a marriage in the 'permission to marry index' either so maybe this is completely unconnected. I would love to find out what happened to him once he arrived in Melbourne and am keeping my fingers crossed you can find something about him somewhere. Many thanks Wendy

Gina
Report
18 Jul 2007 10:25

Hi I am looking for the marriage of Harold George Salmon and Dora Ellevsen, possibly in Toowoomba, Qld. regards gina

۞ Cherilyn ۞
Report
20 Jul 2007 01:55

Hi Wendy Sorry no trace of William. It is possible he chnaged his name, which makes it near impossible! Hope you track him down someday! :-) Cheers Cherilyn ______________________________________________ Hi Gina Sorry no sign of Harold's marriage. Could it have been after 1914? Records are still closed after that year. Good luck and happy hunting. Cheers Cherilyn

jeannie
Report
20 Jul 2007 03:28

i cherilyn i have a couple married in tasmania in 1 may 1862 john william JEFFRIES and harriet WILSON. their first child harriet minnie JEFFRIES was born in melborne ,victoria in c1863 could you check for her birth and any subsequent children they emigrated to nz in 1866 so it is a relitivly short space of time. thank you for your time jeannette

Researching:
McGeorge, Smiles, Brewerton- Sunderland. Rycroft, Smith-Yorkshire. Lumsden, Prentice - Scotland. Ellis, Jeffries, Short - NZ.