Genealogy Chat
Welcome to the Genes Reunited community boards!
The Genes Reunited community is made up of millions of people with similar interests. Discover your family history and make life long friends along the way.
You will find a close knit but welcoming group of keen genealogists all prepared to offer advice and help to new members.
And it's not all serious business. The boards are often a place to relax and be entertained by all kinds of subjects.
The Genes community will go out of their way to help you, so don't be shy about asking for help.
Quick Search
Single word search
Genes Extras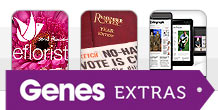 As a way of saying thank you to our subscribers, we have launched Genes Extras. You'll find exclusive competitions and discounts on family history magazines, days out and much more.
Icons
New posts
No new posts
Thread closed
Stickied, new posts
Stickied, no new posts
WHO ARE WE LOOKING FOR IN LEICESTER (PART FOURTEEN
Profile
Posted by
Options
Post Date

Linda
Report
14 Aug 2007 22:13

Hi Mike I'm a little confused, could you help me sort it out please. My GGGrandfathers name is Christopher Gent born which I reckoned to be 1832, In census 1841 he is age 8, 1851 age19 I have got notes on him all through the census, up until his death. Now the other day I was Looking through Latterday Saints and found a John Christopher Gent born 1831 same mother and father has Christopher mentioned above could this be the same person? There is no other child living with my GGGGrandparents. Thanks Linda

Mike. The Leicester Lad.(GC)
Report
14 Aug 2007 23:24

Greeting's Again……. Victoria. No birth year given. ..... So List of all William PLATTS Welford Road Cemetery. Names. / Dates./ Ages. / Last known address, PLATTS WILLIAM 1870 Jul 13 56 Redcross Street Saint Mary Ur1 3067 C U24260 Coroner's Warrant PLATTS WILLIAM 1876 Jul 11 5 Dorset Street Saint Margaret Cn 2142 C C17773 PLATTS WILLIAM 1927 Feb 15 76 111 Jarrom Street Leicester Ul 165 F U116385 PLATTS WILLIAM HENRY 1864 Nov 9 17mths Chatham Street Saint George Cl 1504 C C8498 But this one looks promising ? PLATT WILLIAM 1901 Feb 13 89 The Workhouse Leicester Um 978 C U89289 I've not given you the full interment of the Plots But if you so require them then just ask please. MIKE.

Mike. The Leicester Lad.(GC)
Report
14 Aug 2007 23:42

Greeting's……… Linda I really need the other part to the equation.? You omitted to state the where abouts of these events Town / Village. Once I have this I then can look in to it in more depth for you. MIKE.

Linda
Report
15 Aug 2007 00:16

Hi Mike Christopher Gent born 1832? Shepshed Leicester John Christopher Gent born 1831 Shepshed Leicester Mother Sarah Father Robert Gent. Thanks Linda

Maggie in Leics
Report
15 Aug 2007 09:44

Mike, That's the one. From the census you found we know that Thomas Edward the Chemist's father was a Thomas. Year and location for Thomas Edward's birth would fit the Chemist. Better crack on with clearing up after the builders so that I can go and spend some guilt free time at the RO eh??!! M

faerykingdom
Report
15 Aug 2007 19:10

Hi Mike, thanks for your help yet again! My William was born in about 1852 so I don't think any of these could be him. William married an Emma Jakins in 1880 and after they had their last child to my knowledge in 1882 they go missing! The children are with various family members in 1891 and 1901. Their daughter Florence marries in 1901 and on her marriage cert she puts that her father is deceased. Could you have another look for an Emma Platts born in around 1857 please? Or any similar names? Thank you Vicky

Mike. The Leicester Lad.(GC)
Report
15 Aug 2007 23:22

Greeting's Again ….Linda. I would go along with that it's the same person. Based on the following :~ Christopher gives his birth place as Shepshed Through out the census returns I have tracted him The only time it alters is 1851. Where he is an apprentice Bricklayer aged 19.. Then he gives it has Diseworth. I had a look at Parish Burials for Diseworth And got the following. :~ Catherine Gent. 19th. Feb. 1822. Aged 79. John Gent. 30th. Nov. 1823. Aged. 91. Those above could be grandparents ? Which would lead me to think that a Gent Family Lived & worked in Diseworth. ? Plus those Family names are used again For Robert & Sarah's. children. ? I did look at the original Parish Registers today at the Records Office. They read thus :~ Shepshed Baptisms. Page. 12. Entry No.92. 26th. December. 1831. John Christopher. Son of Robert & Sarah GHENT. Shepshed. Labourer. John Goodman. Vicar. Page. 11. Entry No. 86. 1st. April. 1849. Catherine. 14 years of age. Daughter of Robert & Sarah GENT. Shepshed. Labourer. Horatio James. Vicar. Pheew………. There was another 27 Baptisms on that day… Horatio James must have had a recruitment drive.? ..lol :0)))) So if Christopher was born December time 1831. Then the age of 19 would be correct Has he had not reached his 20th birthday in 1851. The 1851. Census was taken on the night of Sunday 30th. March. 1851. MARRIAGE Page. No. 221. Entry No. 441. 5th. December. 1852. Christopher GENT. 22. Bachelor. Bricklayer. Bridge Street. SHEFFIELD. Father . Robert Gent. Labourer. Hannah. BEXON. 19. Spinster. Frame Work Knitter. Britannica Street. Shepshed. Father. John Bexon. Frame Work Knitter. By Banns. By Me Horatio James. Vicar. Christopher signed by own signature. Hannah by her Mark = + . Wit's :~ William Coulson. Catherine Gent. Was Christopher working in Sheffield building houses ? Another Marriage spotted :~ Page. 122. Entry No. 364. 5th. May. 1850. Thomas GENT. 23. Frame Work Knitter. Forrest Street. Shepshed. Father :~ Robert Gent. Labourer. Ann Bond. 19. Spinster. Seamier. Bridge Street. Shepshed.. Father Thomas Jacques. Frame Work Knitter. Both signed by their own marks = X times two. Married by Banns By Me:~ Horatio James. Vicar. Wit's :~ William Thorpe. Sarah Jacques by Mark = + Hope this all helps. MIKE.

Mike. The Leicester Lad.(GC)
Report
15 Aug 2007 23:57

Greeting's Again ………Victoria Just the two for Welford Road :~ PLATTS EMMA 1886 Sep 25 1mth Willow Bridge Street Saint Margaret Ur1 3001 C U58340 PLATTS EMMA MAHALA 1863 Aug 30 13mths Gosling Street Saint Mary Ur 1185 C U12847 No sound a likes ….Sorry MIKE.

Linda
Report
16 Aug 2007 00:12

Thanks alot Mike, so nice of you to look all that information up for me. I can only assume Christopher was working in Sheffield because it states on his marriage cert that he was living there. I am now thinking Christopher has a brother Thomas, the one you found. I will see what I can find on him. Yes I agree with you Christopher was baptised John Christopher. Thanks again Linda

Mike. The Leicester Lad.(GC)
Report
16 Aug 2007 00:17

' Your very welcome ....Linda. ' So...Will you put his branch on your tree now ? MIKE.

Linda
Report
16 Aug 2007 00:58

Hi Mike Christopher is already on my tree. From my grandfather to my gggggrandfather I have found them all living in Shepshed. dating back to 1732. Seems like they liked living there. Thanks for your help Linda

Sarah
Report
16 Aug 2007 09:30

lookup plz for a hamlet clarke b 1714 st nicholas leicester parents name plz sj

Mike. The Leicester Lad.(GC)
Report
16 Aug 2007 22:41

Greeting's again. ....Sarah. The closest I can get to is :~ Hamlet Clarke. (Male) born 21st.November. 1745. Baptised 30th. November. 1745. St. Nicolas Parish Church. Father. :~ Hamlet Clarke. Mother. :~ Elizabeth. If this is not the chappy then you'd better add this to your list for next time your at the Records Office. MIKE.

Mike. The Leicester Lad.(GC)
Report
17 Aug 2007 01:09

*** F.A.O. *** Job O' Kent. Sorry for my delay The Register Office has been chaos Queues for every thing Fighting over Fiche readers ……… Having trawled through over 6.200 Baptisms Only for St. Nicolas. And St. Margaret's ( 4.800 ) Here are the results……. No Ann Tomkins found for St. Nicolas Parish…… St. Margaret's Parish :~ ANNO DOMINI. :~ 1810. Mary Ann. Daughter of Jo's & Mary Tomkins. Born. 4th. October. Baptised. 22nd. Oct. Page. 168. Entry No. 1348. 7th. March. 1816. Ann. Daughter of William & Jane Tomkins. Margaret's Street. Labourer. Wm. Hayton. Vicar. Page. 43. Entry. No. 341. 9th. November. 1818. Ann. Daughter of William & Ann Tomkin. Needle-Gate. Labourer. Wm. Hayton. Vicar. Plus the one you said it was not :~ Page. 233. Entry. No. 1864.. 28th. December. 1821. Ann. Daughter of Samuel & Elizabeth Tomkins. Needle-Gate. Frame Work Knitter. Robert Barnaby. Curate. Do you wish me to continue around the other main Parishes of the day ? MIKE.

John
Report
18 Aug 2007 14:42

Mike Many thanks for the details above, I think Ann, daughter of William/Ann looks promising. Your comments preceeding the results emphasizes the time and effort needed to answer what appears to be a simple request. Most of us have heard of Fiche's and Readers but many have never operated such, trawling through over six thousand entries to find one person is some achievement. My sincere thanks. Jon O'Kent

MaryfromItaly
Report
18 Aug 2007 15:21

Hi Mike, The Records Office sounds very chaotic at the moment, from what you said earlier. Is that because it's school holidays? I was intending to go while we're over - should I phone in advance and book a fiche reader? Unfortunately I have no idea whether the records I'm interested will be on fiche, microfilm or paper.

Mike. The Leicester Lad.(GC)
Report
18 Aug 2007 16:41

Greeting's Again. …….. Mary O ' Italy. I don't really know maybe it was just one of those days on Wednesday . I did inquire on your behalf as to what ID you will have to bring with you Assuming you don't have a current 'Readers Ticket.' If you have not…. Then you will be issued with a ' Day Visitors Pass.' ( Which only requires One evidence of your current Address ) This pass will only allow you to search what is on the shelf's, Micro films and Fiches. But you'll not be able to order records / hard copies from the strong Room. If you decide to go for the ' Full Readers Ticket. ' Which is FREE and lasts for four years. Then Three different documents to confirm address is required. Your Passport is NOT one of these. But having said all that if you send me ( via a PM ) the date of your proposed visit to the Records office Then I can meet you at the Reception desk and we can working in tandem You on your day pass & myself on my full Readers Ticket. Plus it will be cheaper if I make a reservation for either the two or one fiche reader.? MIKE.xx

MaryfromItaly
Report
18 Aug 2007 16:47

That's very kind of you indeed, Mike. I'll send you a PM.

Sarah
Report
18 Aug 2007 16:49

hi was woodhouse in derbyshire can anyone tell me in 1800s sj

MaryfromItaly
Report
18 Aug 2007 16:58

John may remember that I have a Tom(p)kin(s) in my tree: Elizabeth, who married my GGgrandfather William Wood North. Elizabeth's first husband was Amos Squire(s), born Woodhouse Eaves in 1842. I can see him on the 1851 and 1861 censuses, but no later, and I can't find a death for him. He married Elizabeth on 25 December 1865 (according to an extracted entry in the IGI). In 1871 she's shown as Elizabeth Squires, married, but living with her parents, and there's no sign of Amos. She married William in q3 1880 (I don't have the cert yet), and she's living with him in 1881. So Amos presumably died between the end of 1865 and q3 1880, or possibly 1871. I posted a query about this family on one of the old threads, and I have a note to say that John said Amos died in 1865, the same year he was married. I didn't check it out at the time, and I can't find any evidence of it now. Any suggestions? So far I've checked FreeBMD, the IGI, burials on FamilyHistoryOnline, and the Ancestry full BMD index for 1865 and 1866. If nobody else can see a death for him, I'll carry on trawling the full index.